We are reader supported and may earn a commission when you buy through links on our site.
Learn more
Kodi Colossus Repository Is Down or Not Working. Are There Alterntives?
The Colossus repository for Kodi was just recently shut down. It happened quickly after one of its main developers received a cease-and-desist letter from the Motion Picture Association. That left him with no better option than to shut it down permanently. It is yet another sad moment for the Kodi community as the Colossus repository was the home of several popular add-ons such as Bennu, Covenant, DeathStream and perhaps more importantly, the URLResolver.
Today, we'll tell you all we could find out about what happened. We'll try to explain why the targeted developers had no option but to call it quits. We also plan to explore what this concretely means to Kodi users, looking at the big picture and all its ramifications.
Once we figure out where we stand, we'll explore what alternatives there are to the Colossus repository but also to some of the most popular add-ons it was hosting. Finally, we'll have a few suggestions on how to avoid such situations in the future while still being able to enjoy the content you love.
30-days money back guarantee
A VPN is an Essential Tool to Protect Your Privacy
If you want to keep what you're doing to yourself and want to avoid the scrutiny of overzealous Internet Service Providers, you must use a VPN. When an ISP suspects someone might be violating their terms and conditions, they can react by throttling down their speed, sending them copyright infringement notices or even interrupting their service. A VPN protects one's privacy by encrypting the data using strong algorithms that make it almost impossible to crack. Furthermore, by using appropriately located servers, A VPN allows bypassing geographic restrictions.
Choosing a VPN can be a difficult task. There are so many suppliers available. Important factors to consider are a fast connection speed to avoid buffering, a no-logging policy to further protect your privacy, no usage restrictions to access any content at full speed and software that is available for your device.
The One We Recommend for Kodi – IPVanish

We've tested several VPN against these criteria and the provider we recommend for Kodi users is IPVanish. With servers worldwide, no speed cap or throttling, unlimited bandwidth, unrestricted traffic, a strict no-logging policy and client software available for most platforms, IPVanish delivers impressive performance and value.
EXCLUSIVE OFFER for Addictive Tips readers: get 60% off an annual subscription to IPVanish, for low payments of just $4.87 per month! With a 7-day money back guarantee, you can try the service out completely risk-free!
So, What happened?
From what was published on social networks and on several other Kodi blogs, here's what we could figure. Developer  jsergio123 was threatened by the MPA last week. After receiving what appears to be a cease-and-desist letter from the MPA, he published an announcement on his Twitter account saying "Sorry to say but I am stopping all development of the urlresolver, metahandler, and my other addons". Then he added, "I'm not responsible for covenant and bennu but colossus has agreed to delete the repo too". Within little time, the Colossus repo was no longer working.
Another UK-based Kodi developer known as The_Alpha received a similar letter from the Alliance for Creativity and Entertainment on the same day an decided to throw in the towel as well. The_Alpha was believed to be involved in the popular Colossus repository, having previously been part of the Bennu add-on development team.
What Does It Mean?
For now, it is a bit early to say. Several add-ons were hosted on the Colossus repository and need it to keep being updated. The three most popular ones are probably Bennu, Covenant, and DeathStreams. If you already have them, chance are they'll no longer work. And if they do, they might not be getting much new content. It's hard to say for sure as we don't have many details on the development of these add-ons. Some might quickly find a new home if their developers are still willing to work on them. Others may be forked into new projects handled by different development teams. Only time will tell what will happen exactly.
The Case of the URLResolver
Many Kodi users might be familiar with Colossus, Covenant, and Bennu. Not as many appreciate the importance of URLResolver, though. Most recently maintained by jsergio123, this is an extremely important add-on. Here's why.
Sources for content to be played on Kodi have to be scraped from the sites hosting it. Normally add-ons would have to have their own scraping code. And with the scraping process being different for every video host. this could represent a huge undertaking for any developer.
This is where the URLResolver comes in. This tool helps add-ons access content by resolving video hosting site URLs. It is an important tool that comes packaged with add-ons that rely on it. This is why most users won't even know it's there.
Fortunately for the Kodi community, TVAddons has announced their intention to try to keep URLResolver alive. They seem to be seeking a new developer or development team to work on it.
Any Alternatives?
We've searched the Internet for some alternative to the most important add-ons that were hosted on Colossus as well as for the repo itself. Here's what we could find.
The Colossus repo
Many of the add-ons that were previously hosted on Colossus are still available from other repositories. But since it's not sure whether or not any of them will continue to be maintained by their developer, the best course of action, at least for now, might be to stay away from them and find alternative add-ons. As time passes, chances are some add-ons will find a new home elsewhere but for now, it's too early to say.
Bennu
The Bennu add-on for Kodi is a direct descendant of the defunct Phoenix add-on. Based on the same code and developed by many of the original Phoenix developers it was a very popular add-on. Unfortunately, it no longer works. Bennu, just like its predecessor combined live IPTV and on-demand content.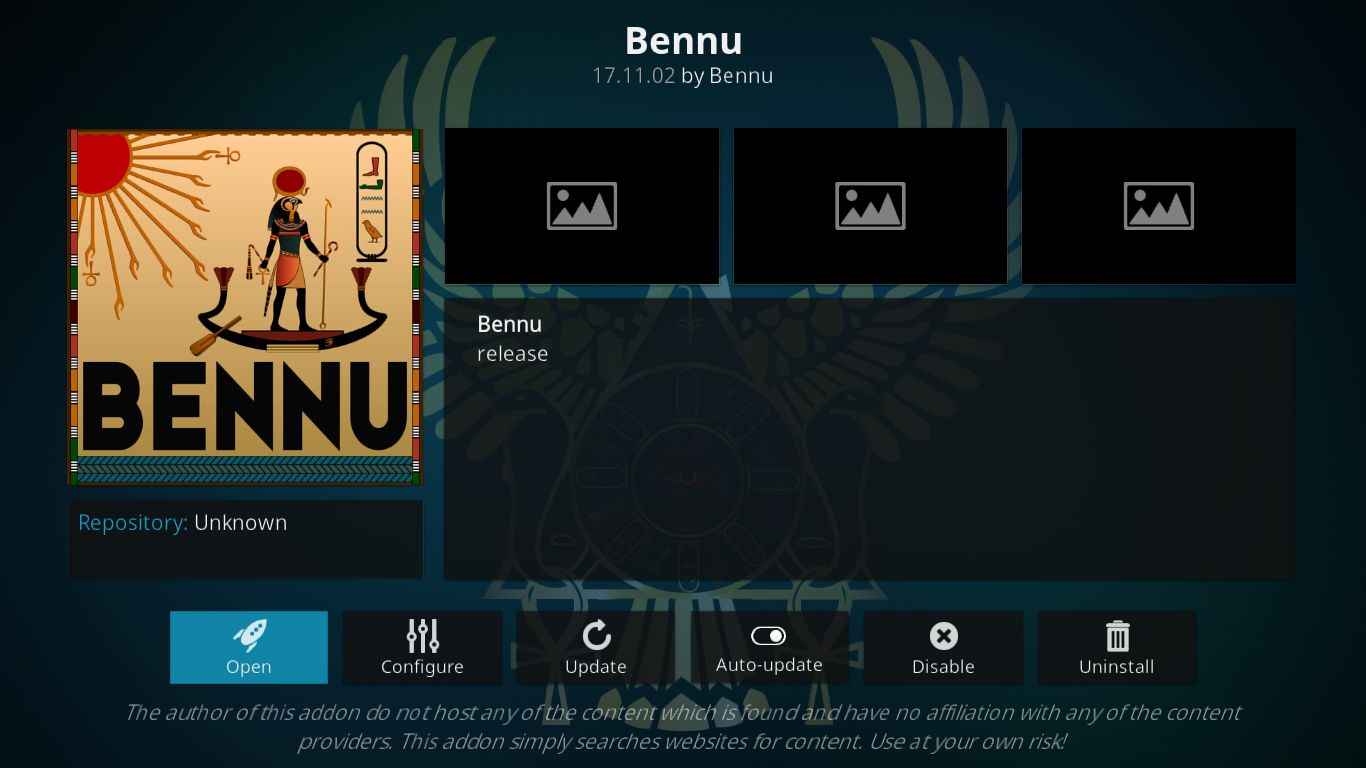 While there doesn't appear to be an exact replacement for the Bennu add-on, several other add-ons offer similar content.
The cCloud TV Kodi add-on offers thousands of live TV streams. Most content is American or British but you will find a good amount of content available from all over the world and in many languages. And if you're into live sports, cCloud TV has got you covered as well.
The Made in Canada IPTV add-on is another excellent option for Canadian, American, and British live TV. You'll also find a good amount of sports channels in this add-on. It has a live sports section and you can also find many popular US, UK, and Canadian sports channels throughout the add-on.
The Bob Unleashed add-on too can be an excellent source for on-demand TV shows and movies. It was recently the subject of one of our articles. We highly recommend you read it for all the details.
Covenant
Covenant was another great add-on that surfaced recently as a replacement for the Exodus add-on after it disappeared early last summer. In fact, it was a direct descendant of Exodus and retained much the same menu structure and user interface.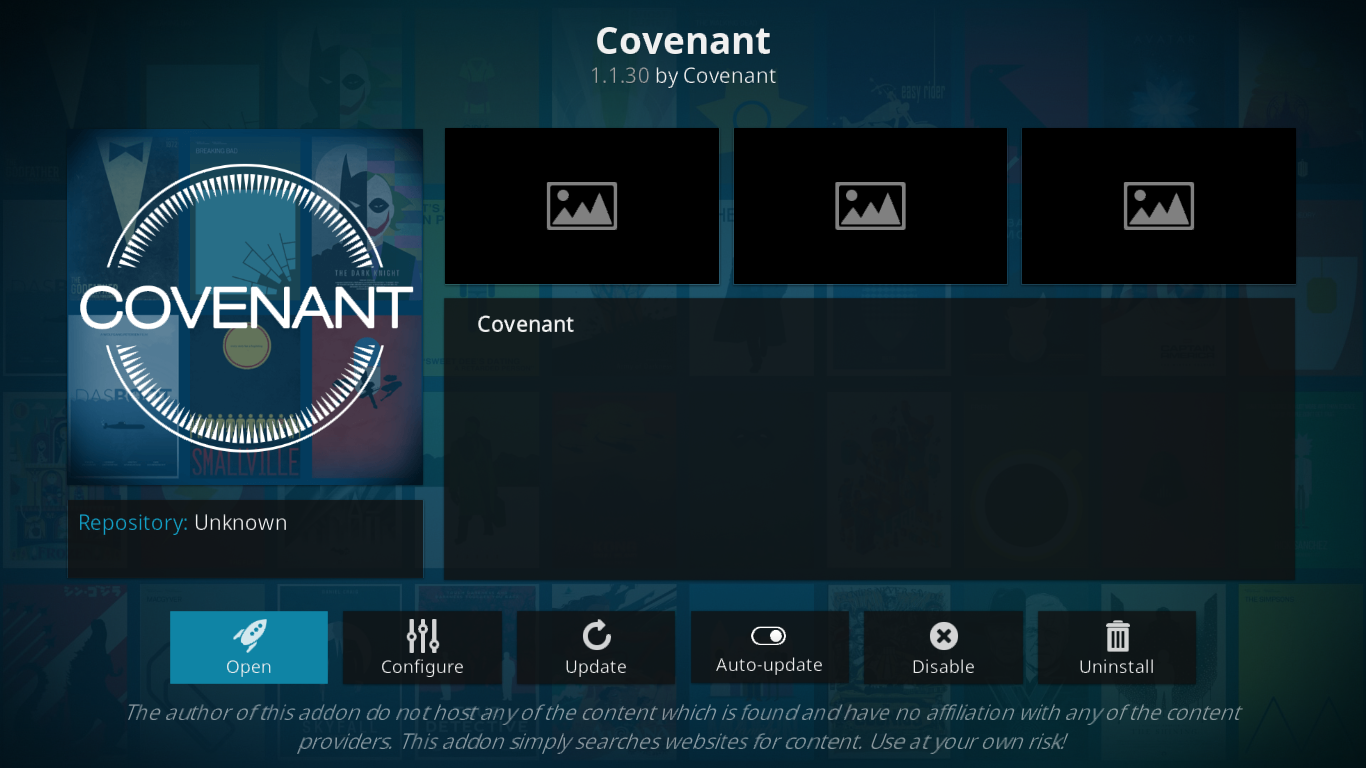 Covenant has an amazing breadth of content that is hard to match. At least two other add-ons can claim to have a comparable offer.
Bob Unleashed, that we just identified as an alternative to Bennu is also a great alternative to Covenant. It is one of the best general-purpose add-ons for Kodi with a good mix of varied content.
UK Turk Playlists is another very complete add-on which, while not perfect, offers great contents of all sorts. Don't let its name fool you. It has way more than just British and Turkish stuff. For more details on this excellent alternative to Covenant, we suggest you read our recent article about it.
DeathStreams
The Death Streams add-on is a fork of the famous Stream All The Sources (SALTS) add-on for Kodi. It's made by a relatively new developer on the Kodi scene called Mr. Blamo. The add-on scrapes links to movies and TV shows from several multiple streaming sites and displays them in one place for easy access.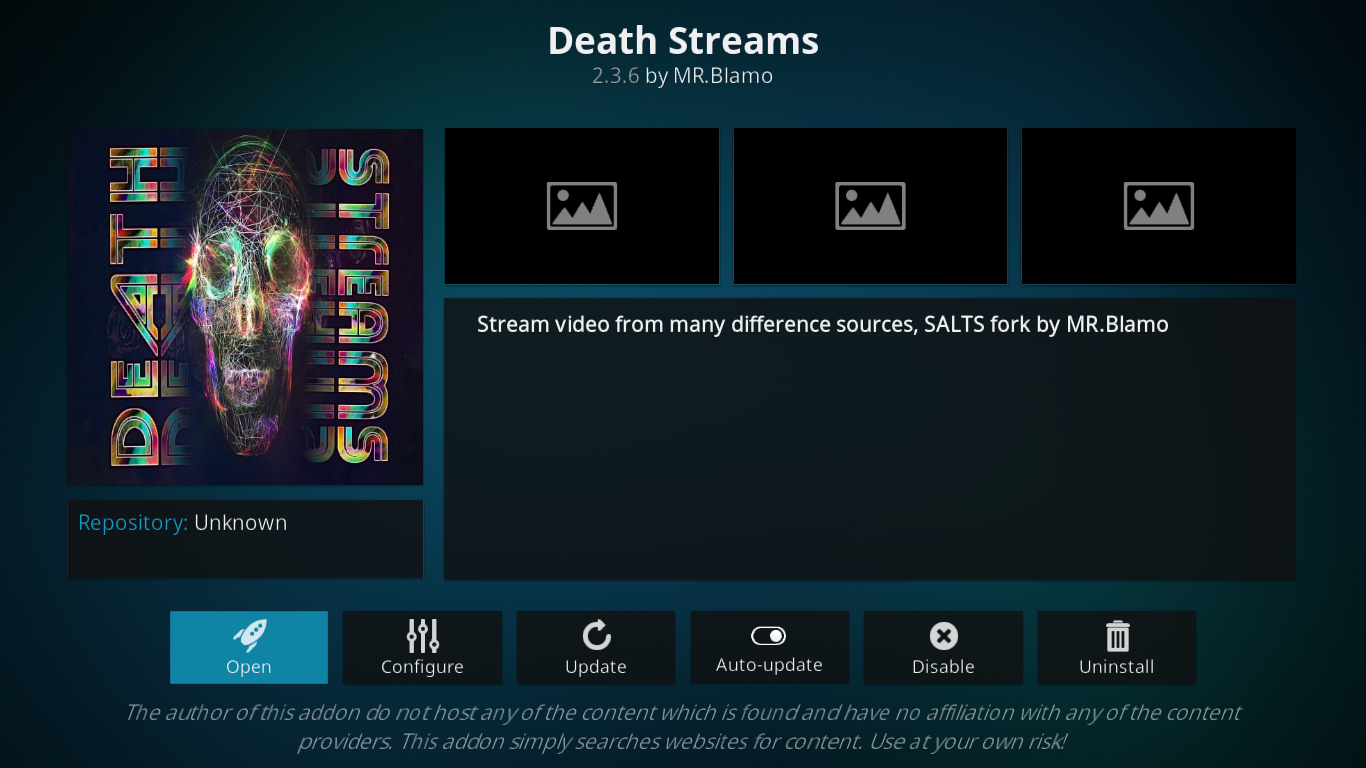 Browsing the add-on's menus reveal how well-organized it is. Death Streams even offers a calendar that allows you to find TV shows more easily. Quite unique albeit of a questionable usefulness is its "Anticipated Movies" section that lists films that are coming out in the next few years.
We had a hard time finding original alternatives to this add-on. Both Bob Unleashed and UK Turk Playlists offer similar yet different ranges of movies and TV shows to what you could find on Death Streams. And both can be used as a replacement for the Death Streams add-on.
But the latest breaking news is that you might no longer need a Death Streams alternative. It seems that as of a few days ago, the add-on has found a new home and will henceforth be hosted on the Looking Glass Repository, run by gracie242 and co. All you need then is to reinstall the add-on from its new repo and it will start getting updated correctly.
 A Few Out-Of-The-Box Suggestions
This whole mess is, more than anything, the consequence of the controversial nature of the Kodi scene. The legality of many third-party add-ons is questionable, if not everywhere at least in some jurisdictions. It all depends on local laws but, generally speaking, providing means to access content to which one has not acquired the rights is against the law.
No matter what, the movie and TV industry's copyright owners will always go after what they see as piracy with all they got. And developers will react by complying and take down their material. They have nothing to gain and everything to loose. It is a neverending story and add-ons and repos will always come and go at an astounding pace.
Disclaimer: AddictiveTips.com does not condone or recommend the use of Kodi or any add-on to access copyrighted content to which you have no right. We're not responsible for what you decide to do with the contents of this article. Piracy is not something we support or approve, and we strongly advise users to only access content they are legally entitled to. As a Kodi user, you must take steps to ensure you are not in breach of any copyright law.
Why then not use only legitimate add-ons? They can be found in the official Kodi repository and all of them will only let you access 100% legal content. These add-ons are here to stay as they won't be the target of takedown procedures. Here's a list of our favorite official Kodi add-ons. Most of them are free with some offering both free and paid options. Often, these add-ons are just Kodi front ends to streaming websites allowing one to watch their content right from Kodi.
USTVNow
USTVNow is a web streaming service that was originally created to allow American military and citizens abroad to watch US TV from any location. Their free plan allows one to watch live streams of all the major networks: ABC, CBS, The CW, Fox, NBC, PBS, and My9.
For $19/month, their all channels plan adds AMC, Animal Planet, Bravo, Discovery and a dozen or so more, bringing the total channel count up to 29.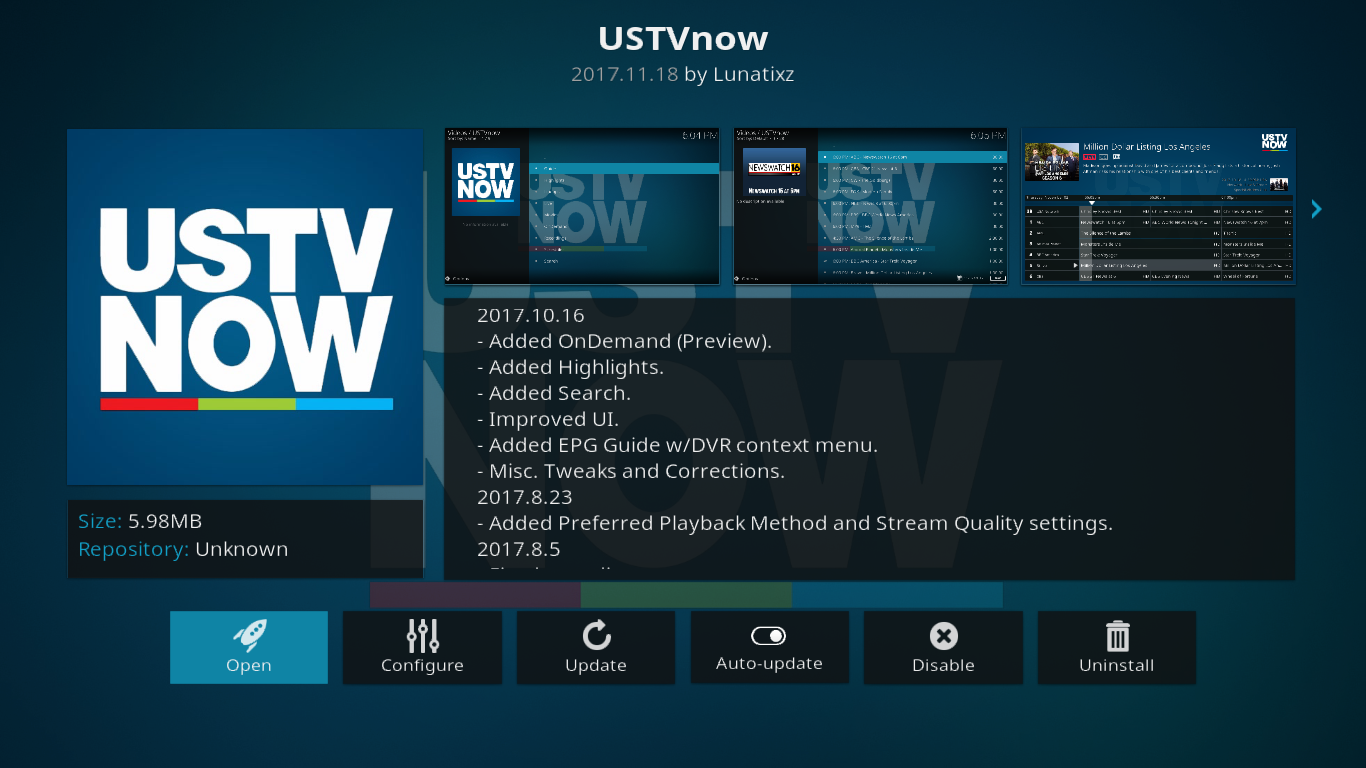 No matter what plan you choose, the USTVNow add-on allows you to watch all your channels right from Kodi, on your TV screen. It sure beats watching TV on a laptop screen. And since USTVNow is meant to be used abroad, you won't need a VPN to spoof your location.
A word of caution: When you create your account on the USTVNow website, make sure you choose to authenticate by email. If you select either Facebook or Google + authentication, you won't be able to access your account from the Kodi add-on as it can't handle integrated authentication.
Crackler
Crackle is certainly one of the biggest online streaming services on the web. The Crackler add-on for Kodi allows you to stream any movie or TV shows from the Crackle web site. All the content is licensed by Crackle, so it's reliable and totally legally licensed.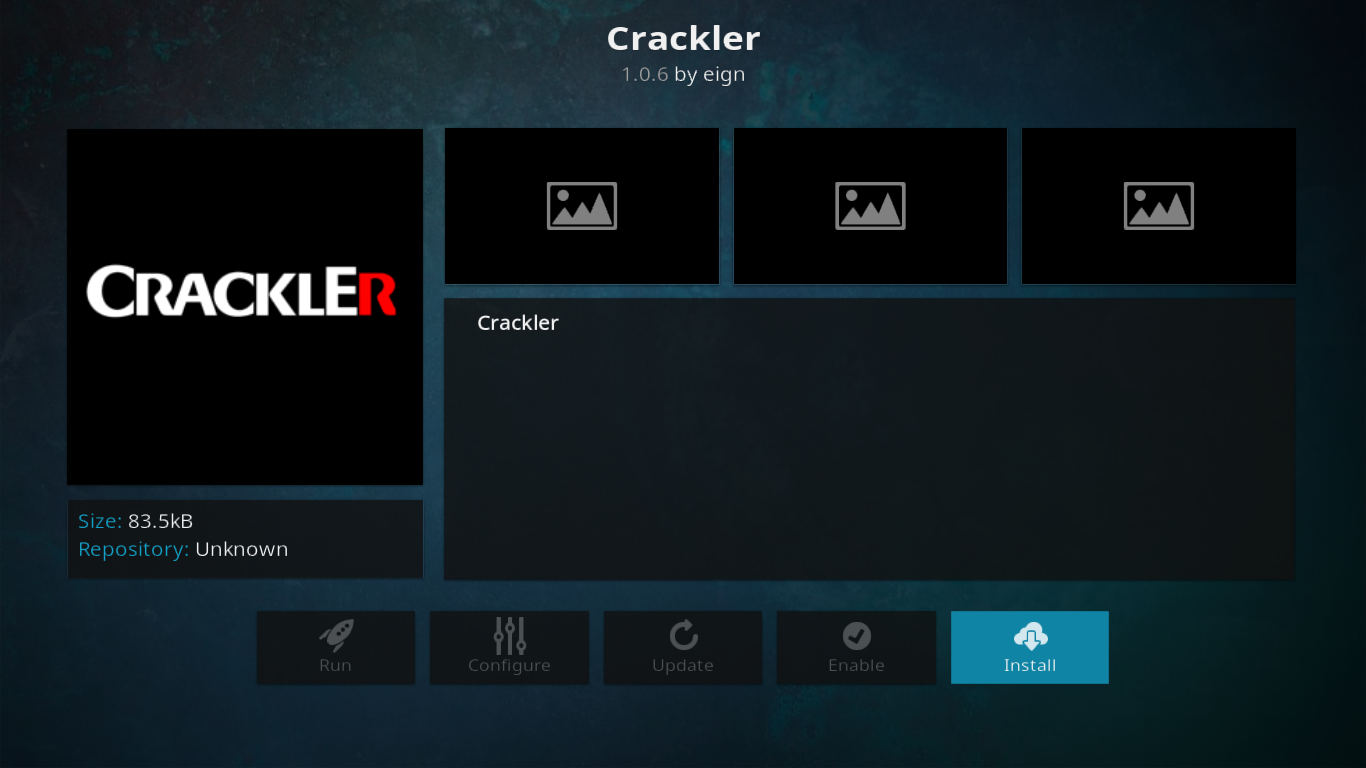 Once installed, the add-on lets you access some 100 movies or so and about 70 different TV shows. That's a lot of content. Of course, you shouldn't expect to find recent blockbusters of current TV shows. But there is still quite a bit of interesting content, all free and all legal.
Popcornflix
The Popcornflix add-on just like the previous suggestion is a front end to the similarly named web streaming service. It specializes in movies and it has a ton of them. And the nice thing about it is that they're all neatly organized by genre making finding a specific title easier.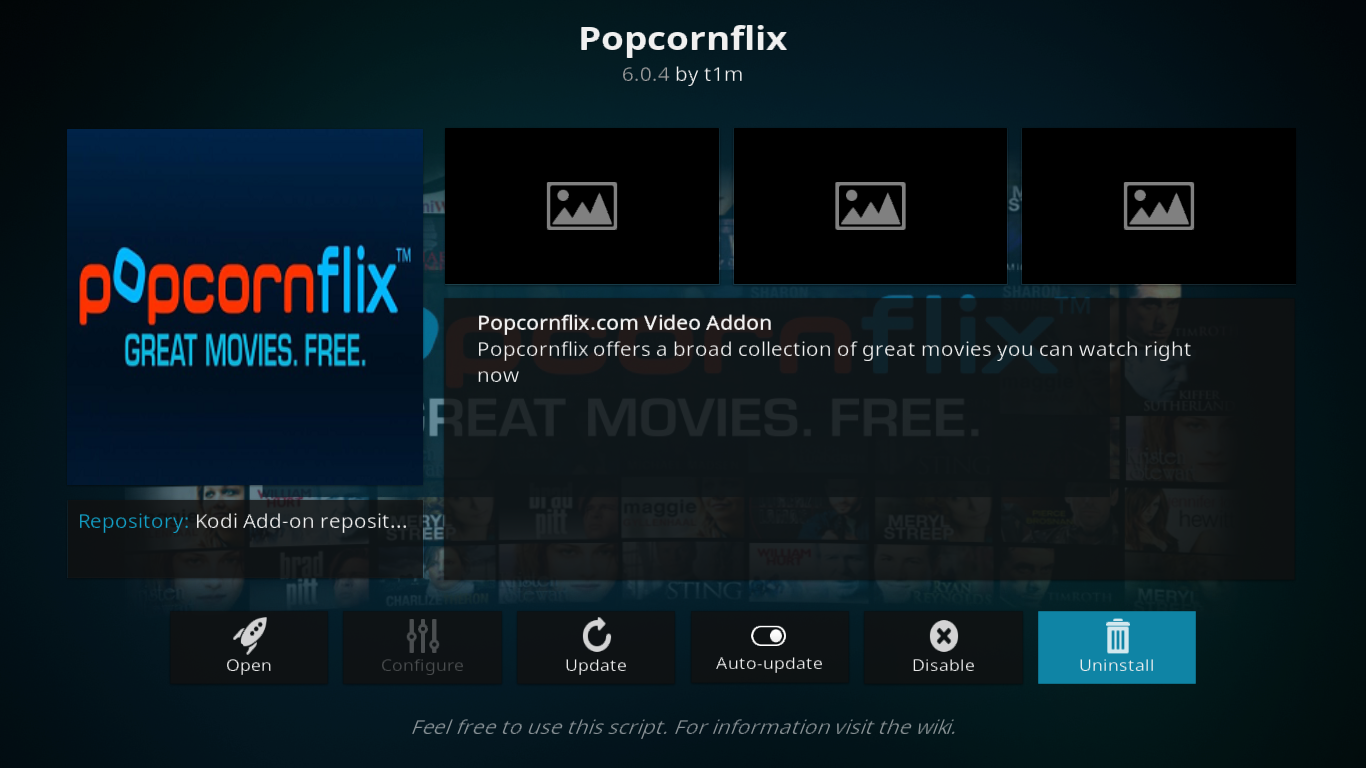 You can find some rare films in there as well as foreign films in their original language with English subtitles. Overall, it is probably the most complete add-on on this list in terms of variety of content and every movie fan is sure to find something he likes.
iPlayer WWW
This next suggestion is for fans of British TV. This add-on is the Kodi version of the BBC iPlayer and it features heaps of British TV content. It is a legal add-on with a few twists, though. First, it is only legal if you are licensed to watch the content. What does that mean? You have to subscribe to the BBC TV service. Also, you must be located in the UK to use it. Trying to play any video from abroad will pop an error message. You'll need to spoof your location using a VPN.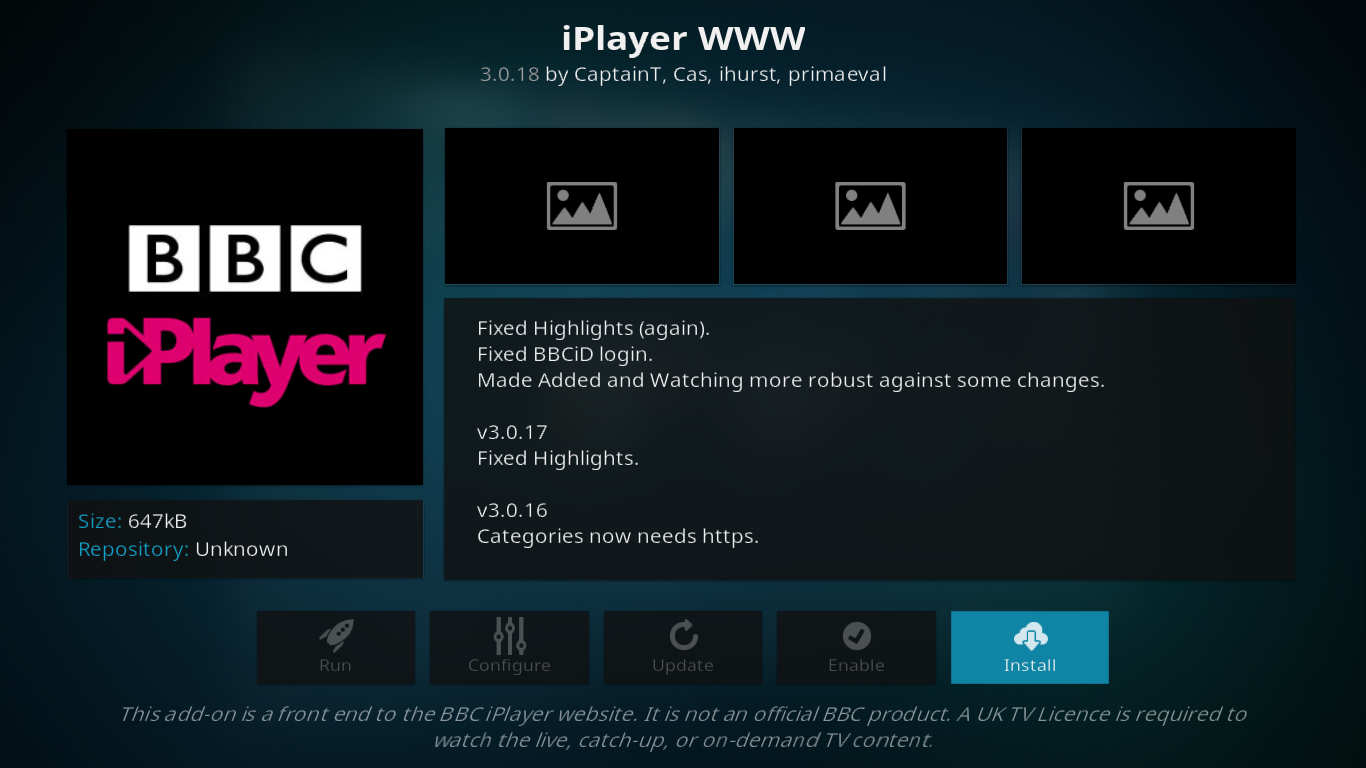 Once you get past these limitations, the content is amazing. And the user interface is just as much. You can browse content by title, by category, by channel, by popularity. And when you're looking for something specific, a search engine will make finding it a breeze.
YouTube
Last on our list is the YouTube add-on. Does YouTube need an introduction? The like-named add-on is just a front-end to YouTube, allowing you to view content on your TV instead of a computer. You can even log in to your YouTube account from the add-on and have access to your channels and favorites.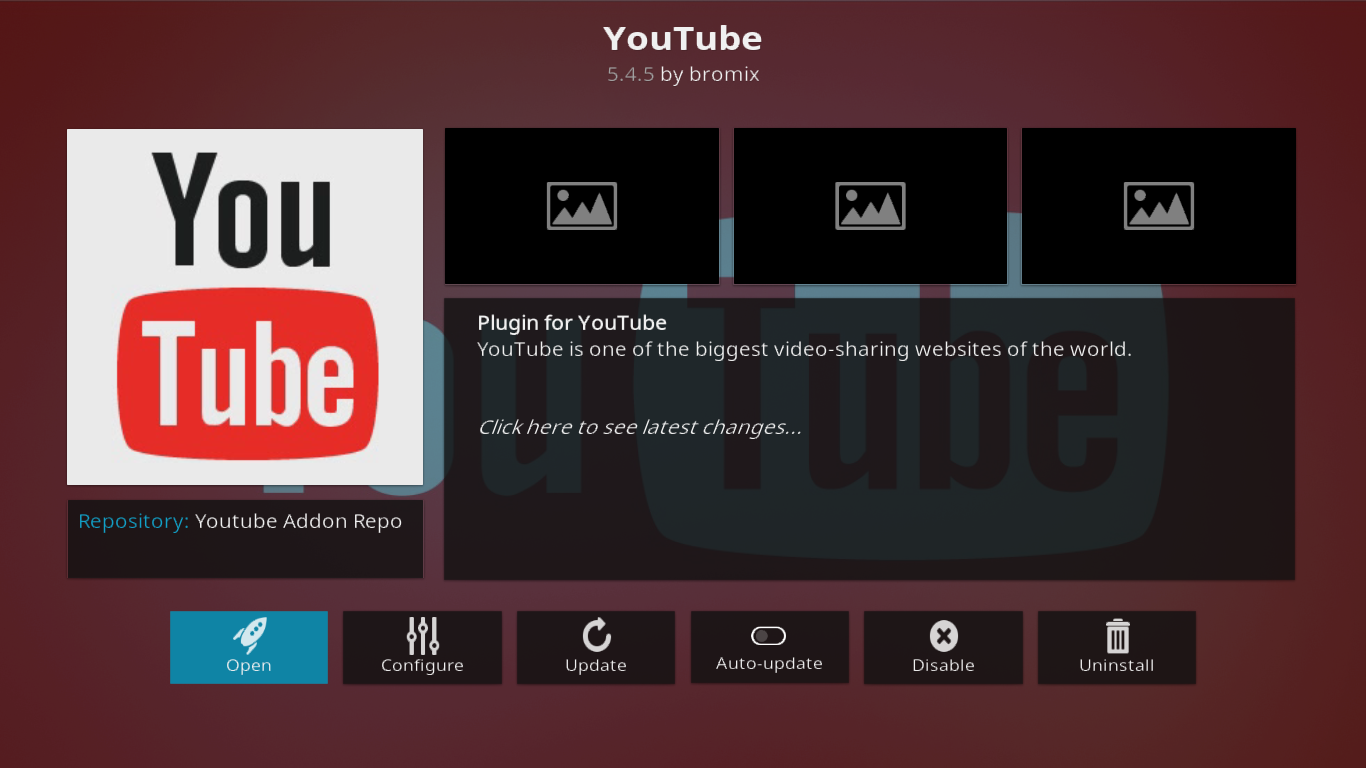 The only problem with the YouTube add-on is that it uses the YouTube API which has daily quotas. Quite a few times, when trying to access content in the late evening, We were given a notification indicating that the quotas were exceeded and that we had to wait until they reset. Fortunately, the quotas rest at midnight US Pacific Time every day.
Conclusion
Even though the Colossus repository is no longer, taking with it a handful of great add-ons, there are still more than enough add-ons on the Kodi scene to satisfy most viewers. And we've even introduced you to several free and legal add-ons offering a huge variety of interesting and entertaining content.
Were you a fan of Colossus, or of any of the add-ons it contained? Have you found a suitable replacement? What is the replacement add-on you're using and what do you like and dislike about it? We love to hear from you. Share your comments with us below.