We are reader supported and may earn a commission when you buy through links on our site.
Learn more
Covenant Kodi Addon – How to Install Covenant on Kodi
Covenant was a timely addition to the Kodi unofficial addon library. It stepped up to replace the much-loved Exodus addon, which was the on-demand streaming addon of choice for so many Kodi users. After Exodus was lost when the TVAddons repository went offline back in June, people were searching for a suitable replacement, when Covenant stepped in to fill the void.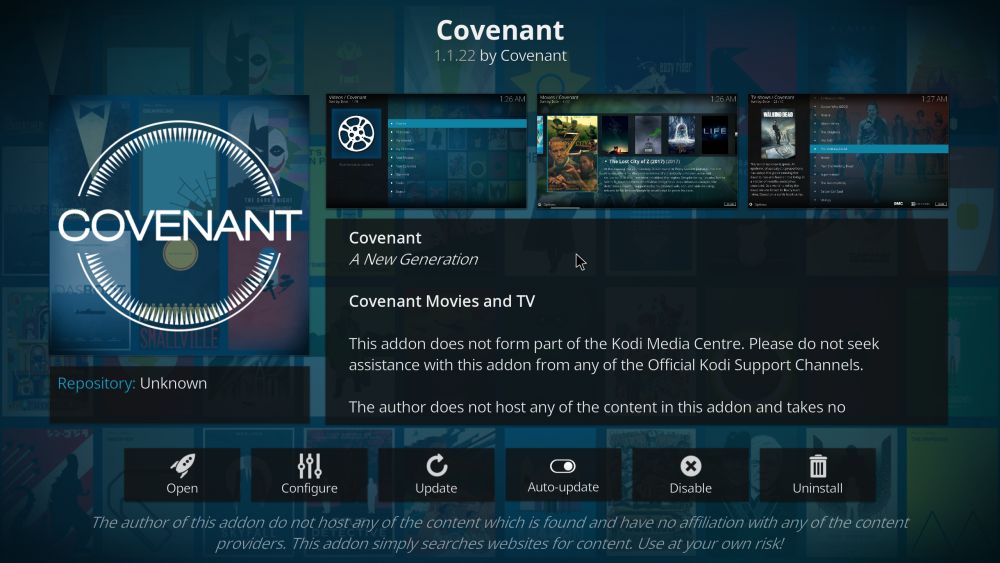 Actually, the relationship between Exodus and Covenant is very close, with the latter being touted as a direct successor to the former by many. There are certainly plenty of similarities; Covenant has retained almost all of the same functionality of its predecessor as well as a good chunk of the design. The content is almost identical too and, for the uninitiated, it would be quite possible to mix the two up. But Covenant is also looking to make improvements and deliver not just what Exodus had to offer, but more besides. In this guide, we will explain how to install Covenant on Kodi as well as give you a rundown of what you can expect to find in the addon itself.
30-days money back guarantee
Before You Use Covenant, Install a VPN
It is always highly advisable to use a VPN when streaming content on any unofficial Kodi addon. This is because, while the Kodi software itself is totally legal, some unofficial addons do source copyrighted content from unauthorized places. As a result, some Kodi users have found themselves subject to legal actions for breach of copyright infringements, even if they have done this unknowingly. A VPN can protect against this by encrypting all of your online data and hiding your location online, thus mitigating the risk of any legal reprisals. There are a lot of VPNs available and the difficult decision for many Kodi users is which one to use.
The Best VPN for Kodi – IPVanish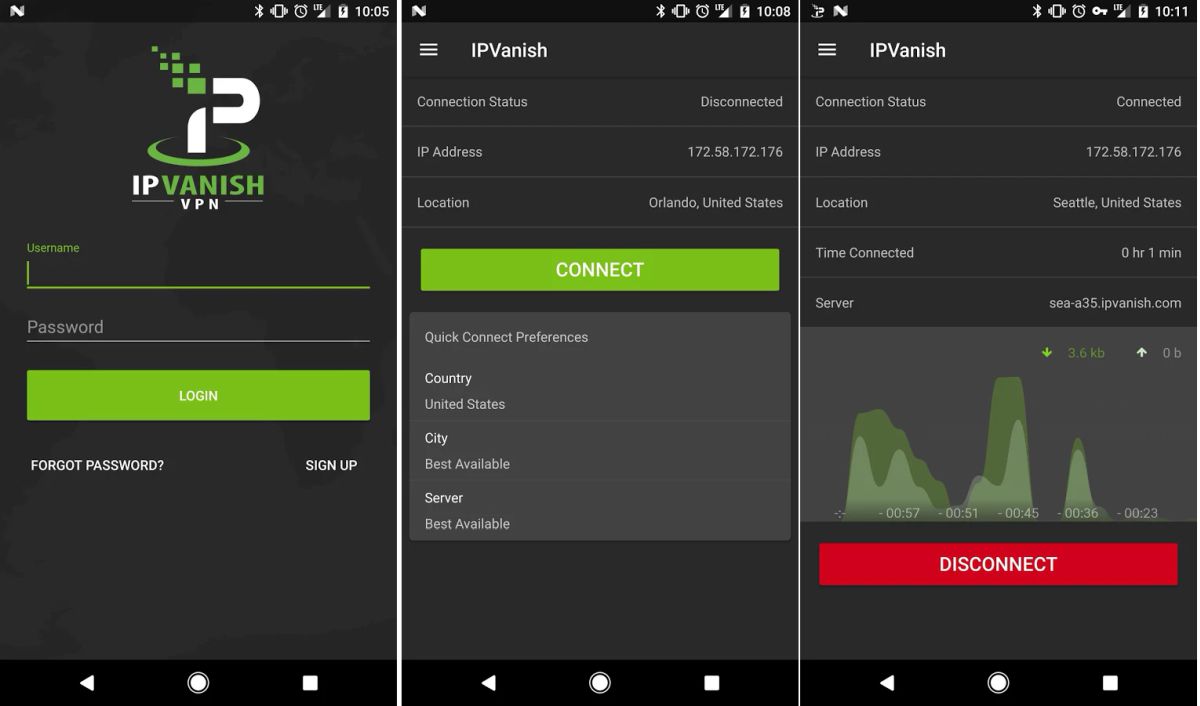 The VPN of choice for Kodi users should be IPVanish. It offers some of the fastest connection speeds around and its encryption and privacy protections are second to none. It also has zero restrictions on what files users can download or the amount of data they can use. There are also more than 850 servers in 60 different countries to choose from. IPVanish has easy-to-use apps for almost every platform, including an Amazon app for Firestick users. Put all this together and IPVanish is by far the best VPN for Kodi users.
IPVanish offers a 7-day money back guarantee which means you have a week to test it risk-free. Please note that Addictive Tips readers can save a massive 60% here on the IPVanish annual plan, taking the monthly price down to only $4.87/mo.
How to Install Covenant on Kodi
It is usually advisable to install Kodi addons through a repository and Covenant is currently available through the Colossus Repository. However, Colossus has seen high demand for this addon which has led to some users experiencing problems downloading it. As a result, the developer has also made Covenant available directly from the zip file on Github. Below, you find an easy step-by-step guide to both methods.
Installation Instructions via Ares Wizard
Download the repo file from https://repo.ares-project.com/magic/repository.aresproject/ (file called repository.aresproject.zip)
On the home screen select Add-ons from the menu on the left-hand side of the screen.
Upper left icon with the boxes, click on Install from Zip File. Navigate to wherever you saved the zip file downloaded in step 1 and then click open. This will install the Ares Repository.
Next, you need to install Ares Wizard. To do this, return to the Add-on Browser Menu, but this time click on Install from Repository.
Once there, click on Ares Project, followed by Program Add-ons, then Ares Wizard, and finally Install. Once this process is completed, you will have both the Ares Repository and Ares Wizard installed and ready to use
Open Ares Wizard, click on Browse addons > Video Addons > Covenant and hit Install to the right.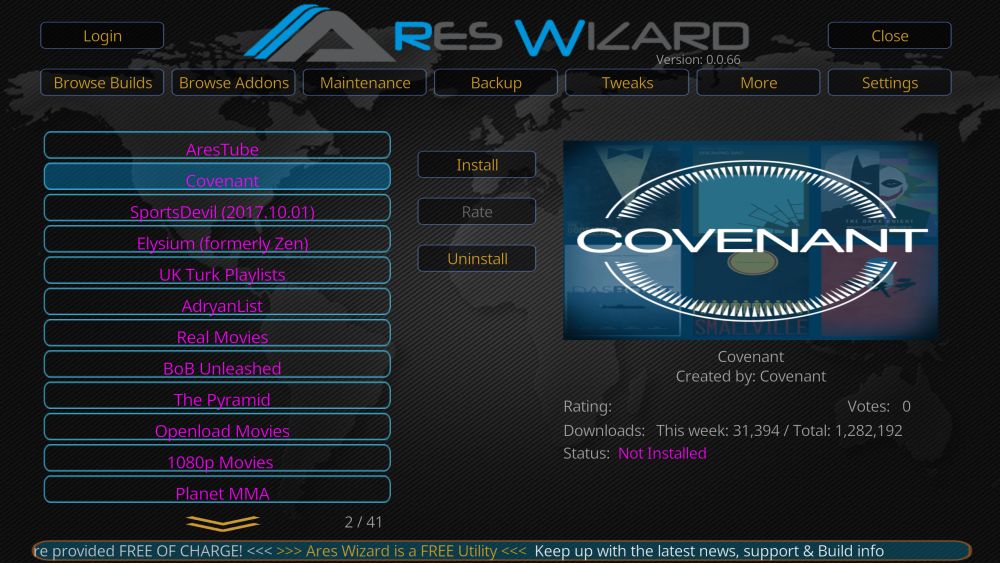 Then wait a few moments until the notification message appears again.
There may  be some more questions like "You don't have the repository installed, do you want to install it?" Click YES and continue.
Covenant should now be accessible through and ready to use through your addons menu.
Installation Instructions Via Github
If you find you cannot access the Colossus Repository, you can still download the Covenant addon directly from the zip file on Github. To do this, you will need to follow these steps:
You will need to visit the following web address to get the latest version of Covenant: https://github.com/Colossal1/repository.colossus/tree/master/plugin.video.covenant
Click on the most recently updated version of the zip file and on the next screen, click Download.
Open Kodi, and go to the Addons menu. Once there, select the addon browser icon, which resembles an open box.
Click on Install from zip, then locate where you saved the Covenant zip file you just downloaded (it will usually automatically be saved in your downloads folder).
Click on the Covenant file to install it. Wait for the notification that the install has been successful and Covenant should now be ready and waiting on your addons page.

If you do choose to download Covenant directly from the zip file, your addon will not be regularly updated. This means that in time, it stops working well unless you manually update it. Therefore, if the repository is available, it is recommended that you use that to download Covenant as this file will be updated automatically whenever a new version of the addon is released.
What is the Covenant Addon?
Covenant is the next-generation of Exodus. It is a new addon which is seeking to carry on where one of Kodi's most popular addons left off. What is more, it is also trying to improve on what was already a really solid addon experience. It sounds a hard job, but already Covenant is making a decent fist of it.
The Covenant addon has a similar logo to Exodus, with a backdrop of movie images used in just the same way. The menus are exactly the same, and eagle-eyed users will also notice that the backdrop behind the menu is identical to Exodus too.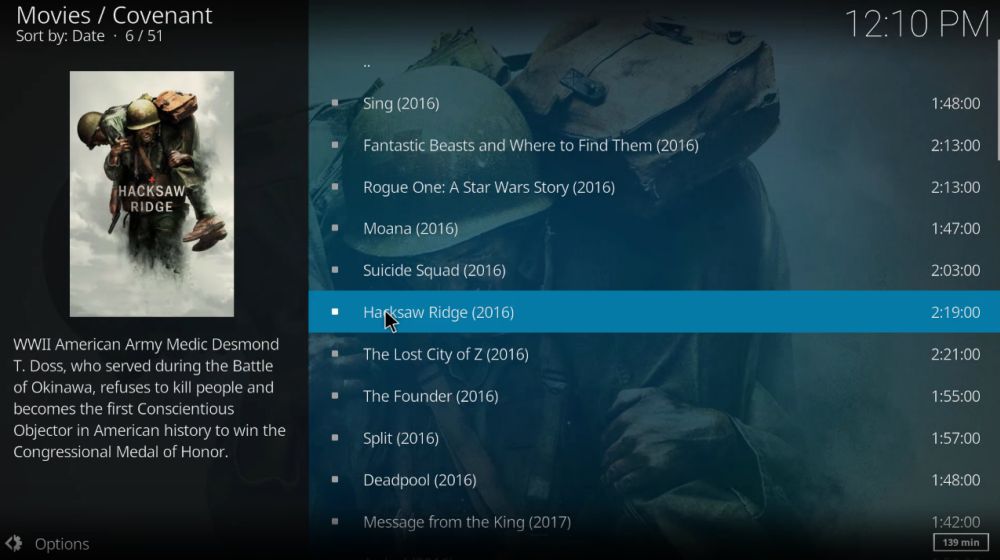 The main menu options offered by the Covenant addon are: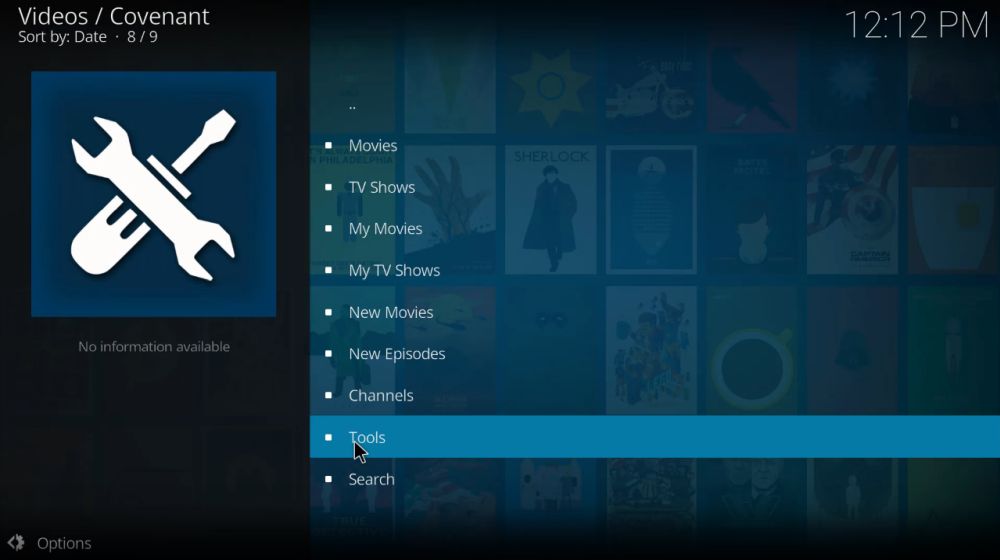 Movies
TV Shows
My Movies
My TV Shows
New Movies
New Episodes
Channels
Tools
Search
The content of each of these menu options is currently almost identical to the most recent update of Exodus. Unlike Exodus, however, Covenant is still updating. As more and more movies and TV shows become available, this will slowly change.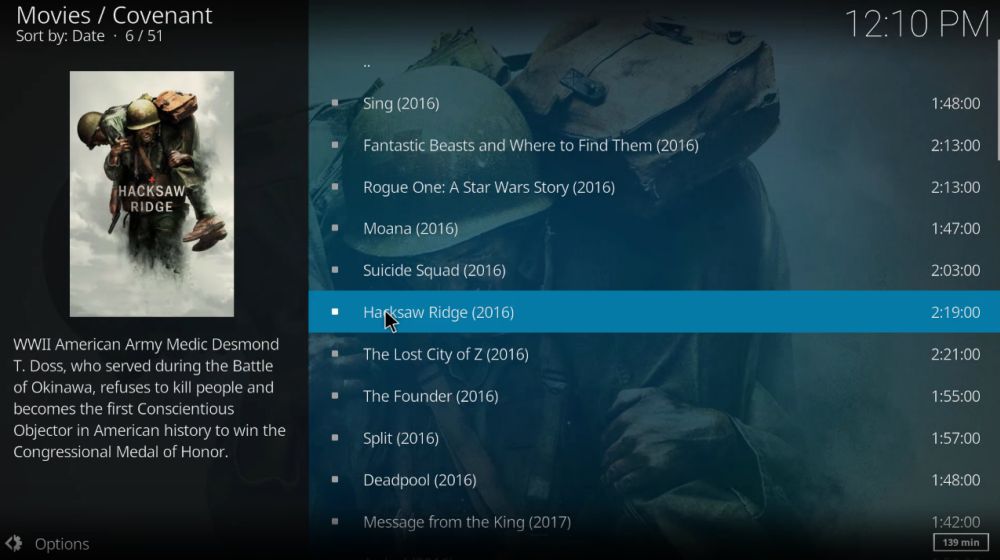 Because Covenant borrows so heavily from such a successful addon, there is little to criticise it over. There are very few broken links and the quality of most of the content is extremely good. The addon is sleek and well-designed and offers a great user-friendly experience. Importantly, Covenant is equally useful if you are looking for specific content or just browsing for something of interest. This is because there is plenty of information available with each listing and it has an excellent search capability. All things considered, if you loved the Exodus addon, you will Covenant every bit as much.
Why Switch from Exodus to Covenant?
A question we have been asked a lot is: "if Covenant is so similar to Exodus, why would I bother switching over?" There are a few simple answers to that. Firstly, the search facility on Covenant is fully functional, which is not the case with Exodus. The Trakt integration works too, as do all account integrations. Again, this is not the case with Exodus.
But most importantly, Covenant is still developer supported, while the Exodus addon no longer is. This means Exodus is going to slowly lose functionality until it stops working altogether unless another developer takes it up. Meanwhile, users can expect regular Covenant updates to be pushed out keeping it working and making further improvements to it. It is therefore highly recommended that existing Exodus users switch over the Covenant. It has the same content, but the Covenant addon is fully functional and developer supported.
Much like its famous predecessor, streaming with Covenant is a breeze. We particularly appreciate how the developer is not content to rest on their laurels, but to push the addon experience to new levels. What are your favourite features, and which would you like to see added in future versions? Do you still use Exodus, and if so, why? We'd love to hear about it in the comments section below, so do drop us a message!