We are reader supported and may earn a commission when you buy through links on our site.
Learn more
Elementum Kodi Add-on: Download Movies and TV Shows on Kodi
The Elementum add-on for Kodi is a fork of the popular Quasar add-on. The idea of both of these add-ons is that they use torrents in order to simultaneously stream and download video content like movies and TV shows. The torrents are not provided by the Elementum add-on itself, but rather by a selection of providers which scrape information and find links from torrents. These providers are pulled from an installation and configuration tool called Burst which you will install to Kodi as part of the Elementum installation process.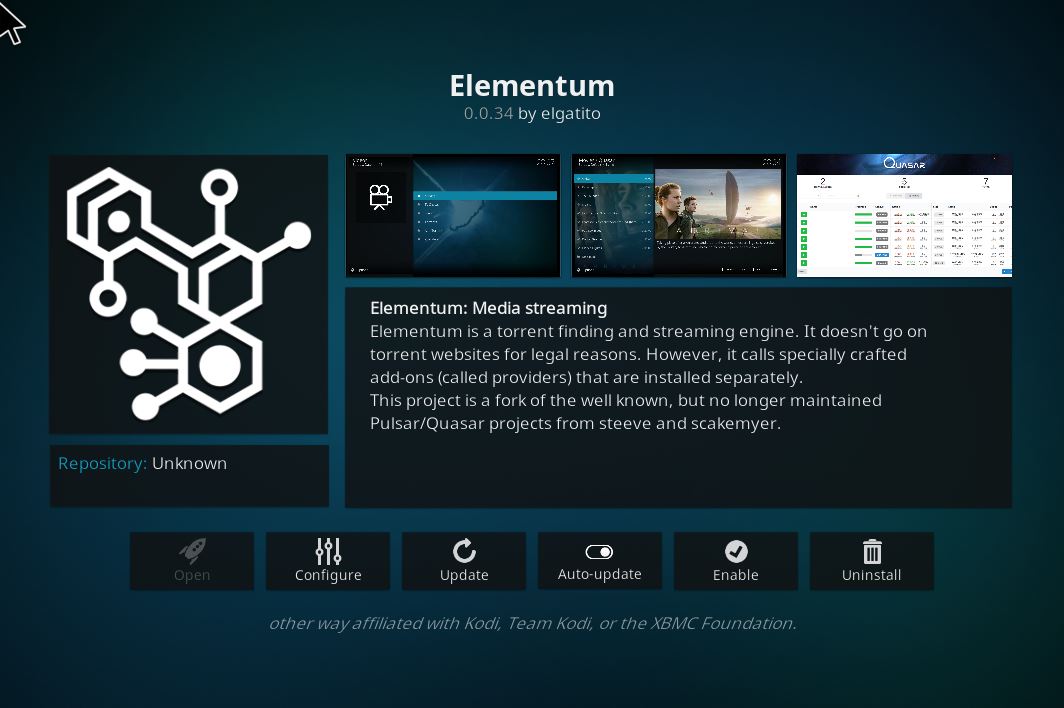 Once you have installed and configured the Elementum add-on – which is admittedly a bit more complicated and involved that installation and setup of most Kodi add-ons – then you can start using it to stream content straight from torrents. As a bonus, when you start streaming a video, the torrent will start downloading the file for your later use as well. This means that once you have watched a video in Elementum, it will be saved to your hard drive and you can watch it at any time in the future without having to connect to the internet or download it again.
Below we'll walk you through the process for the installation and setup of the add-on, so that you can download movies and TV shows with the Elementum Kodi add-on.
30-days money back guarantee
It is Vital To Have A VPN If You Use Elementum
Because the Elementum add-on uses torrents and allows you to download copyrighted content, it is extremely risky to use the add-on over an unsecured internet connection. Torrent traffic is peer to peer, meaning that you are both downloading and hosting at the same time, and this kind of traffic is extremely easy for your ISP to identify. Also, because of the nature of torrents, you are hosting a file for download as well as downloading it whenever you use a torrent. This means you can be prosecuted for hosting copyrighted files, which is a much more serious offence than just downloading them.
The best way to keep yourself safe when downloading is to use a VPN, which will encrypt all of the data that your device sends over the internet. Because of this encryption, it is impossible for outside observers to see what sites you have been visiting or whether you have been downloading. Even your ISP can only see how much data you have sent, and not what the contents of that data is. This means that your ISP won't be able to tell if you have been using torrents, which greatly increases your safety.
The Best VPN For Kodi – IPVanish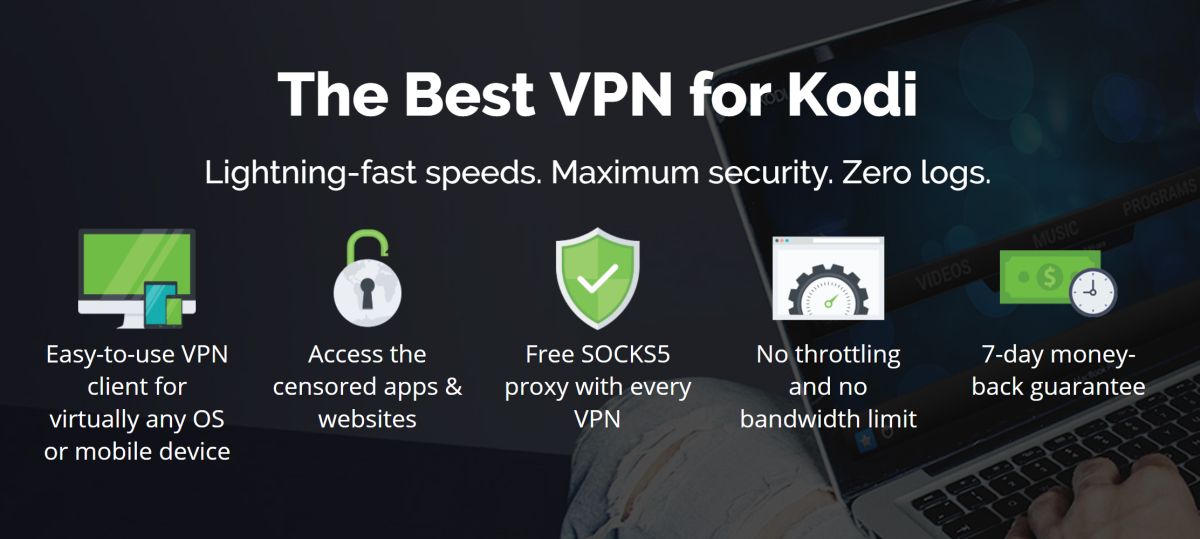 For Kodi users, the VPN provider that we recommend is IPVanish. With its super fast connections which are perfect for streaming and strong 256-bit encryption to keep you safe, this is a top choice for power users. There is a strict no logging policy sto protect your privacy, and the network of servers covers over 850 servers in 60 different countries. The software can be installed on Windows, Mac, iOS, and Android.
IPVanish offers a 7-day money back guarantee which means you have a week to test it risk-free. Please note that Addictive Tips readers can save a massive 60% here on the IPVanish annual plan, taking the monthly price down to only $4.87/mo.
Now that this important security issue is taken care of, we can move on to the instructions for installation and use of the add-on.
How To Install The Elementum Add-on For Kodi
Installing the Elementum add-on is a little bit more complicated than installing other add-ons. Firstly, you need to download a zip file containing the add-on from the Elementum website, and you need to get the particular zip file that corresponds to your platform. There are zips available for Windows both 32 and 64 bit, plus a variety of Linux configurations, Android, OSx, and iOS. Once you have the right zip file, you also need to change a few key settings in Kodi before you can install it. You need to enable installation from unknown sources, and also allow remote control from other applications in order to get the add-on working. Here are full instructions on how to do this:
Go to this website: https://elementum.surge.sh/getting-started/platforms/
Choose the platform which you are using, and download the appropriate installer
You will begin downloading a zip file, called something like plugin.video.elementum-0.0.34.windows_x64.zip
Once the download is complete, move the zip file to an easy to access location such as your desktop
Now open up Kodi to your home page
Click on Add-ons
You need to tell your Kodi system that you want to allow the installation of add-ons from outside sources. To do this, go to Settings by clicking the icon that looks like a cog
Go to Add-ons on the menu on the left and then look at the Unknown sources toggle to the right. Make sure this toggle is in the on position

You may see a warning when you enable this toggle. Click OK to proceed
Now we need to allow remote control of the system. To do this, go back to your home page
Now click the settings icon
Go to Control on the left hand menu
In the right hand side of the screen, look for the Application control subtitle
Make sure both Allow remote control from applications on this system and Allow remote control from applications on other system are enabled

Now we're all done with the settings. Go back to your home screen and you can begin installing the add-on
Click the icon that looks like an open box
In the Install from zip file window, navigate through your folders to find the folder containing your zip file

Click on the name of your zip file
This will install the add-on. Wait for a second and you'll see a notification once installation is complete

You may need to restart Kodi before you can start to use the add-on
How To Set Up The Elementum Add-on For Kodi
The installation of the add-on is now complete. However, there are some settings that you need to adjust before you can start using it. There are lots of different settings which you can investigate and play with, but here are the most vital steps that you need to take in set up in order to get the add-on working:
When you first install Elementum, you'll see a warning saying Download path not set, check your settings


Click on OK
This takes you to the Elementum settings page. The most important setting to change is in General and is called Download path. Click on this

Now use the browser to choose a folder where your downloads will be stored. Select the folder you want and click on OK
While you're here, you can also change some other settings. Scroll down a bit in the General tab and you'll see an option called Choose stream automatically


This determines whether you want to choose each stream manually or let the add-on choose the best one for you. If you're using Elementum for the first time, it's a good idea to enable this setting as it will make your life easier
Click OK once you are down and you'll see a notification that Elementum is updating its settings
Now you'll see a popup that says There is now an official multi-provider for Elementum called Burst. Would you like to install it now?


Click on Yes
Once the installation is complete, restart Kodi once again
How To Use The Elementum Add-on For Kodi
With everything installed and set up, you can start using the Elementum add-on to stream movies and videos. Here is how to use the add-on:
Start off on your Kodi home page
Go to Add-ons
Go to Video add-ons
You'll see the following options:
Movies
TV Shows
Search
Torrents
Add Torrent
Providers
Changelog
Now you can choose from these options:
Trakt
Search
Trending
Recent Episodes
Recent Shows
Most Popular
Top Rated
Most Voted
Genres
Click on Recent Episodes to see the latest content which has been added
You'll see a list of shows which have had episodes added to them recently
You'll see a list of available seasons. For the latest episodes, click on Season 4
Alternatively, if you want to watch movies instead, choose Movies from the home screen of the add-on. Then you can Search for your movie. Enter your search term into the input box and click on OK. Now you'll see a list of movies matching that search term. Also worth looking at is the IMDB Top 250 section in movies, which has links to the top rated movies as chosen by IMDB users. The Genres section is also useful if you're looking for a movie in a particular theme, like Action, Comedy, Drama, Horror, or Science Fiction.
If you are a Trakt user, you can use the Trakt section of the add-on to integrate with your Trakt account, where you can keep a Watchlist, Calendar, and see your Lists. You can also see popular movies as chosen by other Trakt users.
If there is ever a time when you have a link for a torrent file and you want to stream that torrent through Kodi, then you can use the Add Torrent feature on the home page of the add-on. This lets you copy and paste the URL of the torrent in question and start downloading and streaming it from within the add-on.
Conclusion
Elementum is an ideal add-on for advanced Kodi users who use torrents often. If you like to have local copies of your video files saved as well as being able to stream them, then this add-on is great. Although setting up and interacting with the add-on is a bit more complicated than other streaming add-ons, this means that there are lots of extra options and tweaks that advanced users can make use of.
Another advantage of this add-on is the huge range of content that it makes available. Because the content does not come from the add-on itself but from a range of constantly updated sources, you can find practically any TV show or movie that is currently available and stream and download it. The downloading also tends to be very fast because of the peer to peer download method used by torrents, so there's no waiting around for streams to buffer or to load.
However, you should be careful when using Elementum. Because it uses torrents to download content, there is a significant risk that your activity will be detected and investigated by your ISP if you use the add-on over an unsecured network. Use of torrents to download copyrighted content like movies and TV shows is illegal and torrent activity in particular is extremely obvious to your ISP. For this reason, it is extremely important that you use a VPN in order to protect yourself when using torrent-based add-ons like Elementum.
Do you have experience using Elementum? Do you like the big range of content available, or do you think it is too risky to use torrents these days? Let us know your thoughts about this issue in the comments below.