We are reader supported and may earn a commission when you buy through links on our site.
Learn more
Noobs And Nerds Is Down: Alternatives to Noobs and Nerds Repo for Kodi
Another Kodi add-on repository has been taken down in recent weeks, following last year's purge of many of the most popular repos. The latest casualty of the takedown is the Noobs and Nerds repository, which was one of the most popular repos remaining. This repo had a massive selection of many of the most popular add-ons available for the Kodi community, and the fact that it is no longer available is a sad loss for many users.
Now that the Noobs and Nerds repository has been taken down, what should you do? Do you need to delete add-ons from the repo or perform system maintenance to your Kodi build? And what can you do in future when you need to install a new add-on? Which repositories are still working for downloading new add-ons? These are the questions we're going to answer today in this article on Noobs And Nerds repository is down, now what?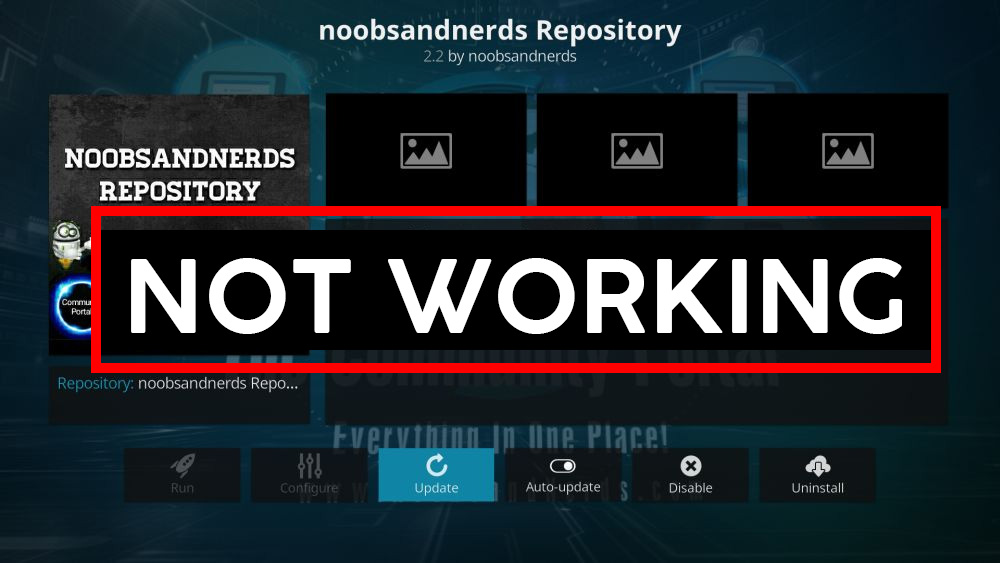 30-days money back guarantee
Why Kodi Users Should Get A VPN
Before we get into details about dealing with a repo going down, we should acknowledge the issue of security. As this crackdown clearly demonstrates, copyright holders and their lawyers are getting more and more serious about the use of Kodi add-ons to stream or download content illegally. If you use add-ons for streaming or downloading then you need to be careful, as if you are caught you could face a range of consequences from getting kicked off your ISP network, to being fined, or even facing prosecution.
To avoid any legal issues when using add-ons for Kodi, we strongly recommend that users get a VPN. This works by installing a small piece of software onto your device which encrypts all of the data that your device sends over the internet. This encryption means that it is impossible for anyone, even your ISP, to see what sites you have been visiting and whether or not you have been streaming or downloading. Using a VPN is a simple and effective way to keep yourself safe while using Kodi add-ons.
The Best VPN For Kodi – IPVanish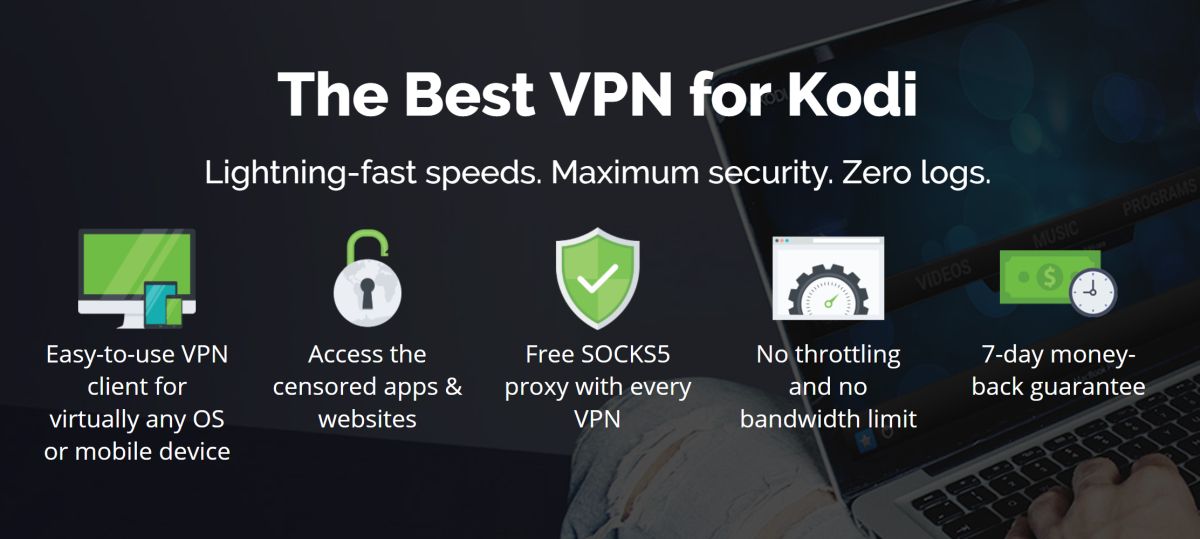 If you're looking for a VPN to use with Kodi, then we recommend IPVanish thanks to its lightning fast connections which are perfect for streaming high definition video. In addition to speed, the service also offers excellent security with strong 256-bit encryption and a no logging policy to keep your data out of the hands of others. The large server network of 850 servers in 60 different countries gives you plenty of flexibility, and the software is available for Windows, Mac OS, Android, Linux, iOS, and Windows Phone.
IPVanish offers a 7-day money back guarantee which means you have a week to test it risk-free. Please note that Addictive Tips readers can save a massive 60% here on the IPVanish annual plan, taking the monthly price down to only $4.87/mo.
Dead Repositories Pose A Security Risk
When you hear that a repository has gone down, especially if it's been taken down by a legal threat, then it's important to remove the link to that repository from your Kodi system. This is because there is a potential security threat from keeping links to now-inactive repositories in your system. The concern is that another company can buy up the domain name that was previous used by the repository. Then this new company could set up their own website at that URL – and the website could possibly even be a honeypot which is designed to look as if it has illegal content that you can access freely, but actually collects IP addresses and data about the people using the site so that they can be prosecuted.
When your Kodi system attempts to update the add-ons that you installed from Noobs and Nerds, it will look at the URL for the old site. If the site has been replaced by a new site, it is possible that your add-ons will be updated with malicious code. This code could then destroy your system or track your internet use.
Remove The Noobs And Nerds Repository From Kodi ASAP
Fortunately, it's easy to avoid this potential security risk. When you hear that a repository has been taken down, you should either remove or disable the repo in your Kodi system. This way, when add-ons need to be updated your Kodi system will not look at the old Noobs and Nerds URL, so you won't be vulnerable to malicious code which could be uploaded to there.
How To Remove The NaN Repo
Here is how to remove the Noobs and Nerds repository from your Kodi system:
Start on you Kodi home screen
Go to Add-ons
Go to My add-ons
Select Add-on repository
This brings up a list of your repositories. Find the repository you want to remove – in this case noobsandnerds – then click on its name
This shows you a screen with information about the repository. Choose Uninstall from the menu at the bottom
A popup confirmation will open. Select Yes and the repository and its associated files will be removed from your system
Now your system is safe from any malicious code uploaded to the old repository location
If you want more detailed information on removing a repository, then take a look at our full article on the topic.
But Don't Delete Your Add-ons!
You do need to delete the old repository, but it's important to remember that you don't need to delete your add-ons that you installed from Noobs and Nerds. These add-ons will continue to work just fine as they are, though they won't be updated in the future. For now you can continue to use the add-ons just as you did before, and this shouldn't cause any problems with your system.
In fact, you should definitely avoid deleting add-ons from Noobs and Nerds if you can help it. This is because once you have deleted an add-on, you won't be able to reinstall it again as the installation file no longer exists in the repository. If you want to install an add-on after you have deleted it, then you'll have to find a new repository which hosts the add-on, and that can be a pain.
How To Disable An Add-on
If you have an add-on from Noobs and Nerds that you aren't using much any more but you don't want to delete, then you can always disable the add-on. This way, the add-on won't appear in your system's add-ons section, but if you want to use it again in the future then you just need to enable it.
Here's how to disable an add-on:
Start on you Kodi home screen
Go to Add-ons
Go to My add-ons
Select All
Scroll down the list until you find the add-on you want to disable
Right click the name of the add-on
Choose Information from the pop up menu
This brings up the information screen for the add-on. Click disable from the menu at the bottom to disable the add-on
Next Install Alternative Repositories to Noobs And Nerds
Now that you've secured your system by removing the old repository, you need to find a new repository that you can install for using add-ons. It's an unfortunate fact of life as a Kodi user that repositories frequently get taken down and are no longer useable. But luckily there are still a number of great repositories still up which you can use to install new add-ons for your system.
How To Install A New Repository
Once you've found a new repository that you want to add to your Kodi system, it's a simple process to add the repository URL to your File Manager and then use the repository to install add-ons. Here's a quick how to:
Begin on your Kodi home screen
Click on the settings icon, then go to File Manager
Click on Add source
Click on the box where it says <None>
Enter the URL of the repository being sure to include the https://
Give the source a name
Click OK
Go back to your home screen
Click on Add-ons
Click on the icon that looks like an open box
Click on Install from zip file
Click on the name of your repository, then navigate through the folders to find the zip file that you want
Click the name of the zip file
Wait for a moment and you'll see a notification once the source has been installed
Now the repository has been added to your Kodi system
To start installing new add-ons, go to Install from repository
Click on the name of your repository
Click on the category of the add-on you're looking for, such as Video add-ons, Music add-ons, or Program add-ons
Click on the name of the add-on you want to install
A screen will open describing the add-on. Select Install from the menu at the bottom
Wait for a moment and you'll see a notification once the add-on has been installed
Now you know how to install a new repository, here are our top recommendations for repositories to replace Noobs and Nerds:
1. Kodil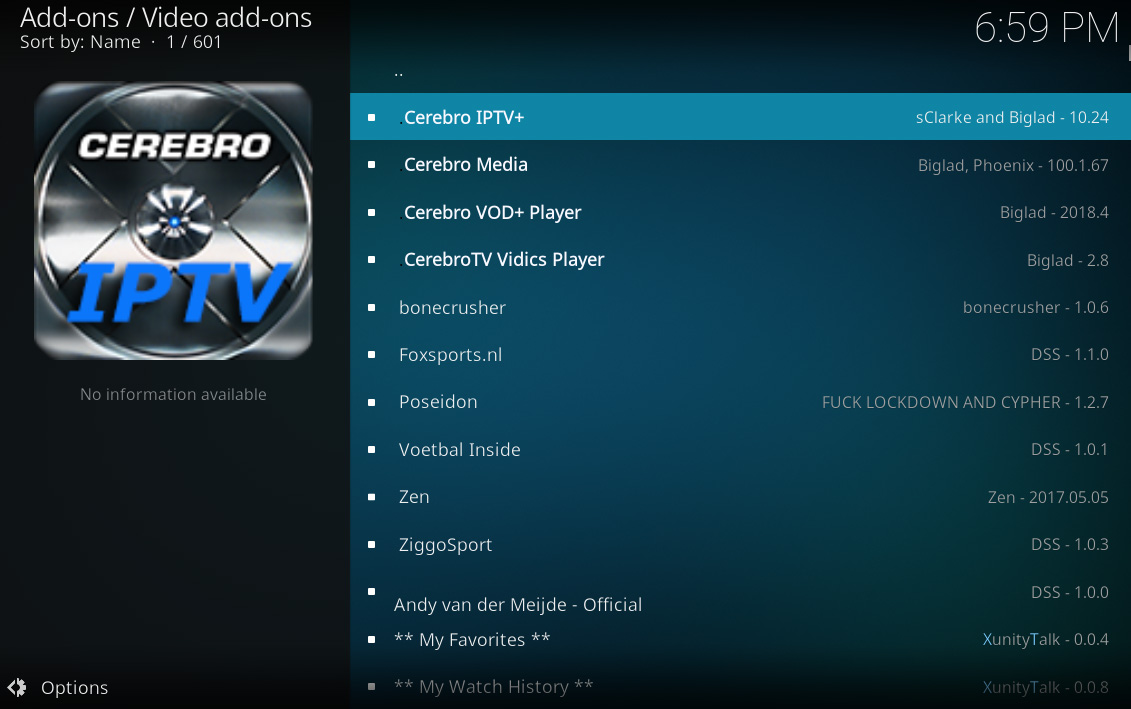 One of our favourite repositories here at Addictive Tips is Kodil, the Kodi repository from Israel. This repo has a huge selection of add-ons available in it, including many of the popular add-ons which used to be hosted in other repositories before they were taken down. For example, the Kodil repo contains the streaming add-ons Bennu, Bob Unleashed, Elysium, and Covenant, which are all very popular ways of streaming movies and TV shows and which are no longer available from their original repositories. If you're looking for add-ons to watch live TV then Kodil has options for this too, like the Cerebro IPTV+ and cCloud TV add-ons which you can use to watch live streams from hundreds of TV channels from around the world. Finally, the repository also hosts the Ares add-ons which were available before the Ares repo went down, like Ares Comedy, Ares Anime, and Ares Music.
If you need just one repository to replace Noobs and Nerds, then Kodil is our top choice. Find the repository at https://kdil.co/repo/. Also, take a look at our article detailing how to install Kodil.
2. XvBMC
One of the oldest repositories for Kodi but one that still has a bunch of great add-ons in XvBMC. This repository doesn't have as big a selection of add-ons as Kodil, but it still does host a few massively popular add-ons which you can't find elsewhere. The SportsDevil add-on, for example, is one of the most popular Kodi add-ons for watching sports of all kinds and has a massive and loyal user base. But this add-on was hosted in one of the repos that was taken down in the purge at the end of last year. Now, XvBMC is one of the only places where you can still download this key add-on.
You'll also find add-ons in this repository which you can use for torrents, like the Torrenter and Quasar add-ons which let you stream video content while downloading it through torrents. Torrents aren't that popular any more due to potential legal problems with using them, but if you're still a torrent user then you can find add-ons here which will help you out. In addition, XvBMC hosts add-ons for streaming like Covenant and also has IPTV add-ons like Retrospect.
Find the repository at https://archive.org/download/repository.xvbmc
3. TV Addons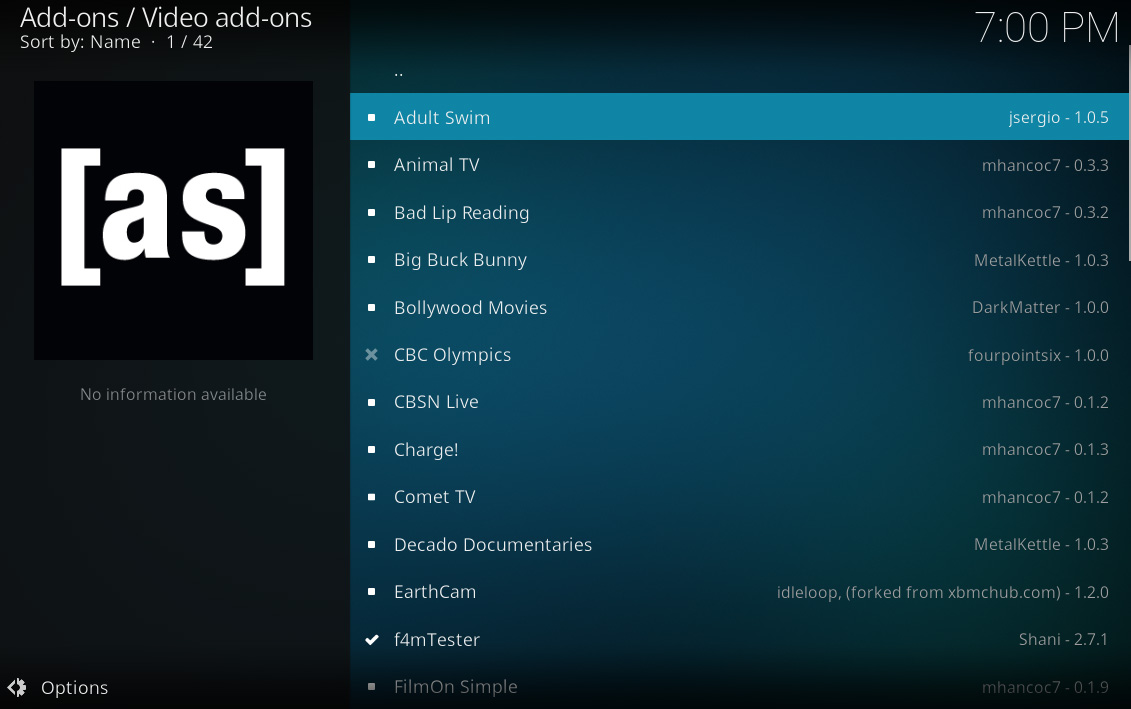 The TV Addons repository was formerly known as Fusion, when it used to host a large number of grey-legal streaming add-ons. But the site was taken down, and has since returned as an all-legal add-on repository. There are actually a large number of fully legal add-ons out there that you can use to stream TV content, and many of them are collected in the TV Addons repository. You can find add-ons like USTVcatchup which let you watch a big range of reality TV shows, or the Adult Swim add-on that you can use to watch Cartoon Network's late night and charmingly bizarre content. There are also handy maintenance tools available like Indigo, or Plexus which you can use to cast to other devices.
TV Addons is a great repo for those who want to use only legal, safe add-ons with no risk involved. Find the repository at https://fusion.tvaddons.co/ Also, check out how to install add-ons from the TV Addons repository via the Git Browser.
4. Blamo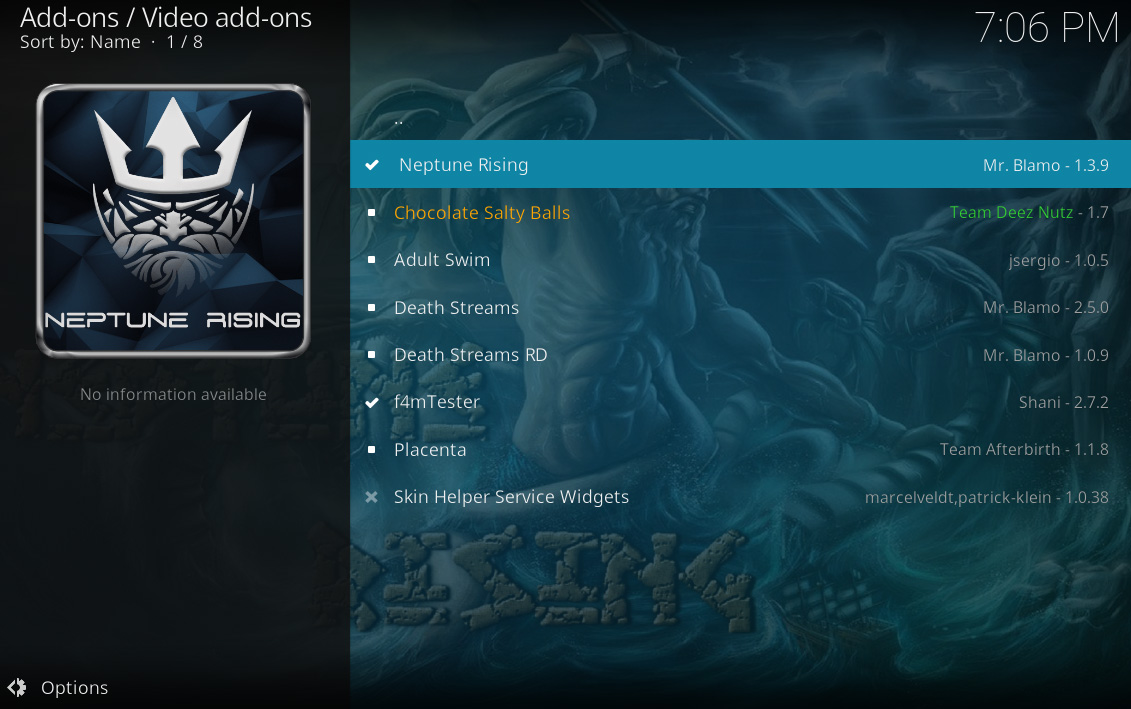 It's only a small repository, but the Blamo repo still deserves a mention thanks to the fact that it hosts the Neptune Rising add-on. Neptune Rising is a fork of Exodus, meaning that it's a variation on a previous add-on that was very popular for watching TV shows and movies. If you're looking for a single add-on that will let you stream almost all of the shows and movies that you could desire, then this add-on is it.
In addition, Blamo also hosts other streaming add-ons like Death Streams and Placenta. These add-ons are less well known but can still be handy if you like having a lot of streaming options open to you. Overall, Blamo is a handy repo to know about for those who like streaming TV and movie content. Find the repository at https://repo.mrblamo.xyz/
5. Maverick Repo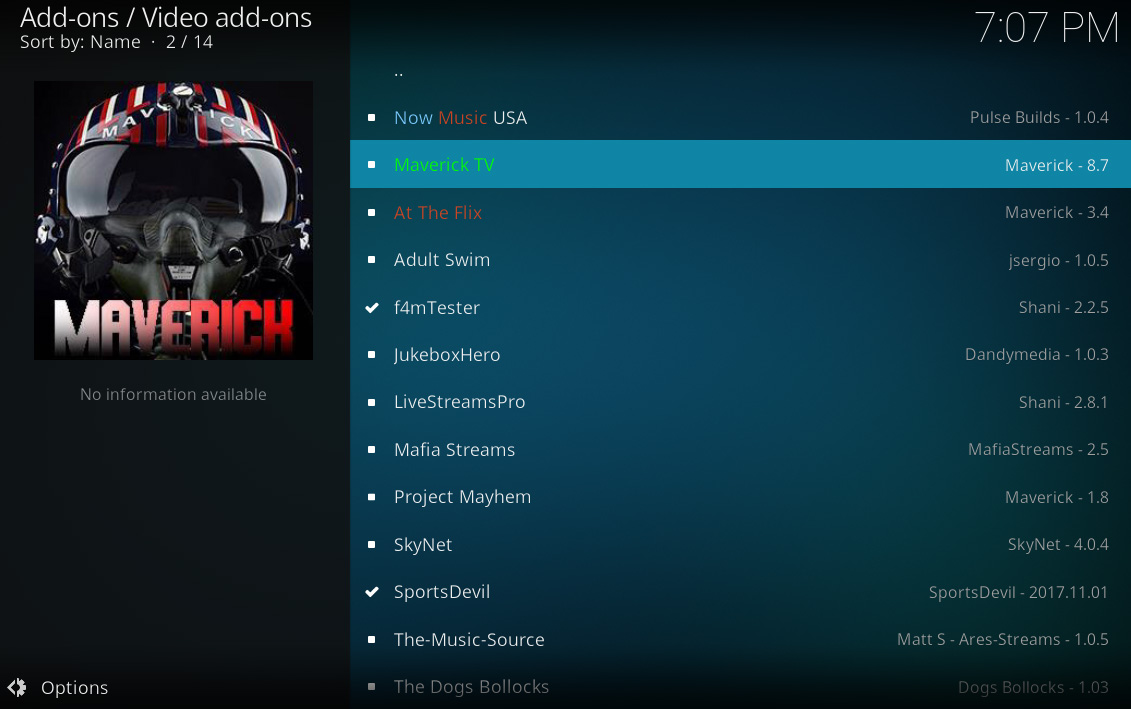 Another smaller repository that deserves a mention is the Maverick repo. This repository is best known for hosting the Maverick TV add-on which was a favourite among streamers for many years. With a massive range of content like movies and TV shows, plus movies available to stream in ultra high definition, this add-on is an essential for big streamers.
There are a few other streaming add-ons in this repository that are also worth checking out, like Project Mayhem, plus add-ons for live streams of TV channels like Mafia Streams and LiveStreamsPro.
Find the repository at https://mavericktv.net/mavrepo/
6. Official Kodi repository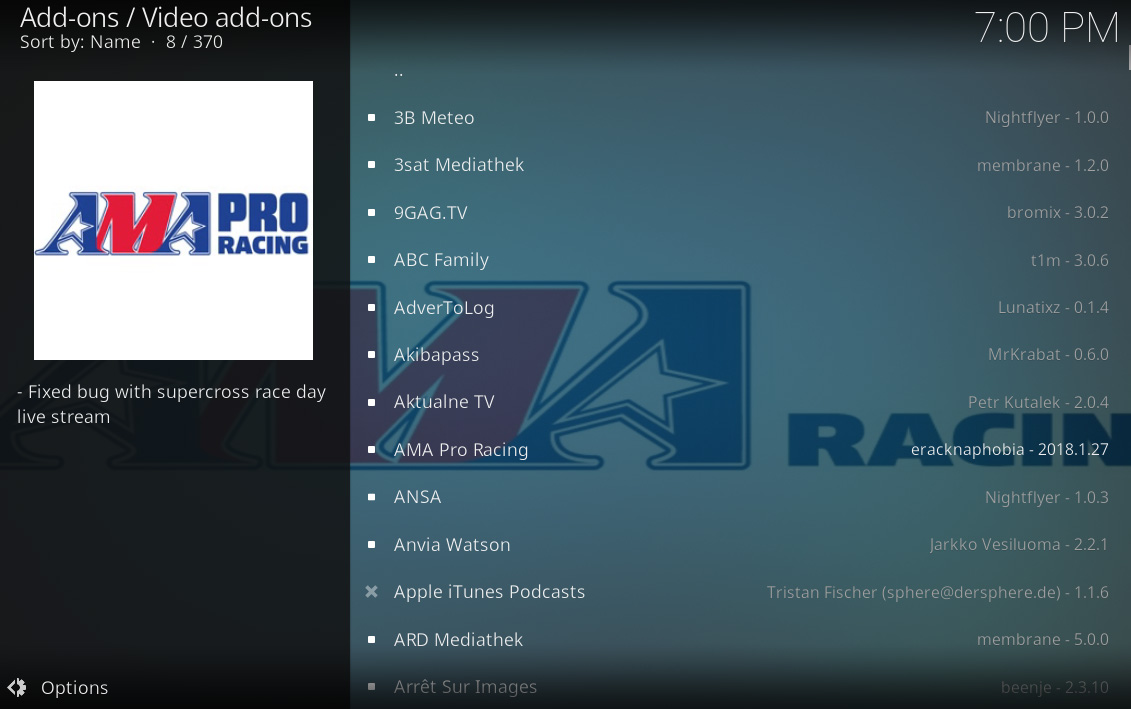 Finally, don't forget to check out the official Kodi repository. Users often overlook this repository and assume it doesn't have any useful add-ons available in it, but that isn't the case at all. All of the add-ons here are legal to use, and they include add-ons to access key services like YouTube, SoundCloud, Vimeo, and Twitch. You can also find add-ons for watching more specific content like the Food Network, Comedy Central, Ted Talks, or the BBC iPlayer.
This repository should come pre-installed onto your Kodi system, but if you need the URL you can find it at https://kodi.tv/addons
Conclusion
It's a sad loss for the community that the Noobs and Nerds repository will no longer be available for finding add-ons. Now that the repository is down, the first thing you should do is to delete the repository from your Kodi system. Don't delete your add-ons though! You want to keep those as it may be hard to find them again in the future. When you need to download a new add-on, you can use some of the repositories that we have suggested as alternatives to Noobs and Nerds.
Are you gutted about the loss of Noobs and Nerds too? Which repositories are you using as a replacement? Let us know in the comments below.