We are reader supported and may earn a commission when you buy through links on our site.
Learn more
FunimationNOW Kodi Addon – Watch English-dubbed anime legally
Are you a huge fan of Japanese anime, but can't speak Japanese? Do you get annoyed when you search for your favorite anime shows, only to find you can't understand what's being said, and there aren't even any subtitles? If that sounds familiar, then FunimationNOW is a must-have Kodi addon for you. It is the result of a partnership between Crunchyroll and Funimation which sees all the most popular Japanese shows being made available with full English dubs.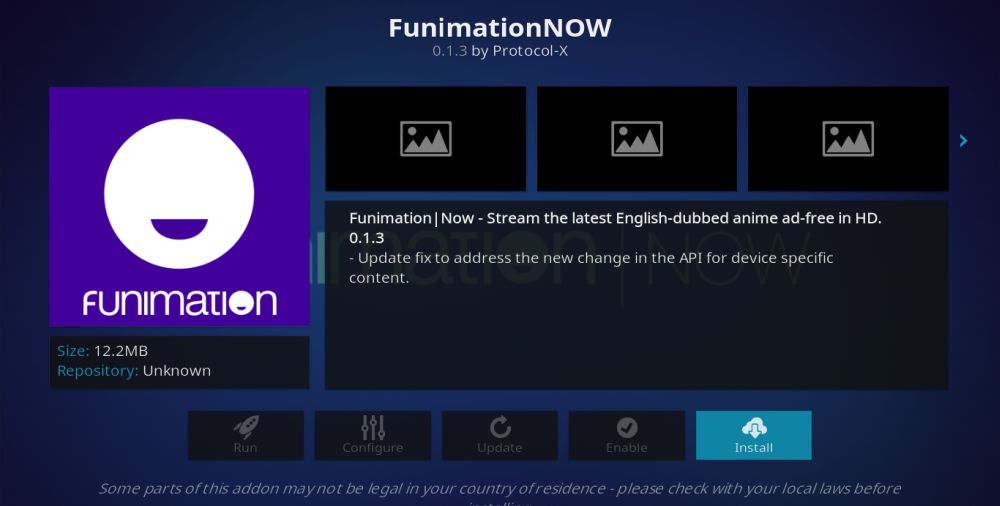 30-days money back guarantee
FunimationNOW is available in the official Kodi addon repository, and as such provides a reputable and polished streaming experience. Be advised, however, that this is not a free service; you'll need to have a FunimationNow subscription, which comes at a monthly fee. There is, however, a free trial available.
In this article, we'll show you how to download and install the FunimationNOW official Kodi addon, cover some of its best features, guide you through the process of trialing the service, and teach you how to stay safe when using Kodi. Read on!
Reminder – Always Use a VPN with Kodi
No conversation about Kodi is complete without a mention made to security. Indeed, the current state of copyright enforcement is unfavorable to Kodi and its users, and authorities have been cracking down hard with takedown requests, fines, and other countermeasures. But why?
Kodi is an open-source environment, features numerous third-party addons that expand the core functionality of the platform. This often translates into granting users access to copyrighted material. Unfortunately, most ISPs, copyright holders, and law enforcement agencies won't differentiate between lawful and unlawful Kodi traffic. Even if you stick to reputable, legal addons like FunimationNOW, you might get caught in the crossfire.
A virtual private network removes this liability almost entirely from the equation. By wrapping your internet connection in a concealing tunnel of encryption, no third-party can ever know who you are or what you're looking at online. Further, VPNs can beat unfair geographical content restrictions that limit some content libraries based on a user's location in the world.
So you can see, there's every reason to use a VPN with Kodi. All you have to do is pick from among the whirlwind of available services on the market, each claiming to be the best. Or, you could cut straight to the chase, and subscribe to the undisputed king of Kodi-compatible VPNs.
IPVanish – Best VPN for Kodi Users
IPVanish is the perfect complement to Kodi. What Kodi lacks in security, IPVanish makes up for in spades, with every packet of your data being wrapped in unbreakable 256-bit AES encryption, and your IP address being masked by any of this provider's numerous proxy servers. And indeed, there is a massive network to choose from: over 1000 servers in 60+ countries worldwide (including several nodes in the USA and Canada, which you'll need to access FunimationNOW). If there's a geo-restriction on Kodi content you want to watch, you'll almost certainly be able to bypass it with IPVanish.
Of course, any Kodi-focused security solution will need to prioritize speed and stability to ensure the smoothest HD streams. IPVanish more than delivers, it smashes benchmarks with some of the best performance we've seen on the market. There's no limit on bandwidth or data types, either, so you can binge watch Kodi content to your heart's content. Whatever you choose to do with this dynamic duo, you'll rest easier knowing that not a single record of it will be logged by your VPN provider.
IPVanish offers a 7-day money back guarantee which means you have a week to test it risk-free. Please note that Addictive Tips readers can save a massive 60% here on the IPVanish annual plan, taking the monthly price down to only $4.87/mo.
How to Install the FunimationNOW Kodi Addon
Because the FunimationNOW Kodi addon is first-party software, the process for downloading and installing it is dead simple. Whereas third-party addons require the installation of addon repositories from external sites, FunimationNOW is conveniently located in the official Kodi Add-on Repository, which comes packaged with every standard Kodi installation.
Below, we'll detail the installation process, along with any preliminary configuration settings you'll need to put in place.
On the Kodi homepage, navigate to Add-ons > Add-on Browser – this is the open box icon in the top left of the screen.
The FunimationNOW Kodi addon should now be available to use in your addon library!
How to Subscribe or Register for a Free Trial
When you first open FunimationNOW, you'll be greeted by an elaborate animated opening, which is far more sophisticated than most unofficial addons would bother with. Once this opening has finished, you will find yourself on a home page with two options. At the bottom, you can click on Log In and enter your existing FunimationNow login details to access their service. Alternatively, you can click on the box in the middle of the screen, which offers you the chance to Start Your Free Trial Now.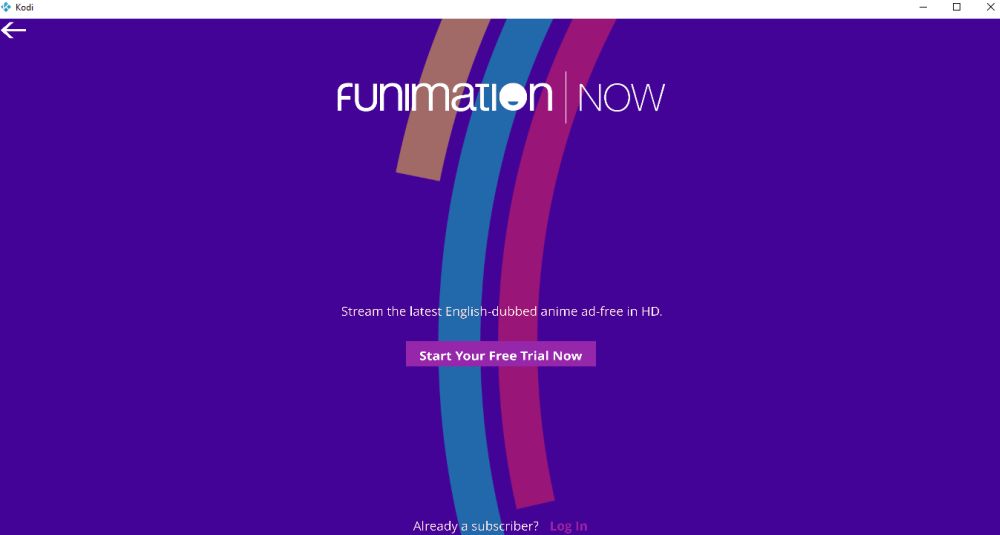 When you click on this box, a webpage will open where you can register for a free trial. At the moment, FunimationNOW is only available in the USA or Canada, so if you want to sign up, you will have to connect your VPN to a server from one of those countries.
Despite being free, you will still be required to enter in payment details, as your account will be set to automatically transition to a paid ($5.99/month) subscription at the end of your two-week trial period. You can, of course, cancel before that happens to avoid a charge if you're not satisfied with the service.
There are a couple of other catches, too. The free trial will only grant access to a limited amount of content. And, you will be shown commercials, which are not present for fully paid-up subscribers. But all reservations aside, for dipping your toes into the vast waters of Japanese anime, this is a fantastic option.
Addon Configuration
Once you have signed up, launch the FunimationNOW addon and enter your login details. This will bring up the addons main menu. You can just start enjoying your favorite anime shows from here, but we would recommend you first take a quick look at the Settings menu to make sure it is all configured to your liking.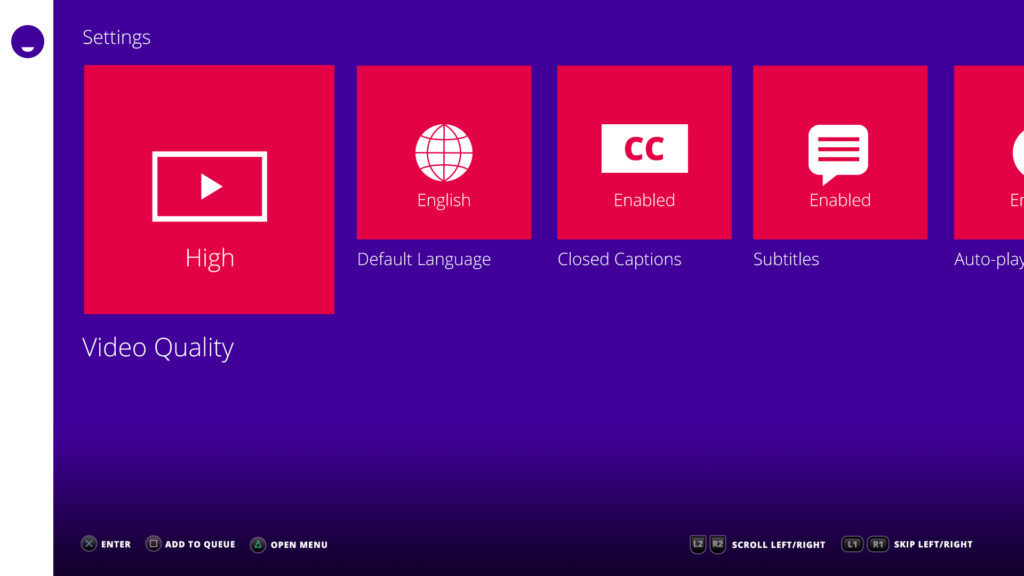 FunimationNOW offers all its shows in full HD quality by default, but depending on the speed of your internet connection, this may not be the best option for you to use. All of the shows on the service are dubbed into English, but some dubbing is better than others. So, if you want to add subtitles to the shows too, you can toggle that setting here as well.
Another option to give some thought to is Prefetch Show Information. This lets you decide whether or not to allow the addon to download thumbnails and metadata at the start of each session or on-demand. Again, the best choice for you will depend on the speed of your internet connection.
What and How to Watch
When using the FunimationNOW addon, you can compile your favorite shows into a queue of episodes to watch at your leisure. However, most users will simply head to the All Shows tab, where you can search the full range of content. Within this tab, you can sort through content by either genre or date added, as well as entering specific titles or keywords. Once you find the show you want to watch, simply click on it to open up a page with all the information about the episode and select the play button to start watching.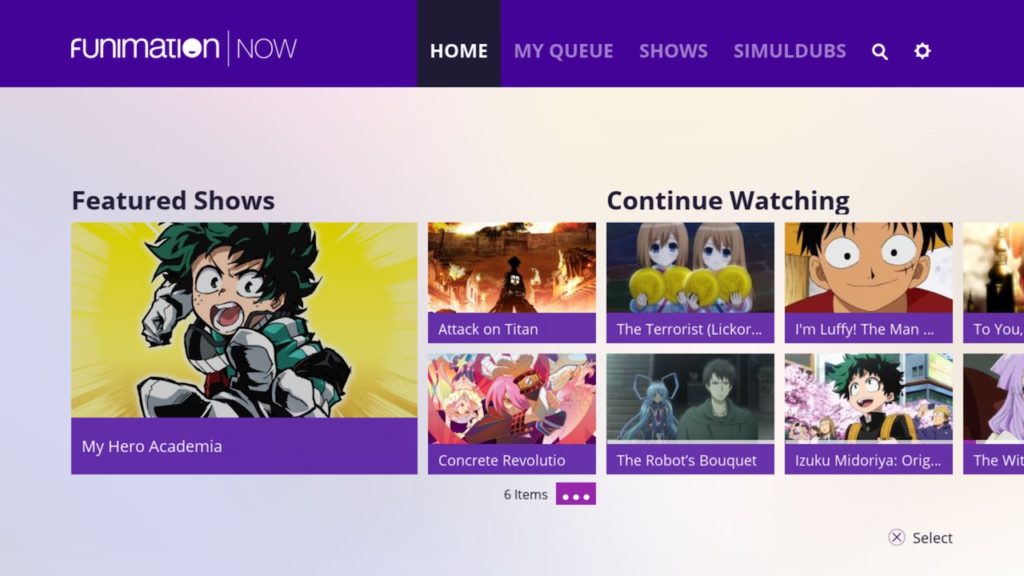 The selection of anime shows on FunimationNOW is not entirely comprehensive, but for English-language content, it includes just about everything available. Popular shows on the addon at the moment include My Hero Academia, Black Clover, Tokyo Ghoul, SteinsGate, High School DxD, Full Metal Panic, Attack on Titan, Basilisk, Star Blazers, and One Piece. But there are plenty more to be discovered too.
FunimationNOW Kodi Addon – Pros and Cons
Pros 
As an official addon, the FunimationNOW addon is every bit as polished as you would hope. From the opening graphics, to the menus, and even the level of detailed information included about every episode of every show, this user experience is of the highest quality. The streams too are faultless and, if you choose to have your videos stream in full HD quality, everything will be that good. Unless you can master Japanese, you will not find a bigger selection of anime shows anywhere else.
Cons
The biggest drawback to the FunimationNOW Kodi addon is that it is not a free service. You do have to sign up and pay $5.99 a month. But for that, you get a high-quality service and access to an unlimited amount of anime content. So, if anime is your thing, it is actually a pretty sound investment. All of the content is dubbed and, if we are honest, the quality of this dubbing is a little mixed. Some anime fans will be used to dubbed soundtracks, but in testing, there were some shows where we were grateful that subtitles were available too.
Conclusion
For fans of anime, the FunimationNOW addon is a fantastic resource. It delivers a huge range of high-quality anime shows, including all the hits, and they are all dubbed into English for international audiences. The addon is easy to download, with a slick well-designed interface and terrific usability. It is a paid-for service, but the quality of content available makes this cost justifiable. If you are still getting into anime, the 14-day free trial also makes the addon well worth exploring. It really is the best available anime addon for Kodi at the moment.
Are you a FunimationNow user? How have you found their official Kodi addon to use? Do your experiences match our review? Is there anything important we have missed out? Do you use the FunimationNOW addon outside North America? Have you encountered any issues? We always welcome the thoughts and views of all our readers, so why not share them with us using the comment box below?