We are reader supported and may earn a commission when you buy through links on our site.
Learn more
Gurzil Kodi Addon – How to Install Gurzil on Kodi
Finding a reliable on-demand streaming addon for Kodi has got significantly harder this year, with a number of the most popular ones going offline for one reason or another. Which is all the more reason for Kodi users to take a look at Gurzil. The Gurzil Kodi addon is based on Exodus, one of the most downloaded and popular unofficial addons in Kodi history. It has survived the demise of its developer's repository (Smash) and continues to offer users a wide range of on-demand movies and TV shows.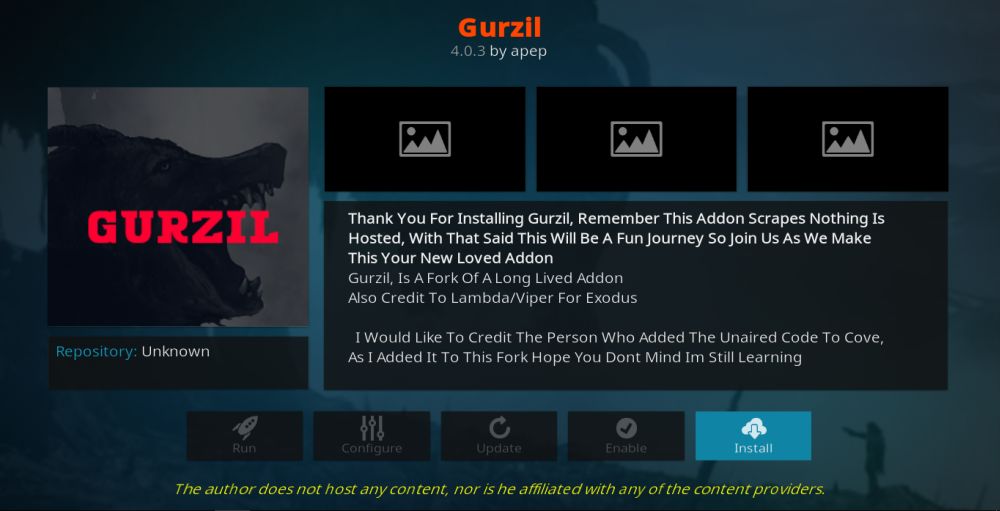 Gurzil does have one or two small issues and doesn't quite manage to hit the heights of its predecessor. But it still offers access to a huge range of on-demand content and a user-friendly, well-designed addon that would be a great addition to many addon libraries. In this guide, we will tell you everything you need to know about this addon as well as a step-by-step guide of how to download and install it too.
30-days money back guarantee
Before You Download the Gurzil Kodi Addon – Install a VPN
When using an unofficial Kodi addon such as Gurzil, it is always advisable to use a VPN too. The reason for this is that some unofficial Kodi addons can enable users to access copyrighted media. As a result, they are at risk of legal repercussions from copyright owners. A number of Kodi users have received legal notices and even faced stronger action. Kodi can also be a security risk as its open-source nature means that developers can, and sometimes do, use unofficial addons to install malicious software onto a user's devices. A VPN helps to protect you from both of these risks. It will encrypt all of your online data, which helps to protect from malware and spyware, and also change your IP Address, making it harder to track your internet activity back to you. This, therefore, protects you from any possible legal repercussions should you view copyrighted content.
The Best VPN for Kodi – IPVanish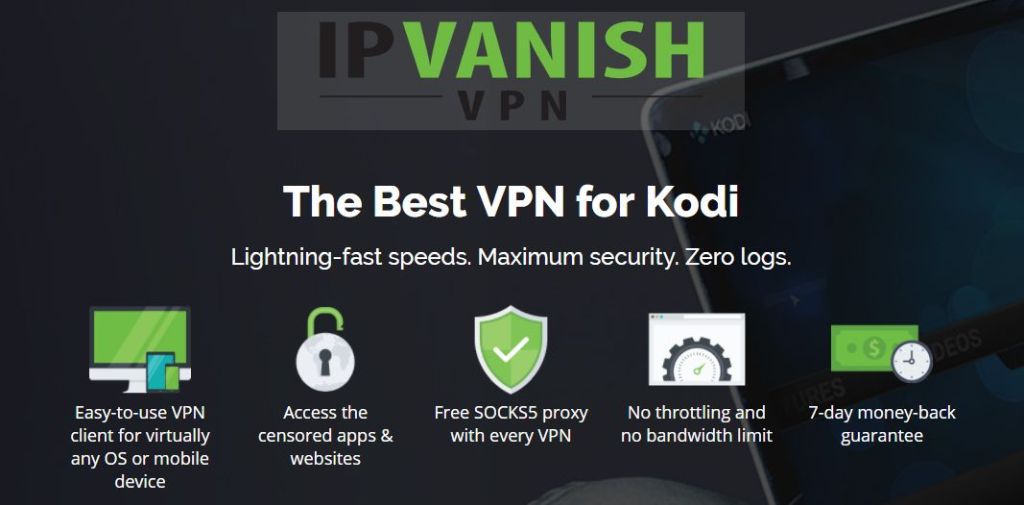 We always point Kodi users on the lookout for the best VPN towards IPVanish. That is because IPVanish offers the fast and consistent connection speeds that Kodi users need to stream media content. It also has some of the strongest encryption around and excellent privacy protections, with no users logs at all being retained. They offer a huge server network consisting of more than 850 servers in 60 countries around the world. This helps Kodi users unlock content from just about everywhere. IPVanish has no restrictions on users, meaning you can stream as much as you like through their servers. And with dedicated apps for almost every device, including the Amazon Fire TV Stick, IPVanish is the premier VPN for Kodi users right now.
IPVanish offers a 7-day money back guarantee which means you have a week to test it risk-free. Please note that Addictive Tips readers can save a massive 60% here on the IPVanish annual plan, taking the monthly price down to only $4.87/mo.
How to Install the Gurzil Kodi Addon
A number of prominent Kodi repositories have gone down in recent months including the hugely popular Smash repository, which used to be the home of Gurzil. Fortunately, Gurzil can still be downloaded from the Kodil Repository. And below you will find a simple 10-step guide explaining how to do this:
What Is the Gurzil Kodi Addon?
The Gurzil Kodi addon is a fork for the hugely popular and much missed Exodus addon. That means it is based on the Exodus source code and is remarkably similar to its previous incarnation. Gurzil was developed by Smash, but while his repository has now been taken down, Gurzil remains available and fully functional. It is good news for Kodi users that it is because it remains a great on-demand addon.
Gurzil Guided Tour
On first opening the Gurzil addon, the main menu appears remarkably simple. Don't let that deceive you though as there is a wealth of content beneath it just waiting to be discovered. To give you a taste of what is on offer, we have broken down the Gurzil addon by its main menu options: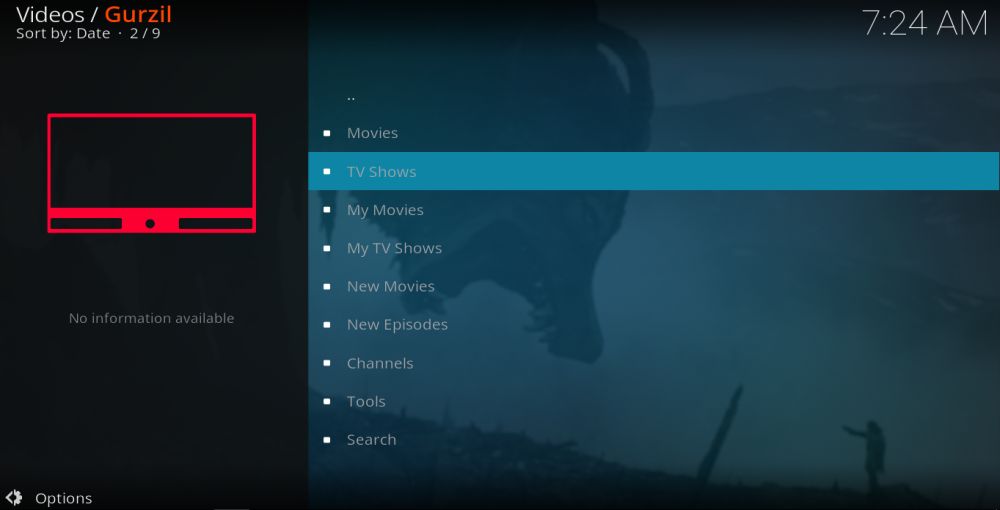 Movies
Clicking on the Movies option from the main menu opens up a comprehensive submenu which allows you to seek out movies of interest to you in just about every way imaginable. You can search by Genres, Year, People, Languages, and Certificates (ratings). You can also see what else people are watching on Gurzil through options such as Most Popular, Most Voted, and People Watching. Then there are various options to check out the latest releases too.
Gurzil pulls in information about movies from different sources, including the Internet Movie Database (IMDB) to help inform you about different movies. And once you select your movie, it will seek out links from its extensive online database before allowing you to choose which you want to watch.
TV Shows
The TV Shows menu option opens up a similar submenu to the movies one and they work in the same way. There are a few extra options too, such as Airing Today as well as a really useful TV Calendar option which allows you to plan when the next episode of your favourite show will be available.
Clicking on your chosen show will again see Gurzil aggregate links from around the web before allowing you to choose which link you want to watch. Like movies, these links will include details of the quality of the stream as well as where it is sourced from, to enable you to choose the best link for your device and connection.
My Movies
You are able to link Gurzil to your Trakt or IMDB account and if you choose to do so, this is where to go to watch movie content from those services.
My TV Shows
As with My Movies, you can access all your favourite TV content from Trakt or IMDB on this menu option.
New Movies
As the menu option suggests, this menu option can be used to open up links to the latest new releases that are available online. It is basically a direct link to the same tab that can be found under the Movies option.
New Episodes
In the same vein, this menu options allows you to head directly to the latest episodes of all the most popular TV shows currently available on Gurzil. This link can also be found under the TV Shows tab.
Channels
This option links to a small number of movies that have been sourced directly from TV channels. The number of links available under this option is very limited and eclectic however, and most users will probably only visit this menu option once.
Tools
This is the place to go to access all the settings of the Gurzil addon, including linking it to your Trakt or IMDB account.
Search
This menu option opens up Gurzil's excellent search facility which allows you to search for content by Movies, TV shows, or actors.
How to Make Gurzil Faster
There isn't much to criticise about the Gurzil addon, but one thing which has cropped up a few times in testing is how long the addon can take to pull in links from the huge number of online sources it uses. For popular content with many links, this can take several minutes, which is sometimes irritating. Fortunately, there is a way to get around this issue.
In the Gurzil settings, it is possible to individually disable sources that the addon scrapes for content. The more sources that are disabled, the faster Gurzil will compile its list of links. For a start, you can disable those sources that offer links in a foreign language. Then there are many English language ones that you probably never make use of too. You could potentially cut the number of sources significantly, so Gurzil is only scraping from 5 or 10 links.
Unfortunately, you can only disable these sources individually, which does take a while, but it will save you plenty of time in the long run, so it is worth the effort for regular users. If you want to enable them all again, later on, you can do that in one click, by choosing the Defaults option. This is also a great way to remove sources which have stopped working on the addon too.
Gurzil Conclusions
Gurzil is based on the Exodus addon and while it doesn't quite hit the heights of that Kodi classic, it still has a great deal to offer. It has a huge database of content sourced from dozens of different places around the net. This means almost all the content it claims to have available is working and has multiple links for users to choose from.
The addon is well-designed and easy to use and navigate around. It has a great search facility too, which is a real bonus. For the most part, links are working and content can be connected to easily. Playback is fast on the whole and we experienced minimal buffering issues. But this can depend on the source that you have chosen to link to.
The speed with which Gurzil scrapes it links is a frustration at times, but as we have explained there is a workaround to that too. There is also no bookmarking feature to allow you to return to content you have watched or sought out previously, which is also a shame. But despite these small issues, Gurzil remains a great on-demand addon and is a valuable addition to most addon libraries.
How did you find the Gurzil addon? Did our installation guide help you out? Did you experience any problems using it or watching any movies or TV shows? Does it compare to Exodus in your view? Feel free to share any thoughts or opinions you may have in the comment section below.