We are reader supported and may earn a commission when you buy through links on our site.
Learn more
How to Install Kodi Solutions IPTV on Any Device
There is a massive variety of IPTV services out there, and while many of them are paid services which operate entirely above board, others engage in shadier practices. Because of this, copyright holders take a somewhat dim view of the industry as a whole, and may lash out with preemptive measures. Unfortunately, a number of good Kodi IPTV add-ons have gotten caught in the crossfire of such takedown efforts, robbing the platform's users of some excellent entertainment tools.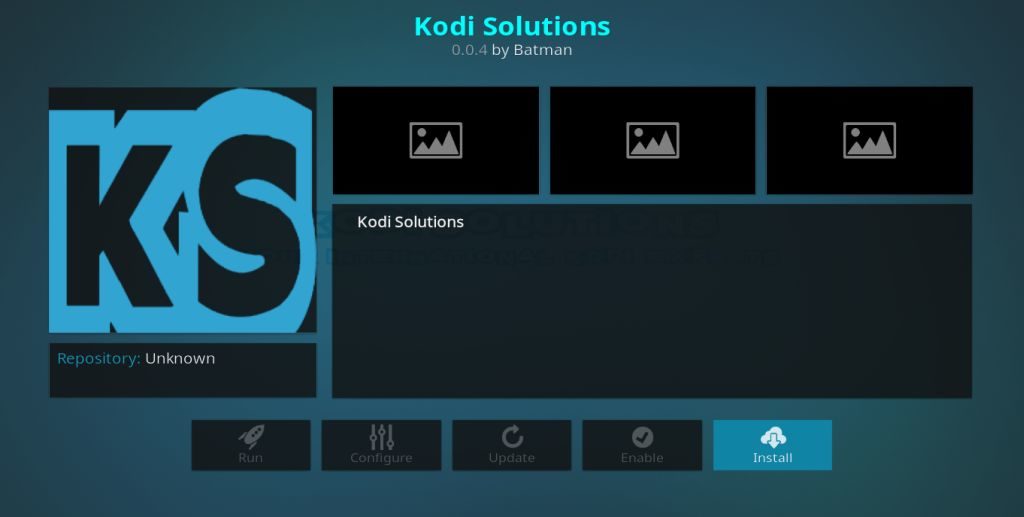 Thankfully, Kodi Solutions IPTV has weathered this harsh reality. Of course, it has had to undergo some changes to stick around, including dropping its Video on Demand (VOD) service reportedly due to legal pressure. Nevertheless, its core IPTV offering features more than 2,000 HD channels remains, to the joy of Kodi users everywhere!
In this article, we will give you full details of how to download and install the Kodi Solutions IPTV add-on. We will also tell you everything you need to know about the Kodi Solutions IPTV service, what it contains, and how it performs.
30-days money back guarantee
Don't use Kodi without a VPN!
We've already mentioned how copyright holders hold a prejudice against IPTV services, but for the purposes of this article, we need to dig a little deeper. In short: Kodi itself has come under repeated attack from various authorities and ISPs, and you need to use a VPN to protect yourself, even if you are 100% abiding by the laws of your country.
Similar to how some IPTV services are more legally sound than others, there are third-party add-ons which enable Kodi users to access content that may be geoblocked or otherwise restricted where they live. As a result, users can receive cease and desist letters, fines, or even service interruptions thanks to overzealous ISPs.
A virtual private network (or VPN) encrypts your data, then passes it onto a secure proxy server, where it is decoded and sent onto its original destination labeled with a new IP address. With a private connection and masked IP, no one will be able to tell who you are, or what you're doing online–not even the most sophisticated government snoops. But which VPN should you choose? Thankfully, this matter is cut and dry for Kodi users.
IPVanish – Kodi's best friend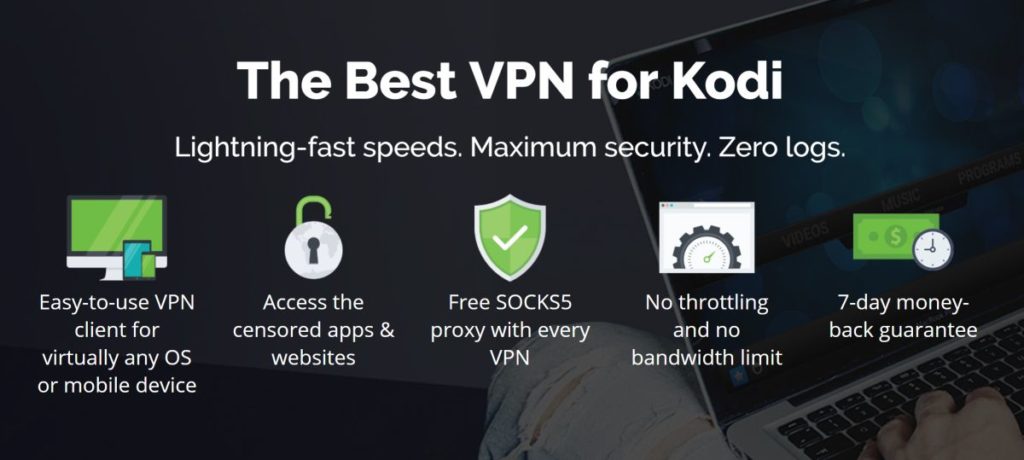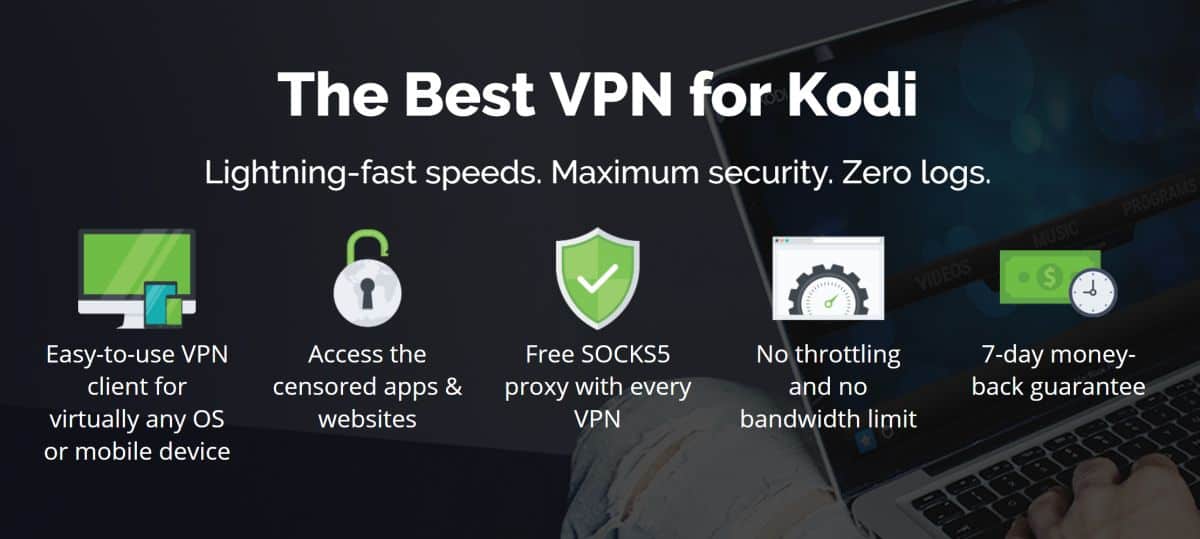 Simply put, there is no VPN on the market better suited to Kodi than IPVanish. The reasons are many, but include incredible 256-bit AES encryption, blindingly fast connection speeds, a massive server network (over 1000 nodes in 60+ countries), and dedicated software available for virtually any device you might care to use Kodi on. Best of all, your tracks stay completely covered with a strict no-logging policy, which assures that your activity online can never be used to identify you. Overall, IPVanish is practically tailor-made to enhance the core Kodi experience with the right combination of privacy, performance, and ease of use.
IPVanish offers a 7-day money back guarantee which means you have a week to test it risk-free. Please note that Addictive Tips readers can save a massive 60% here on the IPVanish annual plan, taking the monthly price down to only $4.87/mo.
What is Kodi Solutions IPTV?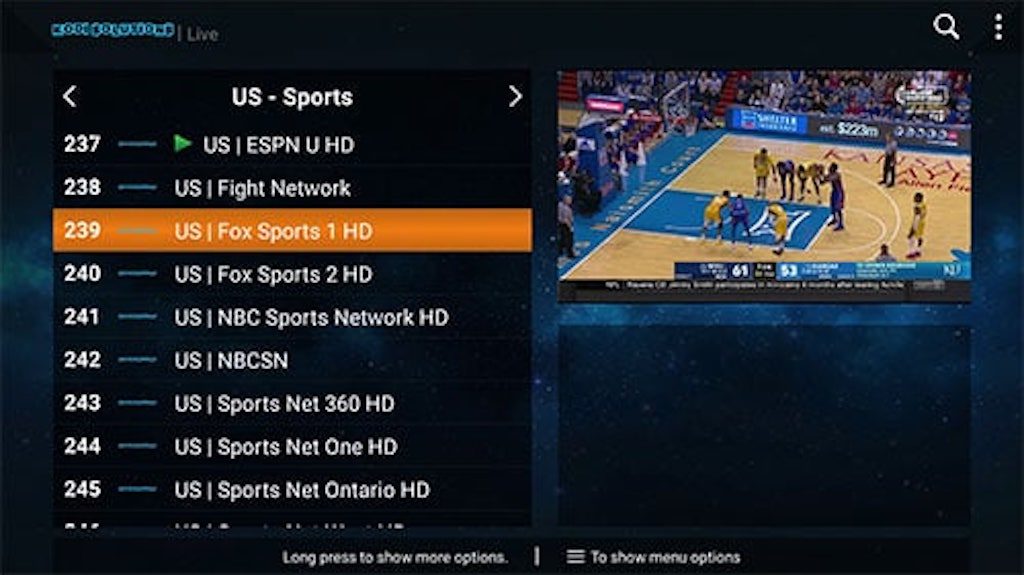 Despite what the name may suggest, Kodi Solutions is more than just another third-party add-on. In fact, it is a full-fledged IPTV service, with dedicated software available exclusively on Android-powered devices (including Amazon Fire TV and Fire Stick, Android TV boxes, and the NVIDIA SHIELD). The add-on at the center of today's discussion offers the same functionality to any Kodi-compatible device, including Windows, Mac, iOS and more.
Kodi Solutions is available as a subscription service, with the most popular priced at $5 a month. Considering the range of IPTV channels this gets you, we consider this a real bargain for power users. Unfortunately, your account can only be linked to one device at a time, so make sure you choose your favorite and stick with it.
Once installed, you can watch more than 2,000 live channels from all over the world, with a large proportion of these available in HD quality. Within the application, your options are broken down into different content categories, including:
Box Office / Pay Per View
US-Entertainment
US-Movies
US-Sports
US-News
US-Kids
UK-Entertainment
UK-Documentaries
UK-Movies
UK-Sports
UK-News
UK-Kids
UK-Music
Adult
24/7 Channels
3PM Football
BeIn Sports
MLB
NBA
NHL
Arabic
Denmark (German)
France
Indian
Bangladesh
Latino
Pakistan
Portugal
Canada
Mexico
How to sign up for a Kodi Solutions account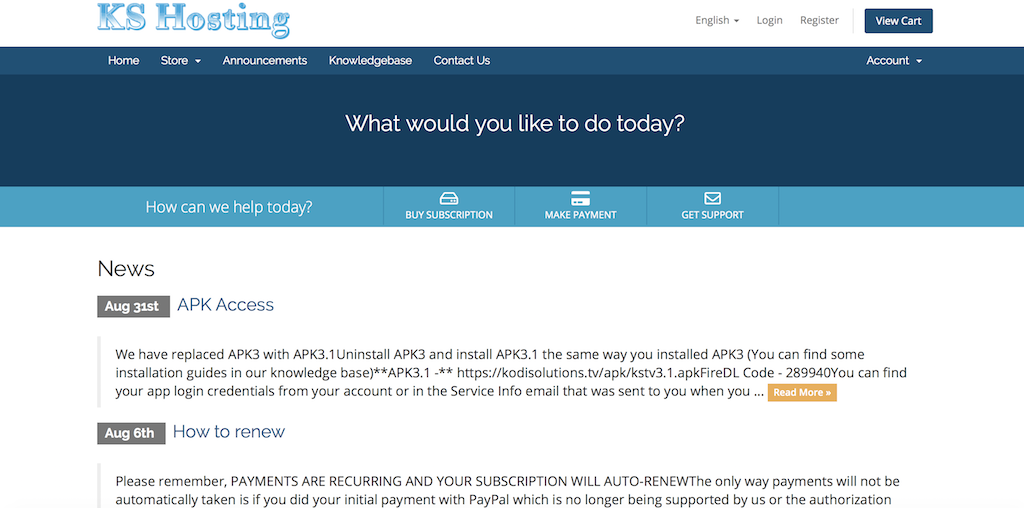 To sign up for the service, just click on this website link. There are a number of subscription offers available. The aforementioned $5/month 1C Hosting plan is the best choice for most users, but you can feel free to choose whatever suits your needs–it won't effect the functionality of the Kodi Solutions IPTV add-on one bit.
Unfortunately, Kodi Solutions doesn't offer any refunds, so once you've signed up, you're committed to the entire month. What's more, every new sign-up is put on auto-renewal, so stay on top of your account settings if you're not 100% satisfied with the service. Of course, if you do decide to cancel your subscription, you can do so at any time on the account management page.
How to install the Kodi Solutions onto your Android device
Once you have signed up for Kodi Solutions, you will need to install their app onto your device. This is a fairly straightforward process, but there is an important point to consider before you begin. Upon sign-up, Kodi Solutions will assign you two different passwords: one to access your account and billing options, another to log into the app itself. Be sure not to get the two mixed up!
With that out of the way, we'll continue with installation instructions, using Downloader on the Amazon Fire TV Stick as an example.
Please note: other Android users can follow a similar procedure using ES File Explorer's built-in download manager. Find that app directly on the Play Store!
Enable Unknown Sources
Now, if you haven't already done so, you will need to enable your Android device to accept apps from unknown sources. This can be done by following these simple steps: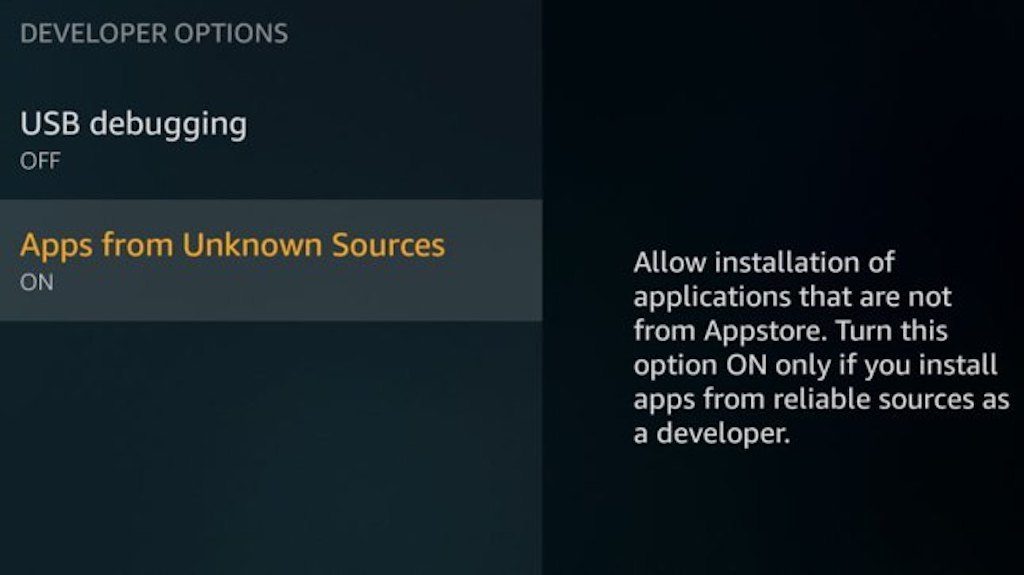 Click on Settings > Device > Developer Options.
Toggle the switch to enable Apps from Unknown Sources.
Finally, click Turn On on the confirmation page.
Install Downloader
Next, you will need to install an app which enables you to sideload apps onto your Android device. There are a few solid options out there, but for purposes of this guide, we'll be using Downloader. Here's how to get it up and running: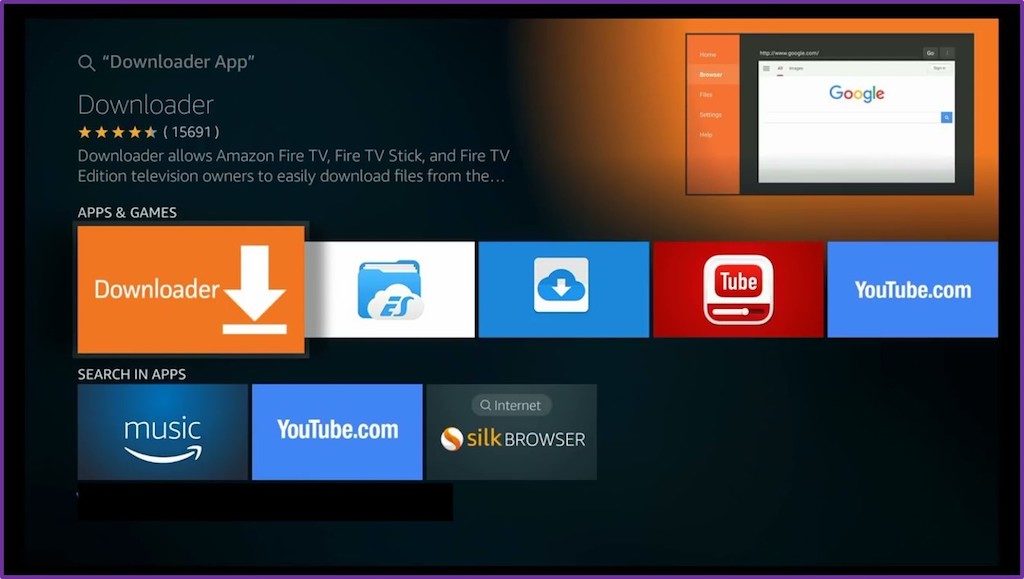 Click on Search (the magnifying glass icon) and type in DOWNLOADER.
Click on the search term Downloader App.
Under the Apps and Games category, click on the orange Downloader shortcut. Then click Download.
Once the app has downloaded, if the app then asks for permission to access files on your device, click Allow. This should only happen on newer Fire TV devices.
A disclaimer note should then open in a pop-up window. Click OK on this.
The Downloader App is now ready to use. To use it to install the Kodi Solutions IPTV app onto your device, just follow these four steps:
Type the following into the Downloader apps URL box and then click Go. https://kodisolutions.tv/apk/kstv3.1.apk
The Kodi Solutions IPTV app will now start to download. When it has finished, click Install.
The app will now automatically install. When it has finished, click Open.
The Kodi Solutions IPTV login page will now open. Input your login details, being sure to use the correct password. Then click Login.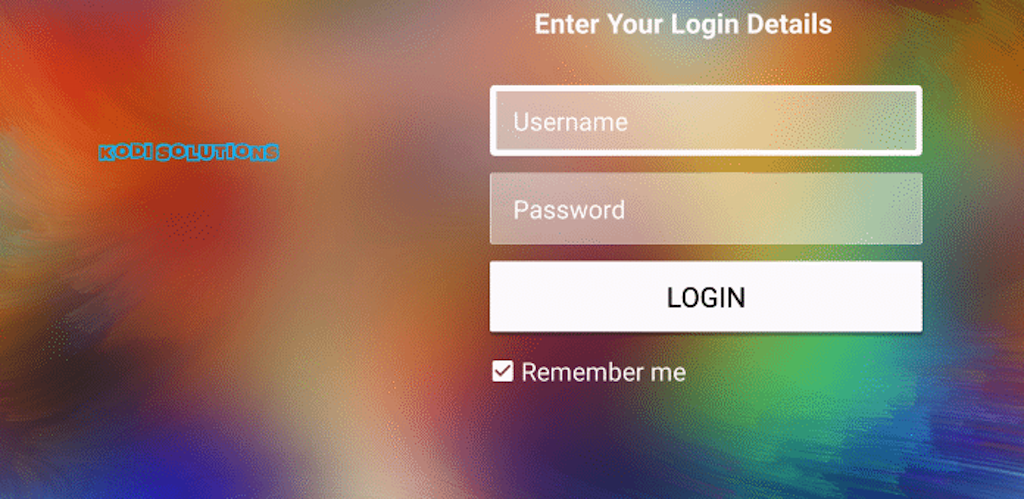 The Kodi Solutions app should now be ready to use!
How to install the Kodi Solutions IPTV add-on onto any Kodi device
While the process of installing add-ons onto Kodi is fairly different to sideloading method above, it is the same on every Kodi-equipped device. First, you'll need to download and install the Kodi Solutions repository, then install the add-on itself out of that repo. Here's how to do it:
On the Kodi homepage, navigate to SYSTEM (the cog icon) > File Manager > Add Source > None
Type the following EXACTLY: https://kodisolutions.tv/repo and select OK.
Highlight the box underneath and give this media source a name like Kodi Solutions and then click OK.
Go back to your home screen.

For Kodi 17 Krypton or later: Select Add-ons > Add-on Browser (open box icon)
For Kodi 16 or earlier: Select SYSTEM > Add-Ons

Select Install from Zip File > Kodi Solutions > repository.ksolutions-x.x.x.zip and wait for the Add-on enabled notification.
Select Install from Repository > Kodi Solutions Repository > Video Add-ons > Kodi Solutions > Install
Wait for Add-on enabled notification.
Open the Kodi Solutions add-on and input your login details, being careful to use the correct password.
Kodi Solutions IPTV Troubleshooting
These installation guides both use the latest Kodi Solutions APK file: version 3.1. However, some Kodi Solutions customers have reported problems logging in and streaming content on versions 3.1 and 3.0. Version 3.1 was pushed out pretty fast to try and tackle the issue with 3.0, but it doesn't seem to have gotten everything sorted. So, if you are unfortunate enough to encounter a problem, your best bet is to revert back to version 2.0 until such time as the Kodi Solutions developers release version 3.2. APK Version 2.0 can be found at this link.
A few users have also reported problems with the performance of the Kodi Solutions Kodi add-on. There is a workaround if you experience issues. Just follow these simple steps to fix the problem:
On the Kodi homepage, click Settings > Player Settings
At the bottom of the left-side panel switch from Basic to Advanced mode.
Hover over Videos, then move to the right side of the screen and find Processing.
Turn OFF Allow Hardware Acceleration for every option it is currently enabled for.
Change the Enable HQ scalers for scaling above to 10%.
With those changes enabled, you should experience no further performance issues with the Kodi Solutions IPTV Kodi addon.
How does Kodi Solutions IPTV perform?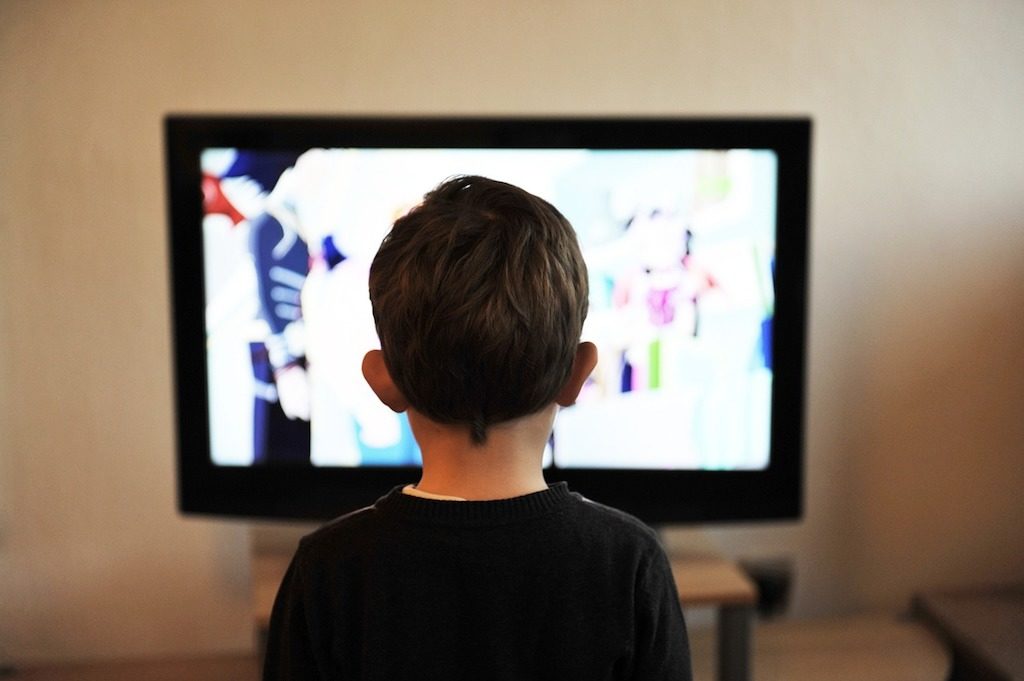 Because Kodi Solutions IPTV has opted to follow a subscription model, there is pressure on them to deliver a high-quality service. People will generally put up with a mixed-quality service if it is free, but they will quickly look elsewhere if they are paying for it. Fortunately, Kodi Solutions does manage to deliver. Their homepage is easy to navigate with a huge range of channels that are easy to search through thanks to their simple and intuitive categorization system. Within each category, channels are listed alphabetically which also aids easy searches.
Playing a channel is a one-click process and the quality of the streams is pretty impressive. Kodi Solutions claims that the bulk of their channels are of HD quality. In our testing, we can only conclude that they are right. The quality of most of the channels we tried was extremely good. All of the links worked, and we only experienced connectivity issues with a handful of channels. Additionally, all of the most popular channels that we tested worked fine, which was very impressive.
Conclusion
Finding a reliable IPTV service can feel like looking for a needle in a haystack. But Kodi Solutions might just be the answer. There is a monthly subscription involved, which may put some users off. But in testing, we found that Kodi Solutions offered really good value for money at the price they charge. The service was generally solid, the apps easy to use, and the process to sign up and get everything installed is quite straightforward. In this article, we have provided step-by-step guides to help you through this process. We have also provided an insight into what sort of channels and content you can watch and how Kodi Solutions performed in testing.
There are no guarantees that Kodi Solutions IPTV will be around forever, which is why it is important to keep a close eye on your monthly subscription. But while the service does remain in operation, it is, without doubt, one of the best IPTV platforms around.
What is your experience of using Kodi Solutions? Have you encountered any problems using it which we haven't touched on in this article? We always value the thoughts and comments of our readers, so please do share them with us using the comment box below.