We are reader supported and may earn a commission when you buy through links on our site.
Learn more
How to Install a VPN on the Nvidia Shield
Stumped trying to find the best VPN for your Nvidia Shield? Look no further, as this article contains everything you need to know. We'll show you how to pick, install, and configure your VPN on the Nvidia Shield, so you can enjoy unlimited private streams in just a few minutes.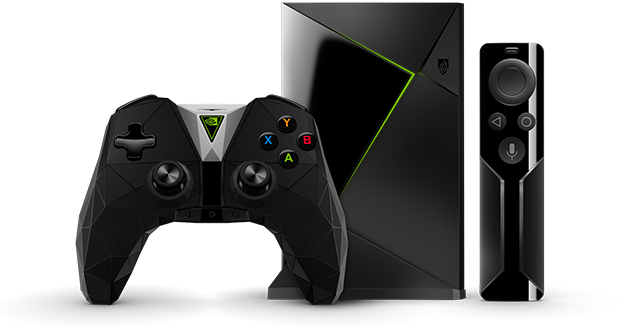 Since its launch a couple of years ago, the Nvidia Shield has carved itself a nice niche. Based on the Android TV OS, it is a great platform both as a set-top media player and as a game console. With so many content providers using geo-blocking techniques, using a VPN on the Nvidia Shield will allow you to watch any content, no matter where you are in the world. And of course, it will also enhance your privacy and security, both increasingly important concerns for any responsible netizen.
Before we go into the core of today's article, we'll start by giving you some background information on the Nvidia Shield. And in case you're having doubts about the necessity of using a VPN on the Nvidia Shield, we'll let you know why we think you might want to use one. Diving right in, we'll show you three different ways of setting up a VPN on the Nvidia Shield (the one you'll choose will depend on your VPN supplier).
30-days money back guarantee
The Nvidia Shield
Also known as the Shield Android TV or Shield Console, the Nvidia Shield is an Android TV-based digital media player produced by Nvidia as part of its Shield brand of Android devices, first released in May 2015. In its marketing, Nvidia emphasizes the Shield's dual ability to play downloaded games and stream games from a compatible PC on a local network, or via the GeForce Now subscription service.
Being an Android TV device, the Shield can also stream content from various sources using apps, and also supports 4K resolution video to boot. It supports the installation of Android media player software such as Kodi, making it a great multipurpose set-top box. It available in two models with either 16 GB of flash storage, or a 500 GB hard drive, the latter known as the Shield Pro.
Since early 2017, the 16 GB flash Nvidia Shield's form factor is smaller and boasts an updated controller, but it is otherwise identical in specification and capability to the original model. The Shield Pro has remained unchanged from its original version.
The Android TV Operating System
Based on the Android operating system, Android TV is a smart TV platform developed by Google. It was created with the purpose of offering an interactive TV experience through the use of a 10-foot user interface, and is the direct successor to Google's initial foray onto the platform: Google TV.
Android TV is either built into smart TVs or stand-alone digital media players such as the Nvidia Shield. Users have full access to the Google Play Store to download apps as well as games. The OS emphasizes voice search to find content or answer queries.
RELATED READING: How to Fix "This Item Isn't Available in Your Country" on Google Play
Why Use a VPN with the Nvidia Shield?
The main reason why someone would want to use a VPN on a Nvidia Shield is to access geo-blocked content. Depending on the apps you're running on your Shield, you might also want to use a VPN to protect your privacy. After all, who wants their Internet Service Provider snooping in on what they do?
When an ISP suspects, even erroneously, that someone might be violating their terms of service, they could react by throttling down their speed, sending copyright infringement notices or even interrupting service altogether. A good VPN protects your privacy by adding a layer of encryption to your internet traffic that is almost impossible to crack.
But choosing the right VPN is a difficult task–there are so many providers available. Important factors to consider when choosing one are fast connection speeds to avoid buffering, a no-logging policy to further protect your privacy, no usage restrictions to access any content at full speed and software that is available for your device.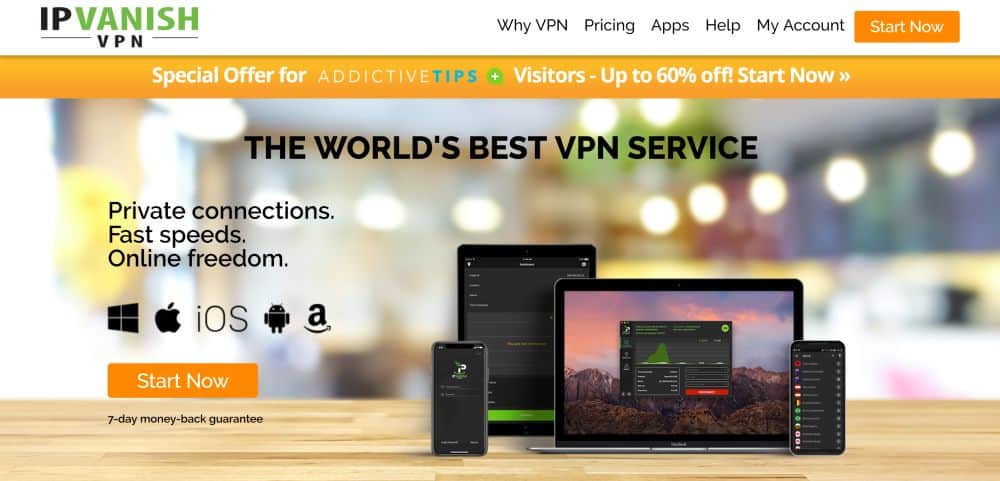 At Addictive Tips, we've tested virtually every VPN on the market against our criteria, and the provider we recommend for Nvidia is IPVanish. With 1,300+ servers across more than 75 countries worldwide, zero speed caps or throttling, unlimited bandwidth, unrestricted traffic, a strict no-logging policy and Android client software that can easily be installed on the Nvidia Shield, IPVanish delivers impressive performance and value.
Read our full IPVanish review.
Installing the VPN App from Your Provider
There are essentially two ways to set up a VPN on a Nvidia Shield. If your VPN supplier has an app available on the Google Play store, then it should be a simple matter of installing it. Unfortunately, things aren't always as they should be.
Amongst the major VPN suppliers, the following ones are known to have a VPN app in the Google Play Store:
ExpressVPN
NordVPN
IPVanish
VyprVPN
So, the first thing you should do is start the Google Play app on your Nvidia Shield and search for your VPN provider's official app. In such cases, all you have to do is click Install, much like you would any other app. Unfortunately, many VPNs won't be compatible with the Nvidia Shield, and thus won't even show up in search results in the Play store. Fortunately, there is a (slightly more complicated) way of getting around this issue, and that is to sideload the app directly into your Shield. But more on that in the following section!
Once you have the VPN supplier's app installed, using it should be no more complicated than using their app on any other platform.
Sideloading the VPN App
If your VPN supplier's app is not directly compatible with the Nvidia Shield, all is not lost! There's a good chance you can still sideload the app onto your console. Let's see how it's done. For this example, we'll use the IPVanish VPN app for Android. The procedure for any other supplier's app would be similar, except that we would be downloading a different apk file.
The operating system on the Nvidia Shield is limited and doesn't even have a web browser or file manager. Since we need that to sideload the VPN app, we'll start by installing ES File Explorer. This is a great file manager for Android that also includes a built-in (although somewhat limited) web browser. Fortunately, it's good enough to serve our purposes.
Before you go any further, you need to modify your Nvidia Shield's security setting to enable the sideloading of apps. On your Shield, go to Settings then Security and scroll down to Device administration and enable the Unknown sources to allow the sideloading of apps.
Installing ES File Explorer
This is very easy, all you need to do is open the Play Store app on your Nvidia Shield. Once the Play store opens, select the search bar at the top of the screen and type in ES File Explorer.
From the search results, click Install to launch the ES File Explorer installation. That's all there is to it!
Using ES File Explorer to Download and Install the VPN App
Start ES File Explorer. Click the menu at the top left of the screen and under Bookmarks, click Yahoo. A Yahoo search window will open. Click the search box and enter IPVanish APK as your search term.
Find the highest-numbered version of the apk file amongst the search results. As of this writing, the IPVanish apk was at version 3.1.0.2840. Click the selected search result and then click the link to download the apk.
Once the apk file is downloaded, you'll be presented with options to either open the folder or to open the file. Click Open Folder.
Within the download folder, find the IPVanish apk file. In our example, it is called com.ixolit.ipvanish_2011-10-05.apk. Click the file. In the dialog box that opens, click Install.
Accept the access warning that pops up and wait for a few seconds until the app installation completes. Once you get the notification that the app has successfully installed, click Open at the bottom right to launch it.
Congratulations! You now have your provider's Android client software installed on your Nvidia Shield.
If you're using a different provider from our IPVanish example, the procedure will be identical. Of course, your search terms may be different and so will the name of the downloaded apk file and the version number.
What If Your Provider Doesn't Have an App?
It is an unfortunate reality that only a handful of VPN providers actually have a dedicated app for Android. If your choice isn't one of the major providers mentioned earlier on in the article, then chances are good it doesn't have one.
Does that mean that you can't use their VPN on your Nvidia Shield? Certainly not! All providers use standard protocols to set up VPN tunnels and encrypt data. This means that a standard VPN client, while not as full-featured as a dedicated app from your supplier, will allow you to connect to a VPN server and provide the same level of security and privacy.
Such a standard VPN client is OpenVPN for Android. It can be installed on the Nvidia Shield. And to make its configuration easy, most (if not all) VPN suppliers allow you to download some OpenVPN configuration files and certificates. In addition to the OpenVPN app, you'll also need ES File Explorer or some similar app to find and install the configuration files to your Nvidia Shield.
SEE ALSO: How to Hide OpenVPN Traffic with an SSH Tunnel
Installing the Necessary Apps on Your Nvidia Shield
Installing ES File Explorer, as we've told you before, is a simple matter of opening the Play Store app, searching for it and clicking install.
The other App you'll need is OpenVPN for Android. It also installs from the Play Store. Simply search for OpenVPN for Android and make sure the app you install it the one by developer Arne Schwabe. Although other OpenVPN clients are available on the Play Store, this one works very well and it is the one we've chosen to install and base these instructions on. If you want to follow along, you better use this app.
Setting Up OpenVPN for Android to Work with Your VPN Supplier
For the sake of this tutorial we will, once again, assume that we want to configure OpenVPN for Android to work with IPVanish as the VPN supplier. And just like before, the process would be similar no matter what VPN supplier you use. Only the searched and downloaded files would be different.
Downloading and Unzipping the Required Files
First, start ES File Explorer. Click the menu at the top left of the screen and under Bookmarks, click Yahoo. A Yahoo search window will open. Click the search box and enter IPVanish OpenVPN config files as your search term. What you're looking for is a set of .ovpn files which contain the configuration for each of the supplier's servers and a .crt file which is the encryption certificate. Many suppliers will have all the files grouped in a single .zip file. This is indeed the case for IPVanish.
If the files were downloaded as a single .zip file, you'll need to use ES File Explorer to extract them to a folder on your Nvidia Shield. Select the .zip file, click Plus at the bottom right and then choose Extract to, to unzip all the contents to a folder.
Once you've found and downloaded and/or unzipped the required config file(s) and certificate(s). You're ready to configure OpenVPN for Android.
Configuring OpenVPN for Android
Start the OpenVPN for Android app. You'll be greeted with a notification that there are no VPN profiles defined. Don't worry, we'll fix this in a minute. At the top right of the screen, click the icon that looks like a box with a down arrow-this is the import icon.
Navigate to the location where you downloaded or extracted the .ovpn files and click one of them to import its configuration. There should be one .ovpn file per server. You only need to import the files for the server(s) you want to use.
Upon importing, OpenVPN for Android will complain that some files could not be found. This is normal, we haven't told the app where to find the certificate. Let's do that now.
Click the Select… button to the right of the screen.
Navigate to the location where you downloaded or unzipped the certificate and click it. The certificate file will have a .crt extension. Normally, it will be the same location where you've downloaded or extracted the .ovpn files so you should already be in the right place.
Return to the Convert Config File screen, click the check mark at the top right to save the profile.
To connect to the VPN server, all that is left to do is to click the profile you just imported. You'll see a notification screen, click OK to confirm the connection request.
Since this is the first time you're using this profile, you'll be asked to enter a username and password. Enter the login credentials from your provider. Optionally, click the Save Password box and you won't be asked to enter it the next time you connect. Click OK to launch the VPN.
Other Options
Unless your provider has a VPN client app for Android that can be installed on the Nvidia Shield from the Play Store, getting a VPN up and running on your device might be a complicated task. Other options might be available, though. A search on the Play Store from your Nvidia Shield will reveal several VPN client apps.
We haven't tested them and we can't vouch for their usefulness and quality. We can't even tell you if they're working or not, but they might be worth trying. You could end up with a quick and easy solution that works fine and offers the privacy, security, anonymity and geographic neutrality you need.
But your best option is probably to start by searching your VPN provider's website and/or support forums. They might have a ready to use procedure custom-designed for their service. Alternately, other users might have been in a similar situation in the past and have posted their solution.
Conclusion
When there's a will there's a way. This is particularly true with setting up a VPN on a Nvidia Shield. It can be as simple a process as it can be complicated–it depends mostly on what VPN supplier you're using. The best advice we can give you is to choose your VPN supplier based on the availability of an Android client that will be easy to install on the Nvidia Shield.
And if you're more of the tinkering type, the instructions we gave you will allow you to configure pretty much any VPN service on a Nvidia Shield. It might require a bit more time and efforts but you'll be should be able to pull it through.
We love to hear from our readers. Please, let us know how was your experience setting up a VPN on the Nvidia Shield. What VPN client did you use, the one from the supplier or an OpenVPN solution? Use the comments below to share your thoughts with us.