We are reader supported and may earn a commission when you buy through links on our site.
Learn more
Stop Netflix Throttling and Watch Videos Without Buffering: Quick Fixes that Work
If you're a regular Netflix viewer, then one of the things you know about the service is that it's a great way to watch all the latest TV shows and movies on demand and in good quality. However, some people experience problems when using Netflix: that it's too slow and that streams take too long to load. You might find that you have to wait ages for a show to begin streaming, or that your stream gets interrupted or terminated when you're halfway through watching something. And that's so annoying!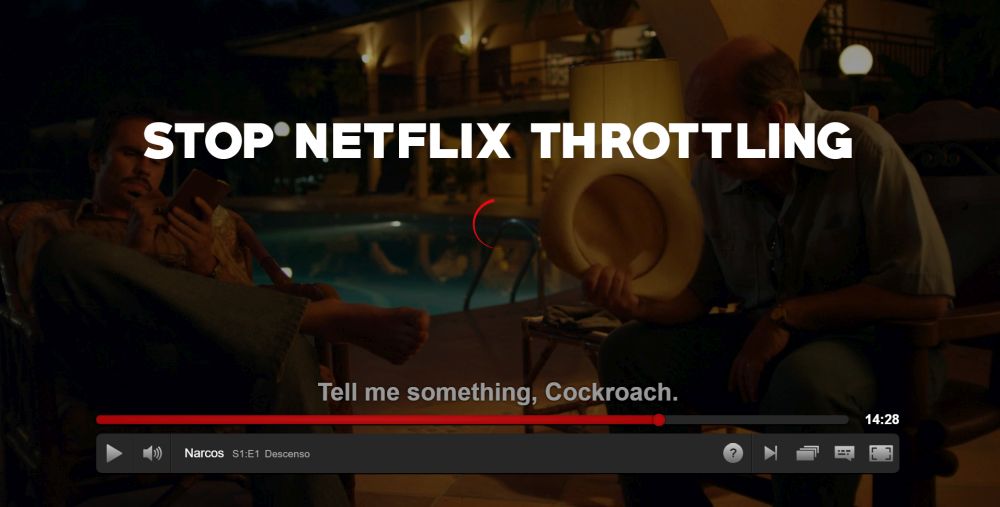 One of the reasons that this slowdown happens is due to throttling – that is, the bandwidth of your internet connection being limited to a lower speed. For example, in the US there was recently an outcry about the service provider Verizon artificially limiting bandwidth to its customers who were using Netflix, which made their connections slow and their streams unreliable. Other internet service providers have followed suit and restricted bandwidth for Netflix, and this has led to many people experiencing issues when trying to watch their shows or movies.
Below we'll explain what causes this problem, and let you know how to stop Netflix throttling.
30-days money back guarantee
How to test if Netflix is being throttled by your ISP
If your Netflix streams are running too slow, then we need to diagnose the problem before we can fix it. So the first step in addressing the issue is to test whether your access to Netflix is being throttled by your ISP. This happens when your ISP doesn't want you to use too much data, so they artificially limit the amount of bandwidth you have access to if you frequently visit certain load-heavy sites, like Netflix or YouTube. This is very frustrating, especially when you have a theoretically unlimited internet package from your ISP – you paid for unlimited internet, so you should be able to use the internet without limitations!
There are two different types of throttling which are possibilities here:
Your ISP can limit the bandwidth which is available to you when you visit a specific site. So in this case, when you are browsing most websites you'll get full speed, but when you try to visit Netflix you'll get limited bandwidth and much slower speeds. This is something that we can fix with the instructions below.
Your ISP could throttle your whole connection, so every single site you visit will be slow. This usually happens if you are a heavy internet user or if you have exceeded your bandwidth cap. This is not something that you can fix, unless you can persuade your ISP to lift the throttle.
So how do you know which type of throttling you are experiencing? Helpfully, back in 2016 Netflix launched their own service for testing your internet connection. You can visit fast.com and instantly see the speed of your connection to Netflix in megabits per second (Mbps). This shows you the speed at which you can access data from Netflix's servers, though you can use this website whether you're a Netflix customer or not.
Next, for more information, you can go to speedtest.net and get a more detailed picture of your connection speed. This test checks the speed at which you can access a random server which is nearby to you.
Then you can compare the speeds that you see from your tests with the speeds that your ISP advertises. If your speedtest.net score is low then either your internet connection is poor or you are being throttled on all sites and there's not much you can do to improve it, beyond switching to a different service provider. However, if your speedtest.net score is good but your fast.com speed is much lower, then this indicates that your ISP is throttling Netflix specifically. We can fix this, and we'll show you how to do that below.
Using a VPN to prevent throttling
So if you know that your internet connection is good but your ISP is artificially slowing your access to Netflix, what can you do? Well, you don't have to put up with endless buffering and failed connections when you want to stream videos. You can force the use of a full bandwidth connection by using a VPN (or Virtual Private Network).
The way a VPN works is by installing a small piece of software on your machine. This software encrypts all of the information which you send out across your internet connection, so that no one – not even your ISP – can see what sites you are visiting. VPNs are frequently used for security purposes, as they protect you from hackers as well as government spying. And they can also be used to bypass restrictions such as region-locked content. So if you want to access a site which is only available in the US, but you are currently somewhere else in the world, then a VPN can make it look like you're visiting a site from within the US – allowing you to access the content you want.
But a VPN can also be used to bypass throttling. That's because the way your ISP throttles your connection is by looking at the site you are currently visiting. If you are on certain sites, like Netflix, then the limitations will be enforced and you'll get a slow connection. When you use a VPN, all of your traffic is encrypted, so your ISP has no way of knowing what site you are currently accessing. Therefore, you will have full bandwidth at all times, even if you are currently accessing a 'limited service' site like Netflix.
Our recommended VPNs
So to prevent Netflix throttling, you just set up any old VPN and you're good to go, right? Not quite. You will find a lot of free VPN services which promise that they can help fix internet issues and speed up your connection. However, many of these free VPN services have data caps or limited bandwidth. With data caps, you can only use a certain amount of data before you run out and the service stops working – meaning that you might be able to stream a few episodes of a show over Netflix, but you'll quickly hit the cap and be back to the same old slow connection. And limited bandwidth VPNs are even worse: these only allow you to use a small amount of bandwidth at a time, so your connection will be very slow. And that's the very problem we're trying to solve!
The most reliable way to prevent throttling is to use a reputable, reliable paid VPN service. You want to find a VPN provider which offers good connection speeds, no bandwidth caps, and has plenty of servers in many different countries so that you can get around region locks. From a security point of view, it's also important to find a VPN provider that does not keep logs of your internet activity, as you want to keep this information private. And finally, look for a VPN that has strong encryption in order to keep your data safe.
There are two VPN providers that we particularly recommend to stop Netflix throttling: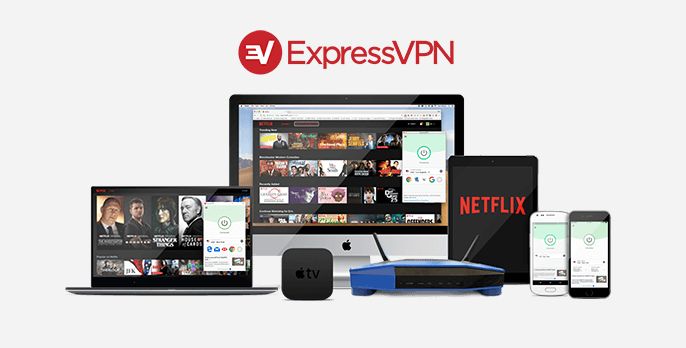 If you want a VPN that can stop Netflix from throttling both in your web browser and in the Netflix apps for iOS or Android, then we recommend ExpressVPN. This service is available for a wide range of devices: Windows, Mac, or Linux desktops and laptops, plus iOS and Android phones and tablets. There's also an option to install the software onto your router so that every device on your network is automatically protected.
The ExpressVPN software is easy to use and the service has a great reputation for its fast connection speeds. A feature which will be helpful for Netflix users is the built-in server speed test which can assess the speed of your internet connection, to help with diagnosing issues. It also offers bonus features like a kill switch and DNS leak protection to make sure that your real IP is never visible anywhere you browse. And of course, there is a strict no-logging policy so you can be sure that your data is kept safe.
Pros
Unblocks Netflix and other streaming sites
Super fast servers
AES-256 encryption
Strict no-logs policy for personal information
Customer Service (24/7 Chat).
Cons
Power-users configuration options.
If you'd like to try ExpressVPN, we have a special offer available exclusively for Additive Tips readers! If you sign up for ExpressVPN's 12-month plan, you'll get a whole 3 months extra for free. It costs just $6.67 per month for the yearly plan, and there's a 30-day money-back guarantee, with no questions asked. That means you can try the service totally risk free.
For the highly privacy-focused user, we recommend the NordVPN service. As well as security essentials like no logging and a variety of supported VPN protocols including OpenVPN, L2TP with IPSec, PPTP, and SSTP, NordVPN offers Double VPN. This means that your traffic is routed through two different VPN servers instead of just one, making your data almost impossible for even the most advanced programs to track.
In addition, a bonus feature of NordVPN that will appeal to users is Netflix spoofing, which is a built-in tool that allows you to access Netflix as if you were in a different country. You might have noticed that some content is available on the US version but not the UK version, for example. NordVPN allows you to access Netflix as if you were in the US or another country, so you can watch US content as well as your native UK content.
Pros
Servers optimized for unblocking Netflix
Most VPN servers with different IP addresses
Torrenting is explicitly permitted
No logs and encrypted connections for total privacy
Live chat support is available.
Cons
Apps can sometime be slow to connect.
NordVPN is currently available with a massive 66% discount, bringing the price down to just $3.99 per month. There's also a 30-day money-back guarantee so you can see if the service is right for you.
Other problems than can cause Netflix to load slowly
If you've tried the solutions above and your Netflix is still loading too slowly, there could be some other issues at play. You should check whether any of the following factors could be causing your slowdown:
Your cache is full
When you watch a video online, the way it works is by downloading small pieces of the video onto your computer (into a temporary storage folder called the cache) and playing the content from there. You download the video a chunk at a time, and your video player will wait until it has enough material accessible from your computer before it starts playing the content. This means that you need a certain amount of hard disk space free so that this cache can be written to.
If your hard drive is very full – say if you have less than 1GB of hard drive space free – then there may not be enough space to save the small downloaded chunks of video and to play them back. In this case, you need to free up some space by deleting unwanted files or uninstalled unused programs. Try backing up or deleting some of the files on your C: drive and see if that fixes your choppy video playback.
Your hardware is not up to spec
Another problem that can cause issues with video playback is very old hardware. If your PC or laptop is more than five years old, then your processor is likely outdated. Playing videos, especially in high definition, requires a fair amount of processing power to translate the digital signal into a watchable video. If your video streams frequently stutter, freeze, or crash, then this could indicate a hardware problem. You can diagnose this by trying various different websites and playing videos at different resolutions. For example, go to YouTube and load a video. If it plays perfectly in low definition like 360p or 480p, but freezes or crashes at higher definitions like 720p or 1080p, then this could indicate a hardware problem.
In this case, you can try to mitigate the effect by ending processes which are running in the background of your system, or by rebooting your machine to clear out your temporary files and to end unneeded processes. But eventually you will need to replace your hardware with something newer.
There is a remote server issue
One final reason that your streams are not working well is that there could be a problem on the other end. The Netflix website is pretty solid and reliable, but even big sites can go down sometimes. If your connection to Netflix keeps failing, or you are suddenly hit with slow speeds, then this could be due to the Netflix server having problems. If you think that might be your issue, then you can check the state of the server at the other end of your connection. Visit downforeveryoneorjustme.com and type in the URL of the site you want to check – in this case, www.netflix.com. This will tell you if Netflix is down for everyone – i.e. the Netflix server has a problem and there's nothing you can do to fix it, so you just have to wait until it's back up – or if it's only down for you, in which case you know that the problem is on your end.
More Netflix tips
We hope that this article has helped you to fix your Netflix throttling issues! But before you go, we have some more articles for Netflix users which might be of interest to you: