We are reader supported and may earn a commission when you buy through links on our site.
Learn more
Pulsar Kodi Add-on: How to Install and Error Fixes
Kodi is one of the best ways to watch live sports, movies, and TV shows on your computer or smartphone. The software is completely free and open-source, and with the wealth of unofficial add-ons you can gain access to even more content. One of the best Kodi add-ons for streaming movies is Pulsar. This unique extension makes it possible to watch torrent files as they're downloading, turning long waits into instant entertainment. It's such a seamless experience, you'll wish you'd installed the add-on years ago!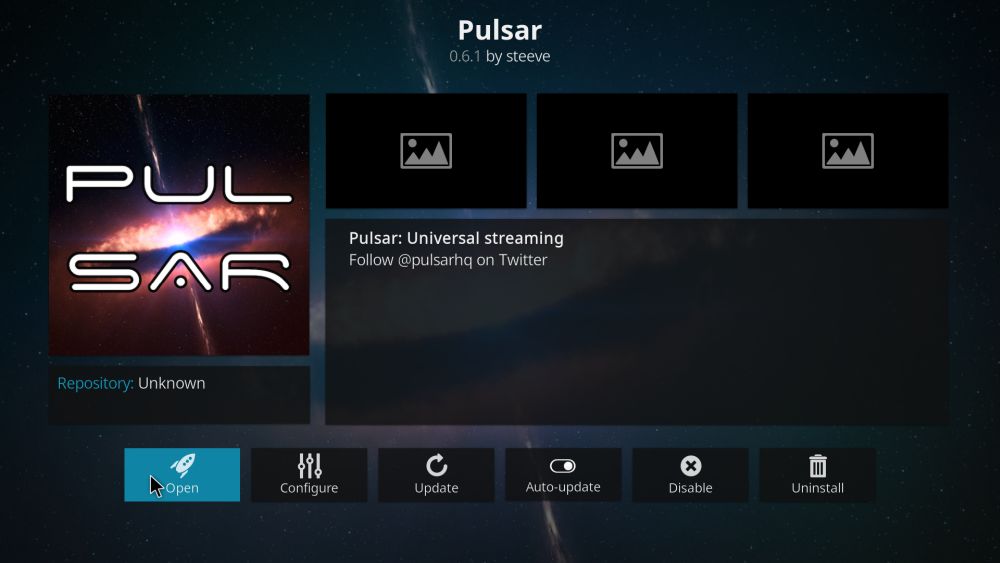 30-days money back guarantee
Before Using Kodi, Get a Good VPN
Kodi itself is both safe and legal to use. Some of the third-party add-ons you'll have access to might bend these rules, however. The Kodi community is under scrutiny by content rights holders and politicians, each claiming the software is only used for pirating movies and TV shows. Internet service providers (ISPs) have responded by throttling Kodi streams as well as sending out copyright infringement notices to users.
The good news is you can protect yourself from these unwarranted threats by using a virtual private network. VPNs turn ordinary online activities into an encrypted stream of information, all without any extra work on your part. ISPs can't break encrypted data packets, which means no throttling, no spying, and no copyright infringement notices. With a VPN you can stream safely and anonymously from any device. You'll also get access to a number of other benefits, including the following:
Watch geo-restricted video streams from other countries on services like Netflix, HBO Go, Hulu, YouTube, BBC iPlayer, and more
Unblock censored and region restricted websites, search engines, and more
Keep your data safe while traveling abroad or while using public hotspots
Put a stop to mass surveillance efforts, data thieves, and ISP trackers
Evaluating the Best VPN for Kodi
Picking the right VPN is never an easy task. Making sense of all the information can be overwhelming, and the more you research the more complicated it gets. We've made the process simpler by providing a recommended VPN service below. We chose this provider based on the following criteria, ensuring you'll have the best VPN experience for all of your anonymous Kodi streams:
Fast downloads – Speed is crucial for any movie stream, especially HD and 4K-quality videos. VPNs can be slower than your average internet connection, which is why you need a company that puts a top priority on fast downloads.
Zero-logging policy – Nothing destroys your online privacy faster than traffic logs. If a VPN stores information it's possible third parties can gain access to it, including government agencies. If no data is ever logged, your information stays safe.
Unmonitored traffic – Many VPNs block torrent traffic and P2P networks, both of which are used by Kodi add-ons for streams. Pulsar itself won't work without torrent access, so if your chosen VPN blocks them, you're out of luck.
Strong reputation – When you use a VPN you send a ton of information through their servers. It's impossible to tell what they do with that data, which is why trust is an incredibly important factor in choosing the right VPN.
No bandwidth restrictions – Kodi and Pulsar eat up a lot of data. If there's a limit on how much you can download, you'll reach it in no time. Always choose a VPN that offers unlimited bandwidth so you don't have to stop your streams for any reason.
The Best VPN for Kodi: IPVanish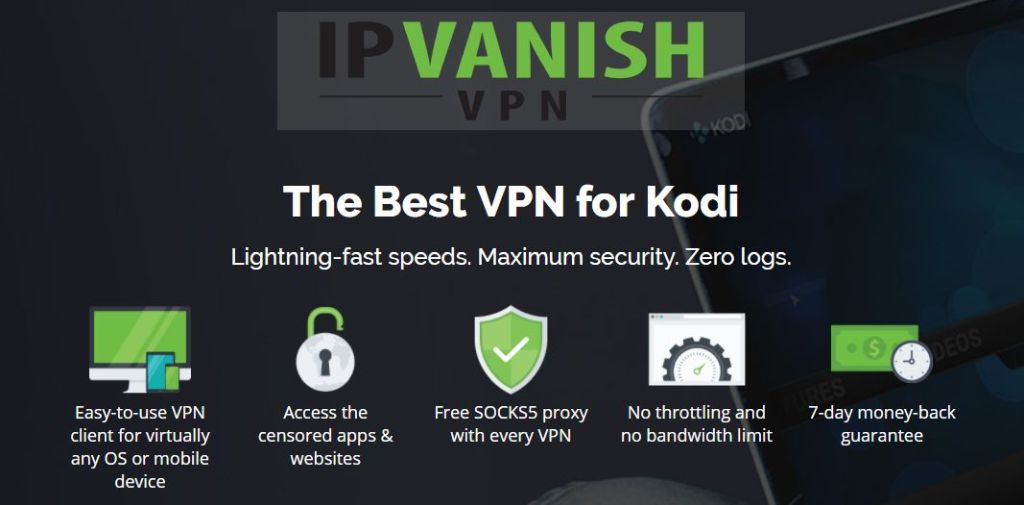 IPVanish knows what Kodi users want. The VPN offers incredibly fast servers backed by strong privacy policies, excellent encryption, custom software for every modern device, and a huge network of servers located around the world. With IPVanish you can log in and instantly disappear, encrypting your web browsing and video streams to make them private, safe, and anonymous. No more ISP throttling, and no more mass surveillance. It's just you and your Kodi movies, all thanks to IPVanish.
One of the more impressive parts of the IPVanish experience is the network, featuring over 850 servers in 60 different countries. Each one is accessible with impressive speed test scores and low latency results, and you can switch freely between them without limitation. Data that passes through this network is secured with 256-bit AES encryption and protected by a zero-logging policy on all traffic. On the software side of things, you get both DNS leak protection and an automatic kill switch to ensure your true identity never slips through the cracks.
IPVanish's biggest features include:
Unlimited bandwidth, no speed caps or throttling, and no restrictions on P2P networks or torrent traffic
Lightweight apps for all modern platforms, including Windows, Mac, Linux, Android, and iOS
Access geo-restricted videos and websites through a huge network of servers
Download torrents and Kodi add-ons with full privacy and anonymity
IPVanish offers a 7-day money back guarantee which means you have a week to test it risk-free. Please note that Addictive Tips readers can save a massive 60% here on the IPVanish annual plan, taking the monthly price down to only $4.87/mo.
How to Install 3rd-party Kodi Add-ons
Most add-ons in the Kodi ecosystem are packaged in repositories, zip files that store dozens of add-ons in a single convenient location. Repos make it easy to discover new content as well as update existing add-ons. You don't have to go chasing files all over the internet, just keep the repository installed and you're good to go. Kodi offers a variety of ways to install repos, but we prefer the "external sources" method to keep things more organized. Before you can do this, you'll need to switch one of Kodi's settings to allow it to manage your downloads. Follow the steps below and you'll be set:
Open Kodi and click on the gear icon to enter the System menu
Go to System Settings > Add-ons
Toggle the slider next to the "Unknown sources" option
Accept the warning message that pops up
With that out of the way, you're ready to find repos, add them to Kodi, and start installing add-ons as you please. Pulsar is available from a few popular repositories, but we found it's more reliable to stick with the official open-source files. The guide below walks you through the process using this as a source.
Note: The Pulsar add-on can indirectly provide access to unknown sources of content. Addictive Tips does not condone or encourage any violation of copyright restrictions. Please consider the law, victims, and risks of piracy before accessing copyrighted material without permission.
How to Install the Pulsar Add-on for Kodi
Pulsar is the original streaming torrent viewer. The add-on opened the door for watch-as-you-download movies through Kodi, making it possible to dig through archived sources as well as enter your own custom URL. Pulsar hasn't been updated since 2015, unfortunately, which means it may not work for every Kodi user. If that's the case, check out our guide on how to install the Quasar add-on, which is the next generation of Pulsar's code.
To use Pulsar you'll need to first install the base add-on, then install a separate extension for provider sources. It's best to install Pulsar itself from the official code repository, not a third-party Kodi repo. Follow the steps below to add Pulsar to your version of Kodi.
In your web browser, download the latest Pulsar zip file release and save it somewhere convenient
Open Kodi on your local device
Select "Add-ons"
Click the open box icon at the top of the menu bar
Choose "Install from Zip File"
Locate the Pulsar zip file: plugin.video.pulsar-#.#.#.zip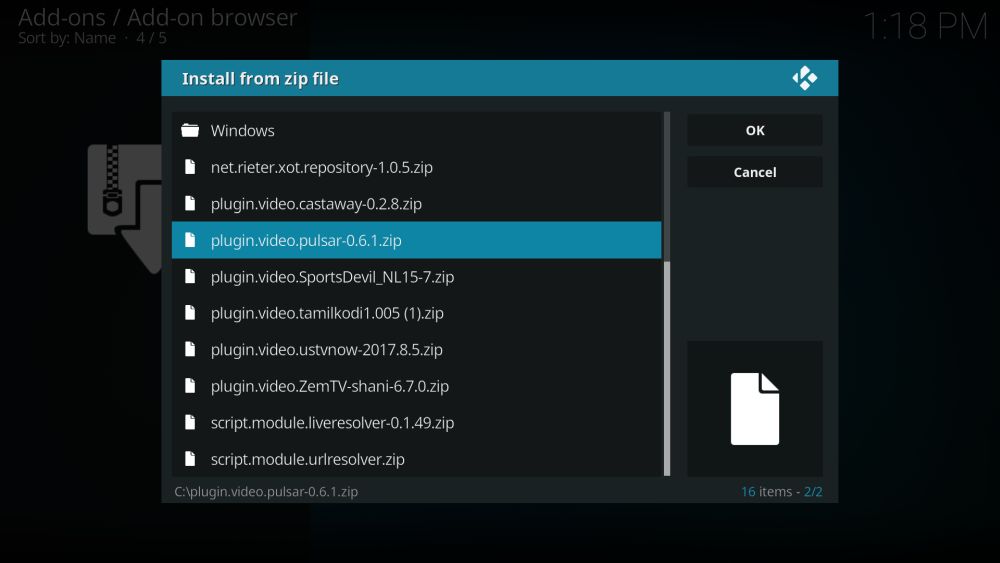 If you get a warning from your firewall about pulsar.exe trying to access the internet, click "allow"
When the installation completes, close Kodi and reopen it
After Pulsar is installed you'll need to add providers, which are lists of torrent resources used to stream movies. Providers are kept separate both for ease of use and for legal reasons. The best way to access pre-made providers lists is to download them from a repository. SuperRepo has a great starting list you can use. Follow the instructions below to add SuperRepo and the MC Provider Manager to Kodi. If you already have SuperRepo, skip to step 13.
How to install Pulsar providers on Kodi
Open Kodi on your local device
Click on the gear icon to enter the System menu
Go to File Manager > Add Source (you may need to click the double-dot to move to the top of the directory)
Type in the following URL exactly as it appears: https://srp.nu
Name the new repository ".SuperRepo"
Click "OK"
Go back to the Kodi main menu
Select "Add-ons"
Click the open box icon at the top of the menu bar
Choose "Install from Zip File"
Select ".SuperRepo" followed by your version name of Kodi
Select "All" to install the entire SuperRepo set of add-ons
Go back to the Add-ons menu and click the open box icon again
Choose "Install from repository"
Find and click "SuperRepo All"
Scroll down to "Program add-ons"
Locate "Pulsar MC's Provider Manager" and install
Close Kodi and restart it
What Can I Do with Pulsar?
Pulsar is different from most Kodi add-ons. Instead of directly offering links to content, it provides a ready-made environment to utilize existing protocols for fast and reliable streams. Pulsar is a torrent streaming add-on that transforms ordinary torrent files and magnet links into streaming videos. You don't have to wait to download the file before watching it. Simply find the movies or TV shows you want to watch, add them to Pulsar, then sit back and be entertained.
Pulsar has a simple organization structure that gets right to the point. The core layout is split into movie and TV show categories with sub-divided folders inside each. The actual content that appears once you load these categories will vary depending on the providers you have installed. Here's a quick look at how you'll use Pulsar to stream torrent videos:
Movies – Everything from blockbuster hits to old favorites sorted by genre, popularity, release date, IMDB top 250, and more.
TV Shows – Full TV series from the past and present sorted by most popular.
Paste URL – Got a torrent magnet link to something you'd like to stream while it downloads? Add it here and Pulsar will get to work.
Benefits to Using Pulsar Vs Other Add-ons
Pulsar has quite the following among Kodi fans, with some claiming it can replace every other add-on in the community. While it would take a bit of work to make this a reality, Pulsar does make it easy to access an enormous amount of content from a single interface. Not only that, but the way Pulsar is structured makes it resistant to takedown attempts by rights holders and lawyers, something that has plagued other add-on creators in recent years.
The core of Pulsar is a simple program that does one thing: turn torrents into streams. If you just download Pulsar, you won't get access to any content. Adding providers is what turns the software into a true streaming machine, but those providers are stored and installed separately. Any shutdown attempts aimed at Pulsar will have very little ground to stand on. In addition to that, Pulsar utilizes external torrent sites for content, which have proven more reliable than resources used by other add-ons.
There is the one unfortunate fact about Pulsar that makes it a less-than-perfect add-on: it hasn't been updated since 2015. The code is publicly available and the add-on still works for many users, but any errors you receive during installation could mean it's broken for good. On the bright side, Quasar is a fork of the Pulsar code that takes the original project and tweaks it to make it faster and more reliable.
"Pulsar has crashed, restarting" Error: How to fix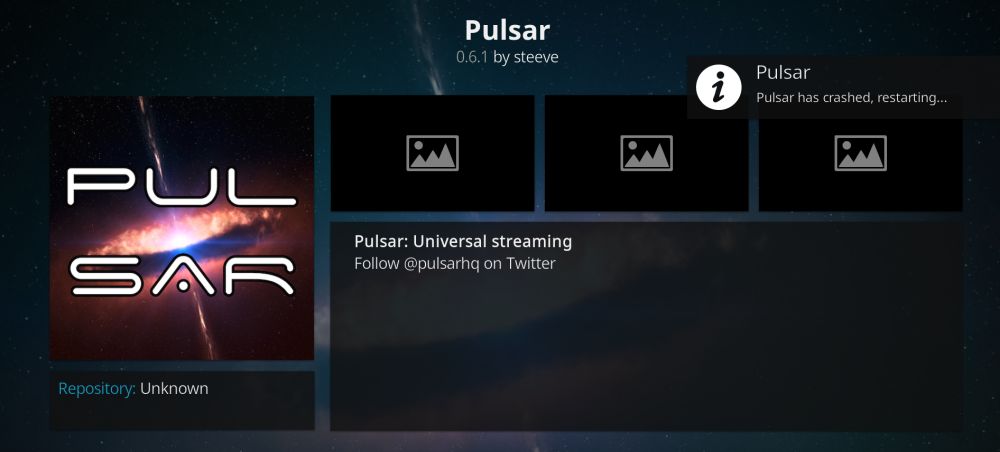 Many users encounter errors while installing Pulsar. The multi-phase installation process makes things confusing, and because the add-on hasn't been updated in years, there are bound to be some issues. One of the most common errors is the "You must restart Kodi" message that flashes repeatedly after installation. This error persists even after restarting Kodi, indicating something is wrong with Pulsar that needs to be looked into.
For most people this restart problem is a quick fix. Follow the steps below to change some of Kodi's options that will allow Pulsar to function properly.
Go back to the Kodi home menu
Click the gear icon
Select "Service Settings"
Go to the "Control" section
Make sure both of the following options under "Application control" are enabled:
Close Kodi and re-open it and the error will be resolved
Most other Pulsar errors can be fixed by restarting Kodi again, even if you recently restarted it. If you close and open the program more than a few times, however, it may not be possible to use Pulsar with your hardware or version of Kodi.
Is it Safe to Install Pulsar?
Pulsar is a unique kind of Kodi add-on. Most extensions link to unknown sources, are built by third-party coders, and are packaged in huge repositories for mass delivery. This can result in malicious add-ons slipping through the cracks, placing things like malware and viruses onto users' computers. Pulsar avoids this pitfall by keeping its code open source and available to everyone. It also doesn't feature any links to external content, reducing the chances of downloading something illegal by accident.
The short answer is yes; Pulsar is safe to install. Safer than most add-ons, even. You should always take basic precautions when using Kodi, of course. Keep your anti-virus software turned on, your firewall active, and your VPN running in the background. With a little attention and the right tools, you'll be able to stream movies and TV shows through Kodi without encountering any problems.