We are reader supported and may earn a commission when you buy through links on our site.
Learn more
How to Install PureVPN on Kodi
The modern internet is vastly different from the world wide web of ten years ago. Privacy is a huge concern these days, and for good reason, too. ISPs can log your data and sell it to third parties without your consent, government agencies can monitor or control your traffic, and threats to net neutrality are attempting to put full control over the web in the hands of the highest bidder.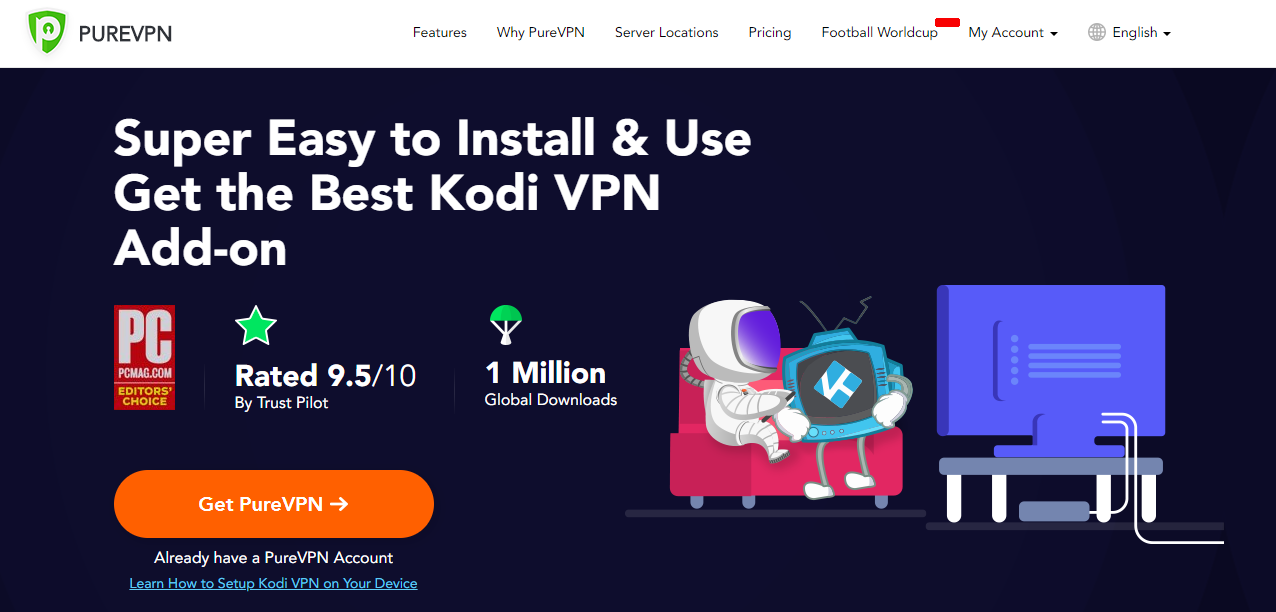 There are some groups out there who still believe in a free and open internet. The Kodi team is one such group. Through the open-source media center, they're providing valuable tools that let you stay in control over your digital content. Nobody controls your movie streams when you use Kodi, that's just one of the many reasons why it's so popular.
Certain ISPs and content publishers don't view Kodi so favorably, however. They have started banning, blocking, throttling, and even threatening Kodi users with legal action simply for using the software for legitimate purposes. Many Kodi users have turned to VPNs to keep them safe and anonymous online. Below we'll talk about one of the best and most private VPNs to use with Kodi, PureVPN.
30-days money back guarantee
Keep Kodi Safe with PureVPN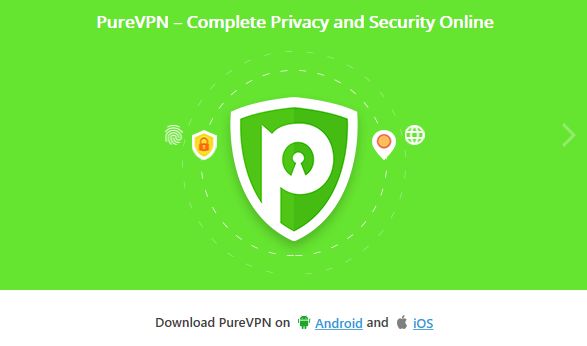 VPNs, or virtual private networks, encrypt data on your device before sending it through the internet. This simple process makes it impossible to tell what you're downloading or streaming, adding an enormous amount of privacy to your daily activities. With the right service you can stay safely anonymous even while streaming through Kodi.
There are multiple methods of installing PureVPN and other VPNs on Kodi. Below we'll take a quick look at the most popular methods so you can see which one best meets your needs.
Option 1 – Run PureVPN on Your Device
The easiest and most common way of installing PureVPN on Kodi is to simply download the app to your device (Windows, Mac, Android, iOS, etc.), connect and leave it running in the background, then launch Kodi. As long as you remain connected the VPN software is active, everything you stream through Kodi will be protected by encryption.
The only real downside to this method is that some devices don't support VPNs. Certain TV set top box streaming hardware and smart TVs are the most common cases. It's rare to find a device that doesn't support some sort of VPN, however, so option 1 is still your best bet to use with PureVPN and Kodi.
Option 2 – PureVPN Router Install
It's possible to install VPN software on a router. This bypasses the need to load an app on every device whenever you need VPN protection. It can take some extra time and technical knowledge to set up, however, and you'll miss out on some unique extra features. PureVPN users won't have the added virus protection and certain malware blockers if they use the router install method, so unless it's impossible to run Kodi and PureVPN on the same hardware, it's best to skip this option.
Option 3 – Install the PureVPN Kodi Add-on
Unlike most VPNs, PureVPN offers an official Kodi add-on you can install and use to run the VPN directly from the Kodi interface. This is an incredible feature that makes it extremely easy to use while streaming movies and TV shows. Installing the add-on won't protect the rest of your internet connection, however, so this option is best used on devices where your only activity is to run Kodi.
How to Install PureVPN on Kodi
Below we'll outline the step by step process of installing PureVPN on Kodi using option 1 described above. This is the fastest and easiest method to use and will work on the widest variety of hardware. Simply follow the steps below and you'll be safe and secure in no time.
PureVPN – More than Just Privacy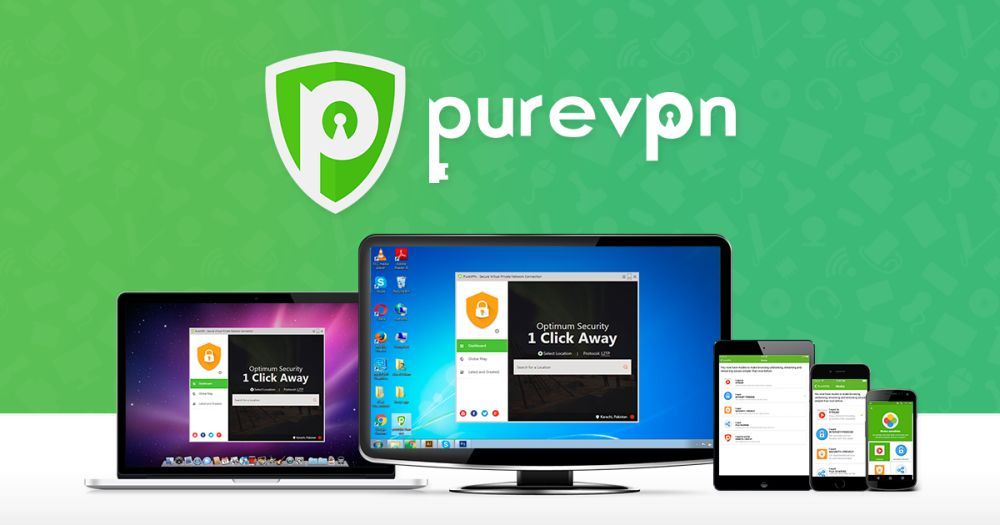 PureVPN is delivers more than just online privacy and data encryption. It's an all-in-one security suite that can keep your devices safe from a variety of dangers. Most versions of its software come with anti-virus protection, malware shields, app blocking features, and even DNS website filtering, all available in a single package. Install just one app and all of your online security needs will be met, making it the perfect solution for Kodi users who are concerned about safety.
PureVPN also provides a zero-logging policy on all traffic, an automatic kill switch, solid 256-bit AES encryption on all data, and DNS leak protection features. These work well with the company's self-owned network of 750 servers in 141 different countries, providing a ton of options for fast, safe, and secure connections.
Sign-up and Subscribe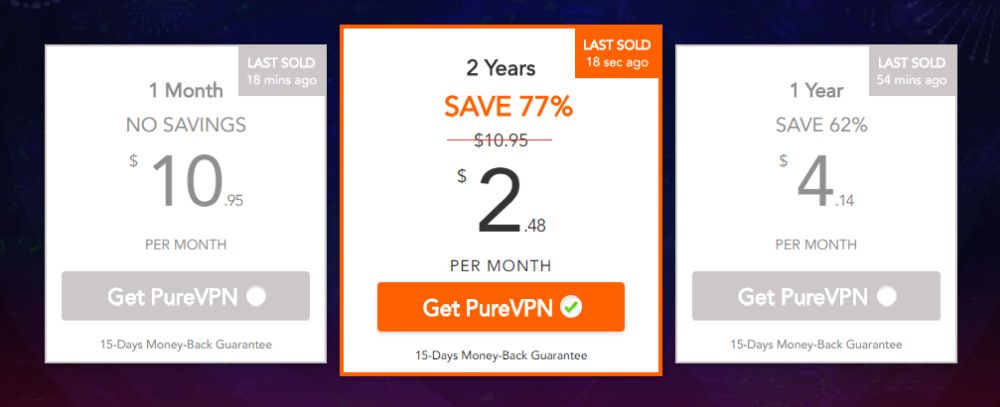 Follow the links above to visit our exclusive PureVPN deals page where you can get the best deals on a PureVPN subscription. First you'll need to pick a plan. The two year deal option saves more money, but you can also go with the one month or one year plan, if you like. Either way, PureVPN offers a 15 day money back guarantee, so you can try it out with complete confidence.
Choose a plan, then scroll down to the payments section. PureVPN lets you pay with a credit card, PayPal, Alipay, cryptocurrencies such as bitcoin, and a number of PaymentWall vendors. Pick the most convenient option, fill out the account details, and complete the checkout process.
Getting the VPN App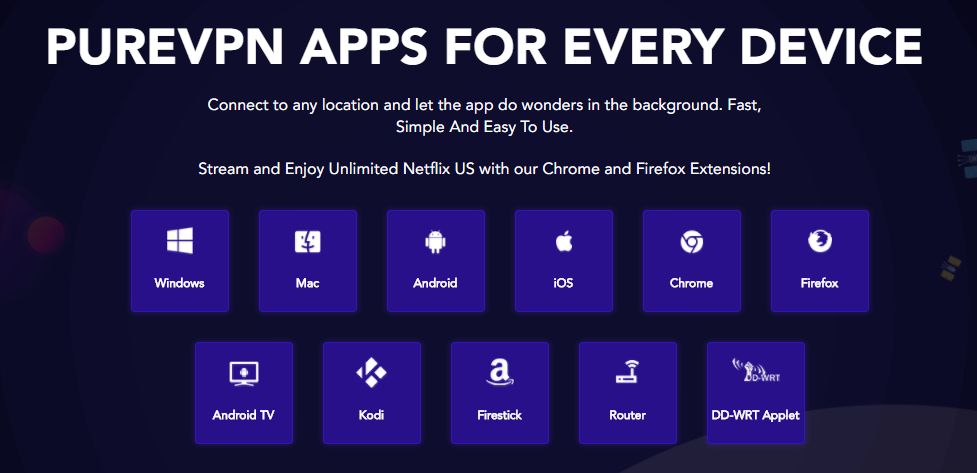 With your account ready, it's time to grab the PureVPN app and install it. Go to PureVPN's downloads page and select your operating system icon. You'll be taken to a separate page with login and download links ready to go. Get the file and save it somewhere convenient, then launch the app.
The installation process for PureVPN's app will vary depending on your platform. For Mac, Windows, and Linux, it simply boils down to getting the software file and installing it like you would any other program. For other devices and platforms, things are just a touch different. Below are the most common install locations along with brief instructions.
iPhone – Install through PureVPN's app store links as you would any other app.
iPad – Install using the PureVPN app store link as normal.
Android – Use PureVPN's Google Play marketplace link and install.
Fire Stick and Fire TV – See our complete guide to install PureVPN on Fire TV.
Chrome – Install the extension via PureVPN's link, which redirects to the Chrome Extensions marketplace.
Firefox – The PureVPN link will send you to the Firefox extension market where you can install it as normal.
Note that using the PureVPN Chrome or Firefox extension will not protect Kodi. You need to get the desktop or mobile apps to protect your entire device, not just your browser.
Install PureVPN on Windows
The steps below are aimed at Windows users, but they'll work in just about the same way for Mac and Linux. See the bulletpoints above for installation on other platforms and devices, including smartphones.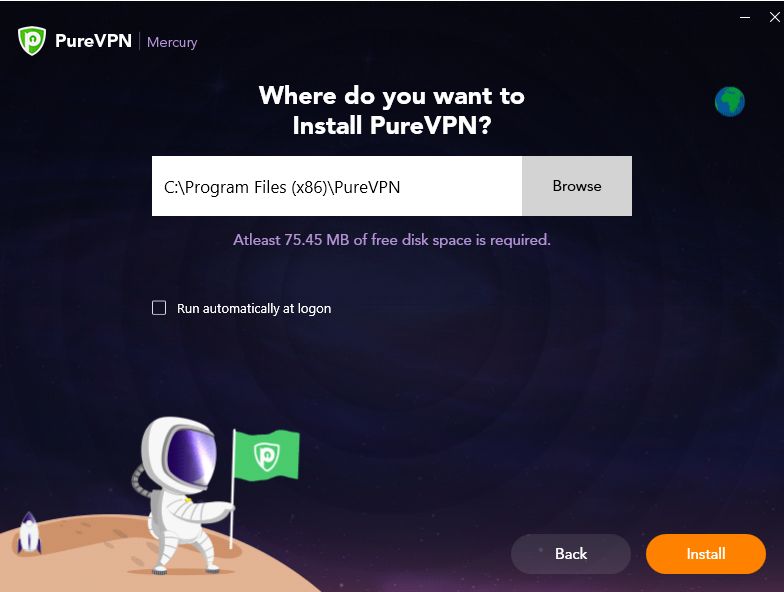 Once the app is downloaded, launch the file named purevpn_setup.exe to start the installer. You'll see an agreement page first. Click the orange I Agree button at the bottom to continue. Next, select an installation location. The default will be ok for most users. You'll also want to tick the "Run automatically at logon" button to ensure you're always protected by the service. Click the orange Install button when you're ready.
The installation process will take a minute or two to complete. During this time, PureVPN will prepare your system for VPN access, download additional required software, and install everything so you'll have one-click access to a secure connection.
When installation is finished you'll be greeted with the login screen. Click the Login button at the bottom, then enter your PureVPN username and password in the space below. Note that the username is different from your account e-mail. PureVPN users are given tags like "purevpn0c367984". You should receive an e-mail after signup that gives you an active username.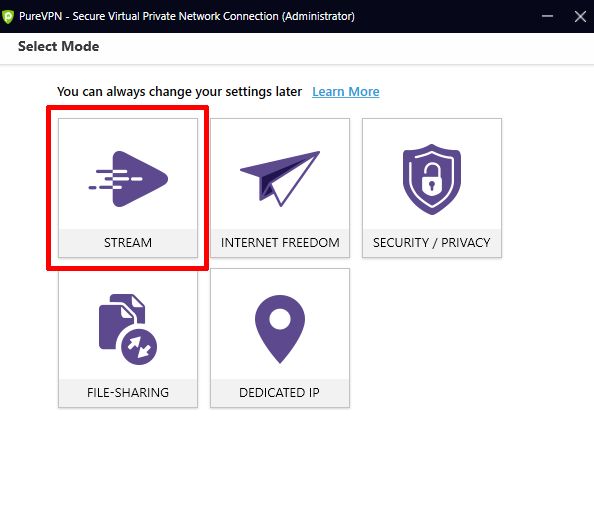 Sign in and you'll see PureVPN's main screen. The five main icons are designed to customize your VPN experience with greater security, better speeds, or more privacy features. Since we're installing PureVPN to use with Kodi, you'll want to choose the Stream option. Click the icon and PureVPN will take you to the server selection screen.
Now all you need to do is choose a fast server to connect to. Because Kodi is region-free, it doesn't matter where your server is located. Pick the fastest server location on the list (usually at the top), click, then PureVPN will connect you right away.
Using PureVPN with Kodi
Now that you've got PureVPN installed and set to launch automatically, you're ready to enjoy all the features and add-ons Kodi can provide. Each time you launch Kodi, simply double check to make sure PureVPN is active and connected in the background. If it is, you don't have to do anything else, you're ready to go!
Install the PureVPN Add-on to Kodi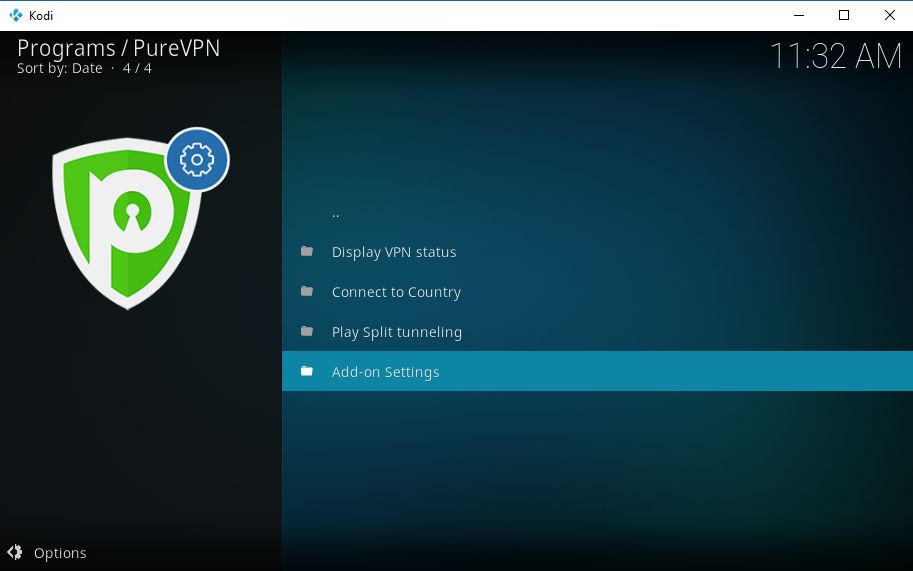 PureVPN actually offers an official add-on made especially for Kodi. By installing the PureVPN repository and companion add-on, you can gain direct access to the VPN's features without leaving Kodi. Your streams will be safe, and your identity secure!
Make sure you have Kodi installed on your system.
Follow the instructions above to sign up with PureVPN.
Visit PureVPN's Kodi repository page and download the zip file.
Launch Kodi and click Add-ons from the navigation bar.
Choose the open box icon at the top.
Select Install from zip file.
Navigate to where you saved the PureVPN repository and install it. It should look something like this: service.purevpn.monitor-1.6.1.zip
When the install completes, launch PureVPN from Add-ons > Program add-ons
Select the settings option and enter your PureVPN username and password.
Under the Monitor tab, make sure the add-on is set to automatically connect to PureVPN each time you launch Kodi.
(Optional) Set add-ons to exclude from VPN protection via the split tunneling tab.
Click ok to save your changes. The PureVPN add-on will now keep your Kodi streams safe every time you watch something.
The PureVPN add-on for Kodi is simple, but it gets the job done. A big benefit is you don't have to install the PureVPN app to use the service with Kodi, making it ideal for watching movies on resource-limited devices. The downside is it won't protect your entire computer, just Kodi itself. It's also not quite as powerful as the VPN Manager add-on below.
Kodi Add-on VPN Manager
Sometimes the default operating system installation isn't enough. Maybe you want to control your VPN without leaving Kodi's streamlined interface. Or maybe you want to take advantage of PureVPN on another device that doesn't work so well with default app software. Either way, the VPN Manager add-on from Zomboided is the way to go. It lets you control your VPN from Kodi while keeping the rest of your system safe with PureVPN's amazing encryption and privacy features.
Why Use the VPN Manager?
Running PureVPN in the background encrypts all data leaving your device without exception. This is generally a good idea, especially if you're running Kodi. However, many official Kodi add-ons are perfectly safe to use without a VPN. In these cases, you may want to send them through without VPN encryption so you can get better quality video without having to disconnect.
This is where VPN Manager comes into play. One of its advantages is the ability to control which add-ons are sent through your VPN, allowing you to troubleshoot certain extensions that may not work from behind a VPN. With VPN Manager you can specify which add-ons to protect and which to allow through untouched, making Kodi a lot simpler to use in the long run.
Another advantage of VPN Manager is ease of access. If you use the OpenElec or LibreElec operating systems, or if you only want your VPN to work when Kodi is active, setting up the Zomboided VPN Manager is a great way to accomplish this. It controls VPN actions automatically to keep your add-ons secure at all times without having to mess with the VPN program itself.
It's important to note that you still need to install PureVPN using the instructions above to use it with VPN Manager. The add-on does not replace VPN software or provide VPN protection on its own, it simply manages the connection without your manual intervention.
How to Install VPN Manager
VPN Manager is packaged in the Zomboided repository. It's technically a third party "unofficial" add-on, but because it doesn't contain any streaming resources that could access pirated content, it's completely safe and legal. The repo comes with two tools: VPN Manager for OpenVPN, and Zomboided Tools. We'll be installing the first one.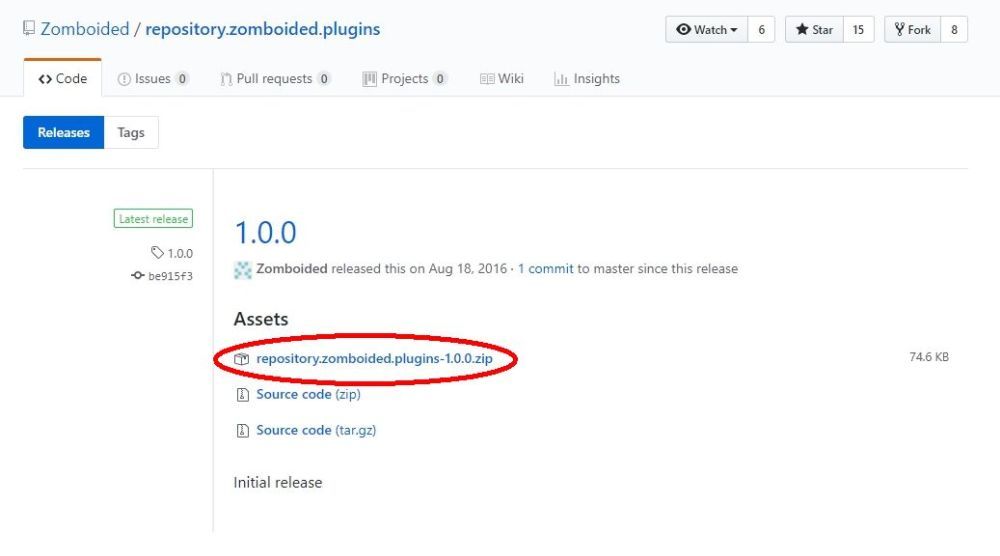 Start by visiting the Zomboided repo page and downloading the latest version. Click the newest file at the top marked repository.zomboided.plugins-#.#.#.zip and the download will begin.
Launch Kodi and go to the home menu. Select Add-ons first, then choose the open box icon at the top of the small navigation menu at the left. Next, select Install from zip file, then navigate to the repository you downloaded above. Kodi will add it to the system, copying the necessary files over so you can delete the original zip.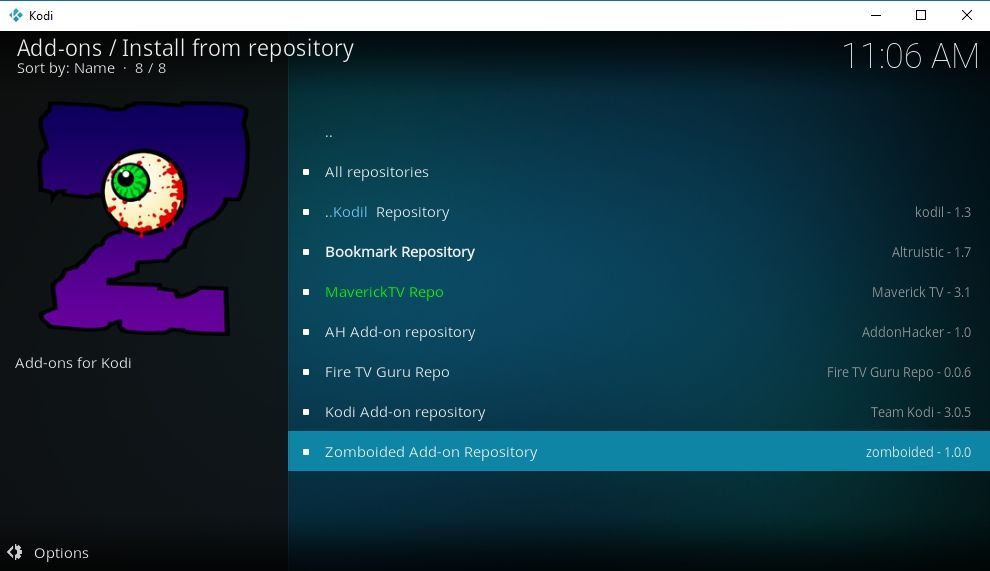 Back in the open box menu, choose Install from repository. Find Zomboided on the list (it should be at the bottom), select it, then choose the Services folder. You should see VPN Manager for OpenVPN at the top. Select it, then choose the Install button in the lower right. Kodi will install the add-on right away.
Once VPN Manager is ready to go, you can access it from the main Add-ons menu under Program Add-ons. Launching it will give you a few options to choose from, including changing the settings, pausing the add-on filtering, and displaying the current VPN status.
Setting Up Zomboided VPN Manager
Once the VPN Manager is installed, go to the add-ons section of Kodi and launch it. If you don't already have OpenVPN installed, it will open a window instructing you to download it. The program is safe and free, simply visit the following URL and download the file for your system:
With OpenVPN and PureVPN installed, you're ready to set up the VPN Manager. Run the wizard from the first prompt to be guided through the entire process, or use the manual instructions in the following paragraphs.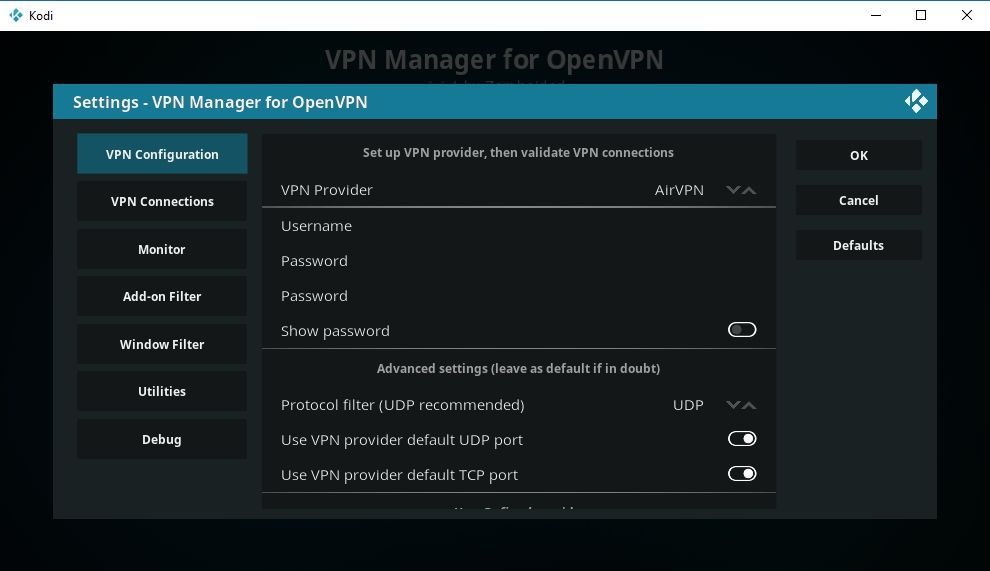 First, open the VPN Manager settings screen and choose PureVPN at the top. Next, enter your VPN's details, including username and password. It's ok to leave the rest of the details in this section alone, as Zomboided will take care of them for you.
Under the Monitor tab you can specify how Zomboided manages the VPN connection. Most of the settings will be toggled on, so you can leave them alone, too. It's a good idea to skip to the bottom of this list and set the following option to "active". This lets you see information about your VPN each time it connects, serving as a convenient reminder that your streams are kept safe:
Display IP, location and Service Provider in VPN cycle notification (toggle right)
Now you can set custom options under the Add-on Filter category. If you use an add-on that doesn't function with VPNs, for example, you can quickly specify them to be ignored by PureVPN. You can also invert the filtering list so you specify only the add-ons that need VPN protection, though this is generally less secure than the former option.
The last sections of this settings screen can also be skipped. Now you're safe to click ok and start using VPN Manager. The add-on will automatically take care of your connection each time you start Kodi. Just make sure to keep your PureVPN account in good standing and launch the app whenever you reboot your device, then you're free to enjoy Kodi as you please.
Conclusion
PureVPN is one of the fastest and most full-featured VPNs for any device. Using it with Kodi is the perfect pairing, as it enables you to stream content and access add-ons in complete privacy. No more worrying about ISP throttling or government spying programs, just an infinite amount of free movies and TV shows to keep you entertained.
Did our installation options help you protect your Kodi streams? Let us know if you ran into any trouble during the process in the comments below!