We are reader supported and may earn a commission when you buy through links on our site.
Learn more
Is Kodi Still Safe to Use?
Kodi users around the world are still reeling from the news that many Kodi repositories were taken down by legal threats recently. Although it's not unusual for repositories to go up and down on occasion, due to changes in management or server costs, it is rare that so many repositories have been targeted in so short a time.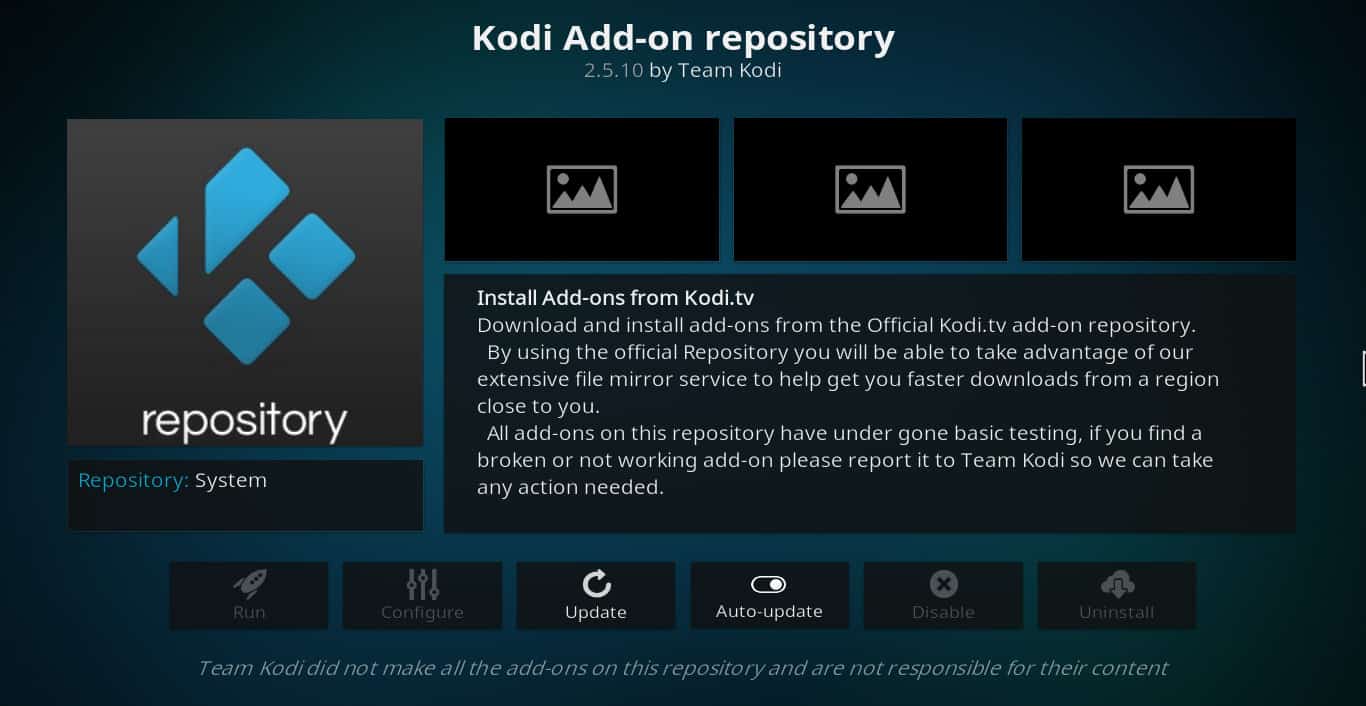 But what does this mean for you as a regular Kodi user? Is Kodi still safe to use? In this article we'll take you through the details of what happened in the crackdown, talk about which repositories and add-ons were affected, then talk about what securities matters you need to be concerned with when it comes to using Kodi for yourself.
30-days money back guarantee
You Should Get A VPN When Using Kodi
Despite the media coverage, Kodi is absolutely legal. Due to its open-source nature, however, third-party developers can (and do!) create add-ons to expand the software's functionality. While many such add-ons operate above board, a fair few also grant access to copyrighted content, planting a big red flag on Kodi users for ISPs to target with warnings or even service interruptions.
A virtual private network can help. With a VPN, all of the traffic that you send over the network is encrypted before it leaves your device. This means that no one can see what sites you've visited or whether or not you have downloaded a copyrighted file. The encryption keeps you safe from the prying eyes of your ISP, plus it will protect you from law enforcement or government snooping as well.
We Recommend IPVanish For Kodi Users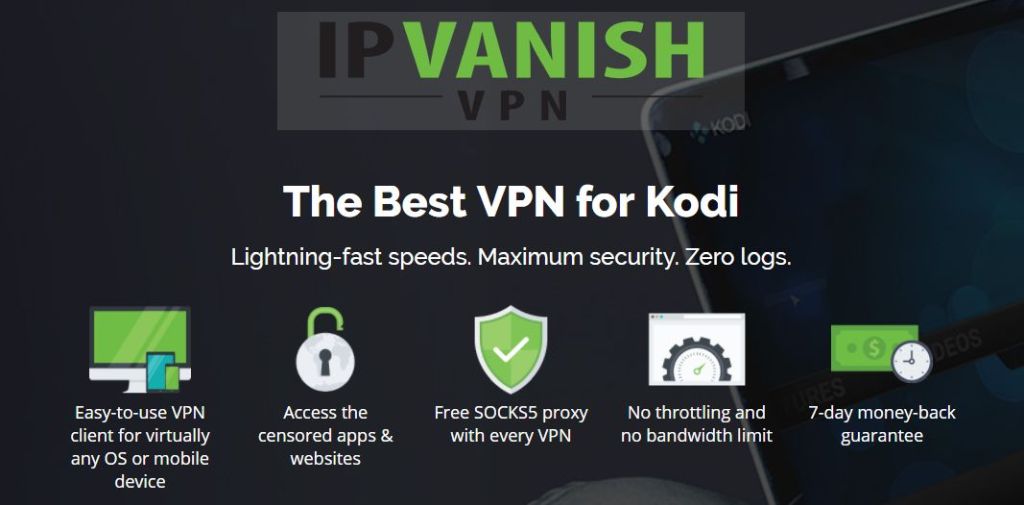 For Kodi users, the VPN that we recommend is IPVanish. We selected this VPN provider based on a number of factors, including security, ease of use, and quality of service.
In terms of security, we look for strong encryption and a no logging policy. IPVanish uses 256-bit encrypting and keeps no logs of its users' activities. For ease of use, we wanted to see software which is easy to use and support plenty of operating systems, which this provider does. And for quality of service, we look for fast connections and plenty of servers. With lightning-fast connections and over 850 servers in their network, IPVanish meets all our needs.
If you want to try out IPVanish, we have a special offer which is exclusive to Addictive Tips readers! You can get a huge 60% discount on the yearly plan, which works out to only $4.87 per month. There's even a 7-day money-back guarantee so you can buy in confidence.
What Was The Crackdown?
Last month, on the 15th of November, the maintainers of several of the largest and most popular Kodi add-on repositories posted to Twitter saying that they were taking down or severely limiting their repositories. These repositories are third-party sites, meaning that they are not officially endorsed by Kodi, and they are used to host the files you need to install add-ons to your Kodi system.
The way repositories work is as follows: you decide that there's a particular add-on that you want to install to your Kodi system, in order to add a new functionality (for example, the ability to play YouTube videos through your Kodi system). Then you find a repository which hosts that add-on – that is, a website from where you can download the necessary files in order to install the add-on. You add the repository's URL to your Kodi system using the File Manager tool in settings. Then you use the add-on installation menu to install the add-on from the repository.
As you can see from this, the repositories do not host any illegal content themselves. The repositories may contain links to places where you can download tools which allow you to access copyrighted content – but then, the same is true of the google.com website or any browser that you might use.
Despite the flimsy evidence of illegality on the part of repositories, these sites have become the target of aggressive legal tactics on the part of copyright holders. Most repositories are run just for fun by novice Kodi enthusiasts, yet they have been targeted by big companies who send threatening letters and have teams of lawyers dedicated to trying to prevent repositories from running.
This is what happened last month. The maintainers of popular repositories including Ares Wizard, Smash, and the Colossus Repo were simultaneously targeted by aggressive legal action from big corporations. As most developers do no have the funds or the time to fight protracted legal battles, many have decided to close their repositories instead of facing continuing legal harassment.
Developer Reactions To The Legal Action
The first site to be affected was the popular Colossus Repo, which is best known for hosting key add-ons like URLResolver, Covenant, and Bennu. One of the developers for the repository announced on Twitter that he would no longer be developing Kodi add-ons and was moving on to other projects. The URL where Colossus lived is now inactive.
The Ares Wizard utility, which could be used to manage Kodi settings and to install themes and builds for Kodi simply, was the next to be targeted. The program was deleted and the URL for the website no longer works. After this, the Smash repository was taken down too, and once again the developer said that they will no longer be developing for Kodi.
Then it was the Mucky Duck and Pulse Build repositories which were taken offline. The Noobs and Nerds repository will remain, but its maintainers will no longer be publicly active on Twitter.
None of the developers or repository maintainers have revealed exactly why they had to take their repositories down, but the hints they did leave and experience with this software suggests that they were under direct legal threat. It is likely that the legal action is over the hosting of add-ons which could allow users to access copyrighted content illegally – even though, as we mentioned before, the repositories do not actually host any illegal material themselves.
Which Repositories Were Affected?
If you're wondering exactly which repositories were affected, over a few days these are all the repositories that stopped working:
Colossus Repository

Smash Repository

Ares Wizard

Alpha Repository

UK Turk's Playlists Repo

Mucky Duck Repo

Soulless Repository

Origin Repository

DandyMedia Repo

Pulse Build / Wizard
Which Add-ons Were Affected?
These repositories hosted a wide range of add-ons, some of which were developed by the repository maintainers and others of which were merely hosted by the repository. Some of the most popular add-ons which were hosted at the above repositories and which will now be harder to install are the following:
Colossus

Bennu

Fear of the Dark

Icefilms

1Channel

Triton

Poseidon

Sportie

Gurzil

UK Turk's Playlists

Myriad

Yes Movies

Duck Pool

123Movies

Openload Movies

1080p Movies

M4U

Imperial Streams

DandyMedia

Film Emporium

HEVC VideoClub

Ares Football
What Does This Mean For Kodi Users?
So if you're not a developer or a repository maintainer, just a regular Kodi user, then what does this crackdown mean for you? Is Kodi still safe to use?
The good news is that you don't need to panic. Kodi is still safe, and any add-ons you have already installed should continue to work just fine. You shouldn't uninstall your add-ons, both because there's no need to as they don't pose a threat. Furthermore it will be harder to install these add-ons again if you want to use them in the future.
Here's the bad news: these repositories being shut down means that it will be more difficult when you want to download new add-ons. If you're wanting to download a popular add-on like Covenant, the you'll need to hunt around the internet for links to a working repository instead of simply going straight to the Colossus Repo. If you install a new version of Kodi, or wipe you old version clean and try to start again, you might find it much more difficult to find your favourite add-ons that you did before.
There's another problem which arises from the URLResolver utility being taken down. As a user, you probably haven't interacted with URLResolver directly. But this utility was an important part of where TV and movie streaming add-ons like Covenant and Bennu got their links from. When you choose a TV episode or a movie in Covenant, for example, the add-on uses URLResolver to search through a list of URLs to find links to places where you can watch that video. With URLResolver gone, these links will no longer be updated. The add-ons will continue to work for the immediate future, but over the long term the links that they generate will become less reliable, unless developers find another way to search for URLs.
The upshot of all this is that the crackdown will be a pain for regular Kodi users when they want to download a new add-on. But current add-ons should continue working as usual, and the software is still safe to use.
Should I Delete Repositories From My Kodi System?
There is one security issue which Kodi users should consider. If you add the URL of a repository to your Kodi system, then that repository is shut down, then the repository will simply stop working. However, if another person or group then buys up the URL at which the repository was located, they could theoretically upload dangerous code to that repository which you could inadvertently install. It has been speculated that groups of copyright holders may try to buy up these domains and use them to host honeypots – that it, malicious code which poses as a useful add-on but actually collects data about users with the intent to harass them legally.
To keep yourself absolutely safe, it's a good idea to uninstal any of the repositories we mentioned above from your Kodi system, so that no one can use their URLs to gain access to your Kodi system.
How To Delete A Repository In Kodi
So how do you remove a repository from your Kodi system? Fortunately, it's very simple. Just follow these steps:
Start on your Kodi home screen

Go to Add-ons, then to My add-ons

Select Add-on repository

This brings up a list of your repositories. Find the repository you want to remove, then click on its name

This shows you a screen with information about the repository. Choose Uninstall from the menu at the bottom

A popup confirmation will open. Select Yes and the repository and its associated files will be removed from your system
You can follow this procedure to remove all of the compromised repositories that we listed at the start of this article, ensuring that no one can upload malicious files to your system. This will not delete any of your add-ons or media files. For more information about removing repositories, take a look at our full article on the topic.
Conclusion
This crackdown has caused a lot of trouble for Kodi developers. But for users, the good news is that Kodi is still safe and you can continue to use it as before. All the add-ons which you have currently installed should continue to work. However, you may have difficulties in finding places to download add-ons from in the future.
One step that's a good idea to take is to delete all of the repositories which have been taken down from your system. This will keep you safe from anyone who buys up the repository's old URL which they could use to access your system. The simple instructions for doing this are located above.
Are you going to keep using Kodi after this crackdown? Are you worried about the future of your favourite add-ons, or do you think that developers will find new ways to share their work? Let us know what you think in the comments below.