We are reader supported and may earn a commission when you buy through links on our site.
Learn more
Money Sports Kodi Addon: Watch Live Stream Sports at Home
It can be a pain when you want to watch sporting events at home – you need a cable channel package including specific sports stations, and you usually have to tune in live to catch the big game. But what if you want to watch a match later on? Or what if you follow a sport that isn't popular in your home country? What is a US-based soccer fan to do?
The easiest solution for sports lovers to watch live and pre-recorded events is to use the Money Sports add-on for Kodi. Kodi is free, open source, totally legal software which acts as a media centre for your PC, Mac, or mobile phone. You can customise Kodi to your liking by using add-ons which extend its functionality and offer new features. In this article we'll describe how to install and use the Money Sports add-on for Kodi so you can catch up on the big matches whenever you want, entirely from the comfort of your own home.
30-days money back guarantee
Why you need a VPN to watch sports through Kodi
The Kodi software itself is open source and legal to use. However, many of the add-ons for Kodi are developed by third parties and exist in a legal grey area. If you want to use Kodi with add-ons, it's crucial that you protect yourself from possible legal consequences of streaming movies or sports events. If you were to use Kodi on a regular unencrypted internet connection, then your ISP could log everything that you do online, including any files that you download or content that you access illegally. And if a government agency decides to investigate your internet use, they can force your ISP to turn over your data, effectively letting the government spy on all of your online activity and possibly even prosecute you.
No one wants that! You just want to watch the big game. So you need some help to keep yourself safe while streaming content. The best way to do this is to use a VPN, which is a service which encrypts all of the data which is sent out from your computer. That means that your ISP can see how much data you are sending, but not the contents of this data, so they can't offer any information to government agencies even if it is demanded. VPNs are becoming more and more talked about as many internet users want to maintain their safety and privacy. To avoid surveillance and to stream in safety, we highly recommend the use of a VPN when using Kodi.
Which VPN should I use?
Now you know that you need a VPN, you have to choose which one to use. One important thing to note when choosing a provider is to be careful about free VPN services. Free services necessarily make their money elsewhere if not from subscriptions, sometimes even by selling your data on to other companies. This is unacceptable for a product that should be improving your security, not compromising it! Another common tactic among free VPNs is to keep data logs of all your activity, effectively undermining your security. You want to be sure to select a VPN service with no logging.
In fact, when it comes to selecting a VPN, three factors are vital:
No logging. Arguably the most important aspect of a VPN service is its logging policy. If a government agency decides to look into your internet activity, they can demand that your VPN providers turns over all logs of your internet activity. Free VPNs which keep logs will have to hand this information over to officials and you could get in trouble for your activities. But if a VPN does not keep any logs, then there is no data for them to hand over. This is the best way to keep your browsing private.
Fast connection speed. There's nothing more annoying than the stream of the game you're watching having to stop and buffer every few seconds. This often happens because free or low-quality VPN services limit the connection speeds which you have access to, or because their infrastructure is not advanced enough to deal with high volumes of traffic. You want a VPN that will give you a consistent, fast, reliable connection.
No restrictions on types of traffic. If you want to stream videos, to torrent files, or to download from FTP servers, then you need to make sure that this type of traffic is allowed by your VPN. Free VPNs often limit what kind of traffic they can encrypt so, for example, you might not be able to use torrents. We think that if you're paying for a VPN you should be able to use it for whatever type of downloads you want as well as for your Kodi setup, so it's important to check the allowed traffic types of VPN providers.
We recommend making the investment in a paid VPN service that you can be sure will be trustworthy and reliable. But which one to pick? This can be a tough choice as there are so many providers to choose from! To help you with this, we're recommending two of our top choices for VPNs to use with Kodi.
IPVanish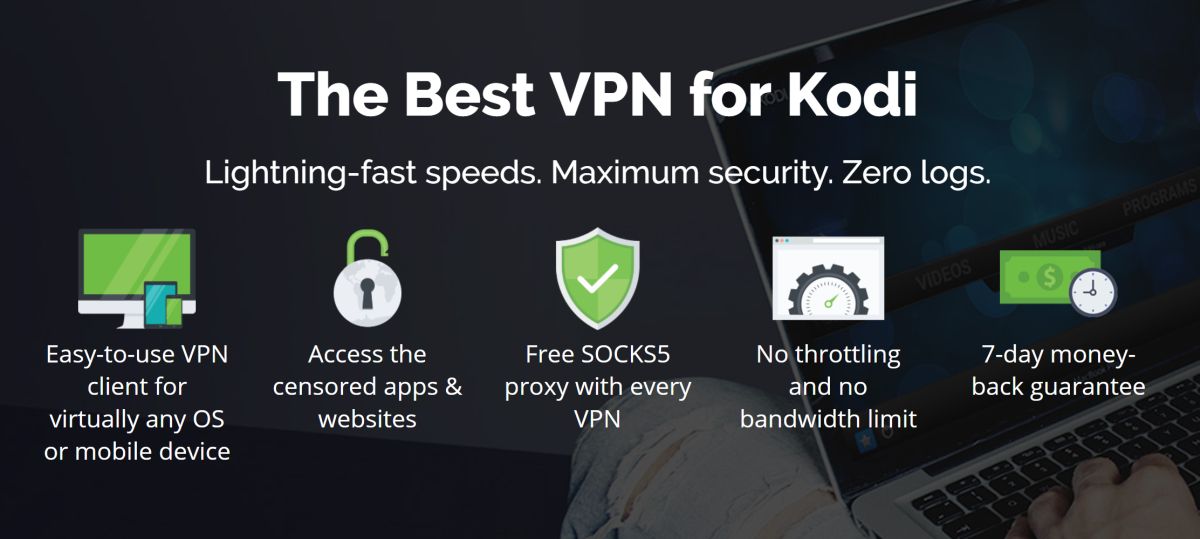 Our top pick for a VPN to use with Kodi is IPVanish. It's a strong all-round VPN service which has all the essential features: no data logging, lightning-fast connection speeds, and all types of traffic allowed. Unlike other VPNs which limit or ban the use of torrents, IPVanish lets you torrent as much as you want, while simultaneously keeping your data secure and protected. It comes with an easy-to-use program for Windows or Mac, and there's even an app for Android or iOS, so you can enjoy VPN protection on your mobile devices as well as your home computers.
IPVanish has no bandwidth cap, no forbidden types of data transfer, and no limits on P2P traffic. With 850 servers in more than 60 countries all over in the world, you can easily access region-locked content – which is perfect for sports fans who live outside of the country in which a match is being broadcast.
IPVanish offers a 7-day money back guarantee which means you have a week to test it risk-free. Please note that Addictive Tips readers can save a massive 60% here on the IPVanish annual plan, taking the monthly price down to only $4.87/mo.
PureVPN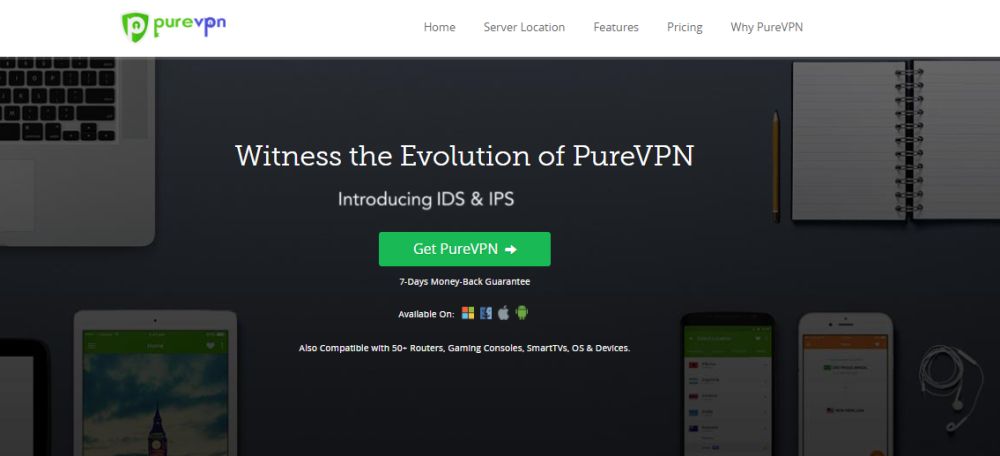 Another great choice for your VPN needs is PureVPN. This is a simple, easy-to-use service which is ideal for those who want something less technical. They have over 750 servers in 141 countries and they use strong 256-bit encryption. You can use this VPN with file types like VoIP or instant messenger, meaning that it's great for securing your communications through Skype or other chat programs.
There's also absolutely no data logging with PureVPN, so you can browse secure in the knowledge that you're safe from prying eyes. In addition, the service offers bonus features such as anti-virus protection, ad-blocking, and anti-phishing measures.
If you want to use PureVPN we have a special offer on this service as well! We're offering a huge 73% discount on the 2-year plan, working out to a bargain price of $2.95 per month. This deal comes with a 7-day money back guarantee too, so you can try out PureVPN and see if it's right for you.
How to install the Money Sports add-on
We'll assume that you already have Kodi installed onto your system of choice (it could be a PC or a Mac, or a mobile like an iPhone or Android phone). As you saw above, you need to make sure that you have a VPN set up before you start using Kodi in order to keep yourself safe. Once this is done, you're ready to install Money Sports.
Get started with Money Sports is simple. You just need to add the Retro UK repository to your Kodi installation, and then to install the Money Sports add-on. We'll explain how to do this below.
Adding the Retro UK repository source to your Kodi system
To install the add-on, first you need to add the Rmkodi repository to your Kodi installation. This repository stores the data for the add-ons that you want to install, so you must first provide your system with the URL where the repository hosts files. To do this, follow these steps:
Open up Kodi to your home screen
Click on SYSTEM and then on File Manager
Double click on the Add Source option on the left-hand menu
Click <None> in the pop up that appears
You'll now see a text input box. This is where you enter the URL of the repository you want to add
Type https://www.movies-tvshows.com/kewltv-repo/ into the box. Be careful to enter the URL exactly as written, including the https://, or it won't work!
Click Done
At the bottom of the box will be an input field which says Enter a name for this media source. Type in the name KewlTV and select OK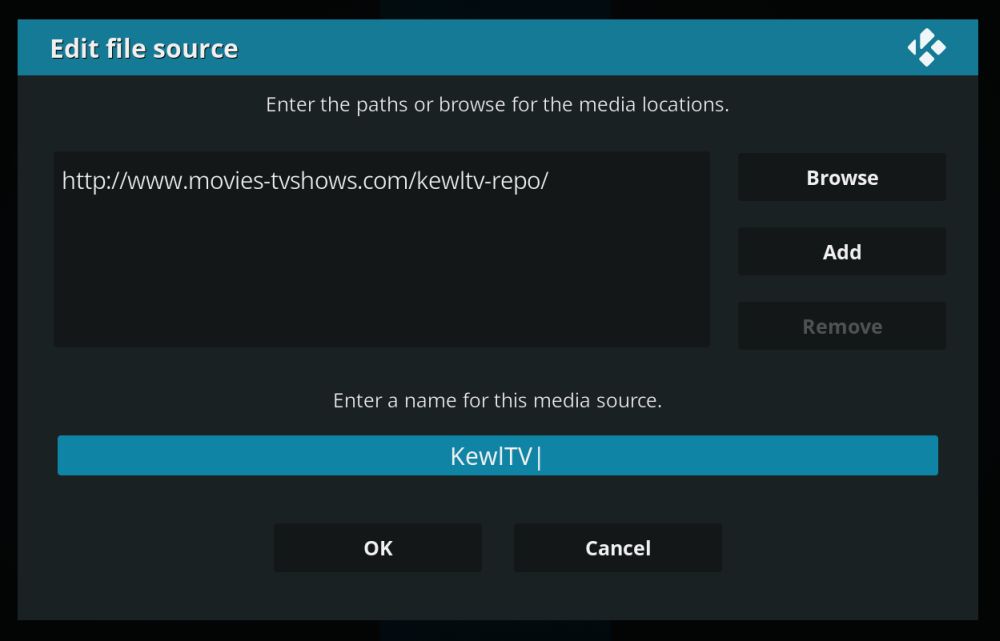 This will add the source to your installation. You can see the KewlTV repository in your list of media sources
That's it! The repository source has been added to your Kodi system and now we're ready to install the Money Sports add-on.
Installing the Money Sports add-on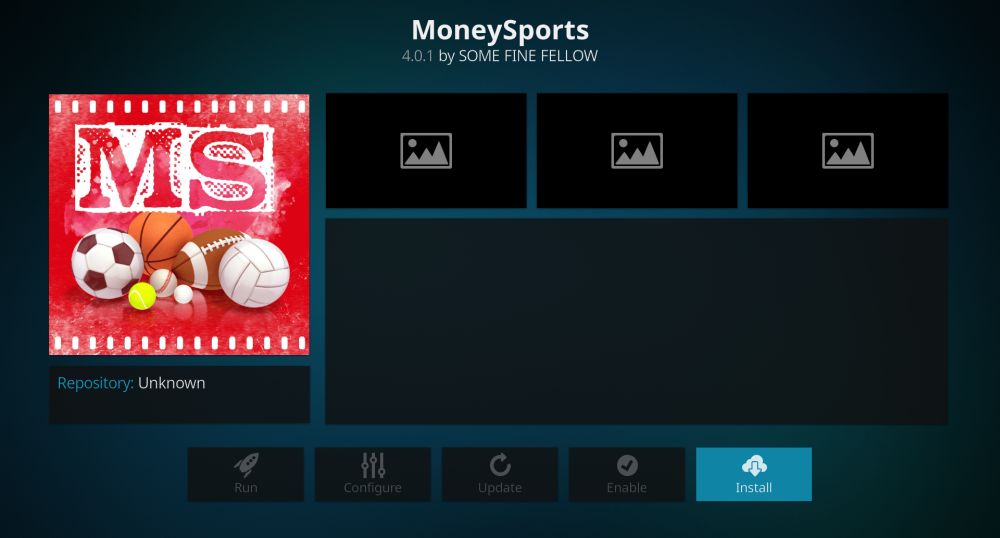 Next we're going to find the Money Sports add-on in the repository and add it to our system. To do this:
Open Kodi to your home screen
Click on VIDEOS and then on Add-ons
A menu will open and you should select Install from zip file from the menu on the left.
Go to KewlTV, then to plugin sport, and you will see a file called NewMoneySports.zip.
Double click on this file to open it
The system will take a few minutes to install the add-on, then you will see a notification that the installation was successful
Now you're done and the Money Sports add-on is ready for you to use.
Using the Money Sports add-on to watch live sports
With the Money Sports add-on installed to your Kodi system, you're ready to start watching sports. To do this, begin at your Kodi home screen and select VIDEOS, then Add-ons. You'll see a grid of all the add-ons you have installed, including the one from Money Sports. Click on the Money Sports logo, which is red with white edges and says MS in large letters.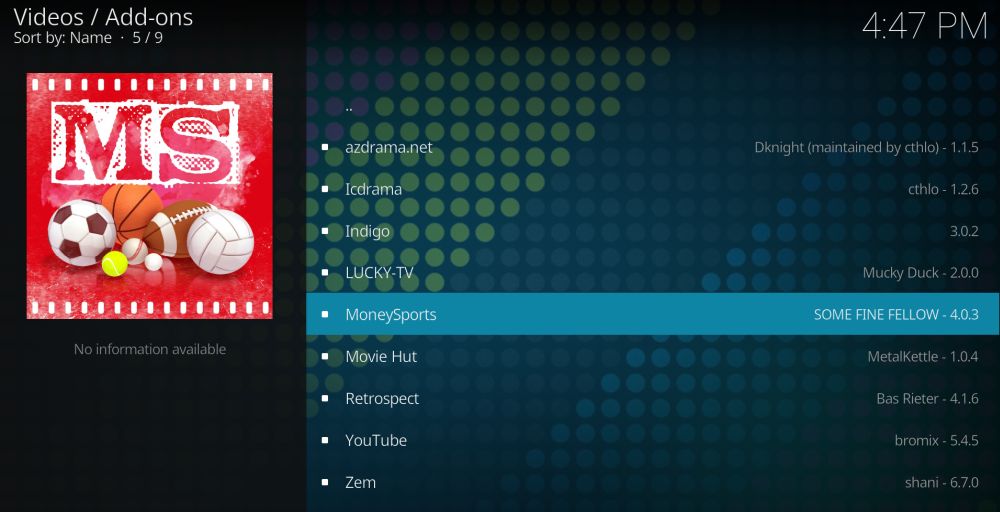 When you open the Money Sports add-on, you'll find a selection of channels relevant to sports. The channels are often updated, but you'll see a selection of the core channels:
Live Sports Links
Sports News
Premier League
EFL
You may also see other channels depending on the season, such as:
2016/2017 Cup Competition Highlights
Box Office Events Live
Box Office Event Replays
MotoGP replays
F1 replays
You select the channel you want by double clicking it. Now we'll go through how to find the stream that you want.
Using the Live Sports Links section of the Money Sports add-on
If you open the Live Sports Links section of Money Sports, you'll see an introduction at the top and long list of links below. Start off at the HQ LINKS section for the best chance of finding a high-definition steam of the sports event you're looking for. The streams should be organised into categories for events, for example, there might be a section which says something like "Live – Football CHELSEA VS MAN UTD" when there is a big game on. If this is the game you're looking for, click on the title and it will take you straight to a stream.
Alternatively, below the labelled links for major events there will be a selection of links which just say "Link". If the link is in high-definition it will have a small green icon saying HD next to it, and if it is in standard definition it will have a blue icon saying SD. Click on a link and it will take you to a stream of a sports channel and you can watch whatever is playing on the channel now.
If there is a specific channel that you want to watch, you can do that too! You can find a link that says "Live TV Channels Inc Sports" and when you click on it, you'll get a list of countries. If you wanted to watch CBS Sports Network, for example, you'd click on United States from the list of countries and then find the CBS Sports link. When you click on it, you'll usually see a number of streams of this channel, and you can click on any one to start your stream.
An advantage of the Money Sports add-on is that it usually has multiple streams per channel, so if one stream isn't working then you can try another one instead. In fact, with so many channels to choose from, the biggest problem with the add-on might be deciding what to watch!