We are reader supported and may earn a commission when you buy through links on our site.
Learn more
Movie Hut Kodi Add-on: Watch New and Classic Movies on Kodi
Do you love watching movies at home? Today, we'll show you how to do just that with the Movie Hut add-on for Kodi. The Kodi media centre software is hugely popular for watching videos or listening to audio that you have saved on your network – but you can also use it to stream content from the internet. Add-ons like Movie Hut pull data from websites to display movies or other content in your Kodi system without you having to go hunting for working links.
Whether you're a fan of classic film or you like to keep up with the hottest new blockbusters, this article is designed for you! Read on for instructions on how to install and use the Move Hut add-on.

30-days money back guarantee
Streaming with Kodi? Use a VPN!
We'll assume that you already have Kodi installed and ready to go on your PC, Mac, phone, or tablet. Before you start using add-ons like Movie Hut, however, it's important to check the security of your system first. That's because while the Kodi software is open source and totally legal to use, some of the add-ons for Kodi which enable streaming of content exist in a legal grey area. If your ISP or a government agency discovers that you have been using your internet connection to illegally stream or download content, then you could face prosecution or a fine.
To avoid any legal problems with streaming content, you need to make sure that your internet usage and history are kept private and secure. The best way to do this is to use a VPN. A Virtual Private Network (VPN) is a piece of software which runs on your computer and encrypts all the data which you send across your internet connection. This means that your ISP can see how much data you and sending and receiving, but they can't see what the contents of this data is. The advantage of this is that government agencies can't record or track your internet use, so you can ensure that your web traffic is kept private from prying eyes.
Another helpful advantage of using a VPN is that it gives you the ability to get around restrictions on region-locked content. Some websites will only work if you access them from a certain physical location – for example, the popular BBC iPlayer will only let you stream content if you are accessing it within the UK. If you're outside of the UK, you won't be able to watch BBC shows. But a VPN can get around this by using servers based in different countries to make it appear as if you are in a different physical location – in this case, a VPN can make it appear to the website as if you were in the UK, and therefore will let you access the BBC iPlayer content.
How to choose a VPN
Now you know why you need a VPN to use Kodi, you need to choose a VPN provider. This can be a tough choice as there are so many options out there! To help you narrow your options down and find the right VPN service for you, we'll talk through the different options for VPN services that you need to be aware of, and then we'll offer recommendations for some of our favourite VPNs to keep you safe when using Kodi with add-ons like Movie Hut.
What factors do you need to consider when choosing a VPN? Firstly, you want a VPN with a fast connection speed. All VPNs will necessarily make your internet connection a little bit slower, as the data has to be encrypted and passed through more locations before it is served to you. While some VPNs will slow your connection to a crawl because of this, others have innovated to allow for barely noticeable reductions in speed. You want a VPN provider which offers fast connection speeds for the best experience when streaming.
A second vital factor in choosing a VPN is the company's logging policy. The purpose of using a VPN is to safeguard your privacy, and finding a provider which is committed to not recording your internet activity is key to this. That's because a VPN provider has access to the data about what you are browsing – and if they log this information then law enforcement can oblige them to hand over these logs. The only way to ensure that law enforcement cannot access your data is to use a VPN which keeps no logs of your activity.
Finally, you also want to consider the types of traffic which are allowed over the VPN, and the number of location of servers which are available for your use. Some VPN providers restrict the type of traffic which you can use with the service – for example, some VPNs forbid using torrents or other P2P downloads, while others specialise in extending the VPN to cover VoIP applications like Skype. You should check that the VPN you select supports all the types of file transfer which you might want to perform. Regarding server number and locations, the more options which are available to you, the better.
BEST VPNs for KODI
As we've seen above, there are a number of considerations you should keep in mind when choosing a VPN provider. We've surveyed many different VPN services and selected some of the best to use with Kodi. Find our recommendations below:
IPVanish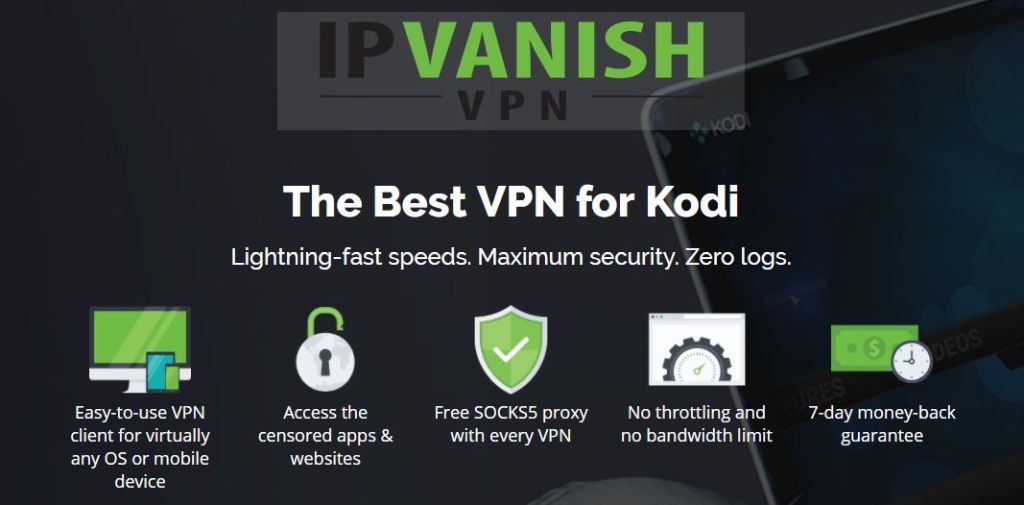 IPVanish is our top pick for a VPN to use with Kodi. It has over 850 servers in 60 countries, so there's no problem finding a server in whatever location you need. In addition, the connections are fast and reliable so you needn't wait around to stream your video. Most importantly, IPVanish has a strict zero-logging company policy, so they'll never record any logs of your internet use for any reason.
Another good feature of IPVanish is that its software can be run on PCs, laptops, tablets, and smartphones, so you can protect all of your devices with this one VPN. It also allows simultaneous connections so you can be securely downloading over two of your devices at the same time, and they won't interfere with each other. There are no caps on the amount of data than you can use per month, so no need to worry about that! Finally, there are no restrictions on what type of traffic is allowed, so you can stream, download, use P2P services, or use VoIP without any issues.
IPVanish offers a 7-day money back guarantee which means you have a week to test it risk-free. Please note that Addictive Tips readers can save a massive 60% here on the IPVanish annual plan, taking the monthly price down to only $4.87/mo.
PureVPN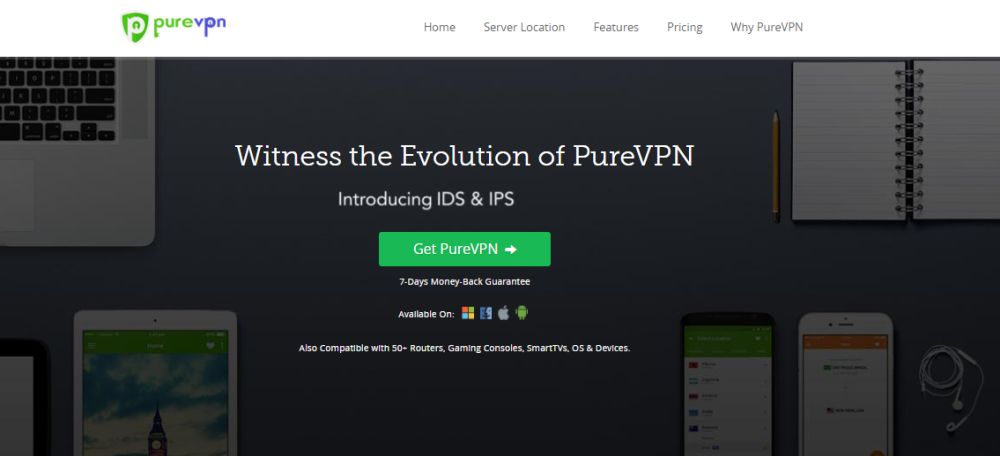 Another VPN service which we recommend for Kodi is PureVPN. This is an easy-to-use service which is great for beginners. It allows you access to over 750 servers in 141 countries, and can be used with VoIP to keep your chats secure.
PureVPN logs no data, and offers bonus features like anti-virus protection, ad-blocking, and anti-phishing measures to make your browsing experience safer and more pleasant.
DEAL: There's a special deal we have for this service, too. We can offer a massive 73% discount on the 2-year plan, making the final cost to you just $2.95 per month. This service has a 7-day money-back guarantee too, so we urge you to try this service out and see if it meets your needs.
How to install the Movie Hut add-on for Kodi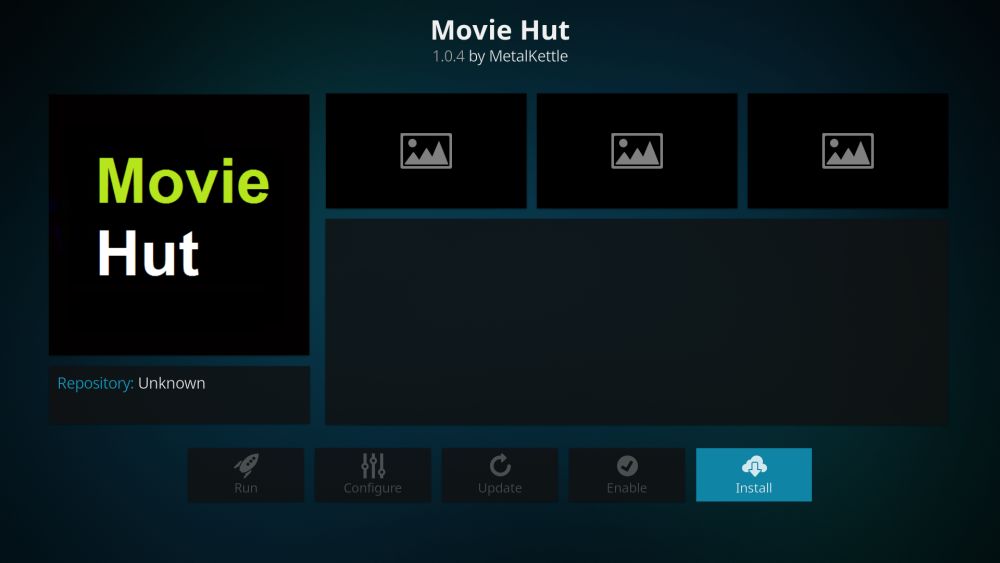 With Kodi installed and a VPN set up, you're ready to install the Movie Hut add-on and start watching movies! To install the add-on, just follow these simple steps:
Install Movie Hut from the MetalKettle Repository
Please note, the MetalKettle repo seems to be empty at the time of writing. If you don't have the repository installed on your Kodi device please use the SuperRepo reopsitory to install Movie Hut (see after).
Begin on your Kodi home page, then select SYSTEM and then File Manager
A menu will appear on the left side. Choose Add source from this list
An input box labelled Add Files source will appear. Click on <None>
In the text box labelled Enter the paths or browse for the media locations, type in this address: https://kodi.metalkettle.co/ and then click Done
Double check that you have typed the URL correctly, including the https://, or it will not work
Type in a name for this new source. We'll call it .mkrepo, then click OK
Now go back to the home page, then select SYSTEM, then select Settings, and then Add-ons
In the add-ons menu, select Install from zip file
Choose the .mkrepo section, then find a file called repository.metalkettle-x.x.x.zip. The x's here represent the version number
Wait for a second and you'll see a notification that the repository has been added to your system
Choose Install from repository, and choose the MetalKettles Addon Repository
Select Video add-ons
Scroll through the list until you see Movie Hut, then click on it
A page describing the add-on will open. Select install from the menu on the left
Wait for a minute while the add-on installs, and when it's done you'll see a notification
And we're done! Now we're ready to watch some movies
Install Movie Hut from the SuperRepo Repository
Here's how to install SuperRepo. When you're done:
Choose Install from repository, and choose the MetalKettles Addon Repository
Select Video add-ons
Scroll through the list until you see Movie Hut, then click on it
A page describing the add-on will open. Select install from the menu on the left
Wait for a minute while the add-on installs, and when it's done you'll see a notification
And we're done! Now we're ready to watch some movies
How to use the Movie Hut add-on for Kodi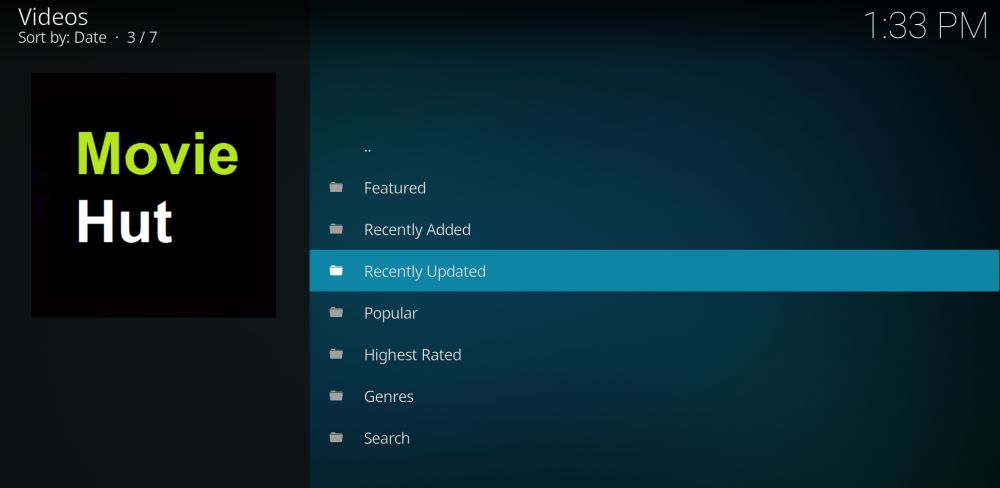 Start on your Kodi home screen
Select VIDEOS and then add-ons
Scroll through your add-ons until you see Movie Hut
Click on it and it will open the add-on
You'll see options to list the films by category: Featured, Recently Added, Recently Updated, Popular, Highest Rated, Genres, Years, and Search
We suggest trying the Featured category if you want to watch a recent film, as this category has many of the new releases which people are watching and talking about now
If you're after something more specific, try out the Genres categories to find a movie that's to your taste
The add-on will display a list of movies represented by their poster. Click on the poster to open the movie's sources list
Select a source from the list and click it to start your movie streaming straight away
Watch and enjoy!
A big advantage of the Movie Hut add-on is that it has a large number of sources for each movie in its library. When you click on a movie title, you'll see a list of many different hosting sites which can stream a copy of the movie in question. Click on one of these and it will start playing. Generally, the quality of the links in this add-on is very high and most links work very well. But if a link is streaming a low quality version of the film, or if the connection is too slow or is interrupted, then you can quit out of the movie and try one of the other links. There are always lots of options for you to choose from, so there's a high likelihood that you will find a stream which works for you.
Another thing that Movie Hut has going for it is that it has a large and diverse library of films. Unlike other movie watching add-ons, Movie Hut includes older classic movies as well as recent releases, so you can find films from as early as 1968 there. One way to check out this great library of films is to use the genre categories, of which there are 24, to browse for movies you may not have heard of before. They have some unusual categories like short films, historical films, and Indian films, so you can search for different and less-well known movie styles. This is great for the cinephile who wants to experience some new and different films!
A final bit of advice to finish this off: If you don't like browsing movies using the posters, then you can change the display to be a list instead. There's also a useful toggle which lets you hide movies which you have already watched from the displayed list. To access both of these options, use the menu key (c on a keyboard) to pull up the options menu.