We are reader supported and may earn a commission when you buy through links on our site.
Learn more
Watch NHL on Kodi – Live Streams on Kodi for NHL TV
The National Hockey League — or NHL — is North America's premier — and only — professional hockey league. And if you're a hockey fan, the NHL TV add-on for Kodi is sure to provide hours of enjoyment. With 31 teams throughout the USA and Canada, each playing 82 games per season, that's 1271 matches. Enough to keep even hard-core hockey fans busy throughout the winter.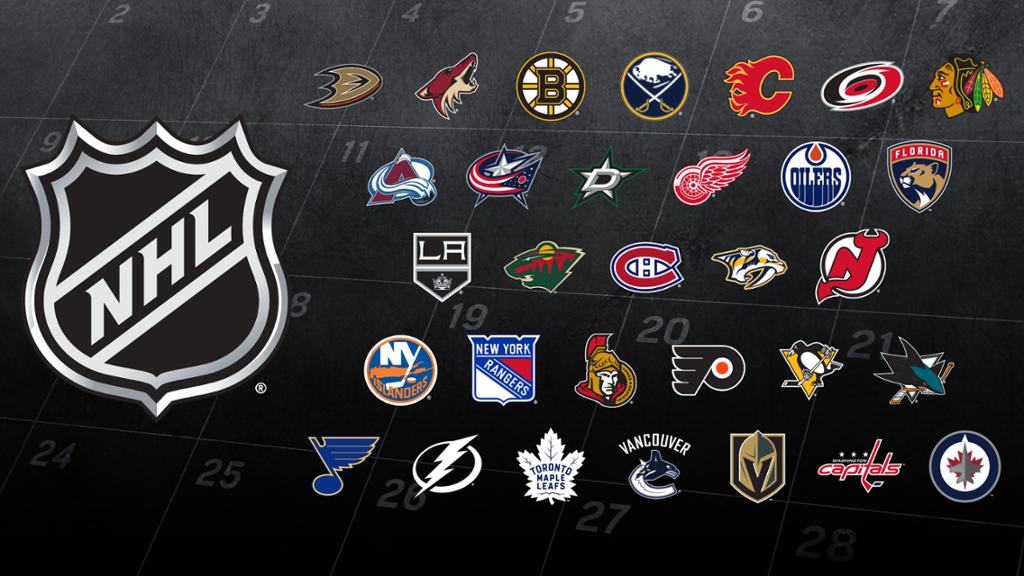 The NHL TV Kodi add-on will let you watch NHL games easily and it has a lot more options than you'll find with regular cable or OTA networks. This add-on is not just about watching hockey games. It's about watching them with a twist. Its main drawback, unfortunately, is that most of its content requires a paid subscription to the NHL.TV website but, to a real hockey fan, this is a small price to pay ta have access to so much content.
In today's article, we'll start off by showing you step by step how to install the NHL TV add-on. If you're used to installing add-ons from alternative repos, you won't believe how easy this is. Just follow our detailed instructions and you'll have it installed in no time. Once we have the add-on installed, we'll take you through a guided tour of its main features. And before we finish, we'll let you know about the add-on's pros and cons.
30-days money back guarantee
For added Privacy While Using Kodi, Use a VPN
Your Internet Service Provider may be monitoring your Internet activity. They do so to ensure you're not violating their terms and conditions. And when they suspect one does, they can react by throttling down their speed, sending them copyright infringement notices or even interrupting their service. A VPN protects you against the scrutiny of overzealous ISPs by encrypting the data using strong algorithms that make it almost impossible to crack. Furthermore, by using appropriately located servers, A VPN can allow one to bypass geographic restrictions.
With so many suppliers to choose from, picking the best one could end up being a daunting task. Among the important factors to consider a fast connection speed will prevent buffering, a no-logging policy will further protect your privacy, no usage restrictions will let you access any content at full speed and software available for multiple devices will ensure yours is protected.
Best VPN for Kodi: IPVanish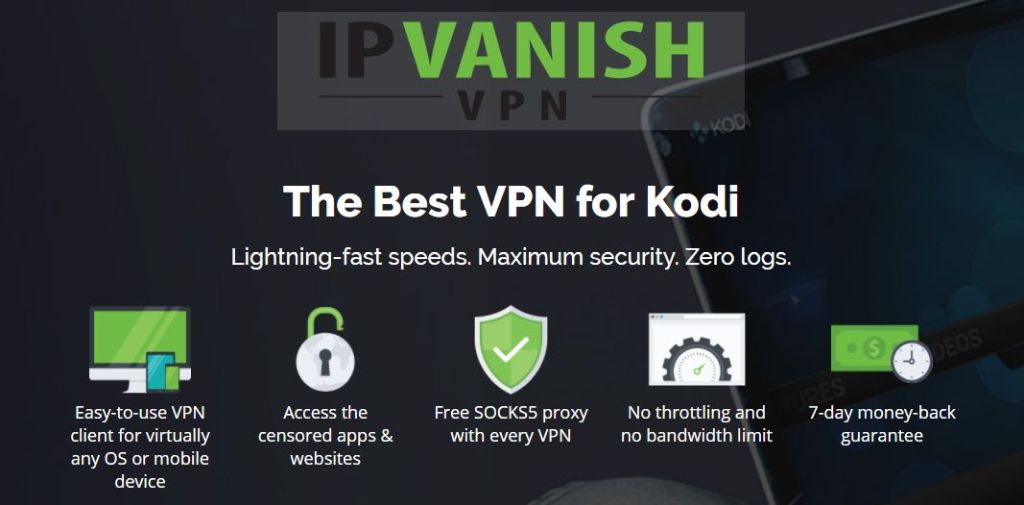 We've tested several VPN against these criteria. The one we recommend for Kodi users is IPVanish. It has multiple servers worldwide, no speed cap or throttling, unlimited bandwidth, unrestricted traffic, a strict no-logging policy and client software available for most platforms. IPVanish truly offers impressive performance and value.
IPVanish offers a 7-day money back guarantee which means you have a week to test it risk-free. Please note that Addictive Tips readers can save a massive 60% here on the IPVanish annual plan, taking the monthly price down to only $4.87/mo.
Installing the NHL TV Add-on
Some sources on the Internet documenting the installation of the NHL TV add-on mention a complicated process where you need to download the repository zip file from GitHub and then sideload it into Kodi before you can do the actual add-on installation. Perhaps this was once the way to go but it seems that this is no longer true. The NHL TV add-on is now available from the official Kodi repository. That will make the installation super easy and quick. You don't even have to have Unknown Sources enabled. And since it's now an official add-on, you can get full support from the Kodi team.
Installing NHL TV From the Kodi Repository
From the Kodi Home screen, click Add-ons in the left pane and then click the Add-on Browser icon at the top left of the screen. It looks like a little open box.
From the add-on browser screen, click Install from repository. Find the Kodi Add-on Repository among the list of repositories and click it. The length of your list will depend on the number of repos you have configured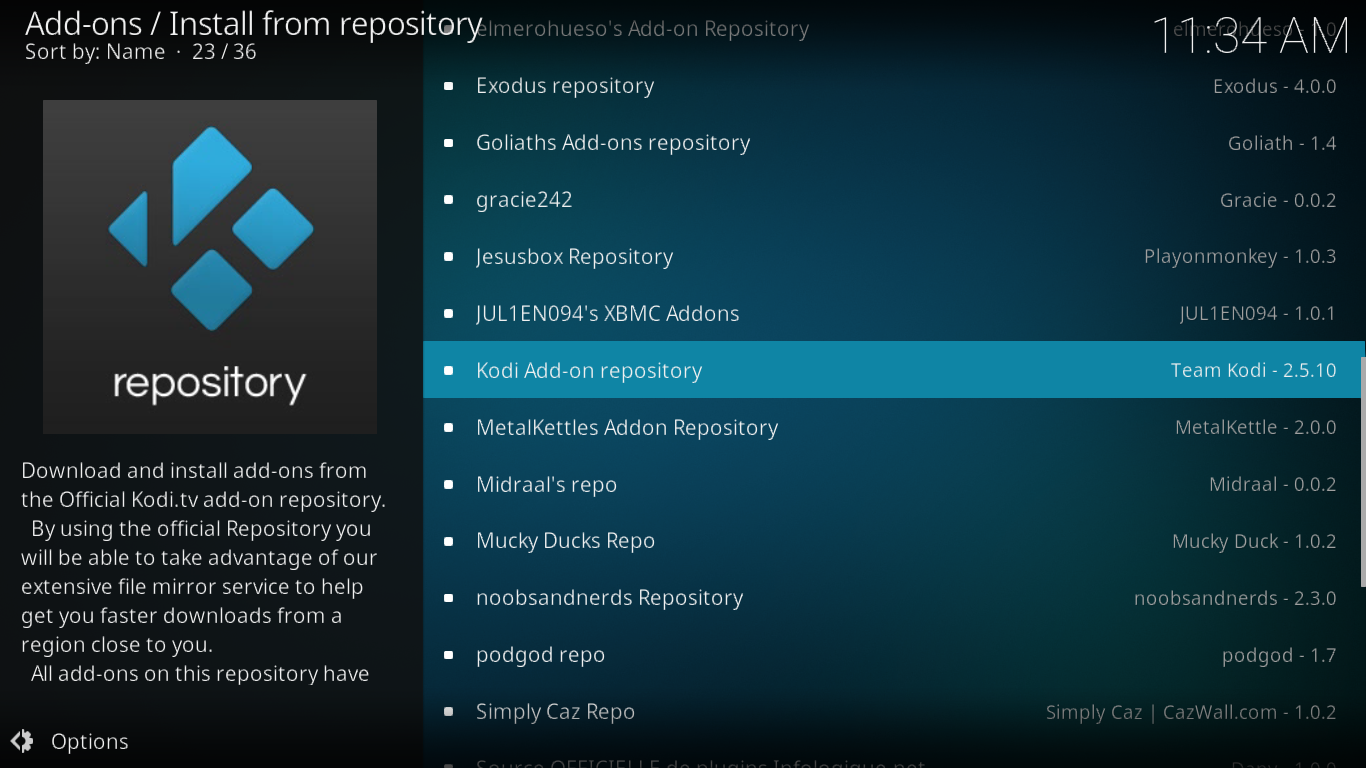 Next, click Video add-ons and find an click NHL TV among the list of available add-ons. it is alphabetized so locating is just a matter of scrolling down.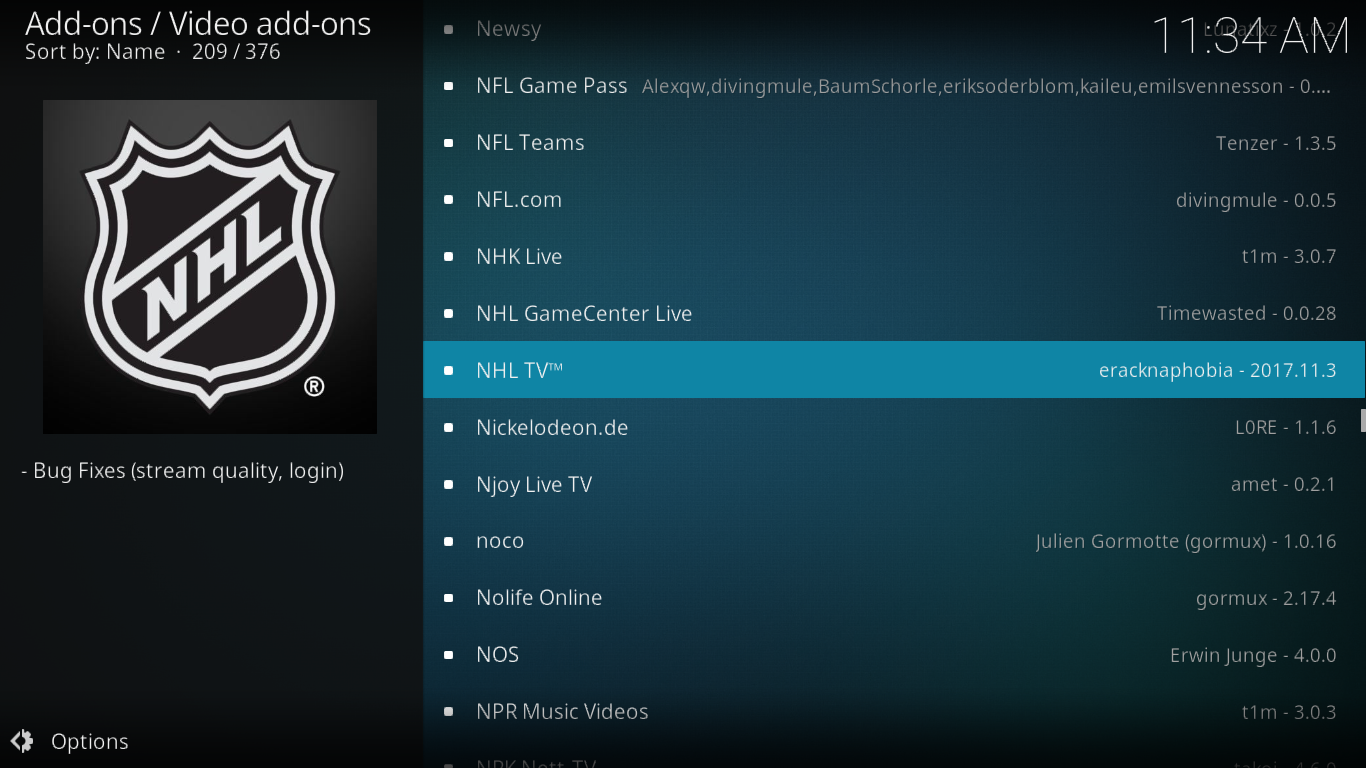 The NHL TV add-on information page will then open. All that is left is to click the Install button at the bottom right corner fo the screen.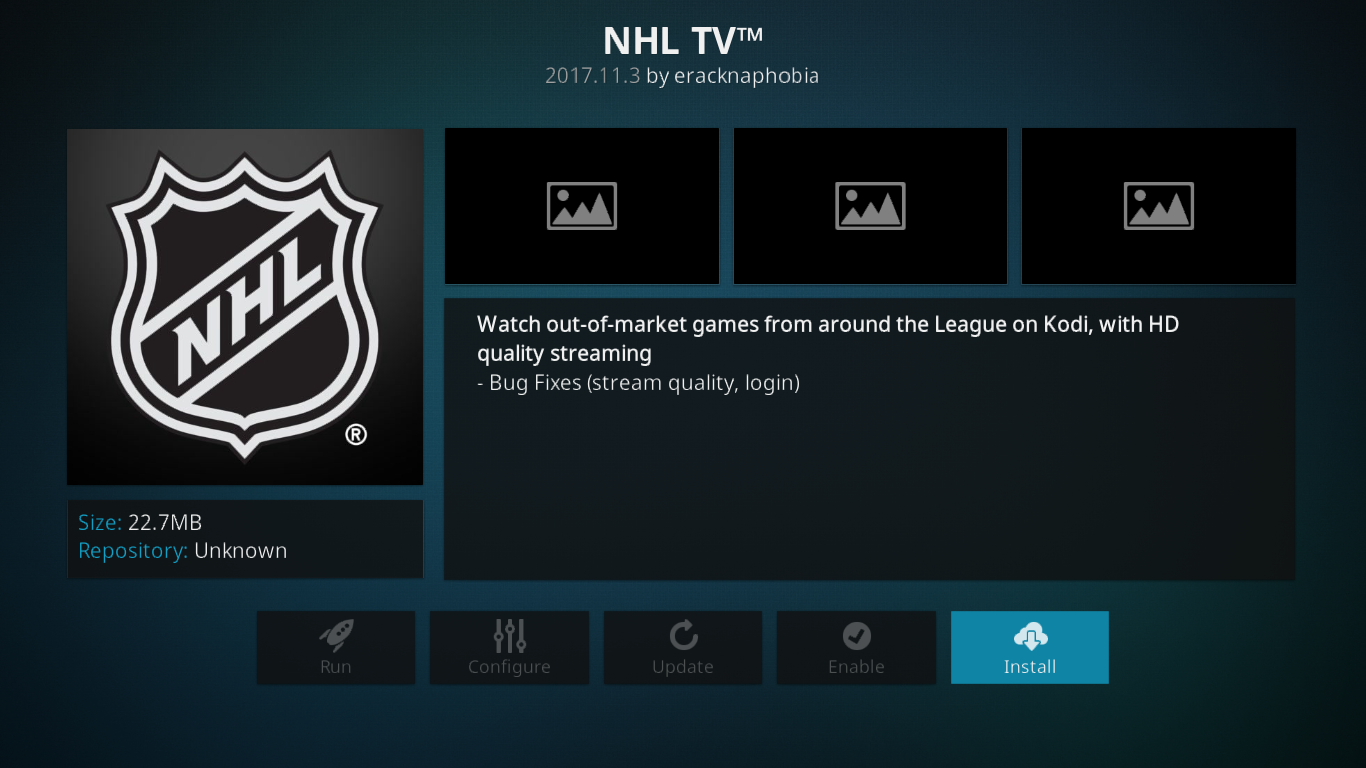 Kodi will proceed to install the NHL TV add-on as well as any required dependencies. Once complete, a message will briefly appear at the top right of your screen confirming the successful installation.
That's all there is to it. You've successfully installed the NHL TV add-on and are ready to watch some great hockey.
A Guided Tour of the NHL TV Kodi Add-on
When you start the NHL TV add-on, you're greeted by a deceptively simple main menu. Don't let that fool you though, There's more to this add-on than you might be led to believe.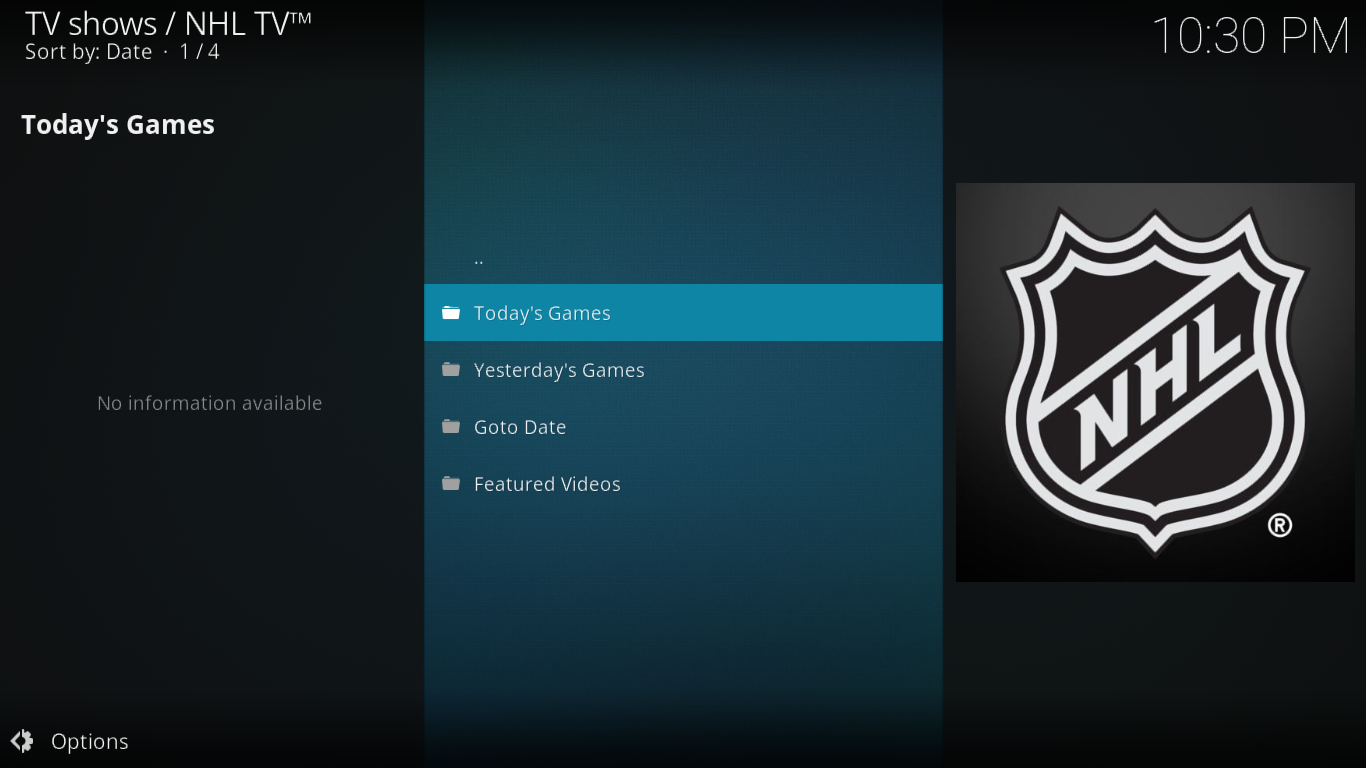 Some Background about the NHL
Let's get sidetracked for a moment. Although all Canadians–really, we're not exaggerating–and a lot of Americans are familiar with the NHL, it might not be your case. Perhaps you'd like to know more about this famous organization. The National Hockey League was founded in 1917 in Montreal, Canada, making it the oldest professional sports league in America.
The original teams were all Canadian and were based in Montreal, Ottawa, Toronto and Quebec city. It quickly expanded in the US in the following years. By 1942, after seeing many teams join the league only to disappear a few years later in the aftermath of the great depression, it was left with only six teams. Those were the Montreal Canadiens and Toronto Maple Leafs in Canada as well as the Chicago Black Hawks, Detroit Red Wings, Boston Bruins, and New York Rangers in the US. All six teams are still part of the NHL today. This lineup remained unchanged until 1967 where the first modern-era expansion took place.
The NHL today
Since then, the league has regularly expanded and now includes 31 teams with 7 in Canada and 24 in the US. Today, it is the only professional hockey league left in America. Each season lasts from early October to early April plus several weeks of playoffs with the final game often taking place in mid to late June. Each team takes part in 81 matches per season, 41 at home and 41 on the road. This "regular season" as it is often referred to is followed by the playoffs, a tournament whose goal–no pun intended–is to bring home the Stanly Cup, America's oldest professional sports trophy.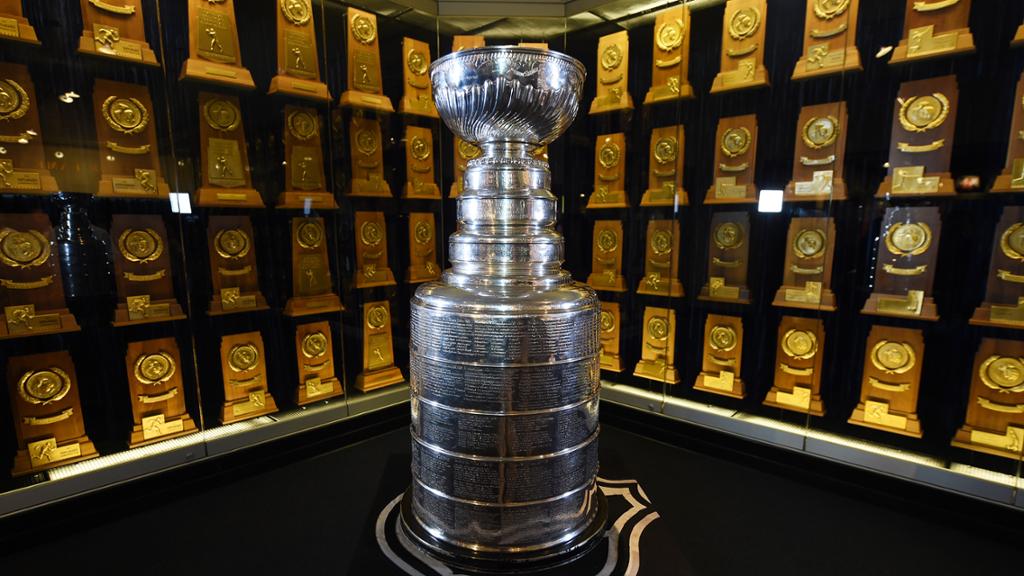 Ice hockey is the national sport in Canada and it enjoys great popularity in the US as well. But its popularity reaches most northern countries and it is also a very popular sport in most of Scandinavia and part of Eastern Europe.
Purchasing a Paid Subscription
Much of the content available in the NHL TV add-on for Kodi requires a paid subscription. It can be purchased from the NHL website at https://subscribe.nhl.com. You can choose to buy an all-access pass for about $140 a year or $25 a month with a monthly subscription that automatically renews every month. Alternately, you can choose a one-team pass that will only give you access to matches from a team of your choice. The cost is about $112 annually.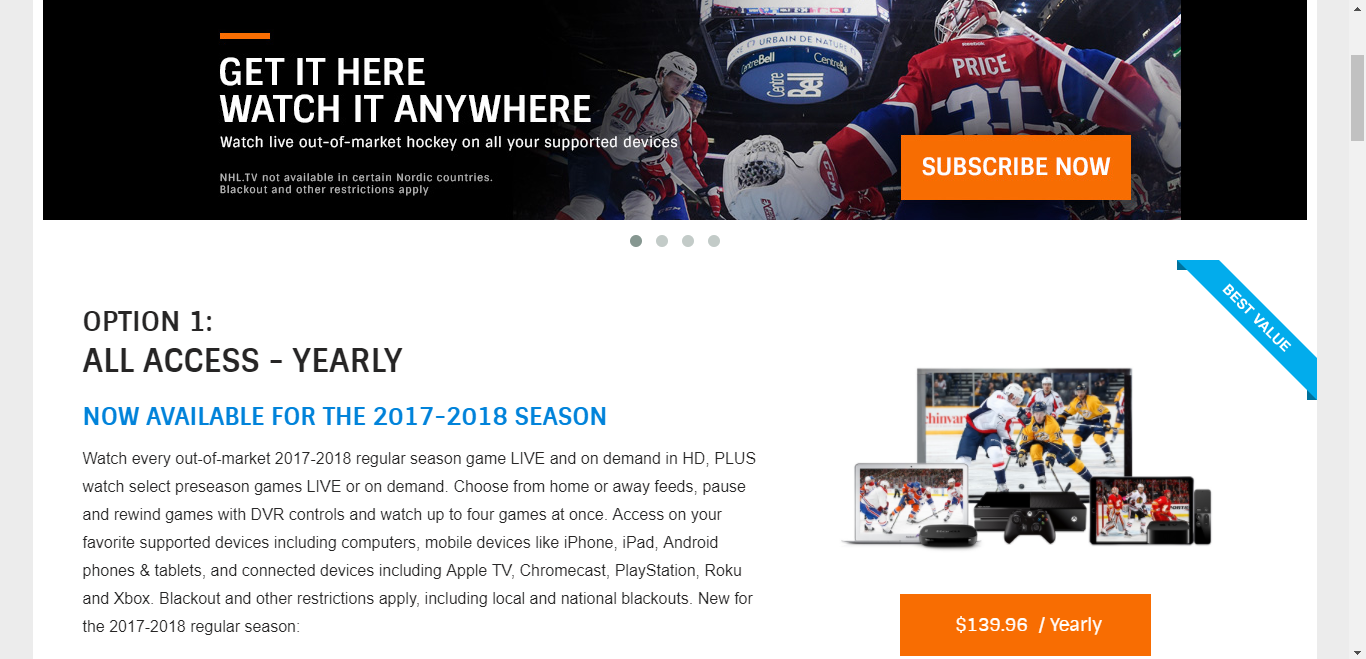 And you can also choose not to purchase a paid subscription and only access the free content of the add-on. That won't give you access to live matches or even to recent ones but there's still a decent quantity of content available for free. And if you're nostalgic and want to watch "classic" games from the past, you might be in for a treat.
Main Menu
As we've pointed out earlier, the main menu is deceptively simplistic. It's got four items: Today's Games, Yesterday's Games, Goto Date and Featured Videos. Here's how the different sections operate.
Today's Games
You'd use the first selection, Today's games, to watch live games or to see who's playing tonight. The listing shows the date and the list of all games on that day. Before the start of the games, this is all you'll see. Things change as the games progress, though. Hovering over a game or selecting it will reveal the list of goals in the left pane. And while a game is still in progress, its listing indicates the current time on the game's timer as well as what period is currently being played. Once the game is finished, it will be marked as final and the final score will be shown.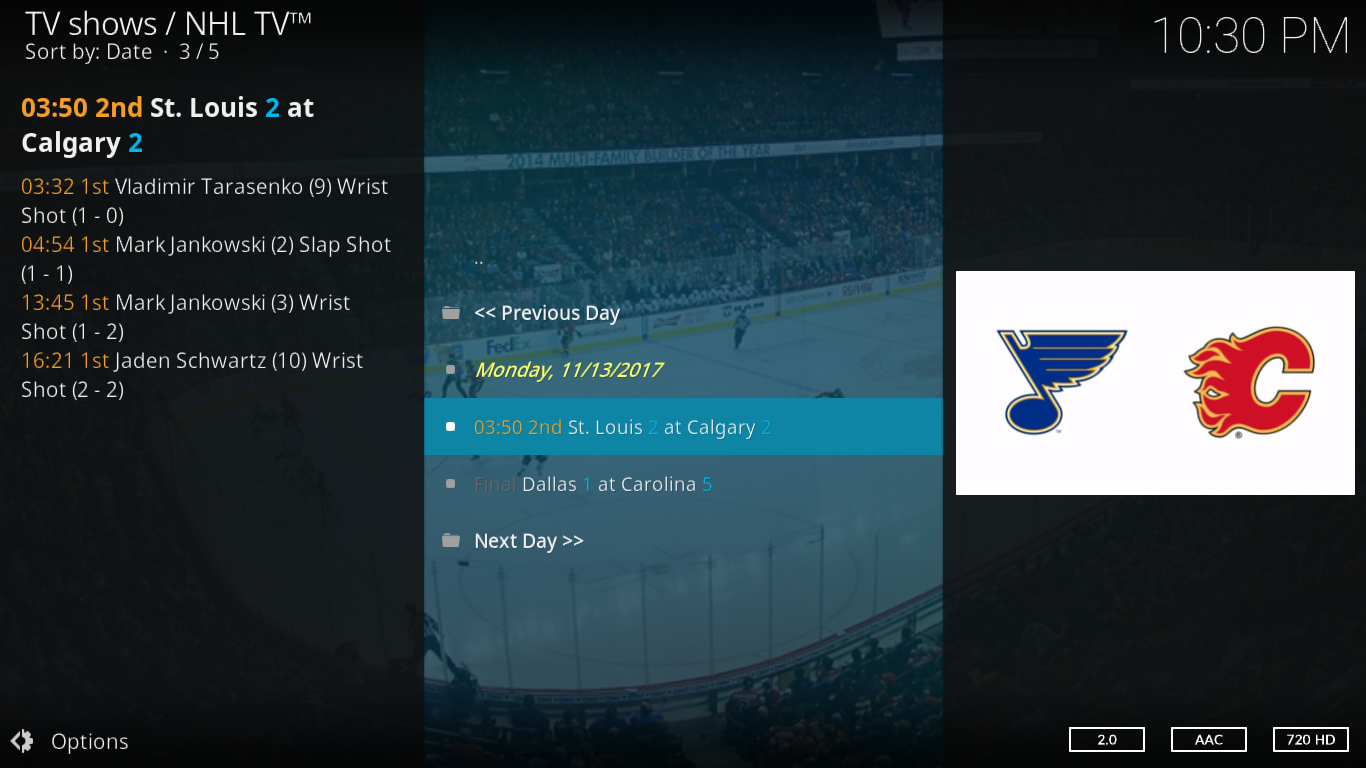 Once you've found the game that you want to watch, just click it. Most of the time, you'll be able to choose between the feed of the local team's broadcaster and the feed of the visiting team's. There is also a multi-cam option for a different perspective. For some games, you also have access to the French broadcast feed. Canada is a bilingual country and most matches featuring a Canadian team will have a French feed.
Yesterday's Games
This section is almost identical to the previous one. The only difference is that the live list of goals in the left pane is replaced by a one-paragraph summary of the game. Other than that, the functionality of this section is identical to the previous one. It has links to move to the next day–which would bring you Today's game section–or to the previous day, moving towards the past. You can move through the season's calendar using these links.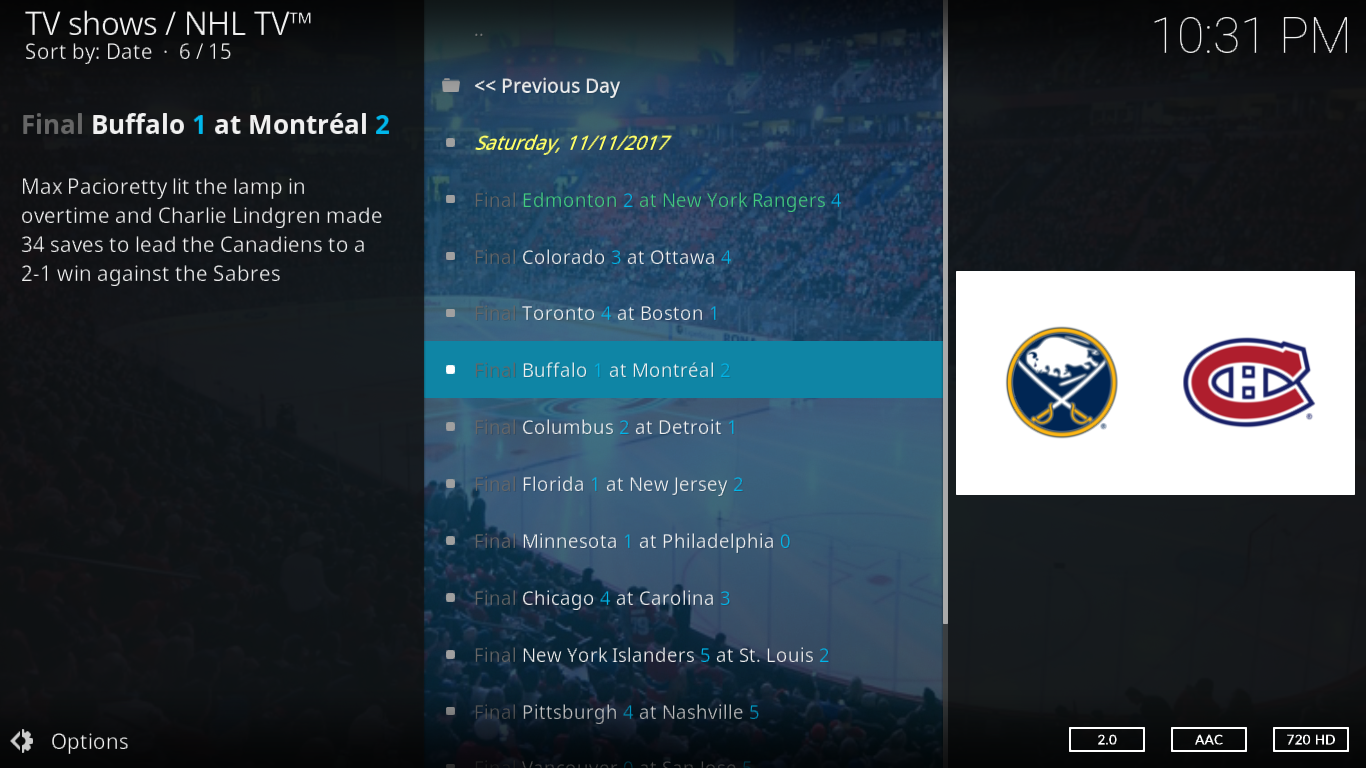 For yesterday's games and other past matches, you can also view a short (usually less than 5 minutes) recap of the game as well as extended highlights, a longer version of the game's recap. This content is available to all and does not require a subscription.
Goto Date
Goto Date allows you to select a year (from 2015 to today), then a month and finally a day and then shows you that day's matches in a format identical to the first two options.
Featured Videos
This section is subdivided into two subsections, Most Popular and Classic Games. This is where you'll find most of the NHL TV add-on's free content and perhaps some of its most interesting content too. Let's have a closer look at each subsection.
Most Popular
This section contains about 40 to 50 of the best plays of the recent past. Most clips are rather short, some lasting just a few seconds, others a minute or two. They all feature absolutely spectacular and impressive hockey action. There are great goals, amazing shots, unbelievable saves. And the best thing about it is that this section is available for free to all whether they subscribe or not.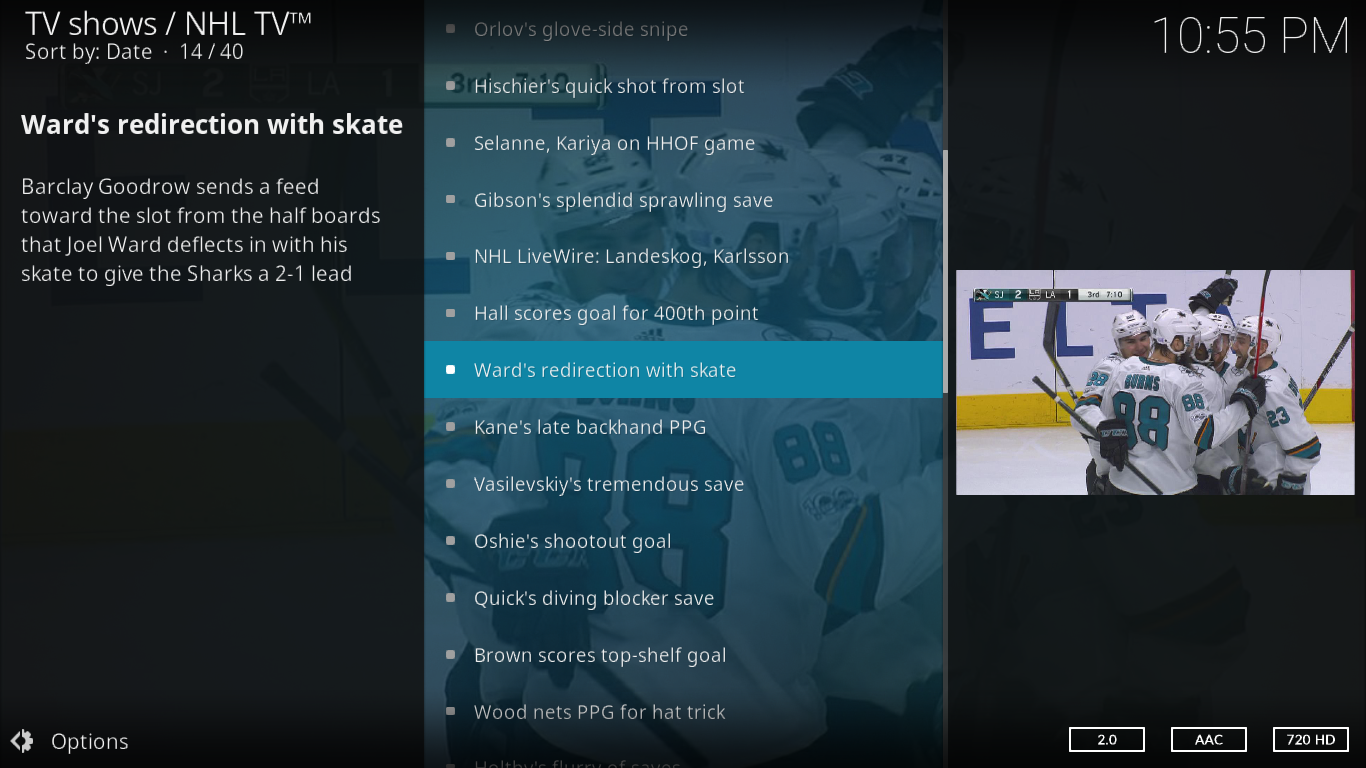 If you love great hockey, this section will please you. And since it's all footage from recent games, they are all in high resolution and the image quality is excellent.
Classic Games
This is another section that's perfect for hard-core hockey fans. And just like the previous one, its content is available without a paying subscription. But what is in there, exactly?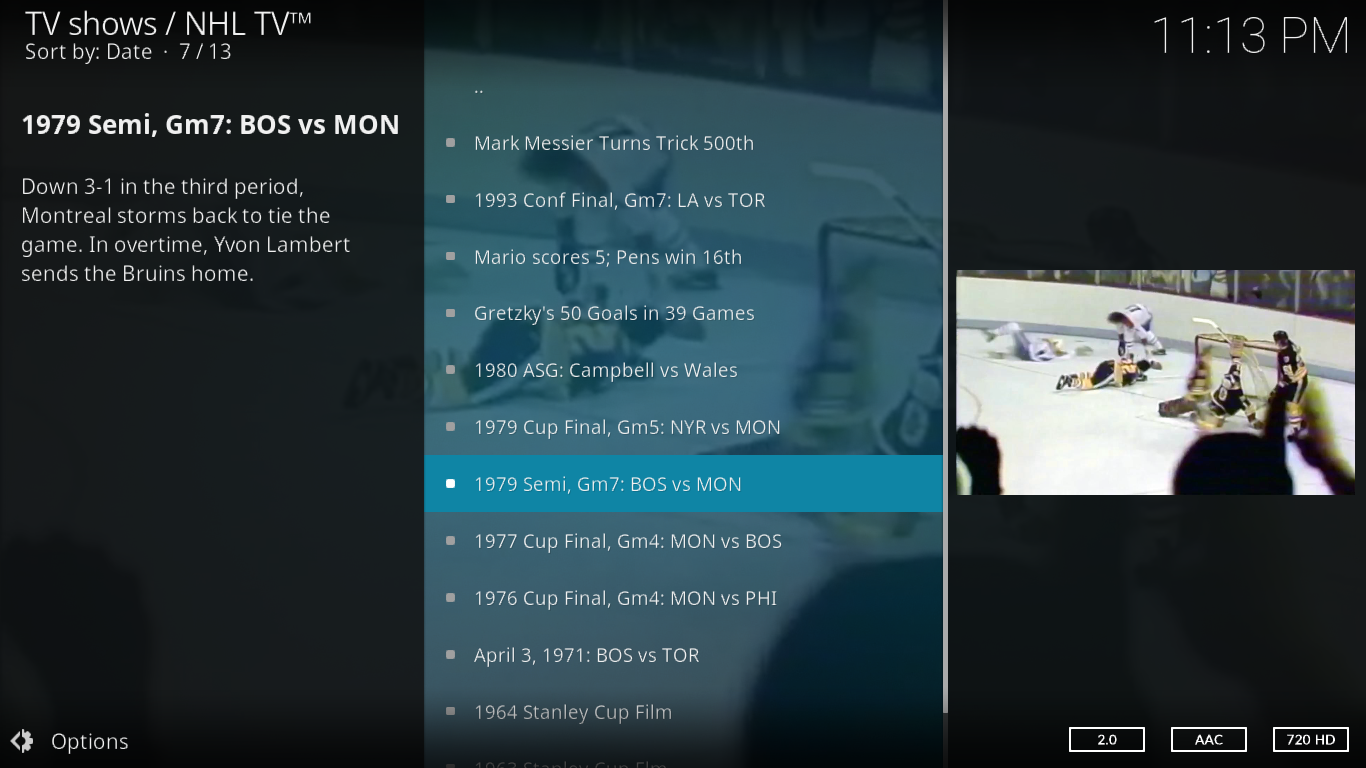 There are only about a dozen videos in this section but they are memorable. And as you browse through the list, the left pane will show you a one-paragraph summary of the highlighted video.
The oldest selections are three films telling the story of the Stanley Cup finals in 1959, 1963 and 1964. They are less than thirty minutes each but offer a great view of a bygone era, The rest of the section features famous games from the 1970's to the 1990's with classics such as the 1976 Stanley Cup Final match between the Boston Bruins and the Montreal Canadiens. There's also this famous game where Pittsburgh Penguin's player Mario Lemieux scored 5 goals. They are all impressive games or films. This is definitely something many older hockey fans will want to see and perhaps see again.
Pros and Cons of the NHL TV Add-on
Pros
One of this add-on's best features is the amazing picture resolution and quality for current or relatively recent games. You really get professional-quality content.
We were also considerably impressed by the quantity of free content available. There is quite a bit of free content for a paying service.
The score displayed right with the games listing is another feature we loved about this add-on.
We also loved that, except for a few blackouts, every game is available. We'll tell you more about blackouts shortly.
The multiple viewing options for each game is another interesting–and unique–feature of this add-on.
And we absolutely loved the NHL TV add-on great selection of "classic" games.
Last but not least, it's also great to know that you're not breaking any laws when using this add-on. It only as officially licensed content.
Cons
One of the things we liked the least about this add-on is that it is plagued with lots of buffering. This, of course, could be dependant on the quality of your Internet access, though. But nonetheless, it seems that most content starts buffering for a few seconds within the first minute and then repeatedly throughout the video. For fast-paced action such as hockey games, this can be a major bummer.
Blackouts are this add-on's other major drawbacks. They have nothing to do with the add-on, though. Hockey game television rights are an extremely complicated matter. And it involves millions of dollars. Due to broadcasting contracts, NHL TV has to block certain users from accessing specific content based on their location. It's done to protect the financial interest of local broadcasters who paid millions for the broadcasting rights. This can often be circumvented by using an appropriately-connected VPN although this is beyond the scope of this article. Blackouts are only for live games and all blacked out games will be available 48 hours after their end.
Conclusion
If you love ice hockey, the NHL TV add-on is sure to please you. It has all the NHL content you can think of. The add-on works well and the video quality is impressive despite some annoying buffering. And it has some cool features such as game recaps and highlights which are available to all for free. For hockey fans who don't have time to watch every game–and with over 200 games per month no one has, this is a great feature. Despite some blacked out games, which are most likely available on regular TV with your cable or satellite subscription, this add-on has great potential.
Are you a hockey fan? Have you tried the NHL TV add-on? Was it enough to satisfy your craving for great hockey? And did you encounter any issue with its installation or with using it? Are there any other add-ons you're using to watch ice hockey games? We love to hear from our readers. Please, share your comments with us below.