We are reader supported and may earn a commission when you buy through links on our site.
Learn more
Pluto.tv Add-on for Kodi: Installation and Guided Tour
Pluto.tv is one of the best free online TV streaming services, so it naturally follows that its official Kodi add-on should be a similarly outstanding application. As a front end to the Pluto.tv website, the add-on gives you access to dozens of live streaming channels. While Pluto.tv offers clients for many platforms (including most TV boxes, smart TVs, smartphones and tablets), being able to access its offerings from Kodi affords you a great deal of versatility in how you watch.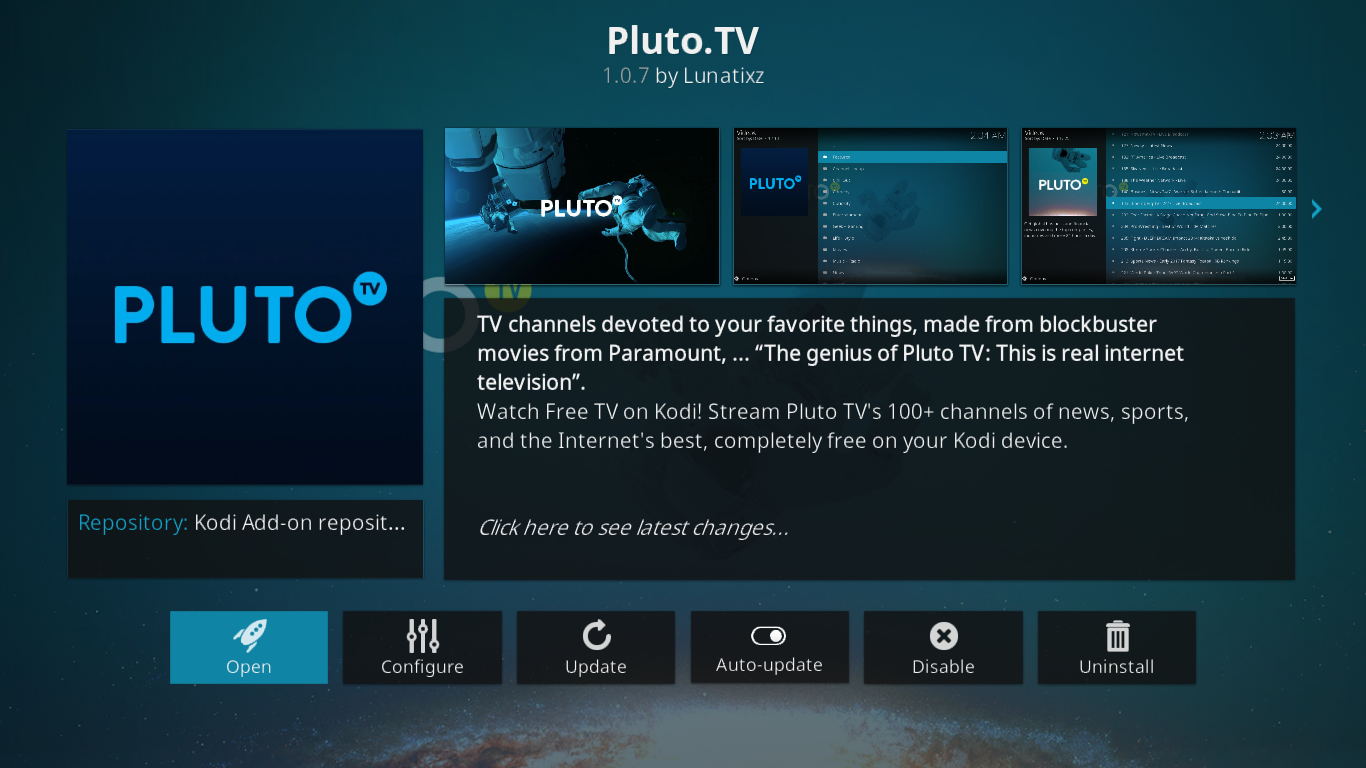 In this article, we'll start off by showing you how to install the Pluto.tv add-on. As you'll see, it could hardly be easier. We'll then give you a guided tour of the main features of the add-on. Finally, we'll discuss the pros and cons of the Pluto.tv add-on for Kodi
30-days money back guarantee
Protect Your Privacy While Using Kodi, Get a VPN
If you want to keep what you're doing to yourself and to avoid the scrutiny of overzealous Internet Service Providers, you should use a VPN. When ISPs suspect someone might be violating their terms and conditions, they can react by throttling down their speed, sending them copyright infringement notices or even interrupting their service. A VPN protects one's privacy by encrypting the data using strong algorithms that make it virtually impossible to crack. Furthermore, by using appropriately located servers, A VPN can allow one to bypass geographic restrictions.
Choosing a VPN can be a daunting task due to the impressive number of suppliers available. Important factors to consider are a fast connection speed to avoid buffering, a no-logging policy to further protect your privacy, no usage restrictions to access any content at full speed and software that is available for your device.
The VPN We Recommend for Kodi – IPVanish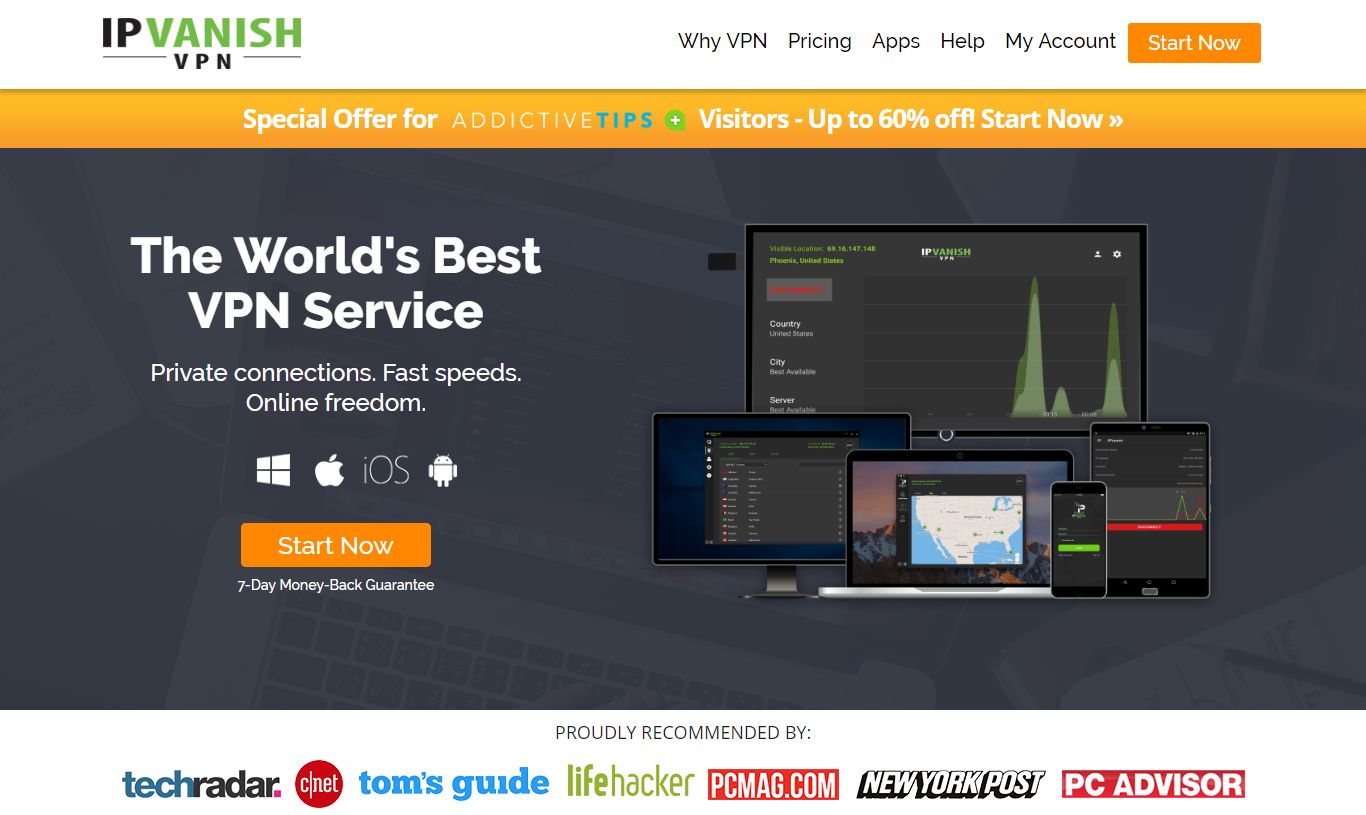 AddictiveTips.com has tested several VPN against these criteria and the one we recommend for Kodi users is IPVanish. With servers worldwide, no speed cap or throttling, unlimited bandwidth, unrestricted traffic, a strict no-logging policy and client software available for most platforms, IPVanish delivers impressive performance and value.
IPVanish offers a 7-day money back guarantee which means you have a week to test it risk-free. Please note that Addictive Tips readers can save a massive 60% here on the IPVanish annual plan, taking the monthly price down to only $4.87/mo.
Pluto.tv Add-on Installation
The Pluto.tv add-on is different from many popular add-ons in an important way: It is an "official" Kodi add-on. This means a few things to the user such as being supported by the Kodi team. The other major difference with official add-ons is that their installation process is greatly simplified.
All the preliminary steps you might be used to (such as adding a source or installing a repository) are not needed with official add-ons. They are included in the Kodi repository which is installed on every instance of Kodi. As you're about to see, getting this add-on installed is just a few clicks away!
First, from the Kodi home screen, click Add-ons. Then, click the add-on browser icon at the top left of the screen. It's the little icon that looks like an open box.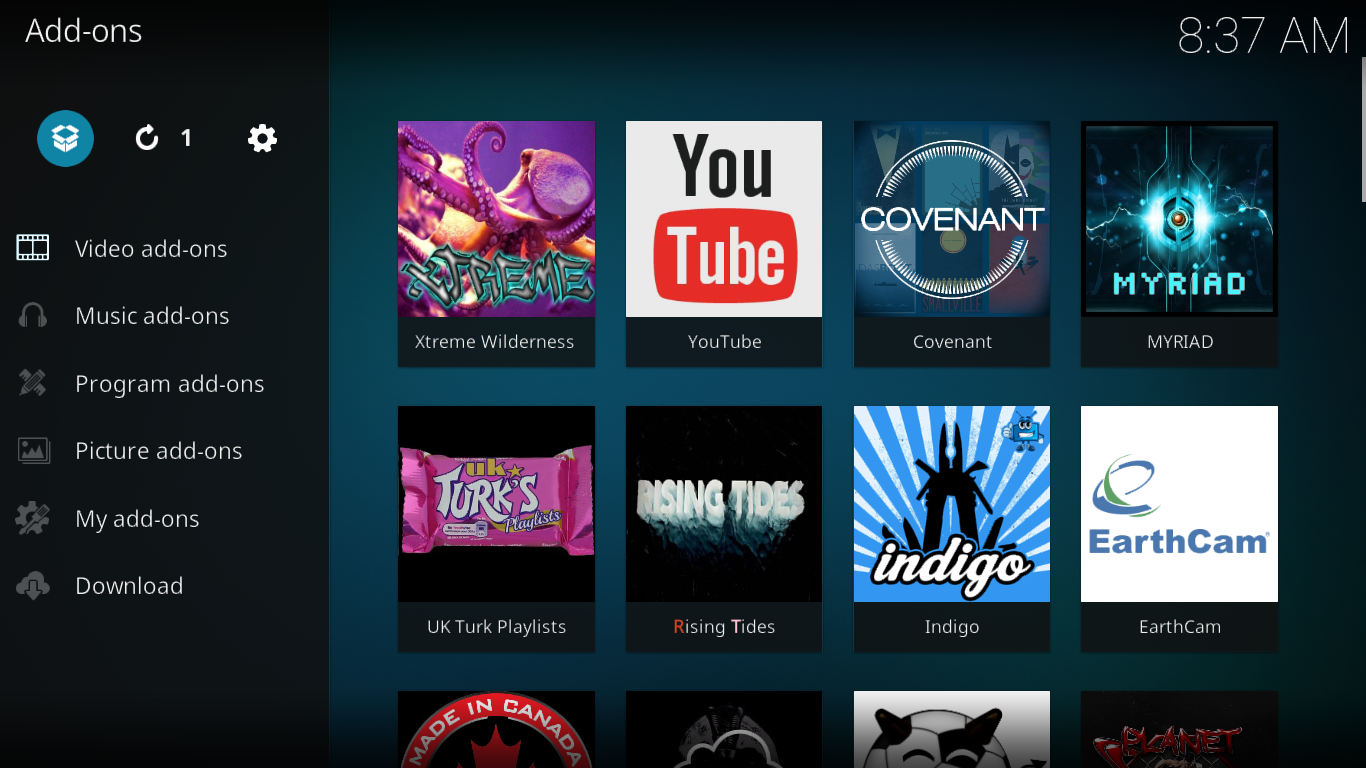 Then, from the add-on browser screen, click Install from repository.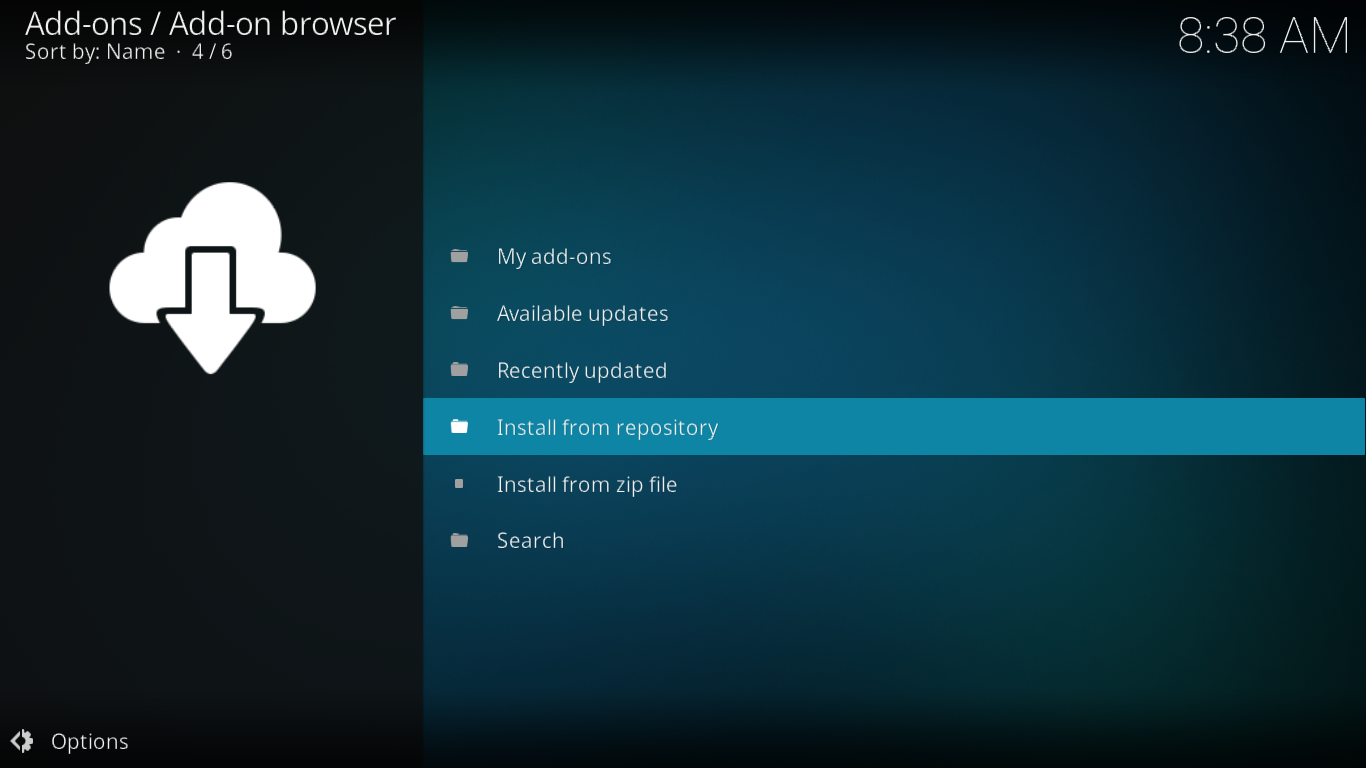 Find the Kodi Add-on repository within the list of repositories and click it. If you haven't installed any repositories, you list will be much shorter than ours and will likely only include the Kodi repo.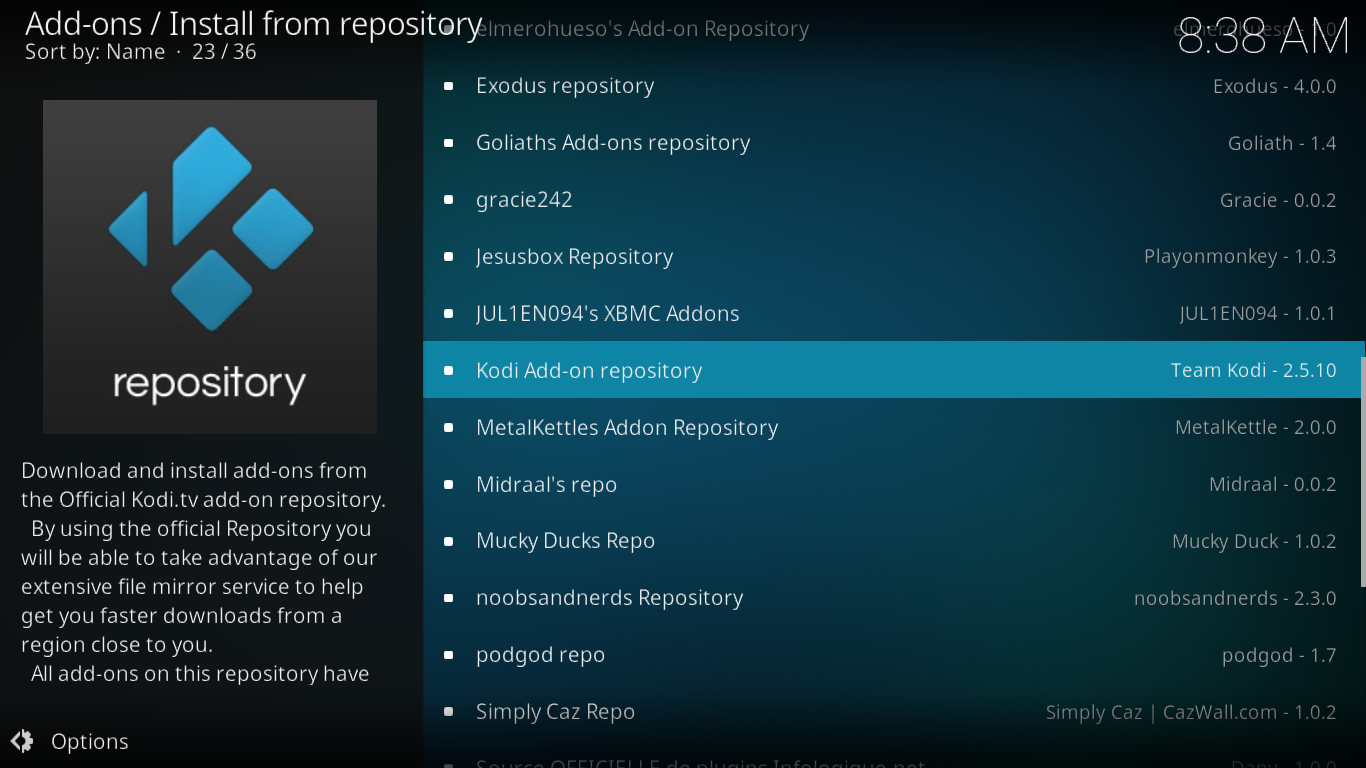 Click Video add-ons and then find Pluto.tv within the list of available add-ons. There are a few hundred of them but the list is alphabetized. Finding Pluto.TV is just a matter of scrolling down.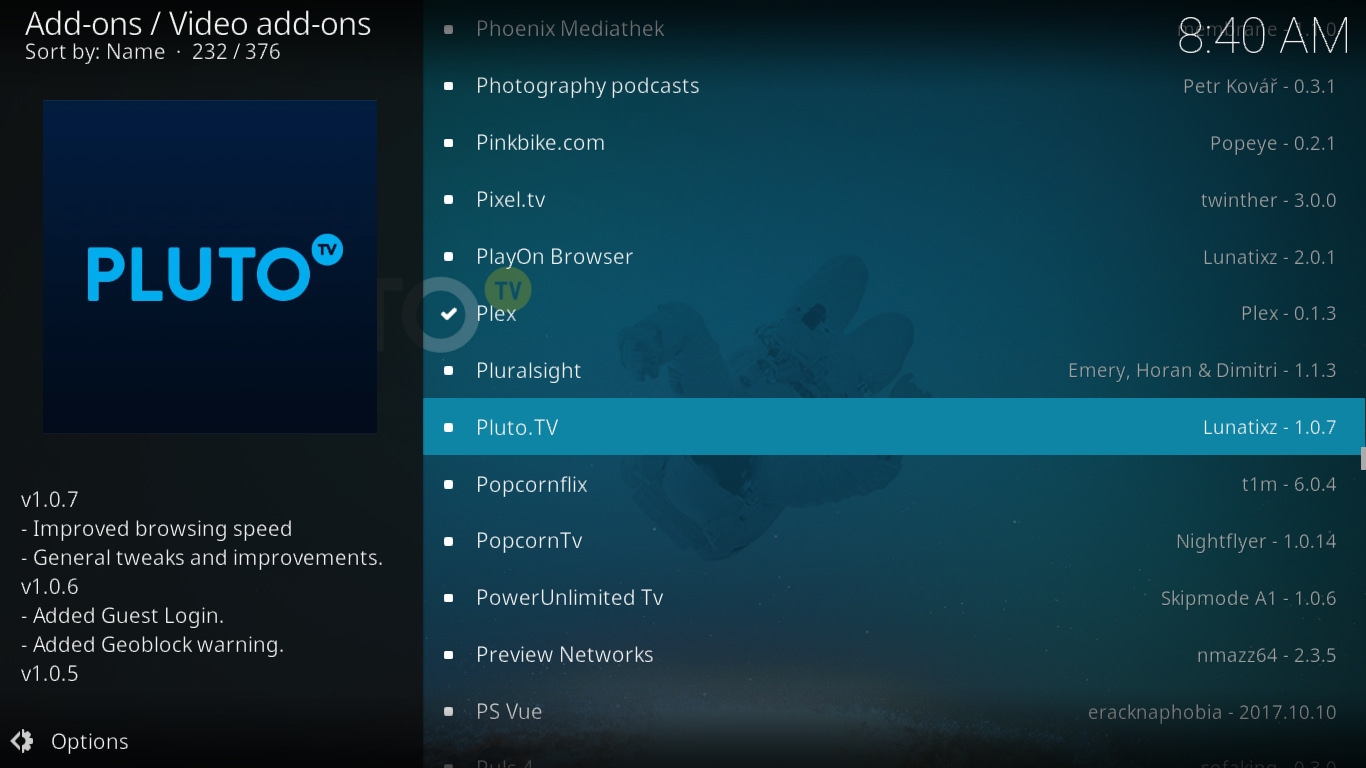 Once you've clicked Pluto.TV, the add-on's information page will be displayed. Simply click the Install button at the bottom right to launch the installation.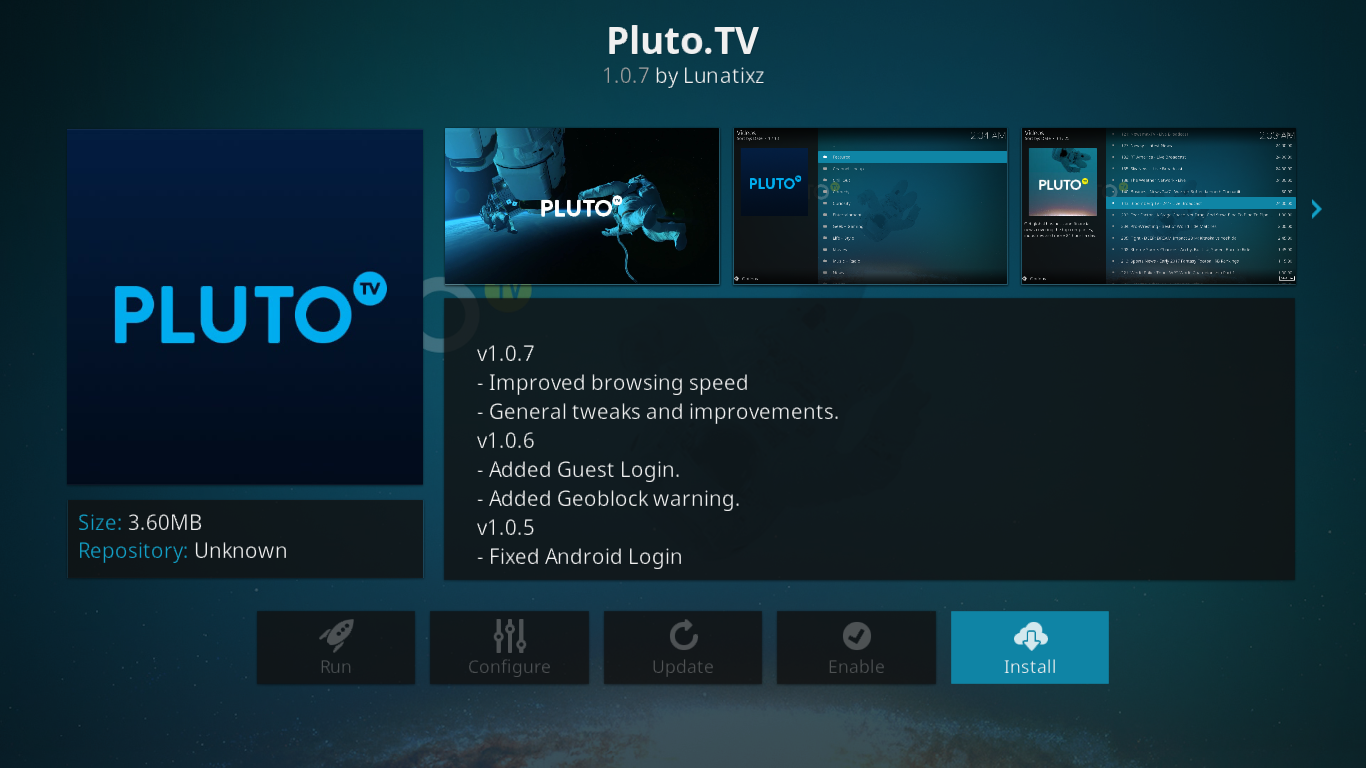 After a short while, a message at the top right corner of the screen confirms the successful installation of the Pluto.tv add-on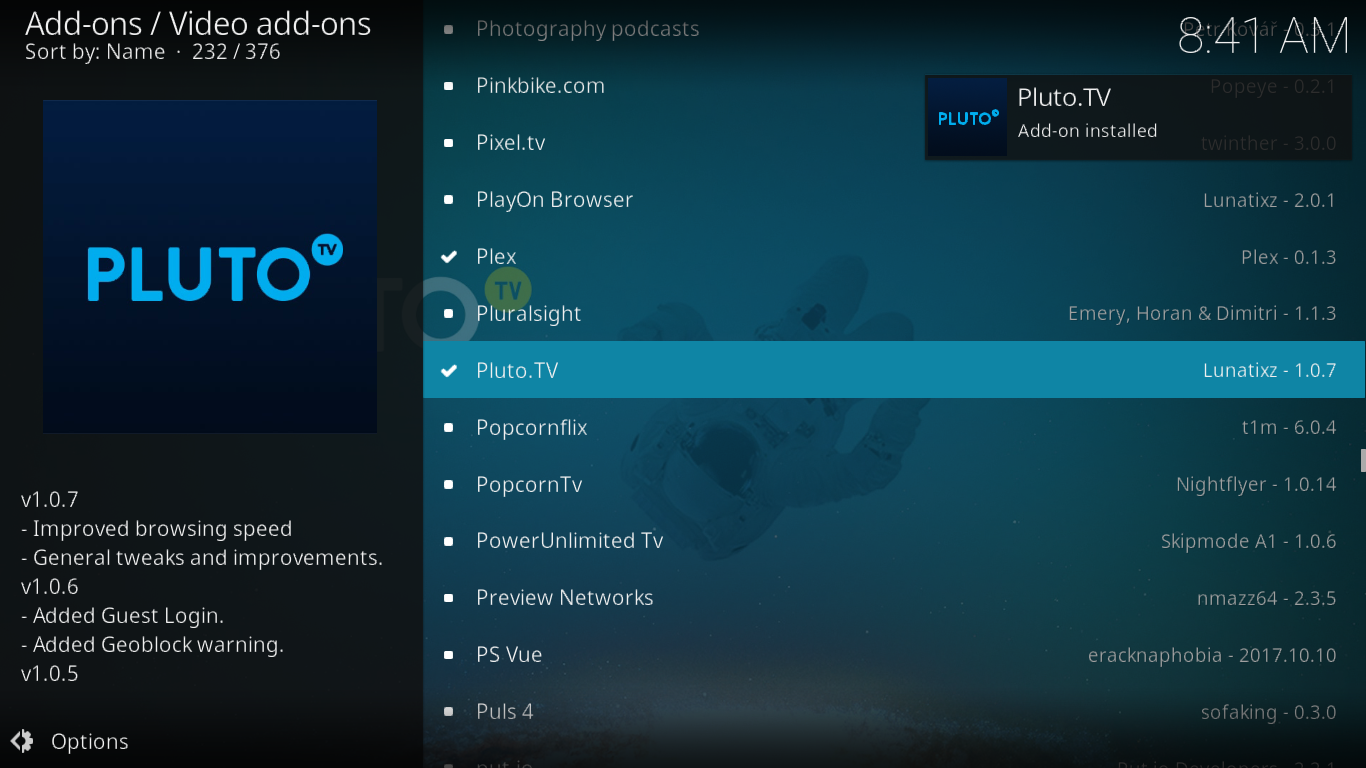 That it! That's all you needed to do to install the Pluto.TV add-on. To start the add-on, go to Add-ons, select Video add-ons and you'll find it amongst your other video add-ons. Just click its icon to start it.
A Guided Tour of the Pluto.tv Add-on
Registering for Pluto.tv?
Some people say that using Pluto.tv requires registration. But is it really necessary? It is true that if you fire up your favorite browser, head to the Pluto.TV homepage and click WATCH FREE NOW, you'll need to enter your email address before you can even download the app that will allow you to watch Pluto.tv on your computer.
It is also true that if you go the Pluto.tv Kodi add-on's settings (accessed from the context menu) you'll see that you can enter a username and password. By default, you'll be using Guest access. Throughout our testing of the add-on, we haven't found a single feature that didn't work with the Guest access. So, there doesn't seem to be any compelling reason to register, especially if you're not too keen on giving your email address to potential spammers.
Pluto.TV's Main Menu
The very first time you'll start the Pluto.tv add-on, you'll be asked to indicate your region. You'll need to select a country from a list. The channel selection you'll see afterward depends on your location, hence the requirement to set it before doing anything else. Fortunately, this can easily be changed at a later time by going to the add-on's Settings, clicking Select User Region and picking a different one from the list.
Once you've selected your region and Pluto.tv finally starts, the deceptive simplicity of its main menu might strike you. It only has two items, Channel Guide and Browse Channels.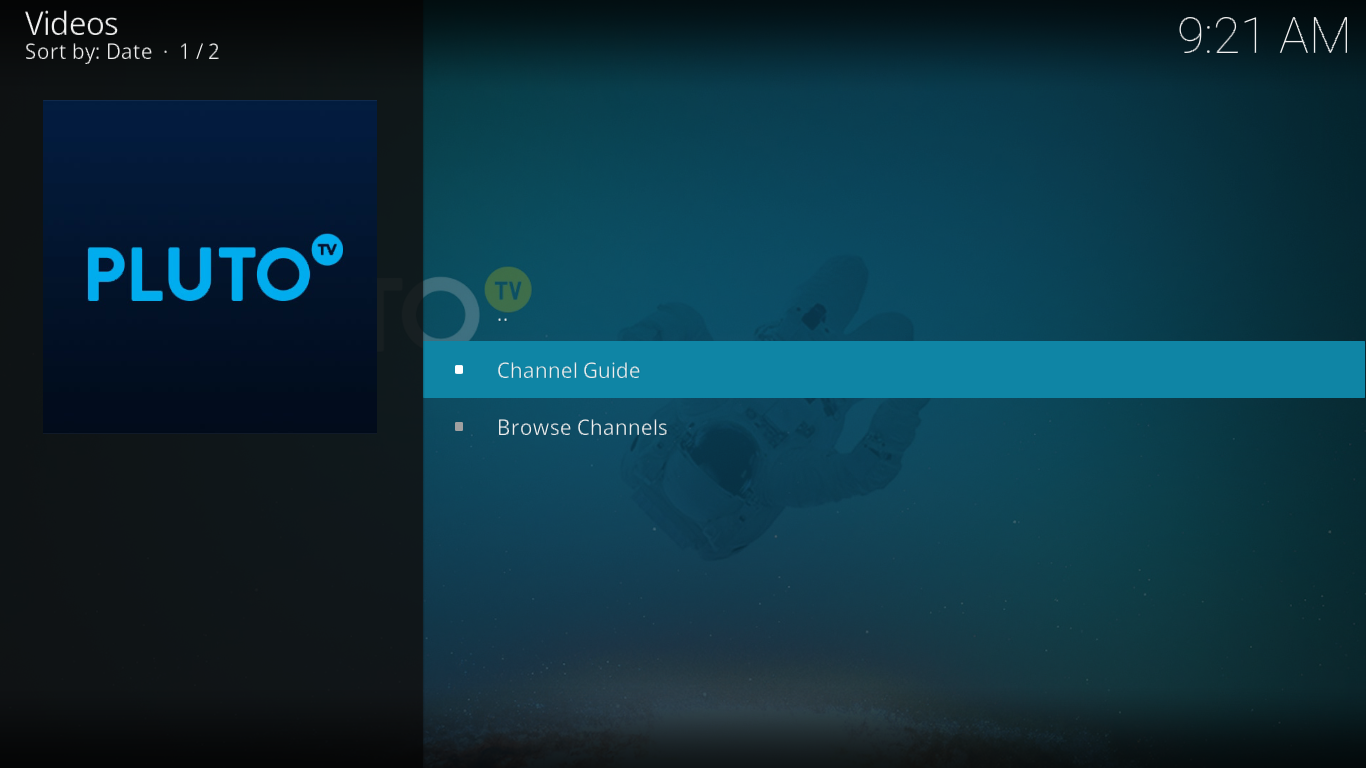 Channel Guide
The first option, Channel Guide, gives you a list of all available channels–and there are over 150 of them–along with what's currently playing on each. It can be a welcome way of deciding which channel to watch. As with most streaming sources, playback start can tend to be rather slow. It's nice, then, not to have to start each channel just to see what's on. It's not as full-featured as some other TV guides and won't tell you what's coming, though–only what's currently on.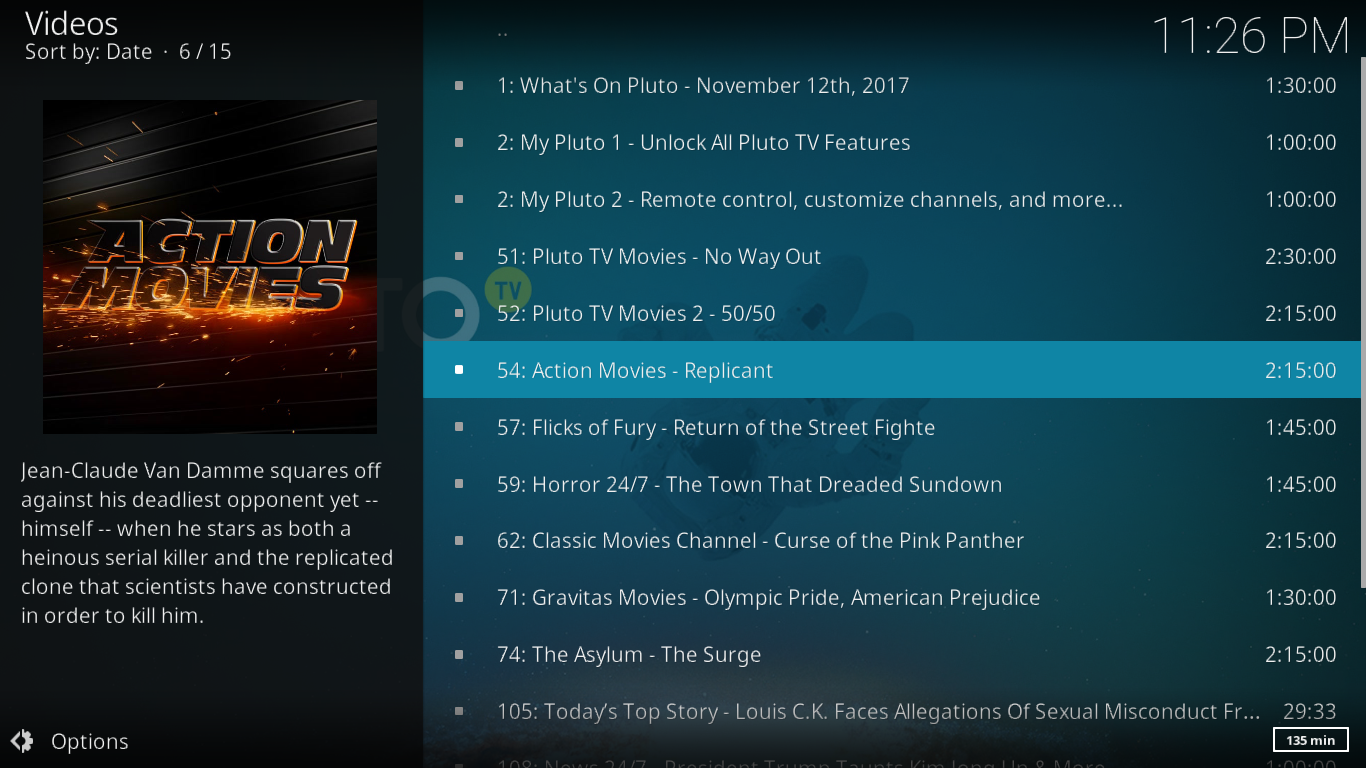 Browse Channels
This is where the "meat" of this add-on is found. Here, you can browse channels organized neatly into different categories or genres. In total, there are 11 sections. Let's see what each one is all about and which noteworthy channels each contains.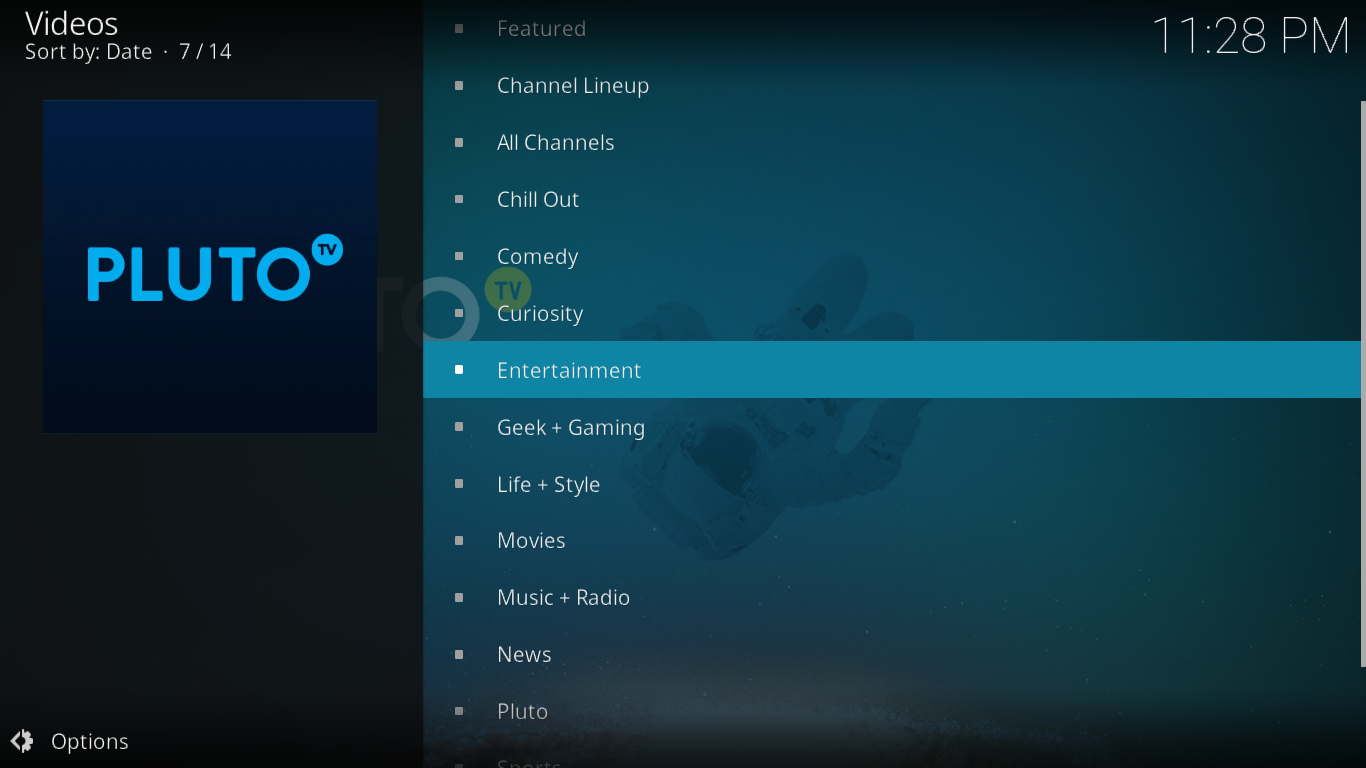 Before we start, though, lets pause and talk about this first three selections in the Browse Channels page: Featured, Channel Lineup and All Channels. The purpose of the Featured section isn't exactly clear. It lists some 155 of the 170-something available channels. Why precisely those are featured remains a mystery.
The next section, Channel Lineup is even more mysterious. It lists 50 of the available channels and there does not appear to be any logic to the content of the list, other than the channel numbers are all in the thousands.
The last of the three, All Channels, is the only truly obvious one. As you would have guessed, it lists all the channels in numerical order.
OK, let's get back to the 11 categories or genres.
Chill out
The Chill out section features a collection of channels that one would typically play in the background while doing something else. It has channels such as Internet Gold, Vibes, Monstercat TV, THC, Eye Candy, NatureVision TV, Slow TV, and 4KTV. Each one of these channels has videos of nature, funny cartoons, beautiful women, psychedelic music, and other content that is meant for passive watching. To give you an example, the Slow TV channel has videos of full 3-hour train rides shot from the locomotive cab. Probably not something that would make most people want to sit and actively watch.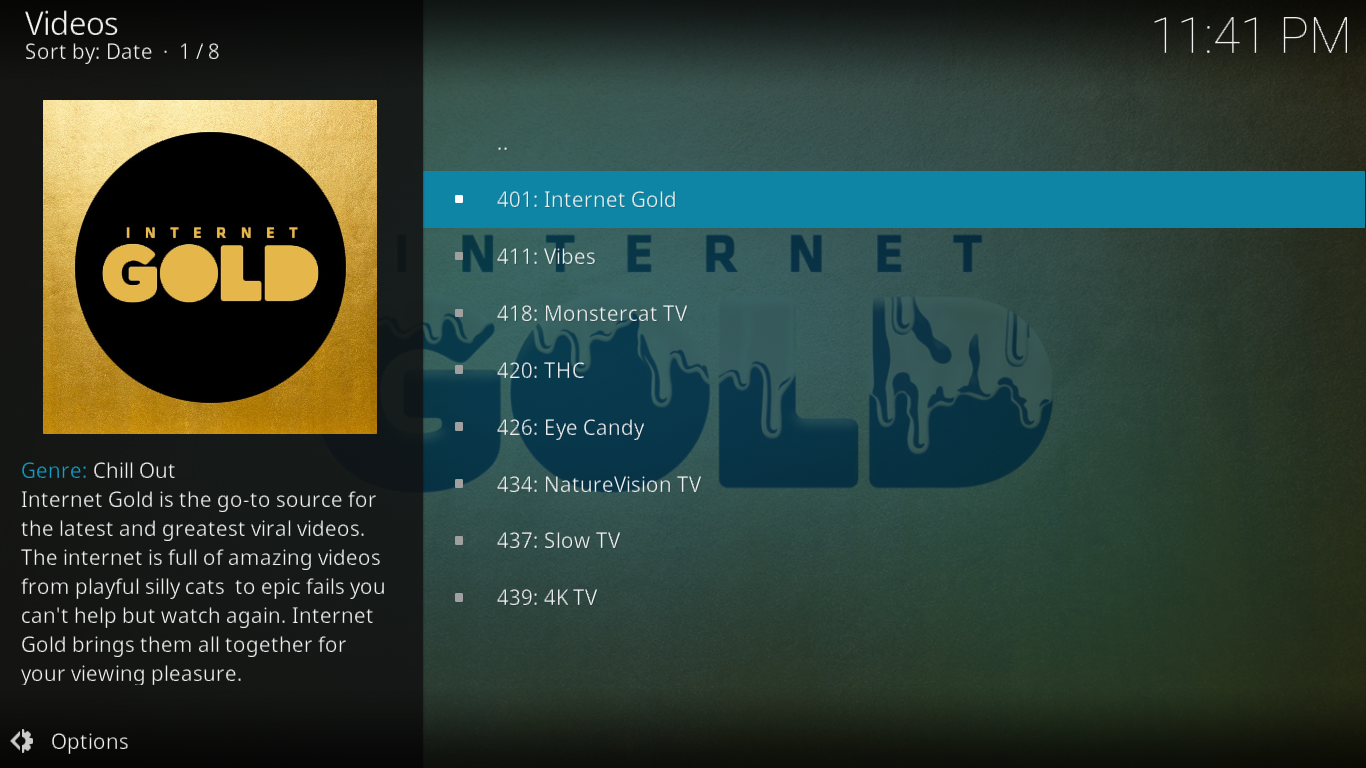 Comedy
The Comedy section features nine channels: Funny AF, JASH, Stand-up TV, MST3K, Rifftrax, FailArmy, Cats 24/7, The Onion, and Cracked. They host a variety of funny content from stand-up comedy to short sketches to funny homemade videos. If what you're seeking is a good laugh, the section is certain to have something fill your need.
We're can only question the inclusion of the Cats 24/7 channel in this section. Although it is undoubtedly cute–especially if you're a cat lover–the videos on this channel are not particularly funny.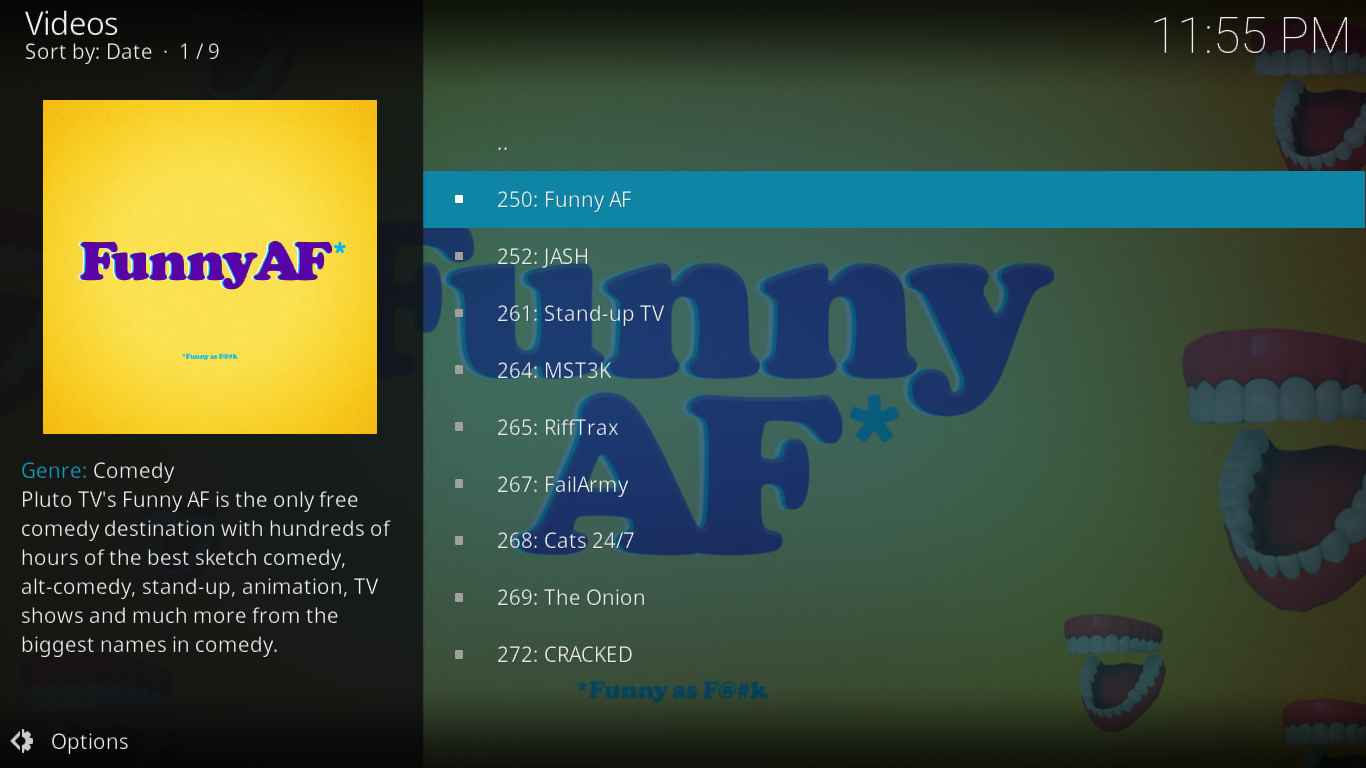 Curiosity
The Curiosity section is for those of you who are of a curious nature. It is a collection of channels devoted to nature and science documentaries. Its eight channels are Xive TV, Science TV, Docu TV. NASA TV, Funky Vids, A Magi, Sparks, and Live Tests. This last one is not really a channel. Its purpose is for Pluto to run tests, so there is nothing worth watching there. Among the other seven channels, there is content to satisfy any curious mind.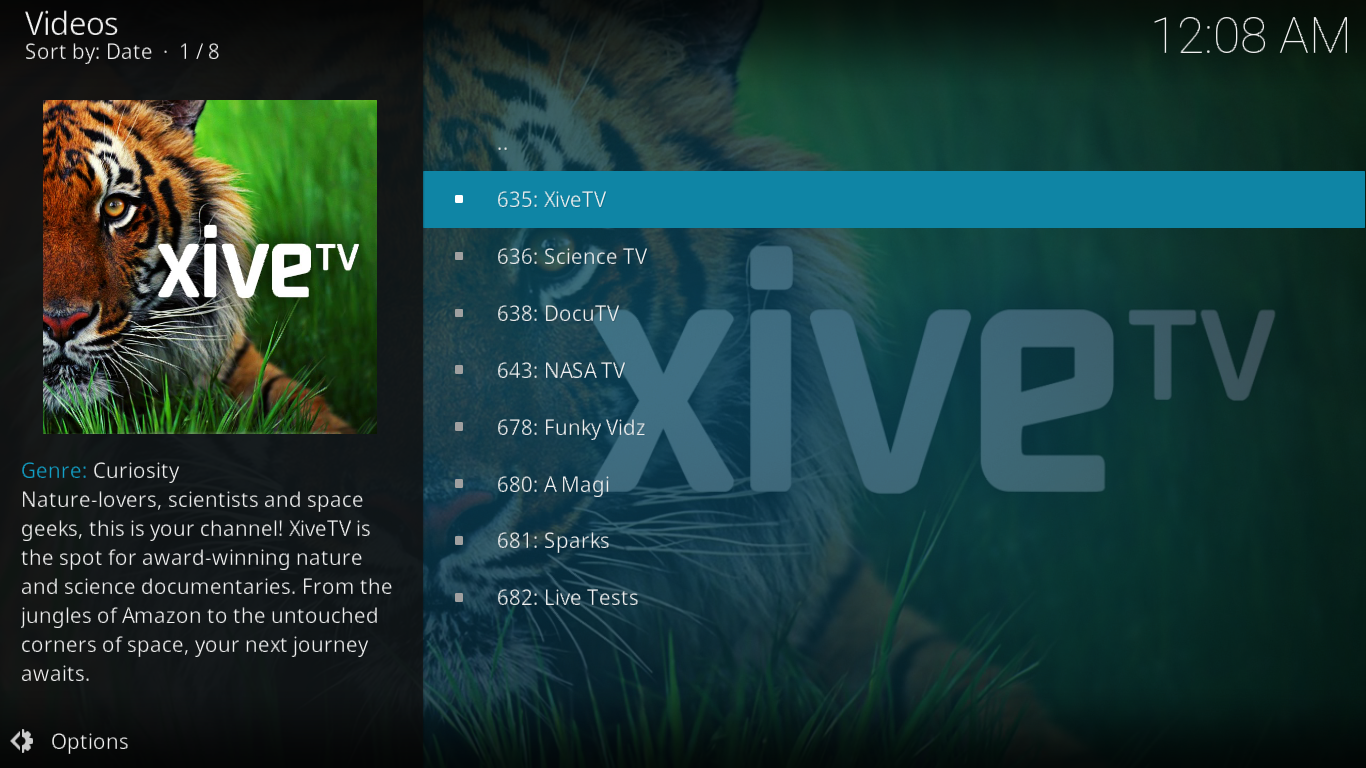 Entertainment
The Entertainment section really appears to be some sort of a catch-all section where any channel that did not belong in other sections ended up. With thirteen different channels, it is one of the largest sections. It includes Man Up, a channel that features content for men. Of a completely different style is Crime Network whose programming is self-explanatory. There's also REVRY which is all about LGBT entertainment. And there are two cartoons channels. This section really has a bit of everything.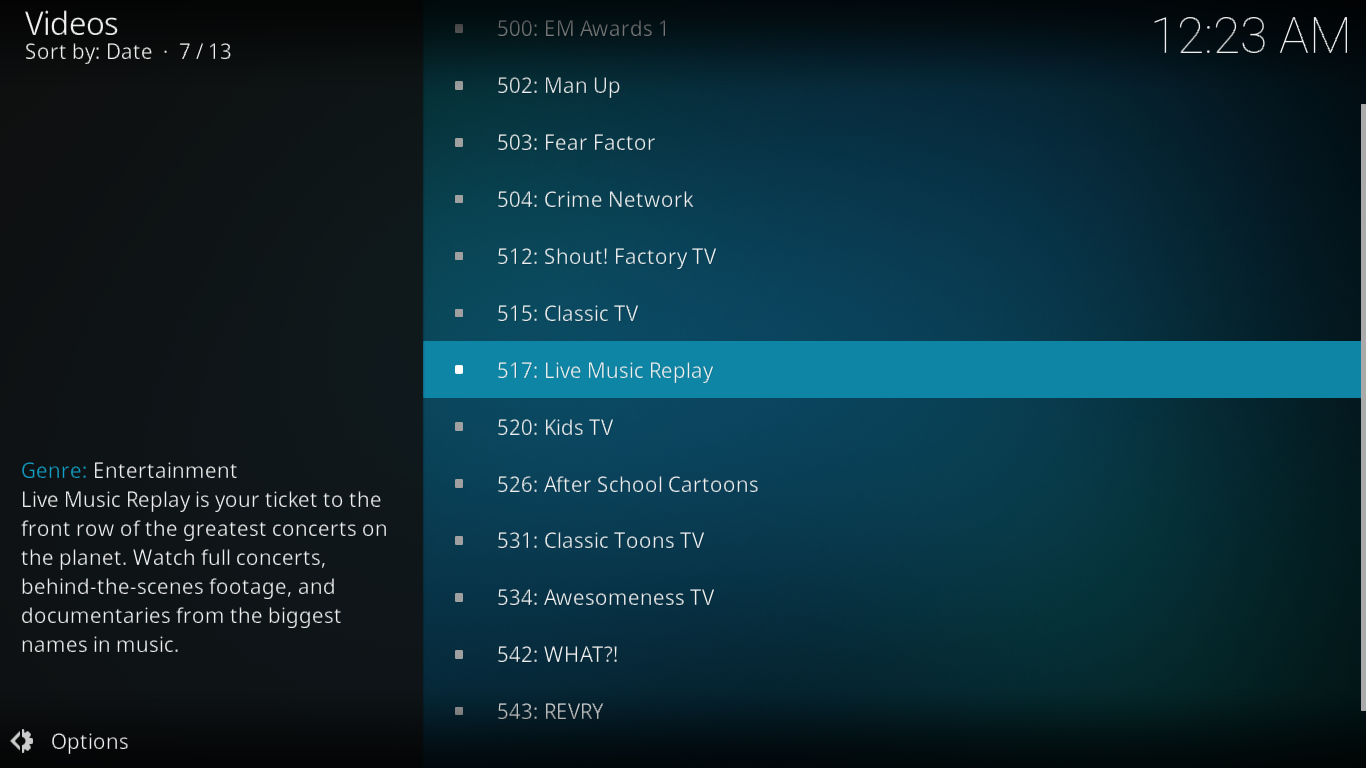 Geek + Gaming
This next section is for the geek in each of us. Whether you're a fan of technology in general, of anime or of video games, you simply must explore this section. Its channels are The Feed, Hive, Anime All Day, MinecraftTV, IGN, CNET, Geek and Sundry, and Nerdist. With such a varied selection of channels, there is something in there for every geek.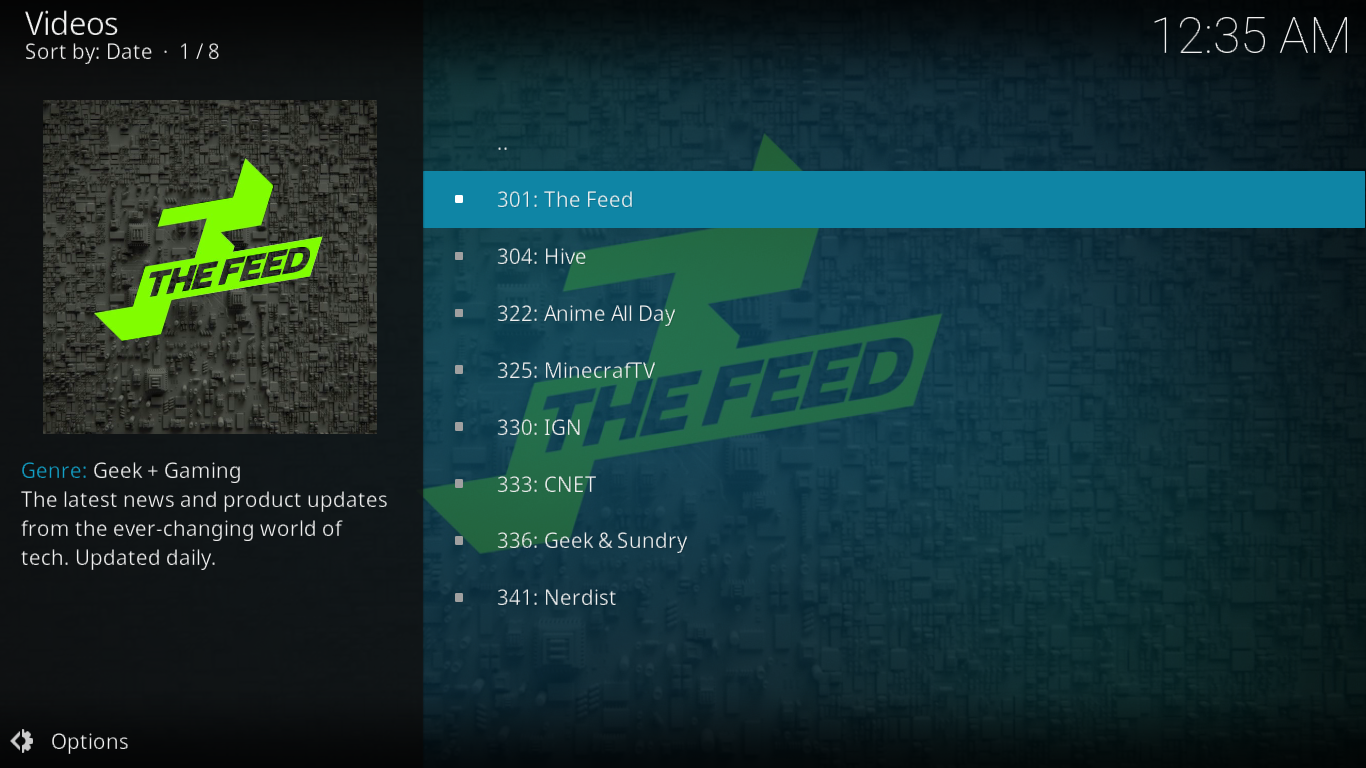 Life + Style
The Life + Style section is all about celebrity news, home decor, cooking, and travel. Among the eight available channels is People TV, the companion channel to the popular celebrity magazine. There is also LittleThings which is sure to provide tons of inspirational content. And for the foodies, Food TV has reruns of several popular food-oriented TV shows such as Anthony Bourdain No Reservations, for example. And also for foodies, Tastemade has some great content.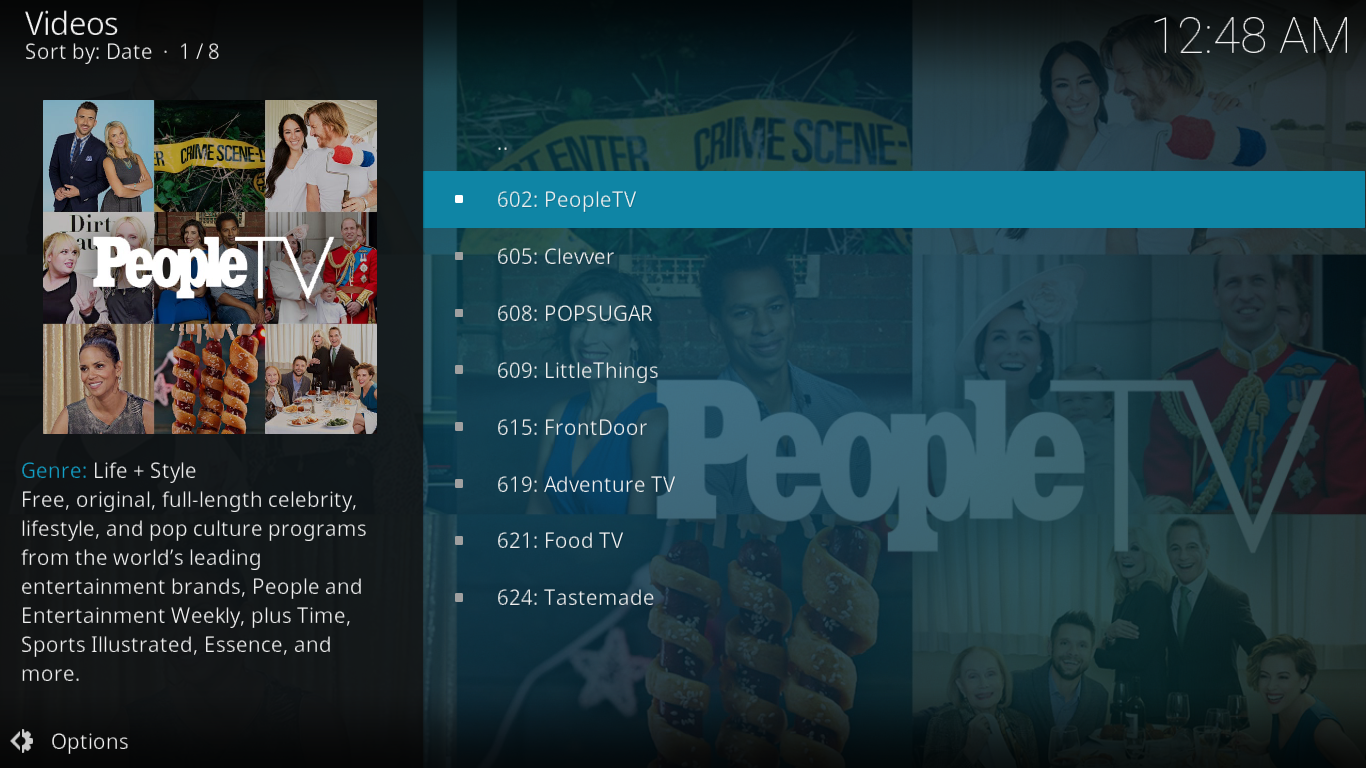 Movies
For movie fans, this is the place to go. It has eight channels with nothing but movies. There are two generic movies channels from Pluto.TV. Then there is the Action Movies channel and also the Flicks of Fury channel that specializes in martial arts movies. Then you have Horror 24/7 if you are so inclined. The content of the Classic Movies Channel is pretty obvious and the Gravitas Movies channel is said to "bring the film festival to you with audience award winners and audacious storytelling". And last but not least, The Asylum was designed by the creators of Sharknado and features low-budget, B-rated films.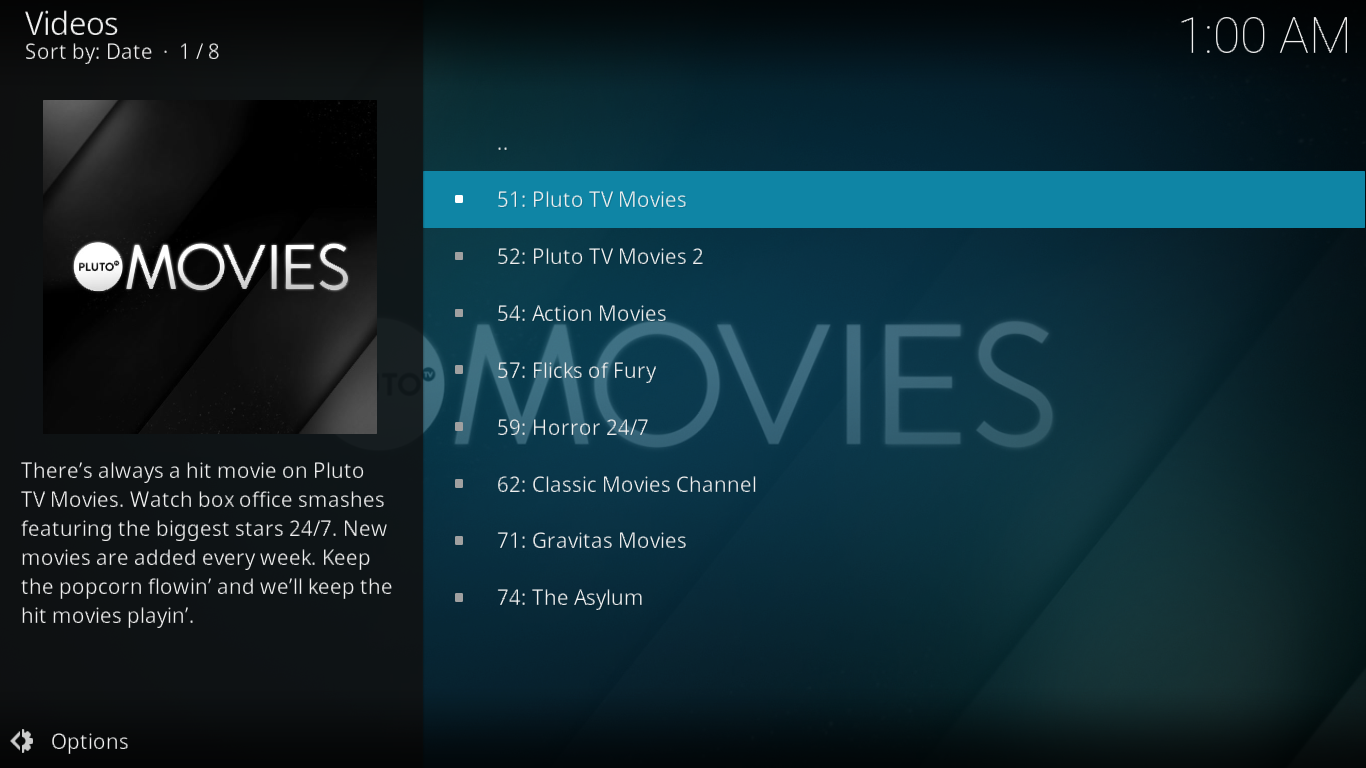 Music + Radio
With 32 channels, this is by far the largest section of the Pluto.TV add-on. But there are no videos or movies here, only channels that play non-stop music. It has various stations for different genres such as rock, rap, 80's music, 90's music, country, drum & bass, punk rock, etc. For the music fan in you, this section is sure to have some good content.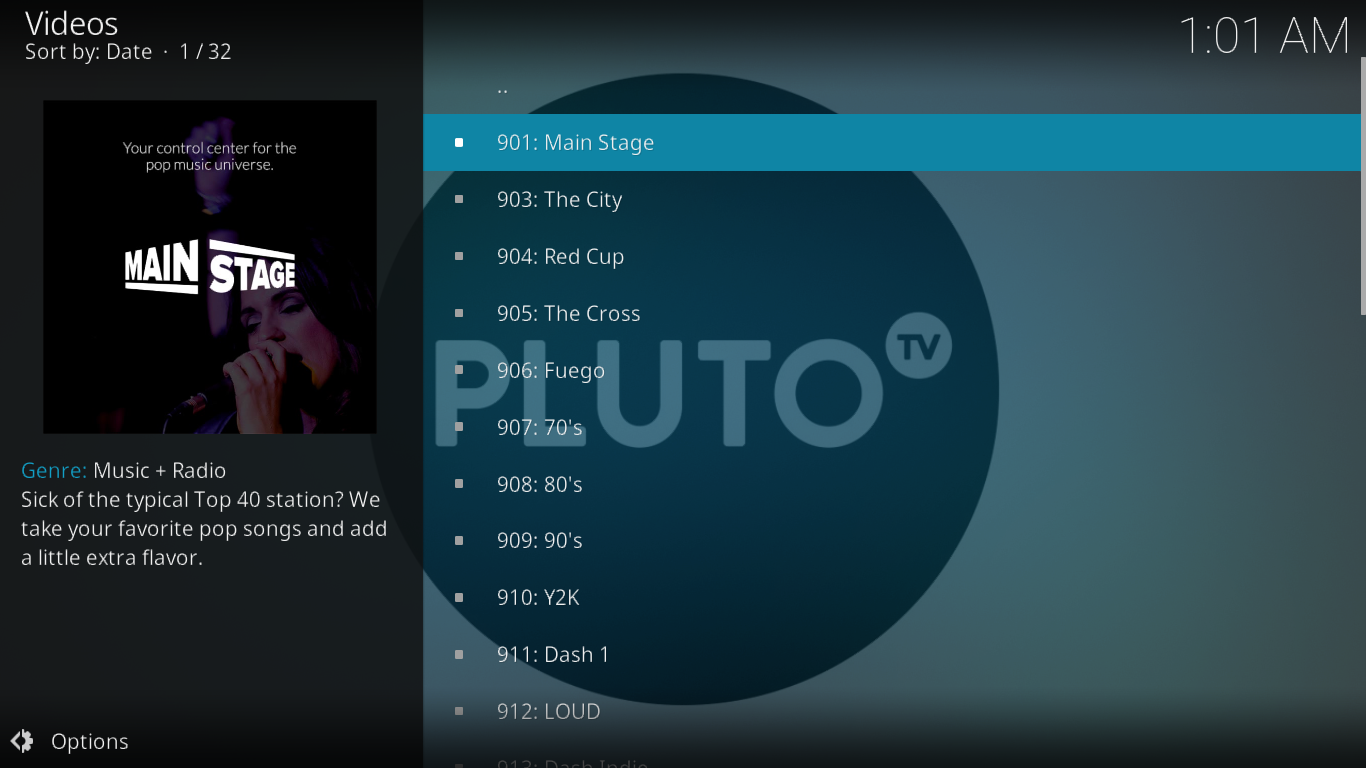 News
This section is–you guessed it–all about news channels, and some of Pluto.tv's most popular channels are in there. It's got some major news channels such as  Bloomberg, CBSN, RT America, Sky News, Newsmax TV, and several more. In all, there are thirteen channels in this sections. They will give you every angle about every piece of breaking news.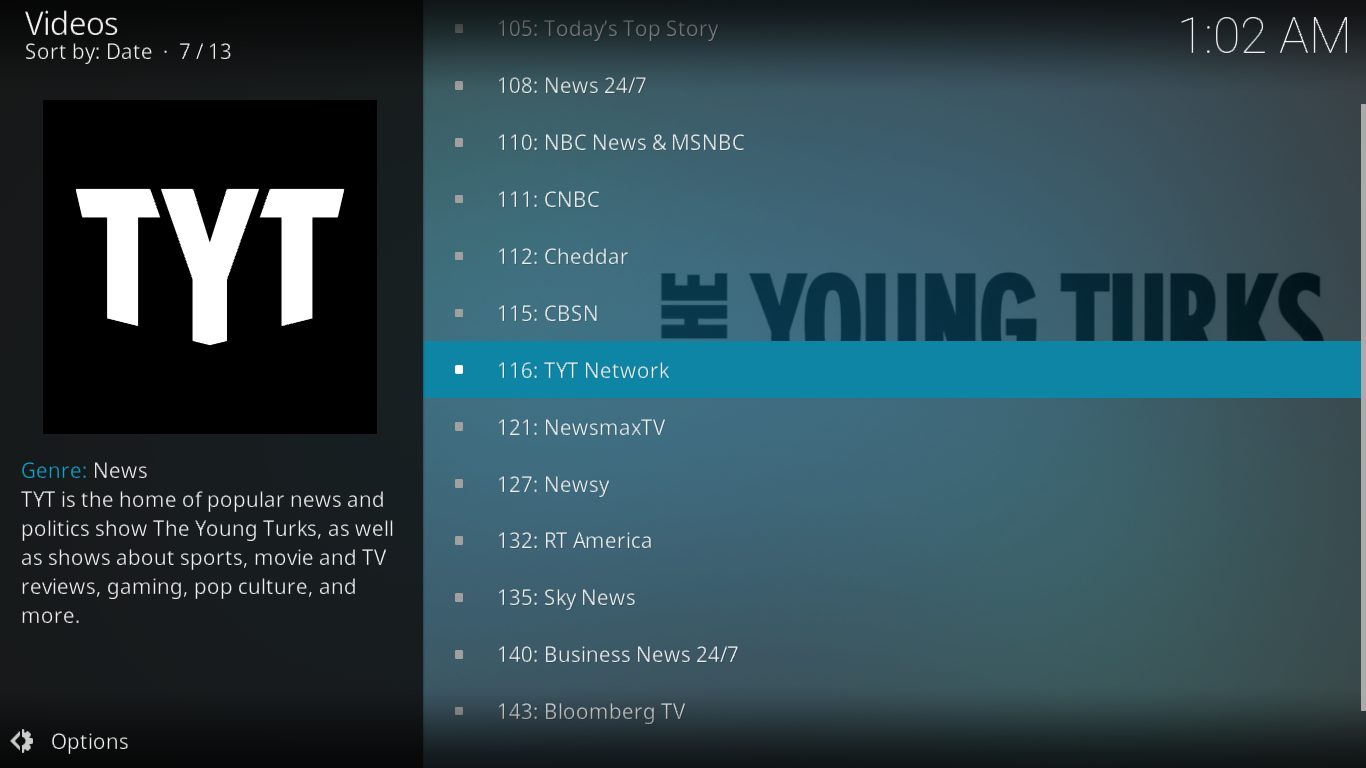 Pluto
This small section only has one channel worth mentioning. What's on Pluto is a channel dedicated to discussing what's available on Pluto.TV. It features presentations of some of the available channels, often done in a humouristic tone.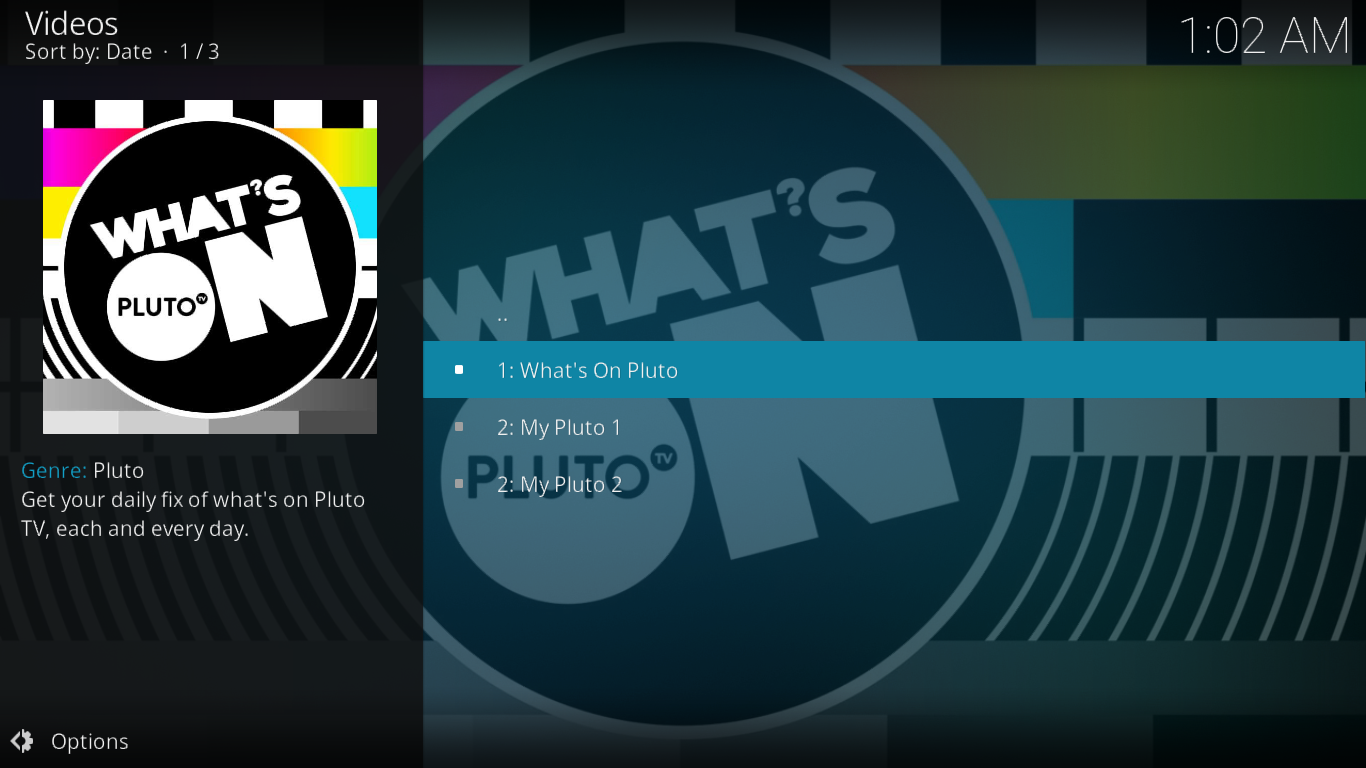 Sports
Last but not least is the sports section. This one too features some of the most watched channels on Pluto.TV. It has wrestling, kickboxing, and mixed martial arts. It also has poker is you're not into fighting sports. There is also a Sports News channel in here. And Pluto.TV Sports is a generic sports channel featuring various sports content. A few channels dedicated to college sports complete the Pluto.TV Sports lineup.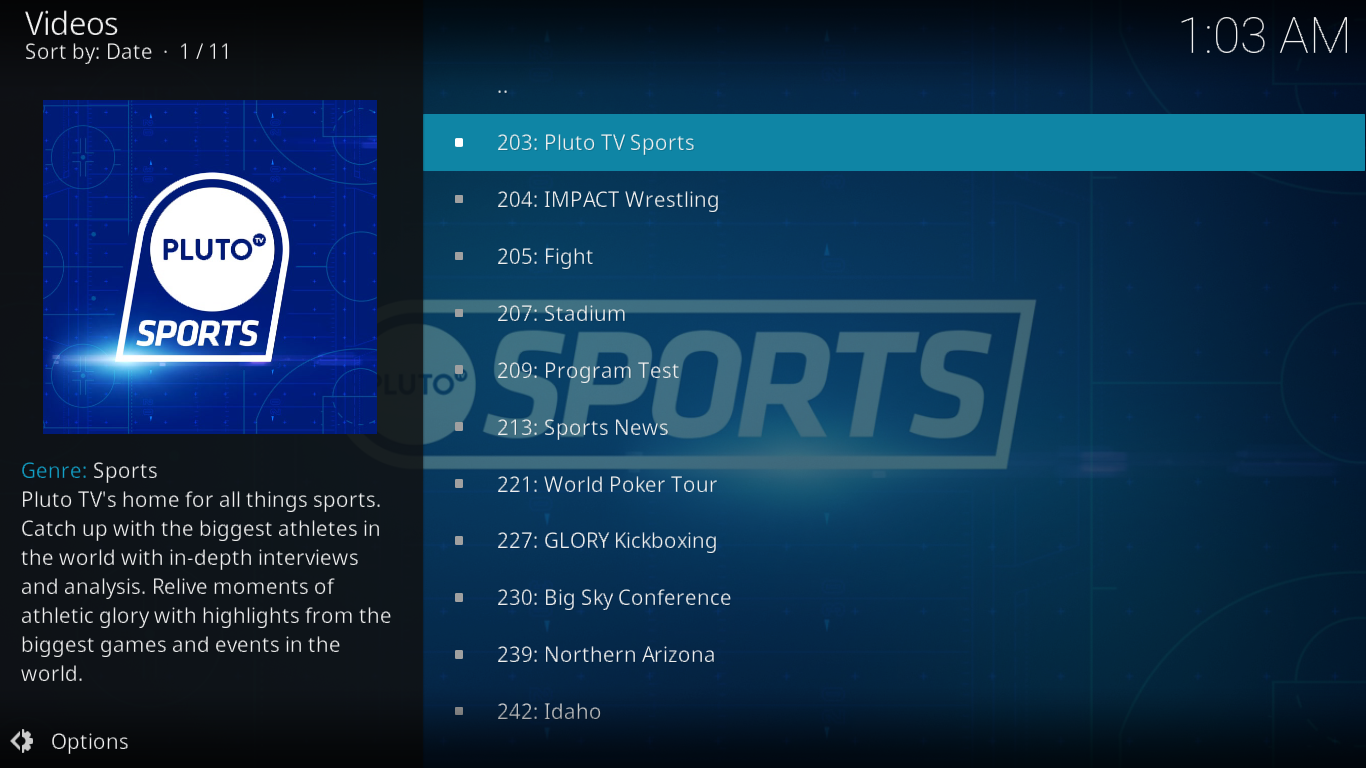 Pros and Cons of the Pluto.tv Add-on
Pros
The best thing about the Pluto.TV add-on is that it–along with all its content–is 100% free and legal. This is nice and reassuring amidst a Kodi ecosystem flooded with legally dubious third-party add-ons.
Another strong point about this add-on is the general quality of its streams. Most of them work fine and offer great picture quality and resolution. Your experience may vary, though, as this can often be related to the quality of your Internet connection.
The fact that the Pluto.TV add-on is an official one, available from the Kodi Add-on Repository means that it will be fully supported by the Kodi team. This can be reassuring to some although, with an add-on that works well such as this one, chance are you won't ever need support.
One last interesting feature worth mentioning is that when starting most channels, your viewing will start at the beginning of the current program. This is a great (and rare) feature for an add-on that offers live content.
Cons
On the downside, although Pluto.tv has hundreds of "channels", they are not the channels you may be used to. Their lineup has barely anything in common with the typical offering of cable and satellite providers. It is also very different from the usuals subscription-based streaming IPTV providers such as Hulu, Sling, or DirecTV Now.
We also didn't like Pluto.tv's somewhat complicated menu structure. It seems to be counterintuitive at times. And with lists sorted by channel number and the absence of a search engine, locating a specific channel can be complicated.
We've found a glitch in the Radio + Music section where a channel displays a different name from what the list indicates. When clicking channel 924, called 11, you're instead taken to a channel called Church of Rock & Roll. The content on Church of Rock & Roll seems to match the description from 11 but it certainly causes some confusion.
Conclusion
Overall, the Pluto.tv add-on is a great one. It won't give you the live TV channels you might be used to, but that doesn't mean there is no interesting content. And once you've browsed it for while and know where to find the stuff you like, you'll be delighted by the general quality of the available streams. Speaking of what's available, this add-on has a great mix of content to please pretty much any type of viewer. And with Pluto.tv being an "official" Kodi add-on, installation and support will both be easy.
Have you tried the Pluto.tv add-on for Kodi? How was your experience? What do you most like and dislike about it? Share your comments with us below. We love to hear from our readers!