We are reader supported and may earn a commission when you buy through links on our site.
Learn more
South Park Kodi Add-on: Installation Guide and Review
South Park is an experience. This article won't assume that you have anything beyond surface-level experience with South Park or Kodi, so we're going to take a minute to discuss South Park and its add-on before hopping right into the how-to of getting this add-on installed within Kodi.
South Park the show has a distinctive, cardboard-cutout animation style, at least in earlier seasons. Newer, higher-budget seasons are capable of a lot more than the early seasons, visually-speaking, so the art style might break here and there. The basic art style of South Park is meant to be deceptive- something simplistic that your kids may try their hand at drawing. This makes its particular form of satire- outrageous, vulgar comedy- even more effective, since it looks very childish but isn't. Well, it can be. The earliest seasons of South Park — the first few — are focused mostly on shock and potty humor, which did earn it its initial notoriety but did not earn it its reputation. While some of this remains in later seasons, the show attempts to adopt a different, more topical/socially-relevant tone.
The latest seasons mark the greatest departure, by focusing on more serialized, season-long plotlines. As to whether or not this is a good thing…depends on what you like, but does make it good for binging with this add-on. Speaking of the add-on, this add-on sources all of its content from the South Park website. It has a copy of all of the content that's been hosted on the site, even if it currently isn't available for free- we'll discuss the legality of this bit later, but for now let's talk about how to get it installed.
If you're interested in watching other TV shows with Kodi, we also recommend installing the Smash Repository so you can access the huge number of streaming add-ons within it.
Streaming With Kodi? Consider A VPN
If you're going to stream TV with Kodi, you may want to use a VPN. There's a few different reasons for this: chief among them is that, regardless of whether or not you have a legal right to the content that you stream, third parties like to give people trouble when they're able to grab the public IP addresses of people who are streaming or downloading content. Additionally, your ISP may be one of the ISPs out there who like to throttle streaming video traffic, which is surprisingly common and can be circumvented with a good VPN.

A VPN, or Virtual Private Network, is used to encrypt and anonymize a user's traffic. Consumer VPNs, in particular, are made to protect a user's online privacy from their ISP and possibly even their government, depending on where you live and what you're using a VPN for. Among the features offered by these VPNs is the ability to connect to various servers, all around the world, and appear to originate from them. This allows you to get around geographical restrictions on content, or even to avoid censorship.
Some may confuse a VPN with a proxy, since they do have some crossover in functionality. The big difference is that proxies are not inherently secure, and are easily tracked to their source: a VPN with good encryption, however, will protect your traffic and your location. Now, if you're using a VPN to plug your personal information into some website, a VPN won't protect you from that website knowing your information- you just told them. A VPN prevents third parties, government, ISP or otherwise, from getting access to that information without your consent.
Our top VPN pick for streaming with Kodi is IPVanish. IPVanish will protect your traffic from third parties while still offering great speeds for HD streaming and large file downloads. Unlike "free" VPNs, you have plenty of room here to enjoy your network's capabilities without putting your security at risk.
IPVanish offers a 7-day money back guarantee which means you have a week to test it risk-free. Please note that Addictive Tips readers can save a massive 60% here on the IPVanish annual plan, taking the monthly price down to only $4.87/mo.
Installing the South Park Kodi Add-on
First, go ahead and open Kodi. Once you've launched the application, highlight "Add-ons".
Within Add-ons, highlight and install "Install from repository". This will do one of two things: lead you to a list of installed repositories on your system, or automatically put you into the default Kodi repository if you have none installed.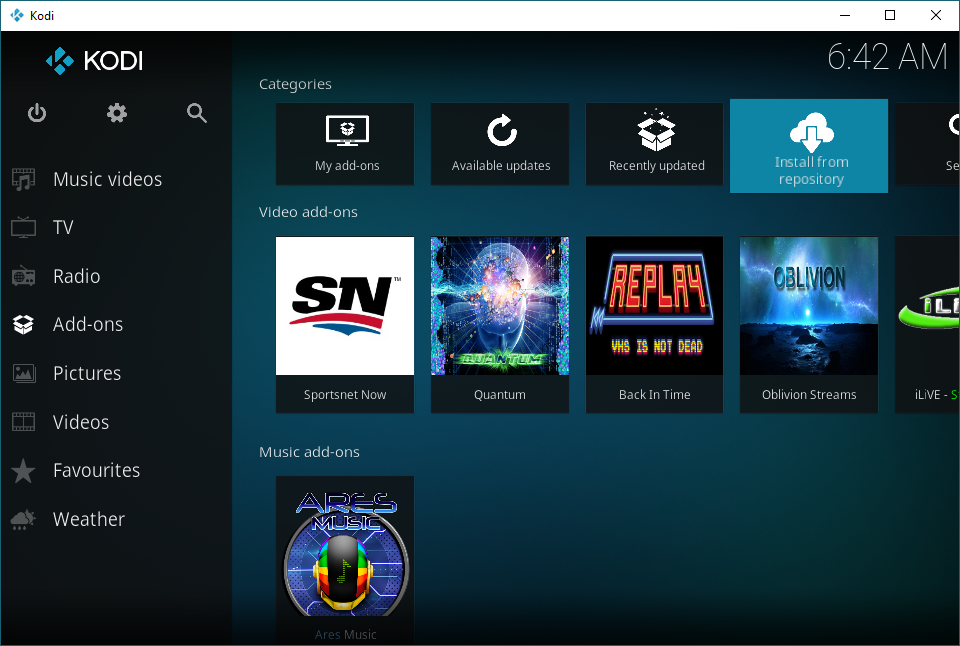 If you don't have any other repositories installed, skip this step. If you do, locate the Kodi Add-on repository and click it. This will grant you access to a huge list of the official Kodi Repository, which is host to a large number of great add-ons and utilities.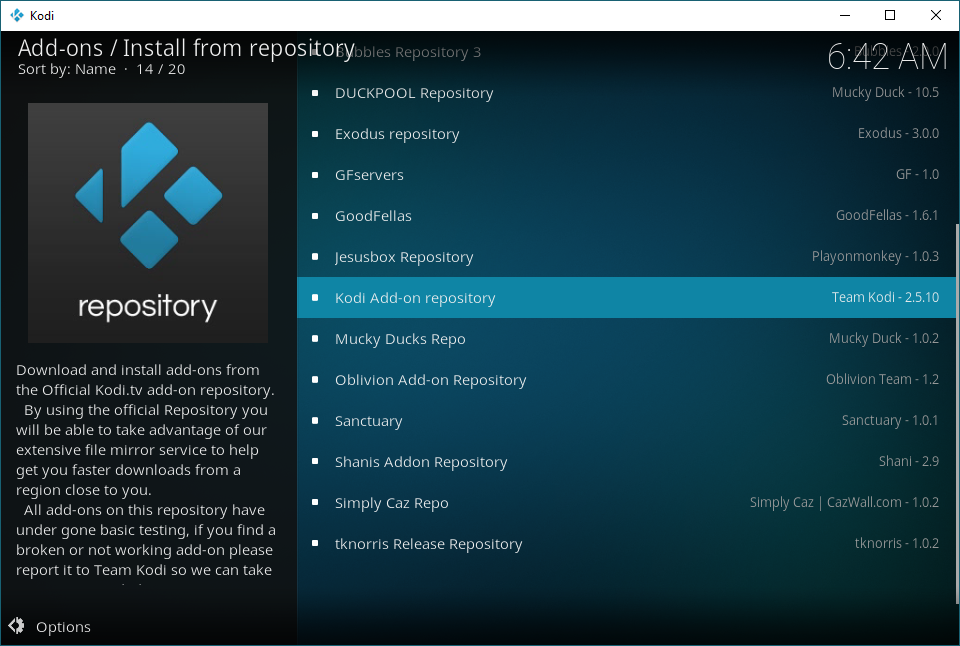 The South Park Kodi add-on is a Video add-on, so you'll need to select Video add-ons from the list of categories.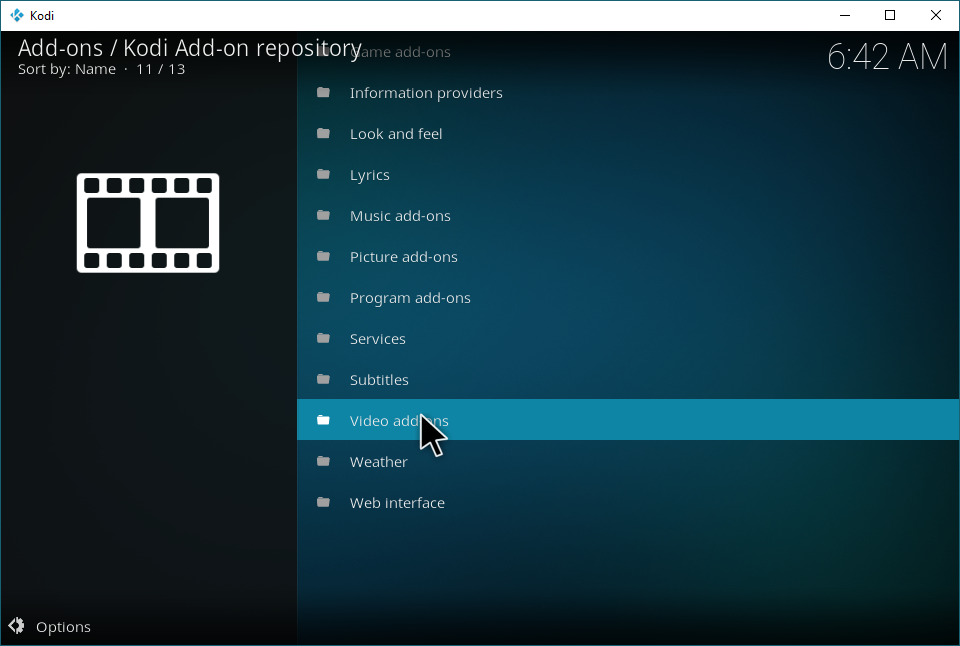 There's going to be a whole lot of Video add-ons in this list, since you're looking at the official source for them. Finding South Park immediately may not be easy, so be sure to keep in mind the add-ons that are around it within this list.
Once you've found it, select it.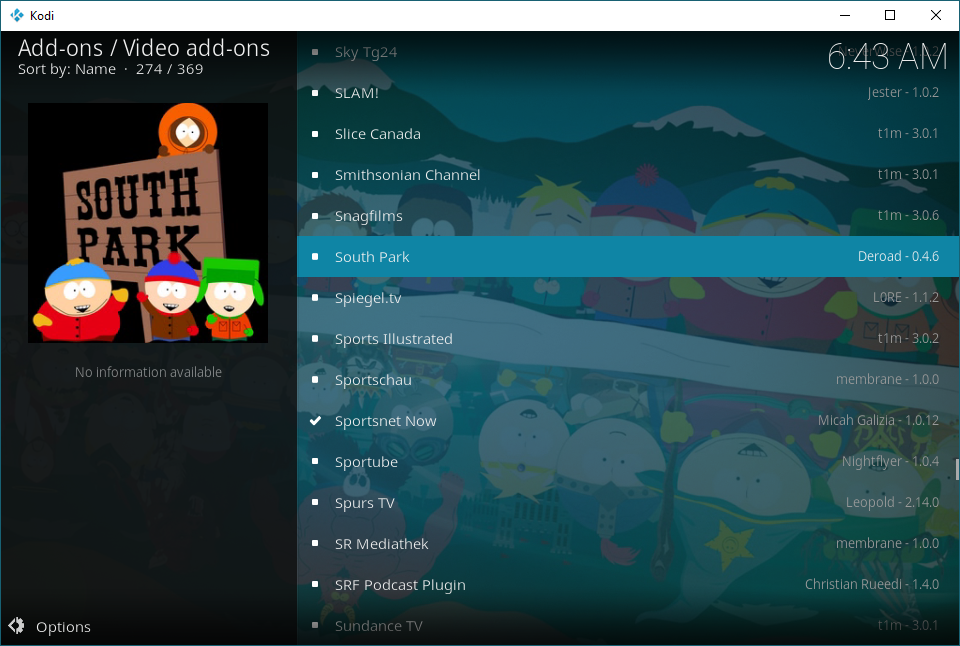 You found the South Park add-on! Go ahead and click "Install".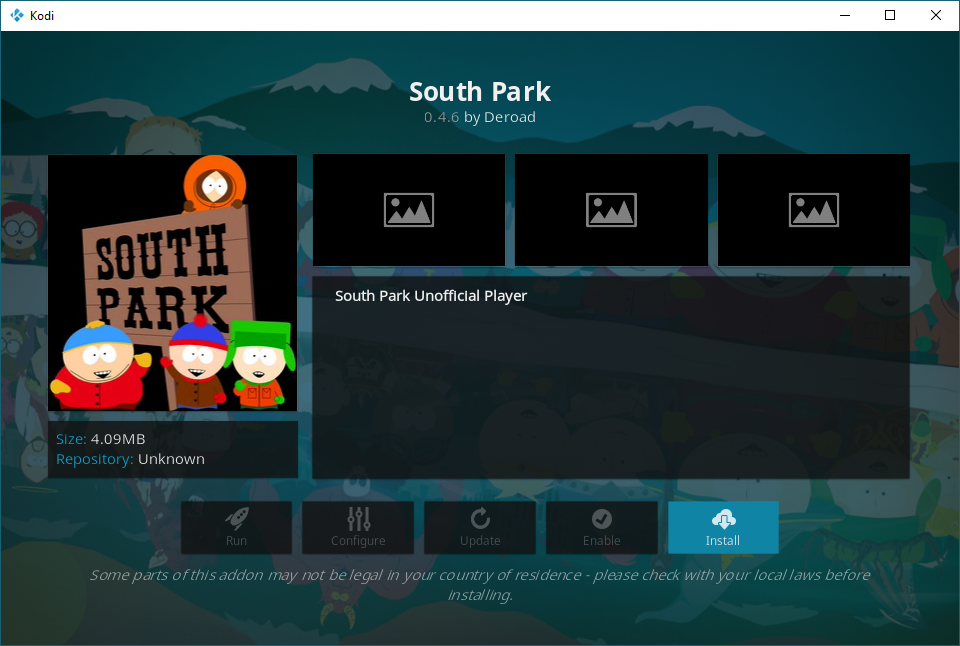 Doing this will install the add-on, expanding the functionality of your Kodi installation. Keep reading to learn how to use the add-on now that you've installed it.
Using The South Park Add-on
Head back to your main menu. You may notice a pop-up in the top-right corner once the Add-on finishes installing.
When you see this, go to Add-ons.
In this section, you'll either see South Park in your list of video add-ons, or you'll need to manually navigate to it through My add-ons. We'll show you what to do in the latter scenario.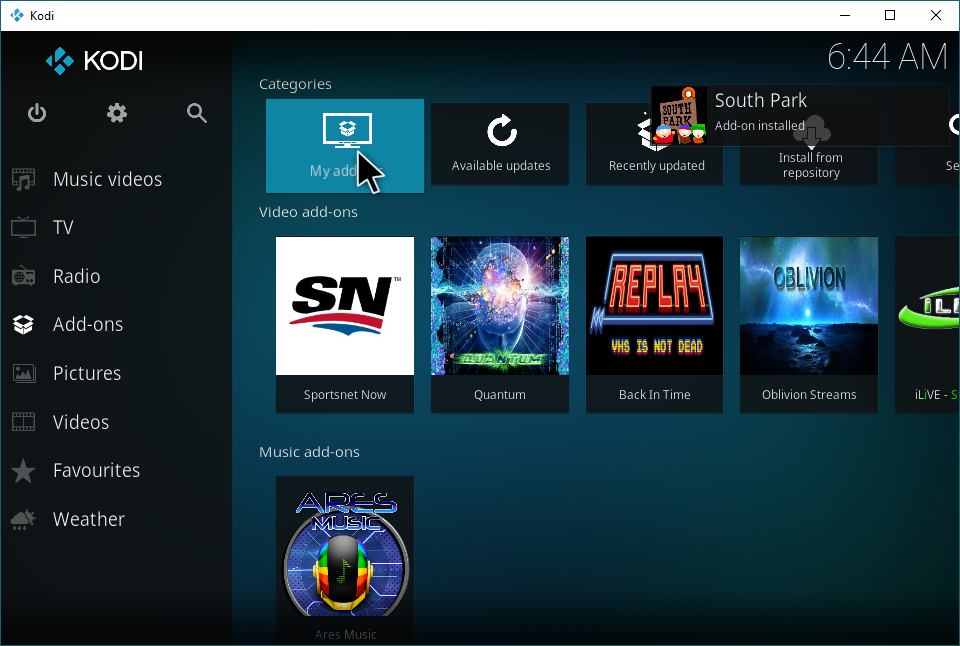 In My add-ons, select Video add-ons.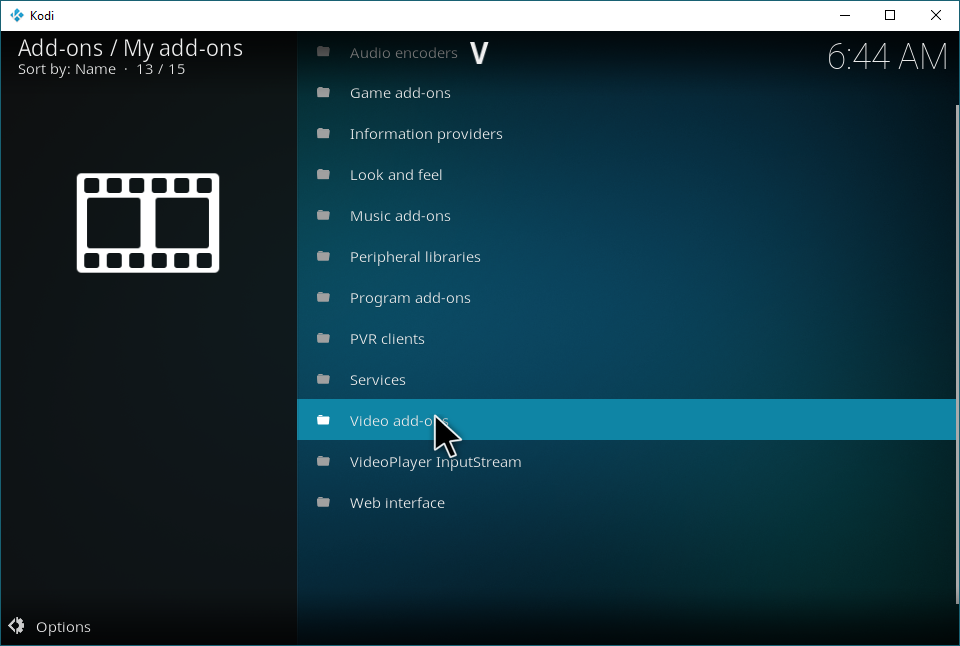 Now, scroll down and find South Park. This shouldn't require nearly as much scrolling, unless you've decided to install all the things prior to reading this guide. Select it.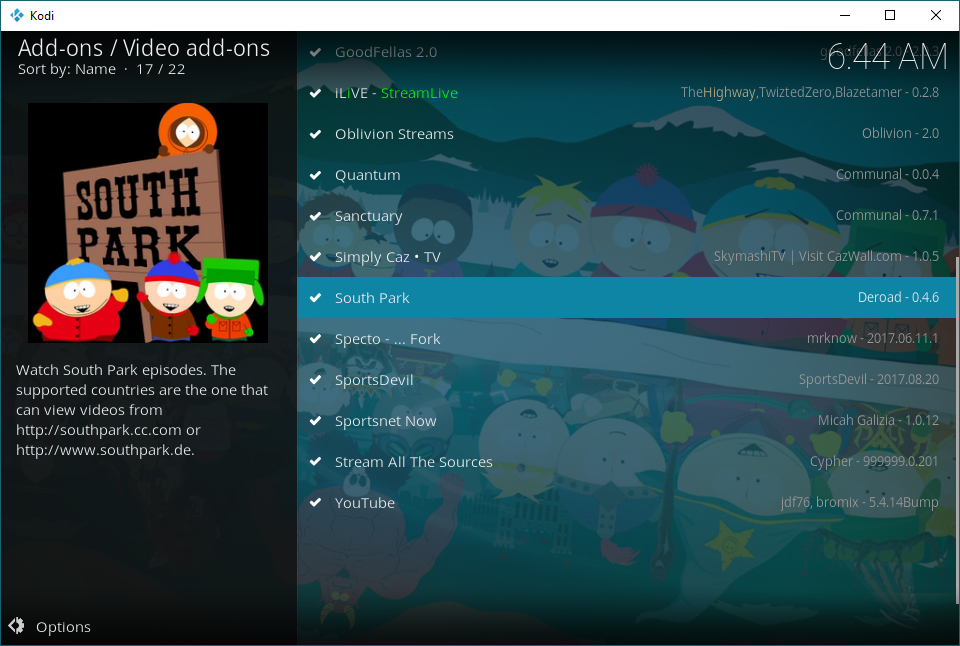 Now, go ahead and click "Open" to open the South Park add-on.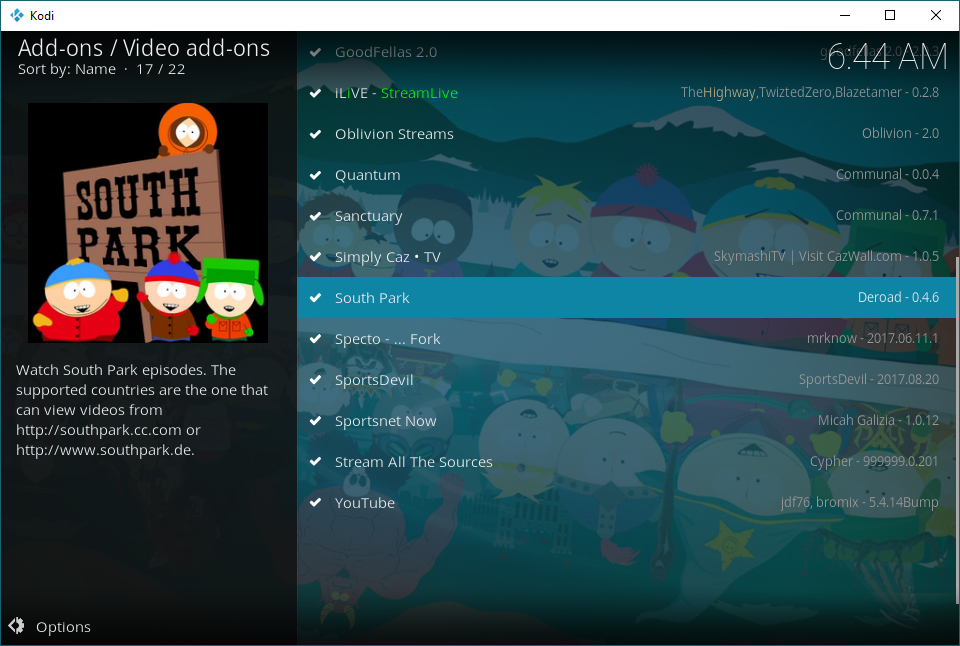 When you open the South Park add-on, you'll see a full list of seasons and episodes. Unlike on the main website, the South Park add-on isn't locked down to only watching a selection of 30 episodes: the add-on is capable of watching any full episode that has been viewable on the site, meaning you have access to South Park's full library now.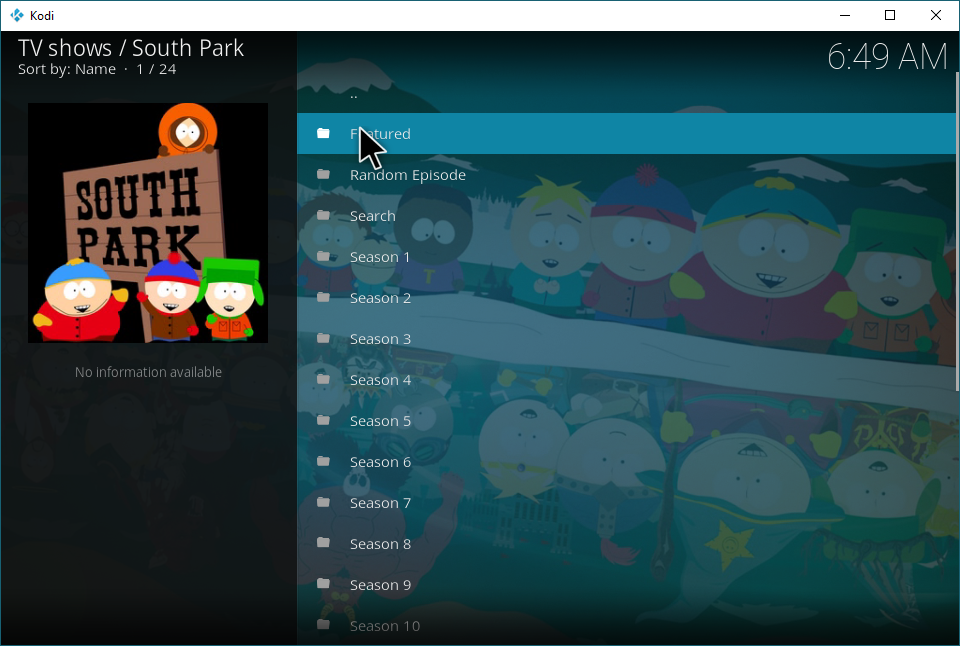 There's quite a bit to get caught up on if you're new to South Park! Do note, however, that the legality of using this application will depend on multiple factors: your country of residence and how much of South Park you actually own your own copies of. Whether or not you're in your full legal rights to stream South Park episodes, however, we highly recommend that you invest in a VPN just so you don't need to worry about third parties giving you problems.
Conclusion
The South Park Kodi add-on offers superior functionality when compared to its web app brother, and does so while being completely usable from within Kodi. We recommend the add-on overall, and while installation/use is fairly simple, feel free to sound off in the comments below if you encounter any problems with this add-on.