We are reader supported and may earn a commission when you buy through links on our site.
Learn more
How to Use a Game Controller with Kodi
Kodi isn't just for streaming; it's a pretty robust gaming platform as well–complete with the ability to use a console controller for greater ergonomic comfort. We show you how to set up a gamepad on Kodi in today's guide. It only takes a few minutes to unlock countless hours of gaming goodness, so read on!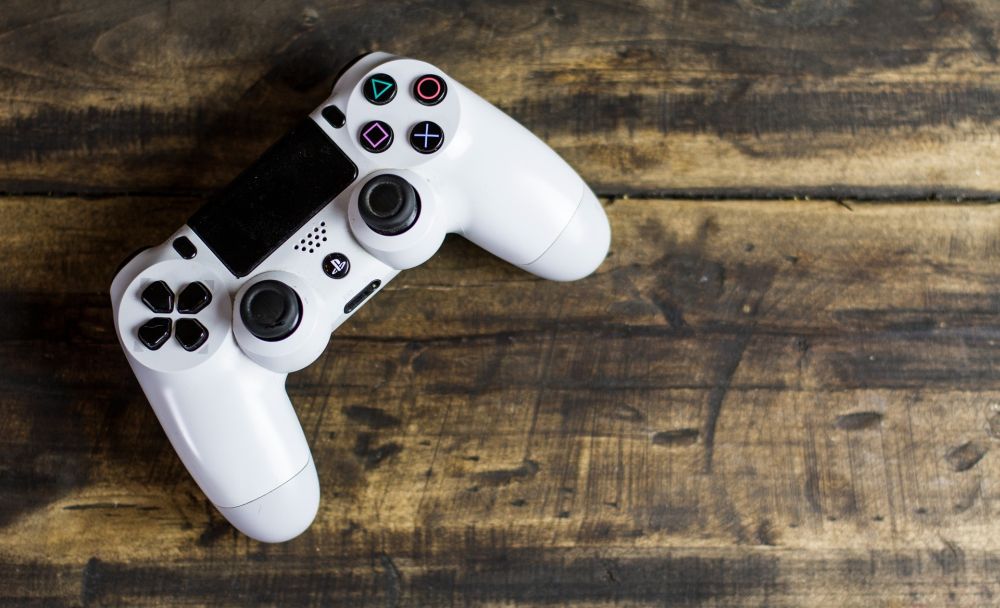 Have you heard the news? Kodi 18 "Leia", the software's massive update for 2018, is adding support for video games! Free downloadable titles, emulated classics, and everything in-between, all available from the same interface you use for movie and TV show streams. If you thought Kodi was an entertainment powerhouse before, just wait until you get your hands on Kodi 18!
Gaming with a keyboard and mouse is all right, but what about old school emulated titles made for controllers? Do you really think you'll get the best experience smacking buttons on a flat desk? The Kodi team is one step ahead and has already released profiles for a wide variety of video game controllers. All you have to do is install the right one, plug in your gamepad, then start playing!
Below we take a closer look at the official game controller add-ons available for Kodi 18.
30-days money back guarantee
Secure Your Kodi Activity with a VPN
Virtual private networks are a necessity in today's modern digital world. Hackers are lurking in open networks, government agencies are spying on innocent citizens, and ISPs collect and sell data to the highest bidder. You're never really safe on an unsecured connection, which is why a VPN can transform your daily activities for the better.
With a virtual private network running in the background, all your data gets encrypted before it leaves the device. This makes it impossible to determine where traffic is coming from and where it's going, preventing third parties from spying on your activity. It also gives you the power to use Kodi as you see fit. If no one knows what you're playing, you can do whatever you want, plain and simple.
NordVPN – Best VPN for Gaming on Kodi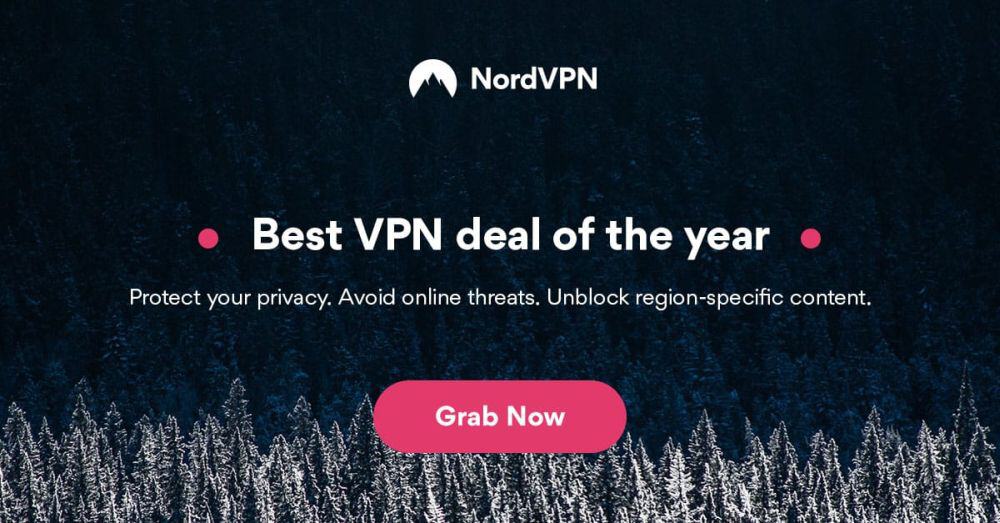 NordVPN has long been a top choice for gamers. Its massive network is legendary, allowing you to access foreign gaming servers or to snag deeper discounts available in other countries. What's more, its dedicated anti-DDoS servers and super-fast NordLynx encryption ensure a stable, lag-free, and secure gaming session pretty much anywhere in the world.
The benefits only compound with Kodi. Many third-party add-ons link to content which would be geoblocked if not for your ability to spoof into any of over 5,800 servers in 59 countries. So if you're a huge anime fan, a lover of French cinema, or mad for British documentaries–there's a secure NordVPN server which will enable instant access to all this content and more. It's all extremely user-friendly, too, with a responsive and intuitive VPN app that's seen continual refinement over nearly a decade of user feedback.
Don't forget: ISPs frown upon Kodi and will throttle your connection when they detect its traffic on their network. Using NordVPN eliminates their ability to ruin your Kodi gaming sessions and media binges–making it critical tech if you're going to be using Kodi at all. No matter what you intended to do, rest easy knowing NordVPN themselves never keep records of your activity which could be used to identify you.
Read our full NordVPN review.
Pros
Optimized servers for unblocking Netflix
No bandwidth caps
Torrenting/P2P explicitly allowed
"Double" data protection
24/7 Live Chat.
Cons
Automatic server selection can be unreliable
Can't specify City or Province in App.
Before Installing a Controller on Kodi
Gamepads can be used to play games on Kodi, navigate the menu screens, and more. There are a couple of things worth noting before you dive in and start installing controllers, though, as they won't always do what you want right out of the box.
What Do Controller Profiles Do?
Kodi's official controller profiles make it easy to configure your gamepad to work with certain emulated systems. For example, if you have an Xbox 360 controller but want to try out an old Super Mario Bros. game on a NES emulator, you'll quickly realize the software doesn't recognize the layout.
By installing a controller profile for the system you're emulating, you'll have instant access to the right buttons every time. Each profile automatically configures the plugged in gamepad to use the best layout. You can even change the setting manually without losing any data.
Safe Profiles
Kodi add-ons come in two basic varieties: official and unofficial. The latter are what most people turn to when they need live TV or a ton of movie viewing options. The former includes everything developed or approved by the Kodi team and released in their pack-in repository. Official add-ons are always safe, always legal, and always free. The controller profiles discussed below are official add-ons and will not harm your system or your Kodi installation in any way.
Device Compatibility
Kodi runs on a wide variety of devices, everything from smartphones to set top TV boxes, tablets, and Amazon Fire TV Sticks. Using a controller with Kodi and the add-ons below requires a USB interface, however. It's possible you'll get some functionality out of a bluetooth or wireless controller, but it's better to stick with a plug-in device for better response times.
Version Compatibility
Most of the controller and game add-ons built by the Kodi community and the Kodi team are only compatible with Kodi 17 and Kodi 18. If you have an older version of Kodi, you most likely won't be able to install or use any of the add-ons featured below.
Disabled by Default
Most Kodi users will find their gamepad doesn't work in the software, even after installing the right profile. This is an incredibly common issue and is directly related to Kodi disabling controller support by default. If you don't get a response after setting things up, try following the steps below.
Go to Kodi's main menu, then click on the gear icon to enter the Settings screen.
Choose the System icon followed by Input.
On the right you'll see an item called "Configure attached controllers". Click it.
Kodi will prompt you to enable the add-on configuration. Choose "Yes".
A new window will open showing your installed gamepad along with any profiles you have set up. You don't have to do anything here, simply click "OK" to save and exit.
How to Install Game Controllers on Kodi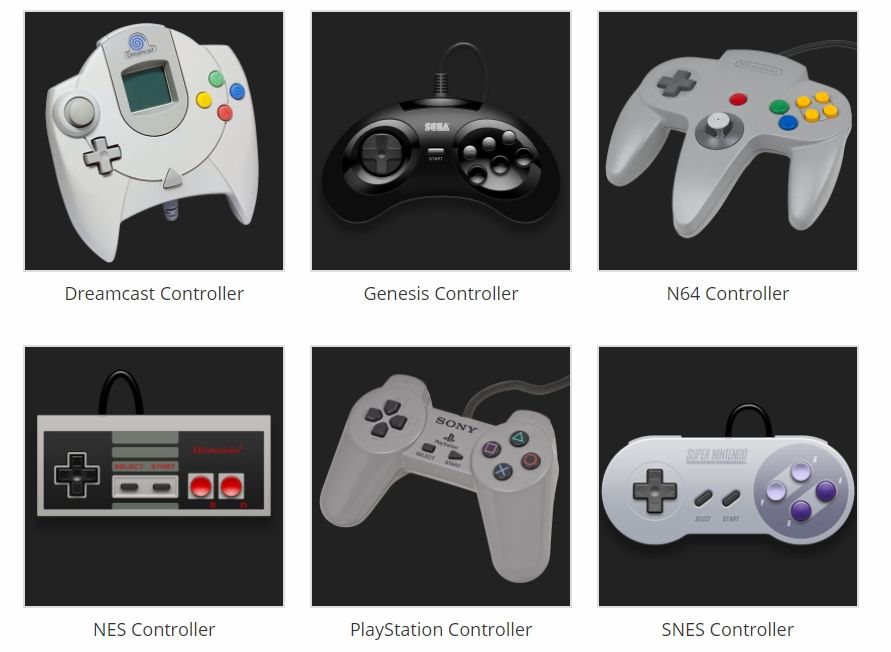 Below we'll walk you through the entire process of installing gamepad profiles to use with Kodi.
Step 1 – Get Your Gamepad Ready
Before you even start Kodi, round up every gamepad you want to use with the software and have it ready. First of all, you'll need to plug the controller into your PC before launching Kodi, as sometimes it won't recognize the gamepad if you add it while it's running. It's also worthwhile to make sure your controller works outside of Kodi before using it with a game. Use your operating system's device manager to test and configure gamepads individually.
Step 2 – Installing Controller Add-ons
Once your gamepad is plugged in and ready, it's time to install stuff on Kodi! Start by launching the software on your device, then use the keyboard to navigate to the main add-ons menu. Choose the open box icon at the top of the navigation bar. Scroll down and select "Install from repository" followed by the Kodi Add-on repository. On the next screen, near the top you'll see a category called Game add-ons. Click this, then enter the Controller profiles section.
Kodi's official repository comes with a stunning 50+ controller profiles ready to use. Most of these are focused on specific systems, including the Atari 2600, PlayStation, Sega Genesis, SNES, and Game Boy Advance. The only pre-installed profile will be Kodi's default setup, which supports a wired Xbox 360 controller. To add more, simply browse the list and click a system you plan on emulating. You'll be taken to a new screen with information relating to the profile. Choose "Install" at the bottom, and you're set!
Controller profiles are incredibly tiny files, so don't hesitate to download as many as you think you'll need. You can always manage or even delete them later if they start cluttering up the place.
Step 3 – Configure the Controllers
You most likely won't need to configure your added gamepads, but just in case you feel like customizing things, here's how to do it.
Start at Kodi's main menu, then click the gear icon to enter the Settings screen.
Choose the System icon followed by Input, then select "Configure attached controllers" on the right.
If Kodi asks you to enable the add-on configuration, choose "Yes".
A new window will open showing your installed profiles. Pick the one you want to edit.
Under the "Face Buttons" section, click the topmost list item. The assigned button will be replaced by a prompt.
On your controller, press the button the prompt asks you to press. For example, if it says "Press A", choose the button on your controller you want to use for the profile's A button.
Repeat the process with each assignment for the emulated system.
When you're done, click "OK" to save the changes and exit the controller setup.
Get Games via the Internet Archive ROM Launcher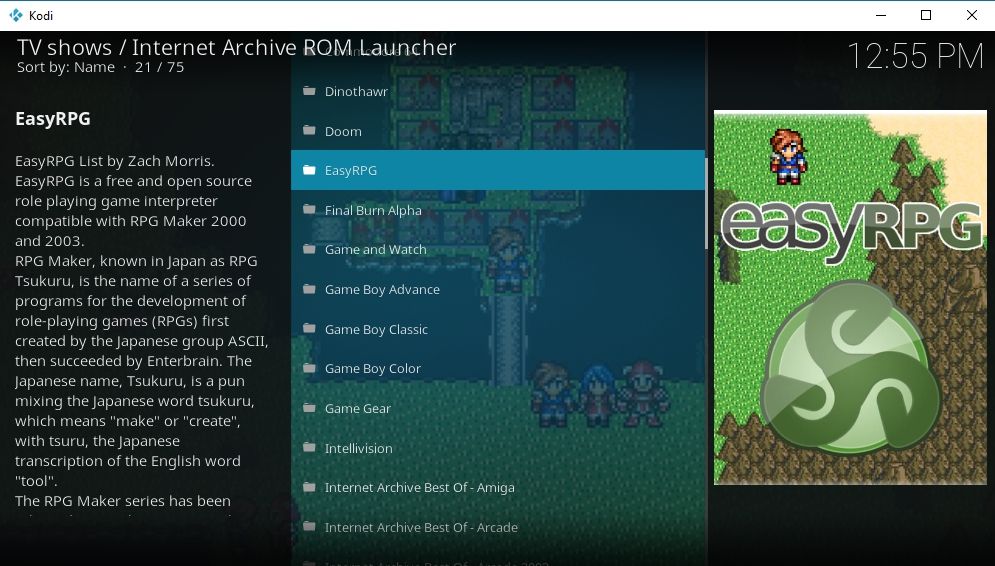 Now that you've got controller profiles loaded, how about some games? Kodi's built-in and add-on emulators make for a great platform to sit and soak in some retro goodness. And with the Internet Archive ROM Launcher, you can snag some old titles without stalking across the internet each time you remember a game's name. Simply follow the steps below to install the IARL.
How to Install the ROM Launcher
The Internet Archive ROM Launcher is packed with hundreds of games. It's a great resource to peruse when you're bored and aren't sure what you want to play. Even better, it's completely free to use, and easy to install, too!
Note: You may need to supply your own emulators to play the ROMs streamed by the launcher. You can use software you already have installed, or check out the Kodi RetroPlayer for a better all-in-one solution.
Open your web browser and visit the official Zach Morris Repository site.
Download the file named repository.zachmorris-1.0.0.zip Be sure to save it somewhere easy to access.
Start Kodi and go to the main add-ons menu.
Choose the open box icon at the top.
Choose Install from zip file and locate the file above.
When the install completes, go back to the open box menu and choose Install from repository.
Select Zach Morris Add-ons from the list.
Navigate to Game Add-ons > Game providers and install the Internet Archive ROM Launcher add-on.
When the download completes, go to the add-ons menu, choose My Add-ons > All, then run the ROM launcher.
Choose "Configure" from the icons, then select External Launchers.
Tell Kodi where your emulators are located, then click OK.
Launch the add-on, pick your system, choose a game, then start streaming!
What's the Best Controller for Kodi?
Now that Kodi is supporting more games, it's time to sit down and seriously consider your controller options. Gamepads are available in every size, configuration, and price range imaginable. Below are some of our favorites that work well with a wide variety of titles and won't cost you an arm and a leg.
Xbox Controller
Microsoft has gone to great lengths to ensure Xbox 360 and Xbox One controllers are perfectly compatible with Windows-based PCs. For the most part, you should be able to just plug the controller in, wait for installation to complete, then start gaming.
The Xbox controllers have the distinct advantage of both analog stick and d-pad buttons, perfect for playing modern games or classic titles. The layout is ergonomic and easy to remember, and the controllers are competitively priced. You can't go wrong with a good Xbox gamepad to use with Kodi. It's a great base-level starting point for all of your emulation needs.
PlayStation Controller
Got a PS3 or PS4 controller laying around? These make surprisingly good emulation gamepads, especially since they push the d-pad closer to your thumb. The button layout is familiar, the price point is just right, and the ergonomics are good enough to let you game for hours without discomfort. The downside is PlayStation controllers need third party software to run on most operating systems. If you're ok hunting down the right drivers, though, this is a good option for Kodi gaming.
Logitech Gamepads
Logitech makes a ton of different PC accessories, everything from keyboards to USB dongles. The company puts out a number of simple, inexpensive controllers, as well. One of the most popular is the Logitech F310. This gamepad mimics the PS3 controller's design with mirrored analog sticks, four face buttons, a d-pad, and trigger buttons on the top. The grips even have comfortable rubber sides to give you a better hold when things get intense.
iBuffalo Classic USB Gamepad
The go-to standard for retro emulation fans. iBuffalo's SNES-style USB controller looks and feels fantastic. It's got four face buttons, two triggers, a solid d-pad, and a few fun extras. No analog stick here, however, but if you plan on sticking to NES and Game Boy-era games, this inexpensive option will do you just fine.
Conclusion
Kodi has been an irreplaceable resource for free media management and entertainment for years. With its step into the gaming world, you'll have one less reason to close the program, and one more reason to keep having fun. And with the right controller, you'll never know the difference between Kodi and a dedicated console!