We are reader supported and may earn a commission when you buy through links on our site.
Learn more
Is The Legend of Korra on Netflix? Countries Where You Can Watch
The Legend of Korra was finally added to Netflix in the United States, and we're eager to get to watch the whole thing. If you also want to learn how you can watch The Legend of Korra, no matter where you live, we can help guide you.
The Legend of Korra aired between 2012 and 2014 of Nickelodeon, and it's a sequel to Avatar: The Last Airbender, another great series that aired between 2005 and 2008.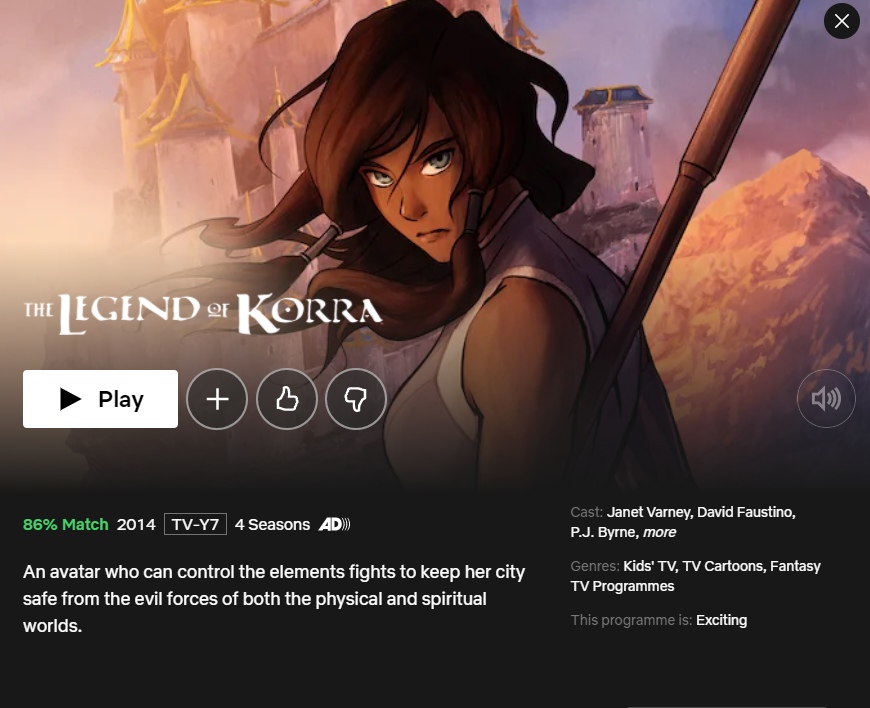 The series is set in a fictional universe where some people have the power to "bend" the elements – water, earth, fire, and air. Only the Avatar has the power to bend all four elements, aiming to maintain balance in the world. The Legend of Korra follows Avatar Korra, trying her best to keep up with a fast modernizing world.
The show is voiced by lots of cool actors – Janet Varney, Seychelle Gabriel, David Faustino, P.J. Byrne, J. K. Simmons, and Mindy Sterling. The list of supporting voice actors is just as impressive, with Aubrey Plaza, Zelda Williams, John Michael Higgins, Lisa Edelstein, and more.
Is The Legend of Korra on Netflix?
Netflix features all four "books" (or seasons), so you can enjoy the full story in one go.
It will take you about a day to go through it, but we advise you to break it up in smaller doses, so you get to eat something here and there.
The Legend of Korra Netflix Countries
The Legend of Korra was recently added to Netflix in the United States, and that's all we need so we can watch it worldwide. As you probably know, Netflix has different content libraries in each country it is present in, so even if you pay similar subscription rates, you're getting different content than your neighboring countries.
As frustrating as this can become, there's an easy way to access everything you're interested in, as long as you have an Internet connection, an active Netflix subscription, and a VPN.
30-days money back guarantee
How can I use a VPN to watch The Legend of Korra?
Those who want to watch The Legend of Korra will need a VPN. Each library Netflix has is geoblocked, which means it's only available for people in that specific region. Geoblocks, however, are meant to be broken, and you can do that easily with a VPN.
These tools are complex and can route your Internet connection through foreign servers while assigning a new IP address to your account. This will make you appear to be in a different location, such as the United States, even if you're halfway across the globe. Such practices are also useful for those who often travel and want to access the platforms they're subscribed to while at home.
If you don't know which tool to use, we have one recommendation that managed to perform brilliantly – NordVPN. It has servers all over the world, including dozens in the United States, works with great encryption protocols, and is super easy to operate.
Here's what you have to do to watch The Legend of Korra on Netflix US:
There you go! Enjoy The Legend of Korra!
Won't Netflix know I'm using a VPN?
Netflix does indeed have technology that it's supposed to help it find people who are using VPNs. However, it doesn't always work like that and if you're using the right tools, you'll fly under the radar.
When using NordVPN, we've had no issues with getting to bypass the blockades on Netflix or elsewhere, but it doesn't mean that it's impossible for this to happen. In fact, if it does, we know just what you need to do – contact Customer Support. Since they have someone available 24/7 you'll be able to get in touch with them anytime you need it, regardless of the timezone you're on and what the time is. As soon as you explain your situation, they'll be happy to help you figure out which server to use.
Can't I use a free VPN instead?
Using free tools online is something we all do, whether we're talking about a music player or an email provider. When it comes to VPNs, however, we really don't advise anyone to grab one of those apps.
Free VPNs are either useless or dangerous, so they're certainly not something you should get on your device. You see, oftentimes, free VPNs have been discovered to pose a major security risk for users. Security researchers had various "free VPN" tools pulled from app stores because they were actually hiding malware. The malware collected all sorts of data on the victims – login details for email accounts and social media profiles, credentials for online banking accounts, and any other piece of information that could be useful to the authors.
The data was then used to hack into accounts for identity theft, banking fraud, data breaches against employers, phishing campaigns against friends and family, and so on. The risks are simply too high.
Editor's note: NordVPN is our #1 choice for unblocking Netflix. Sign up for the 2-year plan with NordVPN at $3.49 per month, as well as 3 months for FREE. A 30-day money-back guarantee is included on all plans, so you can cancel any time and get your money back.
Then, there are also "clean" VPNs you can get, but they're often unusable. Not only are they the first to get blacklisted by Netflix, but even if they could get past the blockade, you'd have to suffer incredibly low Internet speeds since the servers they use are overcrowded. With premium tools, that's not an issue and Internet speeds are barely (if at all) affected.
There are also VPNs that will allow you to use their tools for free if you allow them to use your device as a server point for other users, which will impact your computer's performance. Once more, these are not tools you'll want to use.
Paying for yet another subscription is not something that anyone would want, and yet, this is the right way to go about things since it gives you the power to watch anything from anywhere, while also maintaining your privacy. Plus, avoiding risks and annoyance is something everyone should strive for.
Parting words
The Legend of Korra paints a superb universe that we all want to be a part of. The fact that we can finally enjoy the show on Netflix is such great news and we hope you all find it that much easier to keep up with everything.