We are reader supported and may earn a commission when you buy through links on our site.
Learn more
Live Tennis on Kodi – Best Addons to Watch Tennis with Kodi
Tennis is a truly compelling sport. It is a unique mix of skill, strength, speed, and stamina. Small wonder then that it is one of the most popular spectator sports in the world and makes household names of its biggest stars. But keeping up with tennis matches can sometimes be difficult. This is because the sport itself comprises of four grand slam tournaments and many more smaller tournaments which take place all over the world. As well as being played at different times of day, the rights are also sold to various different broadcasters, meaning you can never be sure you will be able to watch the next competition.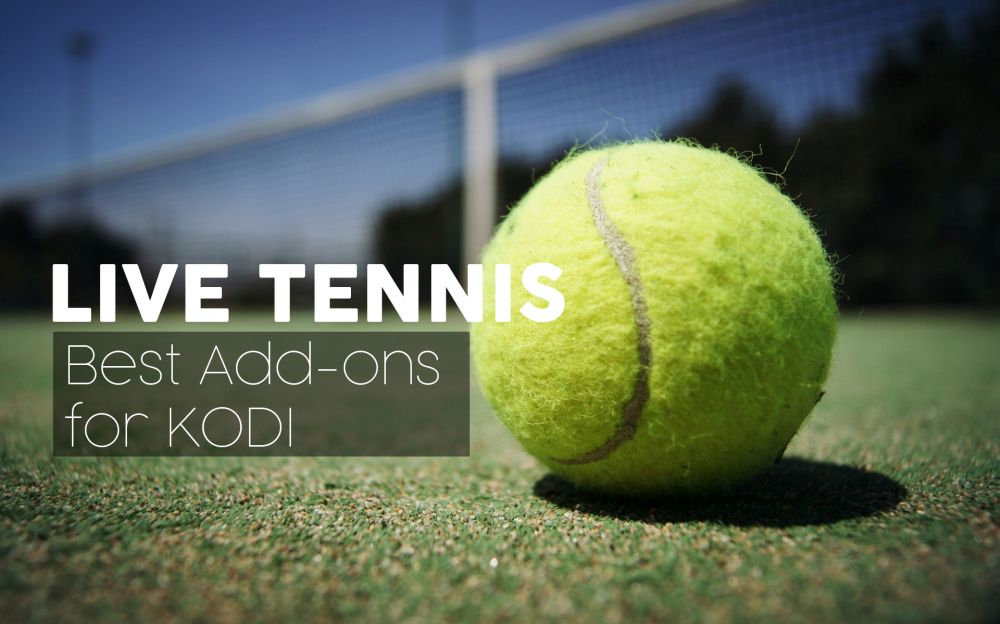 However, the advent of Kodi has changed all of that. For fans, Tennis on Kodi can be a much more user-friendly experience. This is because there are a number of aggregator sites which bring together live sports streams from different broadcasters around the world in a single addon. This makes them ideal for finding streams of the latest tennis tournament, wherever in the world it may be taking place. In this guide, we shall be giving a rundown of the very best addons to watch live tennis on Kodi. Following your favourite tennis star has never been easier.c
30-days money back guarantee
Before You Use Kodi, Install a VPN
If you are planning to use an unofficial Kodi addon to watch live tennis, it is highly advisable that you make use of a VPN before you start. While Kodi itself is 100% legal, some of the addons which enable users to live stream sports content are not. A number of Kodi users have received legal notices as a result of streaming live sport on these unofficial addons. Some have even faced further legal action. But using a VPN protects you from such repercussions. It can render you anonymous online and encrypt all your online traffic to make it secure.
The Best VPN for Kodi – IPVanish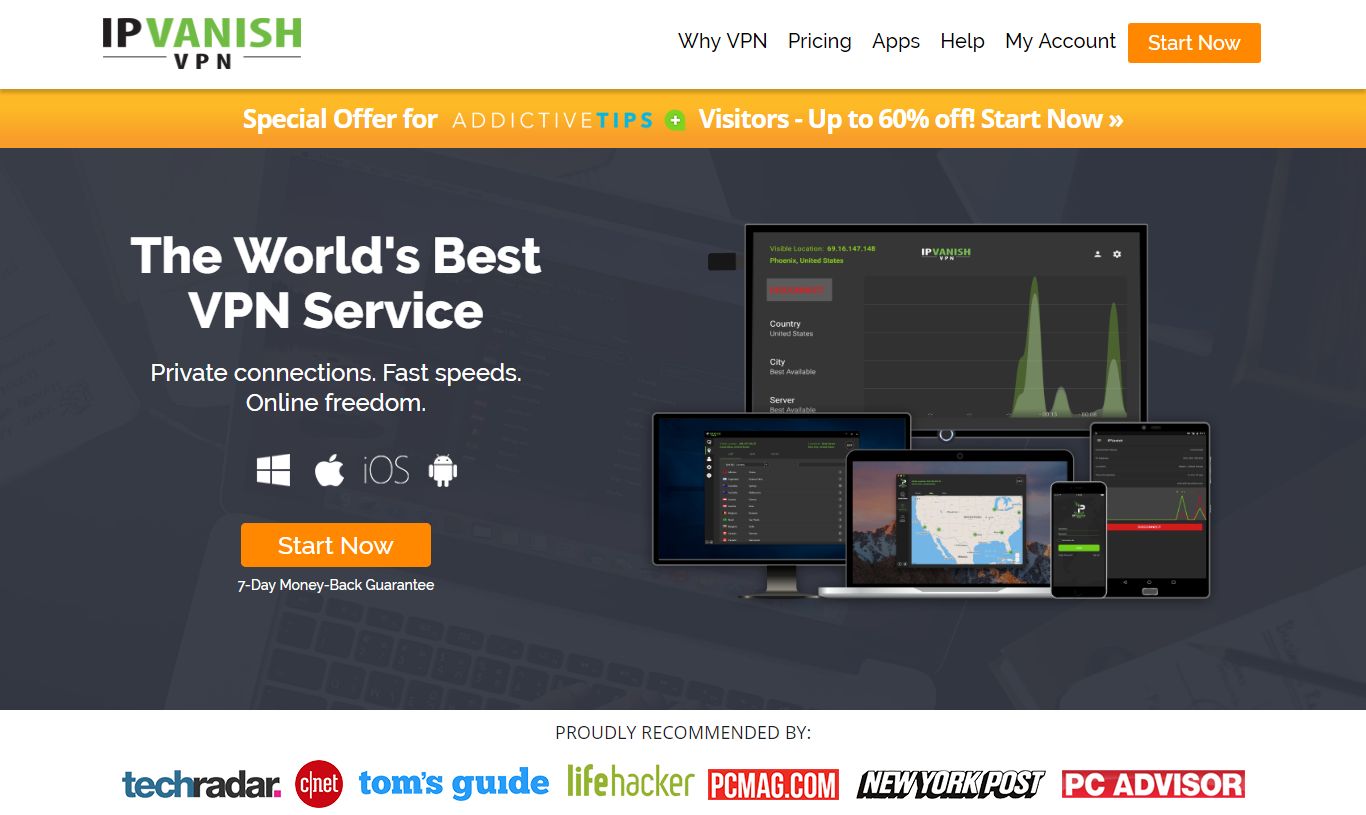 IPVanish is the best VPN provider on the market right now for those who use Kodi for live sports streaming. This provider offers some of the fastest connection speeds around, which are reliable no matter which server you connect to. They also offer top-notch 256-bit AES encryption, DNS leak protection, an automatic kill switch, and a guaranteed no-logging policy which means you can be sure of your online privacy. In addition, IPVanish has more than 850 servers available in 61 countries around the world and absolutely no restrictions on either data or file type usage. Put all this together with their user-friendly apps available on almost every device and the inevitable conclusion is that IPVanish is the best VPN on the market right now.
IPVanish offers a 7-day money back guarantee which means you have a week to test it risk-free. Please note that Addictive Tips readers can save a massive 60% here on the IPVanish annual plan, taking the monthly price down to only $4.87/mo.
Best Tennis Addons for Kodi
Finding coverage of the Grand Slams is usually not too hard, but real tennis fans want to enjoy more than just four tournaments a year. They want to see coverage of Masters Series events, ATP and WTA tour events, and even challenger series events. This can be tough as these tournaments take place all over the world and frequently are only broadcast locally.
But Kodi developers have created a solution. The various unofficial sports aggregator addons which can be downloaded onto Kodi bring together live streams of matches from sources across the globe in one place. This means you can watch anything from the big grand slam finals to the smallest challenger event from the comfort of your own living room. Below you will find our guide to the very best sports aggregator addons which offer access to a huge range of live tennis for you to enjoy.
SportsDevil

Sports Devil is one of the oldest sports aggregator addons still functioning. Its developer is still updating it which means it remains a great place to find live sports streams, including tennis. They offer a huge range of stream options, some of which are even in HD quality. As much of their content comes from regional sources, you will find some content is geo-restricted. However, connecting your VPN to a server in the correct location should enable to unblock most of these.
As an aggregator, you will naturally encounter some broken links as the source locations experience problems. But the quality of links available means this rarely stops you enjoying the content you want to. When opening the SportsDevil addon, click on the live sports menu option and this will take you through to a list of sources. Some of these are focused on a single sport, but most offer general links to a broad range of sports and there are no shortage of tennis options available.
Sportie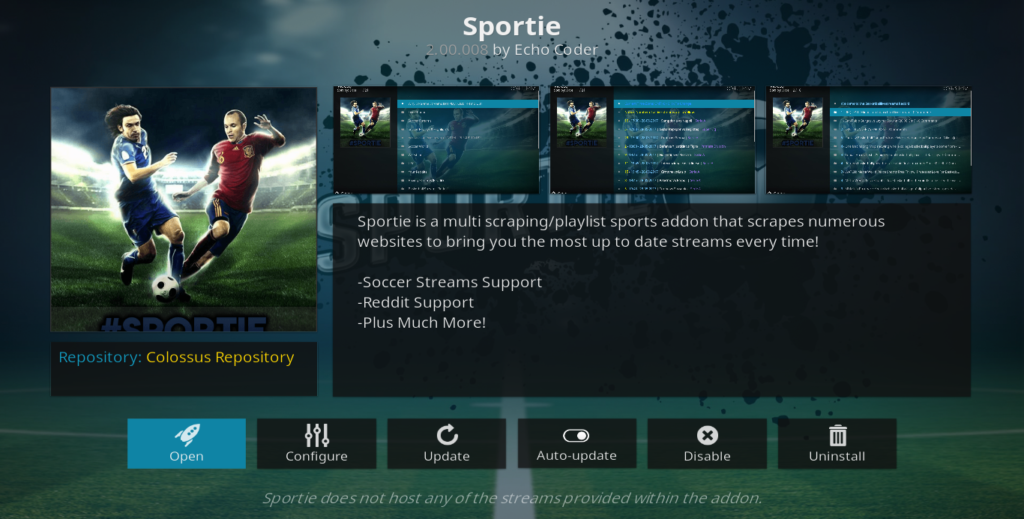 Sportie is a relative newcomer to the Kodi community but it is already a firm favourite with sports fans. It is also an aggregator site, but it sources content from different places to SportsDevil, including AceStreams and Reddit. It also has a few more features which cannot be found together in any other addons. These include the huge range of links scraped from Reddit and a Sports Scrapers section which is a great way to identify current live sports events which are available.
In their Live Channels section, you will find List A and List B, which is a little confusing. But these do offer different content so it is worth exploring both. The depth of content available on Sportie is enormous and even better, most of its links appear to work too. If you cannot find the tennis match you are looking for on Sportie, the likelihood is you aren't going to find it anywhere.
cCloudTV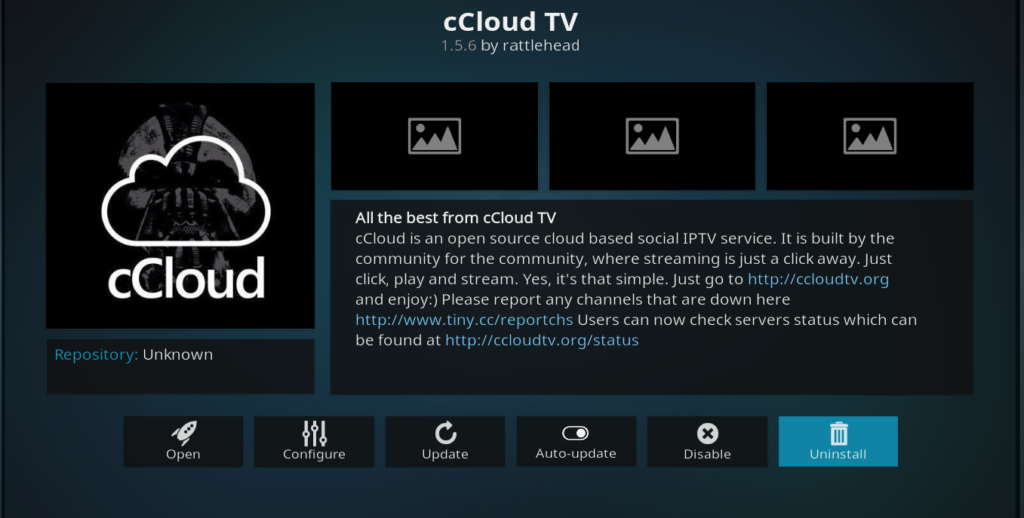 cCloudTV is the best live IPTV TV addon available at the moment. It offers streams of hundreds of TV channels from around the world, including 150 in their sports section alone. These include most of the major sports channels from the big markets of the UK, the USA, and Europe, but there are also plenty to other places such as Russia, the Middle East, and Asia.
This broad range of channels means cCloud can allow users to watch tournaments from all parts of the world through their local TV coverage. The language used may not be one you speak, but you will be able to see the action and soak up the atmosphere just as well. Most of cCloud's links work well, so the only tricky bit can be finding the right channel to watch. But with a little research, cCloud can help you see a great deal of live tennis from all over the world.
Goodfellas 2.0

Goodfellas 2.0 is a great site for sports fans that is nevertheless often overlooked because it offers so many other things too. To get started, click through to their Sports/Events page and then select Other Sports. Here you will find a list of currently available streams from various sports, but with tennis often to the fore.
This addon has a great selection, from sources all over the world, but is sometimes let down by its dodgy reliability. Broken links are not too much of an issue, but buffering can be with some links. This can be frustrating when you are trying to watch a live game. But if you do find a fast enough link, the quality of the picture should be high and Goodfellas 2.0 is definitely an addon worth considering for tennis fans.
BBC iPlayer WWW

The biggest tennis tournament in the world is Wimbledon and the best coverage of that event bar none can be found on the BBC. Their online streaming service is called iPlayer and a Kodi addon is available from the official Kodi repository. On here you will find extensive coverage and highlights on Wimbledon, plus coverage of select other tennis events, from the UK and abroad.
Because the iPlayer addon is an official one, the quality of the streams are always of a very high standard. The service is restricted to the UK however, so you will need a VPN connected to a UK server if you are not based there. But for Wimbledon at least, this addon will allow you to watch tennis nonstop from morning to night.
And that's it for our writeup on options to watch Tennis via Kodi. Did we leave your favourite out of this list? If so, let us know about it in the comments section below!