We are reader supported and may earn a commission when you buy through links on our site.
Learn more
How to Watch Paddington on Netflix from Anywhere
For quite a few decades now, Paddington has been a part of children's lives and we are so happy that several films have already become a part of it, too. The first time we saw Paddington on screens was quite a while back, but the most recent movies are quite a delight. Thankfully, we can watch some of them on Netflix.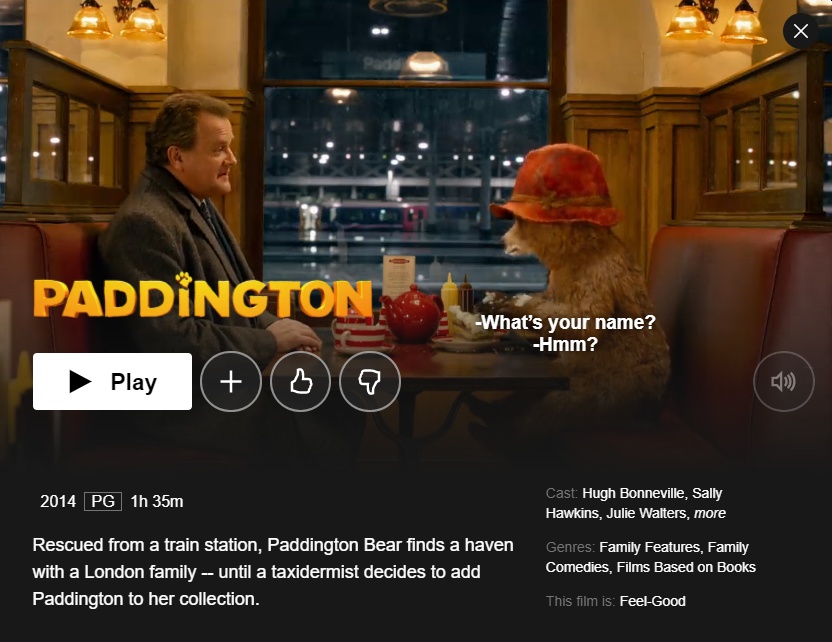 Paddington Bear is a fictional character that first appeared back in 1958, thanks to the wonderful Michael Bond. The friendly bear ends up in the United Kingdom coming from Peru. However, he slowly but surely becomes a part of the Brown family who adopts him.
Of course, being a young bear, he is quite adventurous and mischievous, and he gets into a lot of trouble without really meaning to, which makes him extremely adorable.
In 2014, a British live-action animated comedy film was created featuring Ben Whishaw, whom you'll know from movies like Perfume, No Time to Die, Mary Poppins Returns, or The Danish Girl, and he is also the voice of Paddington. Hugh Bonneville, Sally Hawkings, Julie Walters, Peter Capaldi, and Nicole Kidman appear in the movie as well. In 2017, Paddington 2 was released, and it features pretty much the same group of actors, except Kidman, but we did get to enjoy Hugh Grant instead.
Both films had success at the box office. For instance, Paddington 2 had a budget of about $40 million but ended up with box office success of close to $230 million. The bottom line is that both films are extremely adorable, and they are perfect for a night in which the family sits together.
30-days money back guarantee
Is Paddington on Netflix?
Those of you who are hoping to watch Paddington on Netflix should be quite happy to know the films are available on the platform. However, given the fact that Netflix is available in about 200 countries and it has individual libraries in each of them you won't find Paddington movies everywhere. However, you will find them here and there, and if you have a VPN, you'll be able to watch everything.
Is Paddington on Netflix?
We did manage to find Paddington on Netflix, and we did that over in Canada. If you live in Canada, you are quite lucky as you get to watch the film. Otherwise, you'll need to connect to a server from this particular location.
Is Paddington 2 on Netflix?
We also found Padding 2 on Netflix, but it's not available everywhere. We did manage to find it over in the United Kingdom and Romania.
How can I watch Paddington on Netflix?
As you know, Netflix is available in numerous countries and has libraries in each location. It won't let people from other places stream content from neighboring countries due to the licensing deals they have. The same applies to Paddington, and if you do want to watch the movies, you simply need to use a VPN to make things work.
VPNs have the power to route your internet connection through a foreign server and assign a new IP address to your device, which will make it seem like you are in that new location. For instance, if you live in the United States and want to watch the first Paddington movie, you'll need to connect to a server in Canada, while if you want to watch Paddington 2, you'll have to connect to a server in the United Kingdom. It's pretty straightforward.
If you don't know which VPN to use, we kindly recommend NordVPN, which is the tool that managed to get the best results for us during our testing period. NordVPN has servers in dozens of countries around the world, including the United Kingdom and Canada, so you'll easily be able to stream Paddington movies.
Here's what you need to do:
You'll have to start by subscribing to NordVPN. You can get NordVPN for 3 months for free if you grab the deal now, as well as 68% OFF the 2-year plan and we advise you to do that.
Once your account is done, you'll need to get to the apps for your device and find a server in the desired country so you can watch Paddington. Keep in mind that Paddington 2 can be watched over in the United Kingdom, and Canada has the first one available.
As soon as the connection is established, the one thing that's left for you to do is to reload Netflix in your browser or relaunch the app on your device. Netflix will now believe you are in the selected server's location and deliver the library available in that specific country for you.
See, it wasn't that hard. And even though it's an extra step for you to be able to watch all these movies, it's one that can get you all the content you want, regardless if we're talking about Paddington or not.
Won't Netflix know I'm using a VPN?
One of the issues people have with VPNs is that Netflix sometimes knows when you are using one. Not only do they know you are using one, but they will also block you out so you won't be able to watch the content you want so much. When it comes to premium VPNs like NordVPN, however, this is not a common occurrence. In fact, NordVPN does a really good job at bypassing these restrictions that Netflix has imposed and has countless servers that fly under the radar – but that cannot be said for free VPNs, of course.
If you do happen to have any kind of issues with NordVPN, they have a customer support team that is available 24/7 that you can access from anywhere in the world. Regardless of what problems you have, they are more than happy to guide you towards a more suitable server to serve your needs.
Why not use a free VPN instead?
We know that paying for another subscription – for a VPN, for instance – is not something that you would like to do given all the bills we all have to pay every month, but it's something that is a good investment in your privacy and security.
VPNs are often used as a shell by cybercriminals, who actually inject malware in the code. Once installed, they will start funneling all the information from your device. This can lead to anything from financial fraud to identity theft, and even worse, breaches against your employer if you use the same devices. The risks are very high, and you need to take them seriously.
Editor's note: NordVPN is our #1 choice for unblocking Netflix. Sign up for the 2-year plan with NordVPN at $3.49 per month, as well as 3 months for FREE. A 30-day money-back guarantee is included on all plans, so you can cancel any time and get your money back.
You should take into consideration that free VPNs have little to no funds and have few servers at their disposal. However, they will have a lot of users because everyone wants free services. When you mix the two elements together, you will notice that you get overcrowded servers, which will translate into very low speeds that will barely get you to load a text-based website, much less stream a movie like Paddington.
Even if the whole thing works, you'll not be able to watch anything in good quality. You'd still have to bypass the Netflix blockade against VPNs, and we are sad to say, but free VPNs are the first to get blacklisted.
Also, there are tools that use peer-to-peer routing, which means that you'll be offering up your own device as a server of sorts for other people to use, while you use theirs. This will greatly impact your device's performance and can also be quite dangerous. We say that because they do not use encryption and collect data on your Internet activities. Furthermore, the usage of your computer resources doesn't stop when you stop using the app, so it will continue to exploit your device in the background. All in all, this type of apps is best to avoid.
Final thoughts
Paddington is really a great movie, and we are eager to watch it whenever we have the mood for it. Using a VPN is definitely worthwhile, as you get to be wherever you need to be in the world with a simple tool.