We are reader supported and may earn a commission when you buy through links on our site.
Learn more
How to Watch Peaky Blinders on Netflix from Anywhere
For anyone who loves crime dramas, Peaky Blinders is undoubtedly a show that is a must-watch. Thankfully, Peaky Blinders is available to stream on Netflix, so let's go see what needs to be done.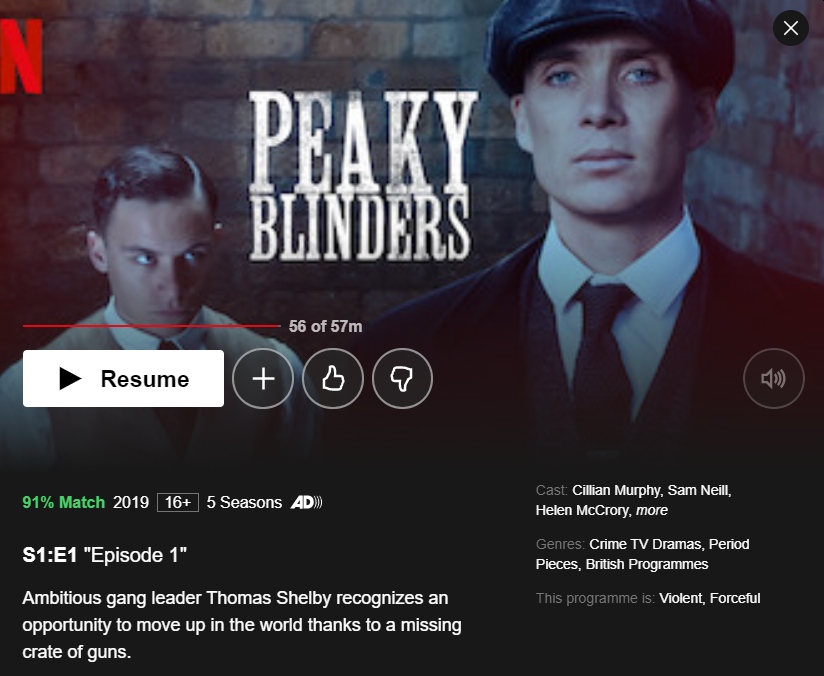 Peaky Blinders follows the Shelby crime family after the first World War. The show is actually based on a real urban youth gang back in the 19th century to the early 20th century. The cast includes Cillian Murphy, Helen McCrory, Joe Cole, Paul Anderson, Tom Hardy, Sam Claflin, and many others.
So far, we've seen five seasons of the show, and another two are supposed to be released before the story is complete. There is really no indication when a sixth season is supposed to arrive, so we're just going to hope for the best and cross our fingers that we're going to get it sooner rather than later. Of course, considering the fact that the first season was released in 2013, the second in 2014, the third in 2016, the fourth in 2017, and our latest in 2019, we can maybe hope for next year. All seasons have had six episodes, so we're going to expect the same from future ones as well.
Is Peaky Blinders on Netflix?
Peaky Blinders is a show that is available to watch on Netflix, but it truly depends on where you live because the show isn't present in all countries where Netflix is available. As you probably already know, Netflix has a presence in close to 200 countries, but not all its libraries are the same. They all depend on the licensing deals they managed to get and the other locally available platforms.
30-days money back guarantee
We managed to find Peaky Blinders in the United States, the United Kingdom, and Canada, but we also find that it was missing in countries like South Korea or New Zealand, for instance.
When Will Peaky Blinders Season 5 Be on Netflix?
The fifth season of Peaky Blinders is actually already available to stream on Netflix, especially in the United States, and you'll get to watch it anytime you want as soon as you log in to your account.
How can I watch Peaky Blinders from anywhere on Netflix?
If you're hoping to watch Peaky Blinders even if it's not available on your local Netflix library, you can still do that by using a VPN. Since all libraries that Netflix has are geoblocked, and you can only access them from the country they are designed for, you will need a VPN to bypass this blockade and enjoy the content.
A VPN can route your internet connection through a foreign server and assign a new IP address to your device, so you appear to be in that specific location. Our recommendation is to use NordVPN, which is a really great tool with thousands of servers in numerous countries of the world, including the United States and the United Kingdom. It also has some top-of-the-line encryption protocols at work, so you'll get to protect your privacy while browsing the internet.
Here's what you need to do to watch Peaky Blinders anywhere with a VPN:
First off, you'll need to subscribe to NordVPN, which is something that will only take a few moments. NordVPN offers 3 months for free and 68% OFF for the 2-year plan, so make sure you grab the deal as soon as possible.
You now need to get to the app for your device and find a server that is located in the United States or the United Kingdom to watch the content.
As soon as the connection is established, you'll need to load Netflix in your browser or relaunch the app on your device. Now that you appear to be in this new location, Netflix should display Peaky Blinders when you search for it. Start streaming and enjoy the show.
That's all you have to do! It's really not that difficult when you know what needs to be done.
What if Netflix knows I'm using a VPN?
It's true that Netflix has been known to detect people who are using VPNs and block their access, but this doesn't usually happen with premium tools like NordVPN. Of course, it doesn't mean that it can't happen at one point or another, just that it's highly unlikely to. If you do find that you cannot access Netflix with NordVPN, you should start by switching the server and clearing out your cookies.
If that doesn't work for you, you should simply contact the NordVPN Customer Support, and they'll be more than happy to guide you through the process and find the perfect server for your needs. Since they are available around the clock, you shouldn't worry about your actual location, which can sometimes happen with various online tools.
Why can't I use a free VPN instead?
One of the biggest issues people have with premium VPNs is that they will cost you a monthly or yearly subscription, and we've all become accustomed to using online tools for free. There are some instances, like with VPNs, when this is actually not the right way to go. Free VPNs are the first to get detected by the likes of Netflix, so you might not even get to watch any of the content you want because of that.
Another issue we have with free VPNs is that they are often not what they seem to be. Cybersecurity professionals have discovered malware that was disguised as VPNs in app stores. Once the VPN was installed on the device, it could start funneling information to the cybercriminals, and that information could be used for financial fraud, cleaning out your bank account, identity theft, and so on. If you use the same device for work, you could even end up being at the center of your employer's data breach, which is obviously not something you'd want to happen.
Editor's note: NordVPN is our #1 choice for unblocking Netflix. Sign up for the 2-year plan with NordVPN at $3.49 per month, as well as 3 months for FREE. A 30-day money-back guarantee is included on all plans, so you can cancel any time and get your money back.
Even if free VPNs are clean of malware, you should know that they are unlikely to deliver proper quality streaming. That's mostly because they have only a handful of servers at their disposal, but they have loads of users, resulting in overcrowded servers and in really low internet speeds. Obviously, that can be a problem, especially since streaming movies or series on Netflix can take a lot of bandwidth.
There are also free VPNs that will trade their service in exchange for access to your device's power. Peer-to-peer routing means that you'll be using someone else's computer as a point of access while others use your device. For obvious reasons, this can be a bad thing for your device's performance but also for your security. Not only are these apps not encrypting your connection, but they are also logging in your internet traffic, which is not supposed to happen.
Final thoughts
We know that your budget is important at the end of the month, but if you really want to watch Peaky Blinders and it's not available locally, please invest in a VPN like NordVPN, as it's the best thing you can do for your privacy and security.