We are reader supported and may earn a commission when you buy through links on our site.
Learn more
How to Watch Jumanji on Netflix from Anywhere
We love Jumanji film just about as much as anyone else and enjoy the sheer craziness they bring. But, can we watch Jumanji on Netflix?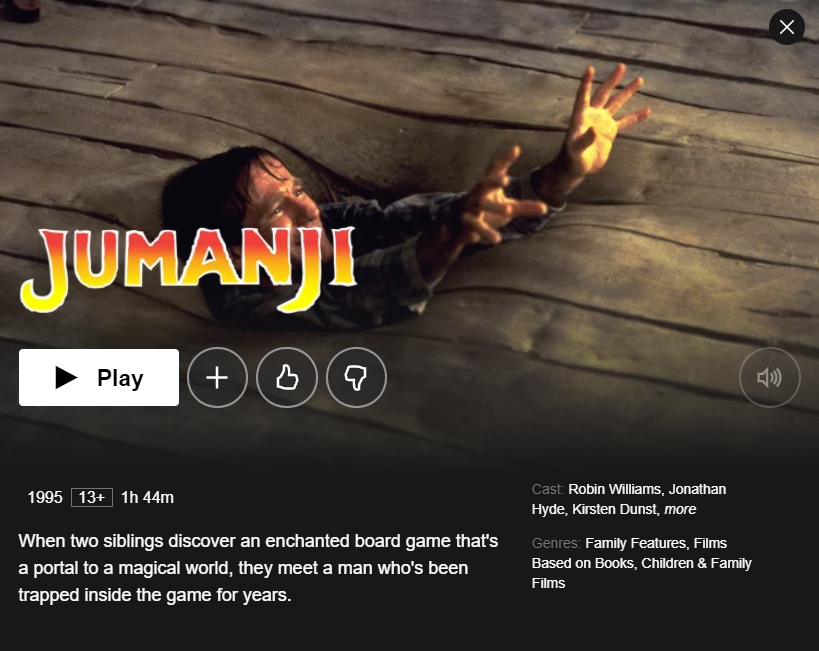 Jumanji is a lovely franchise that started back in 1981 when the first books were released. The first film was released in 1995, and the latest one in 2019. So it's an ongoing story that deserves to be told.
Back in 1981, American writer Chris Van Ellsberg wrote Jumanji, and later on, in 2002, he also released a sequel called Zathura. The plot follows the adventures of various people who are caught playing Jumanji and taken into another world that unleashes dangerous elements upon them and the others around them.
The series is certainly attractive for children and adults alike, and it's extremely easy to follow all the action and adventure. The first movie in the series was released in 1995, and it features the wonderful Robin Williams, as well as Kirsten Dunst, Bonnie Hunt, and many others. The second movie that was released is Zathura: A Space Adventure, which featured Josh Hutcherson, Dax Shephard, and even Kristen Stewart.
The most recent films, however, are Jumanji: Welcome to the Jungle and Jumanji: The Next Level – which features Dwayne Johnson, Jack Black, Kevin Hart, Karen Gillan, Nick Jonas, and quite a few others we are sure you'll be eager to watch.
The movies have been quite successful over the years, and for instance, the first Jumanji with Robin Williams had a budget of about $65 million, and it managed to bring in over $260 million at the box office. Welcome to the Jungle from 2017 had a budget of somewhere between $90 and $150 million, and it got very close to breaking down the billion-dollar mark at the box office, as it was the fifth highest-grossing film of the year. Considering that it was released in December, this is quite a feat.
Jumanji: The Next Level, which was released in 2019, also had a budget of about $130 million, and it brought in over $800 million at the box office, becoming the 10th highest-grossing film of 2019. A sequel is in development, but we have no clear idea exactly when it's going to be released, but we can all hope it's going to be soon. However, given the problems that the pandemic has brought for movie filming everywhere, it might take a while longer than we wish it did.
Is Jumanji on Netflix?
Jumanji is available to watch on Netflix, but it does depend on where you live and whether you're willing to put in the effort to watch them if they're not present in your local library.
Like most titles available on Netflix, Jumanji films aren't available to watch everywhere in the world due to licensing deals that Netflix may or may not get its hands on, what other streaming platforms are available locally, and so on.
30-days money back guarantee
This is happening because Netflix has to respect those same licensing deals we mentioned, which clearly indicate where they are allowed to release those movies. When it comes to Jumanji, you won't get the films in the USA, apart from Zathura: A Space Adventure, which wasn't exactly the most successful of the bunch.
You will, however, find the first Jumanji film, as well as the two most recent ones over in Canada, Australia, or the UK.
Is Jumanji: Welcome to the Jungle available on Netflix?
Suppose you're hoping to watch the first film of the newer Jumanji series on Netflix. In that case, you are quite lucky because we managed to find Jumanji: Welcome to the Jungle in the United Kingdom, Canada and Australia, as well as Romania, if you are interested. The film is missing from the United States, however.
Is Jumanji: The Next Level available on Netflix?
Again, it depends on where you are located, but the second film of Jumanji featuring The Rock is available in several countries, including the United Kingdom, Canada, and Australia.
Also, Jumanji: The Next Level is missing from the United States.
How can I watch Jumanji on Netflix?
Regardless of where you live, if you have a Netflix subscription and an internet connection, as well as a VPN, you will be able to enjoy watching the Jumanji films on the platform. A VPN can route your internet connection through a server of your choice and make it seem like you are in that location when you're accessing Netflix. In this way, you'll be able to watch any of the Jumanji films you are interested in.
VPS are complex tools that allow you to connect to servers from Australia, the United Kingdom, or Canada, for instance, so you can watch the exact Jumanji film you desire. Our recommendation is to use NordVPN because it's such a great tool that has thousands of servers all over the world and has some top-of-the-line encryption protocols at work. Thanks to these, your Internet connection is protected and your identity hidden, so you can stream content in another country on Netflix.
Here's what you need to do.
The first thing you'll have to do is subscribe to NordVPN, considering they are offering 3 months for free and nearly 70% OFF the 2-year plan. So you should definitely grab that deal as long as it's available.
Next, you have to get the app on your device and sign in to your account to clear everything up.
Finding a server in one of the countries we just mentioned is up next, and you'll have to choose between the United Kingdom or Australia, or even Canada, so you can watch Jumanji because they are available in these specific countries.
Once the connection is established, you will appear to be in one of these new locations, so you'll be able to load Netflix in your browser or relaunch the app on your device.
Next, look for the Jumanji film you are interested in watching and simply stream it.
What if Netflix knows I'm using a VPN?
One of the biggest issues people have when using VPNs is that the streaming services commonly detect them and continue blocking your access. When it comes to premium apps like NordVPN, this doesn't usually happen because they have loads of servers ready and so many options available to hide your identity.
And while it's true that we haven't had problems with NordVPN and Netflix, it doesn't mean that it can't happen to you overnight, as Netflix sometimes blocks various IP families. If it happens to you that you can't access Netflix with the usual server you are accustomed to, you should switch the server first. And if that doesn't work, go ahead and contact the NordVPN Customer Support team. On NordVPN, customer support is available 24/7, so it doesn't even matter where you are in the world, as someone will be available to help guide you.
Why not use a free VPN instead?
We understand that using a premium VPN is going to cost you money and that it is probably not on your budget list, but it's an investment that you make in your own privacy and security. Often over the years, free VPNs have been discovered by security risk searchers carrying malware. In short, if you install one of these apps without knowing that it's malware, you are in big trouble.
Your device will get infected, and all your information could be funneled out to these cybercriminals. As they steal your information, you could become a victim of financial fraud, identity theft, online blackmailing, and so on. Even your employer could be a victim of a data breach due to your device sending all your data to these cyber criminals. Obviously, this is not a desirable outcome. Therefore, you should definitely think about things before installing just about any app on the App Store.
Editor's note: NordVPN is our #1 choice for unblocking Netflix. Sign up for the 2-year plan with NordVPN at $3.49 per month, as well as 3 months for FREE. A 30-day money-back guarantee is included on all plans, so you can cancel any time and get your money back.
Another thing you need to consider before getting a free VPN is that the apps have little funds to sustain the business, which means they have just a few servers at their disposal. However, since the app is free to use, there are going to be loads and loads of people clamoring to all the same servers. Mixing in just a few servers with a lot of traffic means that your internet speeds are going to be impacted to a level where streaming a film in good quality is a pipe dream.
There are also VPNs that use peer-to-peer routing, so you'll trade in access to your computer's resources so you can use the app. Your device will act as a sort of server for others to connect to and get an IP address that will help them bypass one blockade or another. This type of VPNs are dangerous and can negatively impact your computer's performance. Of course, they will also collect information on your Internet activity and forgo encryption entirely, making them a complete nightmare. They also don't stop working when you close the app, so your computer is affected as long as the app is installed.
Final thoughts
We understand that paying for a VPN is not ideal, especially as you already pay for Netflix and expect to be able to watch anything everyone else is from anywhere around the world. Still, it's just not how things work for a slew of reasons. As annoying as the whole situation can be, we do hope you will find that using a tool like NordVPN can be extremely useful, for it can save you from a lot of headaches.