We are reader supported and may earn a commission when you buy through links on our site.
Learn more
Best Alternatives to Popcorn Time and How to Stay Out of Trouble
Popcorn Time was a hugely innovative piece of online streaming technology which emerged onto the web like a whirlwind before disappearing again just as quickly.
Popcorn Time was an open-source torrenting service with a difference: it included a built-in media player which allowed users to stream torrent files immediately at the same time as downloading them. A number of reputable mainstream news sources drew comparisons between Popcorn Time and Netflix.
But the attention drew Popcorn Time into a firestorm from which it would never emerge. Attacked from all sides (most notably by the Motion Picture Association of America) over allegations of copyright infringement, the developers of Popcorn Time pulled the plug, stating they didn't want to get drawn into the issue any further.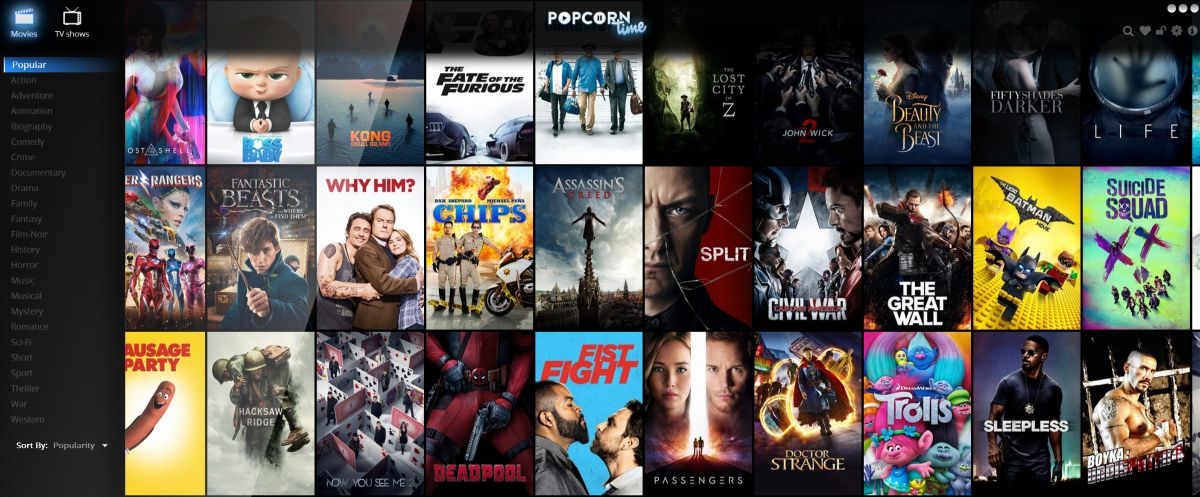 Users found themselves without an alternative to the service that Popcorn Time had provided for them. But not for long. Since Popcorn Time was open source, it was soon superseded by a variety of alternatives, many of which are still functioning today.
But before we introduce you to those, a little word about security when using services like these which are dependent on torrented files.
The MPAA and other copyright holders are always on the look-out for copyright infringers and it is very hard to know with torrenting where you are in the wrong or not. So, to be on the safe side, it is always best to use Popcorn Time alternatives with a VPN to ensure that your online traffic is encrypted and therefore safe from prying eyes.
The original Popcorn Time may be no more, but that doesn't mean that the premise behind the site has gone away. In fact, at the time of writing, there are a number of sites still online which offer users the same functionality as Popcorn Time.
Admittedly, some of these are a little dodgy in appearance, but others offer a very good service. In this article, I am going to profile six of the best alternatives to Popcorn Time.
#1 Popcorntime.sh
After the original Popcorn Time site was shut down, a couple of teams of developers worked with the original open-source coding to continue the development of the site. None of these was connected with the original developers of Popcorn Time.
However, one such fork has been endorsed by the original team and is still operational at the URL: Popcorntime.sh.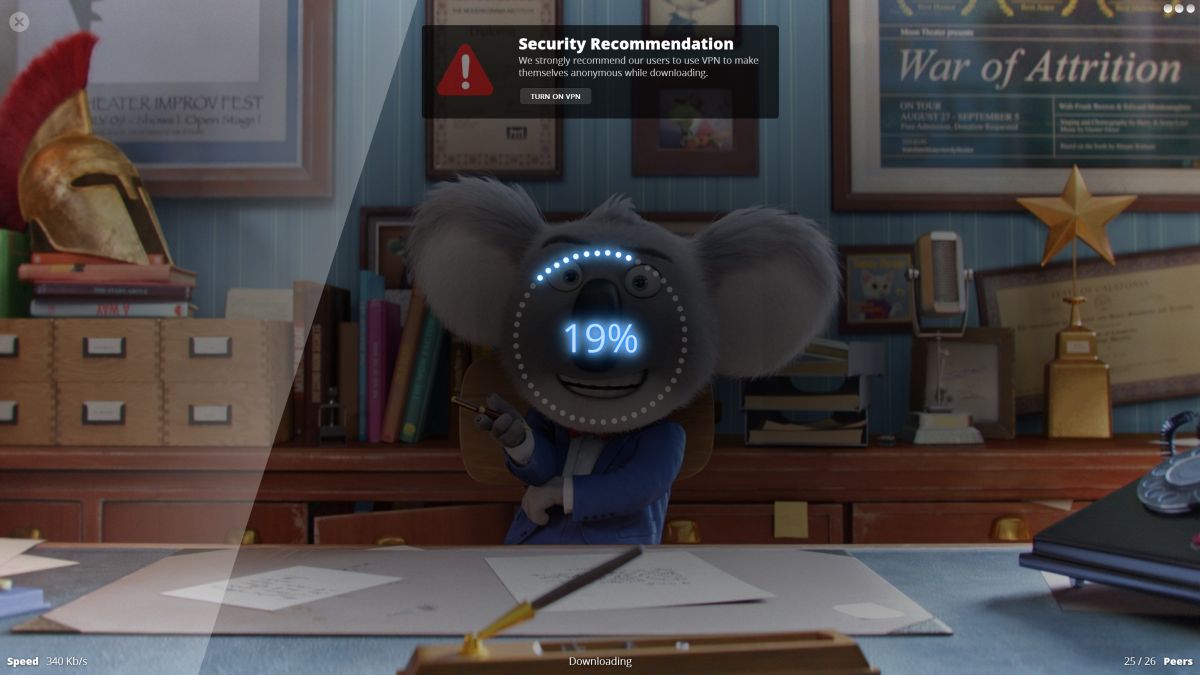 This version of the site originally re-emerged as Popcorntime.io on September 17th, 2014. But on November 3rd, 2015, the site was obtained by the Motion Picture Association of America (MPAA) after they won separate court cases against the site in Canada and New Zealand in October of the same year to have the site shut down.
But on February 16th, 2016, the site emerged again at Popcorntime.sh, where it remains to this day. It is not exactly the same as Popcorn Time, but it offers a very similar service. The only differences: users have to download the software before being able to stream content, and they do seem promote a very controversial VPN service. Speaking of forcing you to use a VPN service, the new app will do that no matter if you're using your own VPN solution, which doesn't get detected – we think – for commercial purposes, no?
#2 TorrenTV
TorrenTV is another site which allows users to watch torrented files immediately through a purpose-built, downloadable media player.

TorrenTV has a pretty slick design and is also fairly easy and intuitive to use. Users simply have to drag and drop the file they want to watch into the media player and it will start streaming and downloading the content simultaneously.
TorrentTV is available for Windows, Mac, and Linux devices and also interfaces with the Apple TV and other streaming services. A great option.
#3 Zona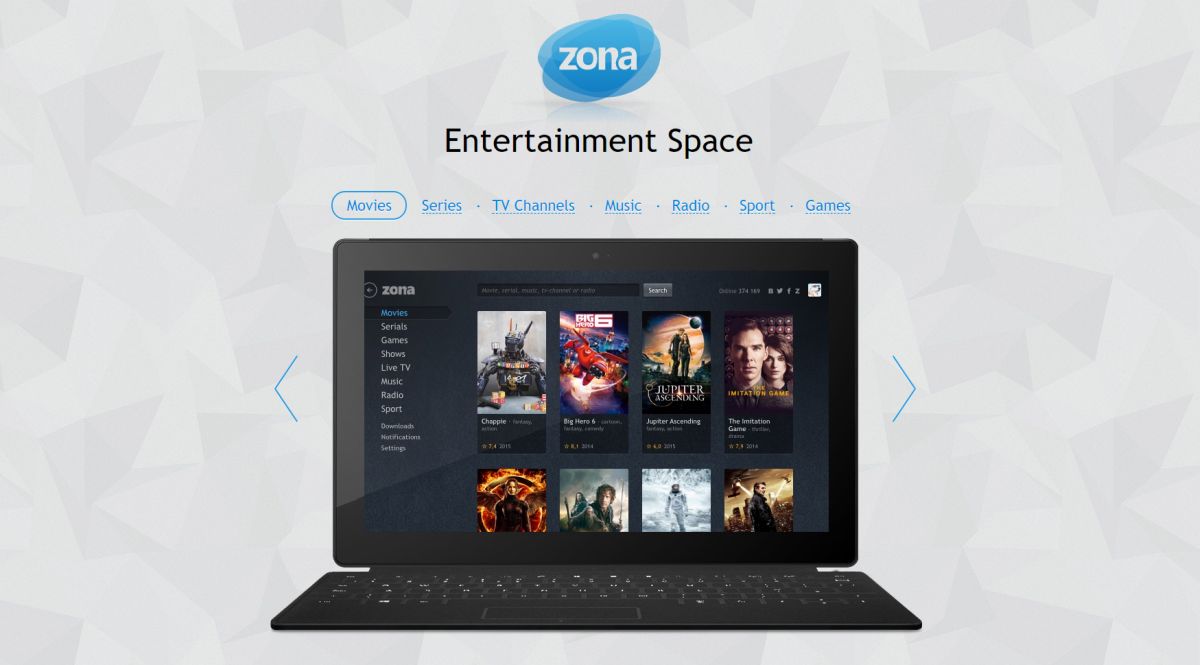 Zona is a Russian alternative to Popcorn TV and again offers the same service of streaming torrents. It is another well-designed programme with a nifty interface that you can personalize by choosing from one of three different themes.
Whilst Zona is currently only available on Windows, it does offer its own torrent client and search engine. I particularly like the notification service which will tell you when a file you are after becomes available. Another good alternative.
#4 YiFy.TV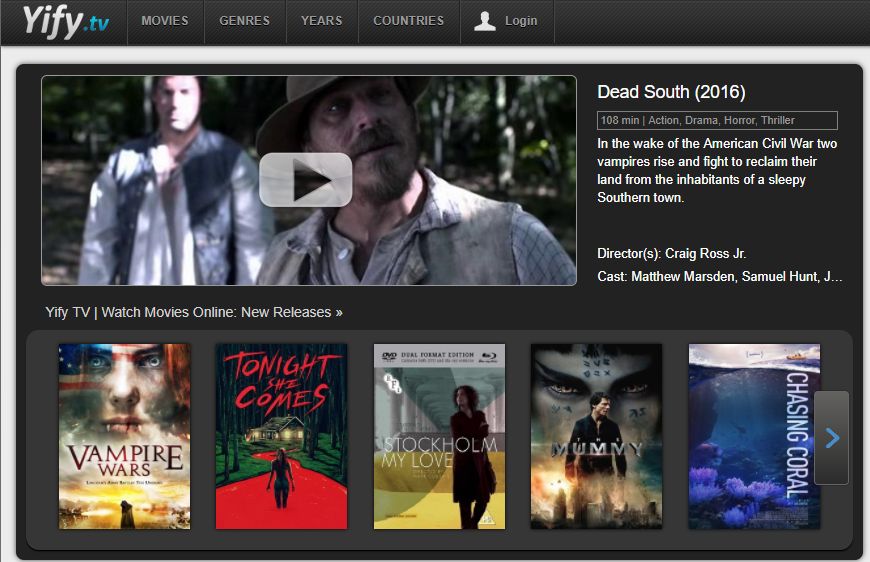 YiFy is a pretty well known name online, but their YiFy.TV service offers something a bit different. It allows you to stream a whole host of movies directly through your browser.
If its layout looks pretty familiar, that's because it borrows more than a bit from Netflix in terms of its appearance, which makes it intuitive to navigate.
There is lots to choose from, although it has to be said that not all links are reliable. Despite this, YiFy.TV has plenty going for it.
#5 Flixtor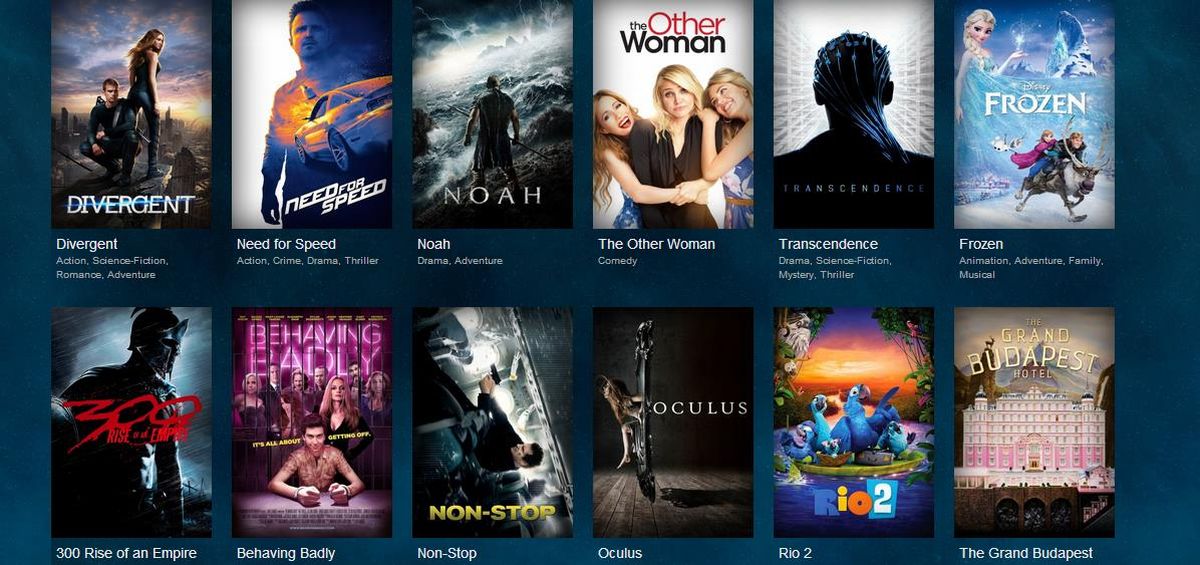 Flixtor appeared on the market shortly after the original Popcorn Time site was taken down. It has a pretty similar interface to the original site, although the developers insist they were working on the project before Popcorn Time disappeared.
It is available for Windows, Mac, and Linux devices and is proudly open-source. Apart from the Popcorn Time spin-off itself, Flixtor is as close of a direct alternative to Popcorn Time as you will find.
#6 Kodi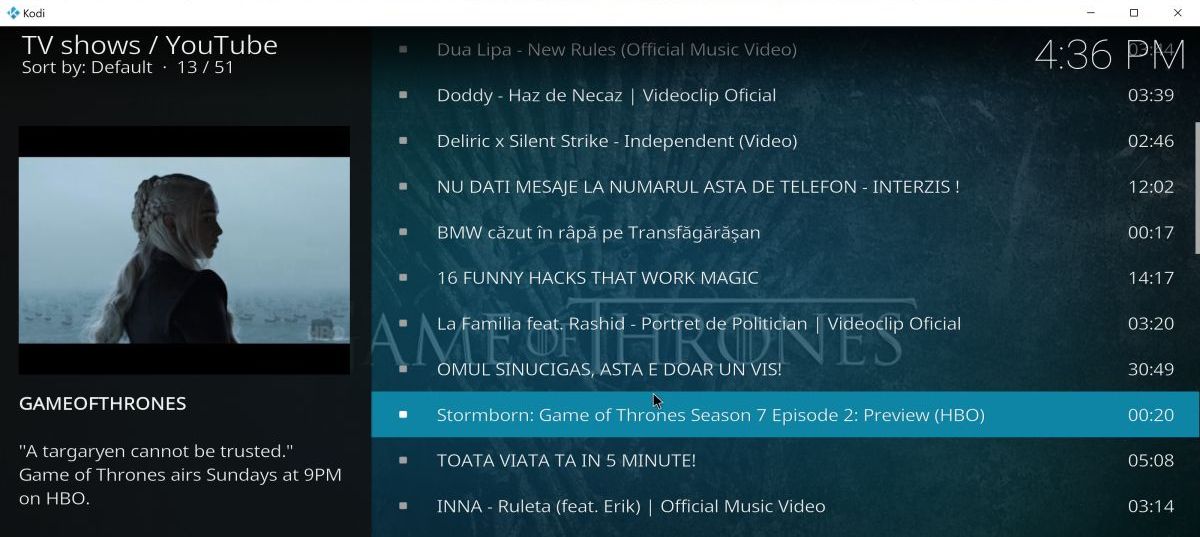 Finally, a quick nod to Kodi, which is currently the most popular streaming service and therefore the one most in the eye of the copyright holders. However, unlike Popcorn Time, Kodi plays streams and not downloaded torrents.
Kodi is an open-source media player which has been supplemented by countless add-ons. This means that it can now be used with different builds and add-ons to stream all sorts of media from sources, including BitTorrent files, all over the internet.
You can read more about Kodi here.
What was Popcorn Time?
Popcorn Time was a free BitTorrent client with a difference. Rather than requiring users to download torrent files before viewing them on their device, Popcorn Time included an integrated media player. This meant that the site would download the torrent using sequential downloading, before streaming the content on the media player.
As such, it worked essentially like a free version of Netflix, an online streaming service through which users could watch just about any TV show or movie they were interested in.
It was created by a group of programmers from Buenos Aires in Argentina, who claimed to have developed the entire service in just a couple of weeks.
The philosophy which underpinned Popcorn Time was that online piracy is "a service problem" created by "an industry that portrays innovation as a threat to their antique recipe to collect value."
Being based in Argentina meant Popcorn Time was on the rough side of the geo-restriction issues which undermine so many online streaming services. As the group humorously put it, services like Netflix "seem to believe that There's Something About Mary is a recent movie. That movie would be old enough to vote here."
As a piece of free, open-source software, Popcorn Time was embraced by developers who adapted it into no fewer than 44 different languages. It was also initially welcomed by the mainstream media, with the likes of CBS News and PC Magazine commenting on its usability and comparisons with Netflix being drawn.
What happened to Popcorn Time?
Sadly for users, this positive publicity was what would swiftly lead to Popcorn Time's demise as it drew the attention of the Motion Picture Association of America (MPAA) to the site. They began to put pressure on the group that created Popcorn Time and, on March 14th, 2014, the site was taken down.
The official reason for this given by the developers was that they wanted to move on and didn't want to be too caught up in the online copyright debate. We "feel in danger for doing what we love. And that's not a battle we want a place in," they said.
However, it later emerged in the infamous Sony leaks that it was the actions of the MPAA which forced the site offline.
What is Torrenting?
Torrenting is a technical term for a particular form of Peer-to-Peer (P2P) file sharing in which users can share files quickly and effectively using a file format known as a BitTorrent.
Since 2006, it has been the most popular way for internet users to share a myriad of different files. It is particularly effective at sharing large files and is therefore very popular for content such as movies, music, computer software, digital books, and so on.
Torrenting was invented in 2001 by a programmer called Bram Cohen. It works by downloading small bits of the file from numerous different locations around the web at the same time. This method means the more sources there are for the file, the quicker it will download.
Today, torrenting is the single most common activity on the internet when measured by Gigabyte bandwidth used. It is also completely free, with only a few search providers trying to charge a fee for their service and many more offer the same deal for nothing.
To start downloading torrents, you will need to first download some BitTorrent client software. There are plenty of these available online for free. You will then need to use a Torrent Search Engine which are again plentiful and mostly free, to identify the files you want to download. Then with a click of the mouse, the file will begin to download and upon completion, you can watch your movie or listen to your album at your leisure. And to keep your activity private you're going to need a VPN specially optimized for this.
What Popcorn Time did differently was to allow the viewing of those Torrent files online through their integrated media player. And many of the alternative services mentioned in this article do the same.
Is Torrenting legal?
This is not a straightforward question to answer. A simple answer would be to say yes. Torrenting is simply the term used for the fast and efficient means by which users can share and download BitTorrent files. There is nothing illegal whatsoever about the process itself.
However, the fact remains that torrenting is a popular means for copyright pirates to share content in breach of copyright laws. And in most countries, the unauthorized downloading or uploading of copyrighted material is indeed against the law.
Therefore, those who do choose to download copyrighted content, through either Popcorn Time or an alternative torrenting service, do so at their own risk. There is a chance that they could be prosecuted for breach of copyright laws. In the past, there have been stiff penalties, including large fines and even jail time handed down for this offence.
But punishments will vary depending on your location. In the US, the likelihood is that the main legal action you will face is copyright trolls trying to extort money from you by way of compensation for your crimes.
In Canada, the maximum fine you will face is $5,000, but in the UK, you can be subjected to an unlimited fine and ISPs can also throttle or even disconnect your internet service.
Why you should always use a VPN when using torrents
There is, however, a way to mitigate this risk and hide your location and identity online to avoid any potential repercussions for downloading copyrighted content through Popcorn Time or another torrenting service. It is called a Virtual Private Network, or VPN.
The best options for a VPN that won't lack speed and won't break the bank for you are either:

IPVanish (where AddictiveTips readers get an exclusive 60% discount on the yearly plan with that link) that will cost you $4.87 per month,
or NordVPN (where a 2-year plan brings a huge 66% discount) which will only cost $3.99 per month.
A VPN works by setting up a secure, encrypted connection between your device and one of their servers. This encrypted connection makes it impossible for anyone, including your ISP, rights holders, and even copyright trolls, to see what you are doing online.
Once your internet data reaches the VPNs server, it is then forwarded to the sites you want to connect to. But instead of being tagged with the IP Address of your Internet connection, it is instead tagged with the IP Address of the server your data has passed through. This makes it all but impossible for your online activity to be traced back to you.
So, by using a VPN when you use the alternatives to Popcorn Time, or any other type of torrenting software, you can be sure that no-one can see what you are doing online.