We are reader supported and may earn a commission when you buy through links on our site.
Learn more
Quasar Kodi Add-on: How to Install and Error Fixes
The open-source media center Kodi opens up a massive world of entertainment, including live sports, blockbuster movies, cartoons, classic films, TV shows, anime, and so much more. Getting access to these resources means installing one of hundreds of unofficial add-ons. There's no shortage of extras to choose from, but one of the best add-ons is Quasar, which offers an incredible amount of content to keep you streaming for months on end.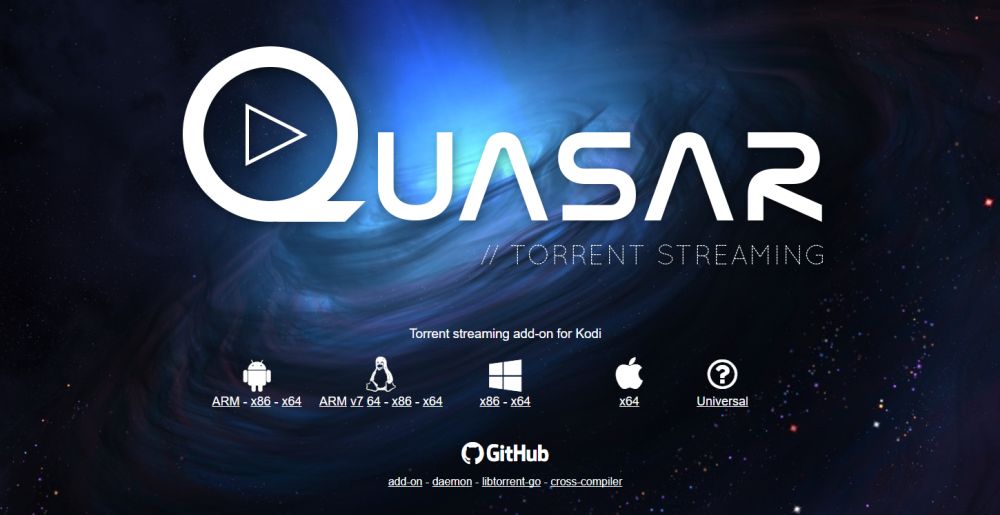 Quasar turns torrent files into fast, high-quality streaming video sources. You don't have to download a movie in its entirety before you can watch it! Instead, browse the Quasar interface for a video, click to initiate the transfer, then watch as the add-on delivers content as it's downloaded. Quasar is one of the best torrent streaming add-ons for Kodi, and it's so easy to use you'll wonder why you didn't install it ages ago.
30-days money back guarantee
Before Using Kodi, Get a Good VPN
Kodi is safe and completely legal to use, but some of the unofficial add-ons you can install might might not always be. This thrusts the entire Kodi community into the spotlight as politicians and content rights holders push back against add-ons that access pirated content. ISPs responded by throttling Kodi users en masse, going so far as to send out copyright infringement notices to users who streamed frequently.
Fortunately, it's easy to protect yourself against these threats by using a virtual private network. VPNs encrypt the data that leaves your device to make it unreadable to third parties. ISPs can't tell what you're watching, hackers can't steal your information, and governments can't determine which streams you're accessing. With a VPN you can watch all the best movies through Quasar with complete privacy.
VPNs do more than just secure your Kodi content. They allow you to stream region locked videos on Hulu, Netflix, HBO Go, BBC iPlayer, and more, stop ISPs, and government agencies from tracking your activity, unblock censored websites and region restricted content or protect your data while traveling and on public Wi-Fi.
Evaluating the Best VPN for Kodi
Finding the right VPN for Kodi streams is a frightening prospect. How do you make sense of all the encryption protocols and server network numbers, and what's more important, speed or security? To make the process easier we've provided a recommended VPN service below. We made our selection using the following criteria, ensuring you have the fastest and the best VPN for Kodi streams, hands down.
Fast downloads – Speed is always on your mind when streaming videos through Kodi. VPNs can be slower than some local internet connections, which is why you need a service that puts a top priority on fast downloads
Zero-logging policy – Keeping traffic logs is a detriment to your online privacy. If a VPN stores logs, government agencies can demand access to them. The best policy is a zero-logging policy, which ensures no data is ever stored for any length of time
Unmonitored traffic – Some VPNs block P2P networks and torrent files, both of which are used by Kodi add-ons. Quasar is useless without torrents, in fact. Make sure your VPN has completely unmonitored traffic and allows all file types and protocols
Strong reputation – Using a VPN means sending large amounts of private data through another company's servers. It's impossible to tell what the VPN does with that data, which is why using a trusted, well-established service is crucial
No bandwidth restrictions – Nothing is worse than getting halfway through a movie stream only to reach your monthly bandwidth cap. The best VPNs offer unlimited downloads for all the TV shows and movies you can handle
Software and app compatibility – To use a VPN with Kodi, you have to install it on the same device. Kodi runs on everything from desktops to smartphones, which means your VPN should, too
The Best VPN for Kodi: IPVanish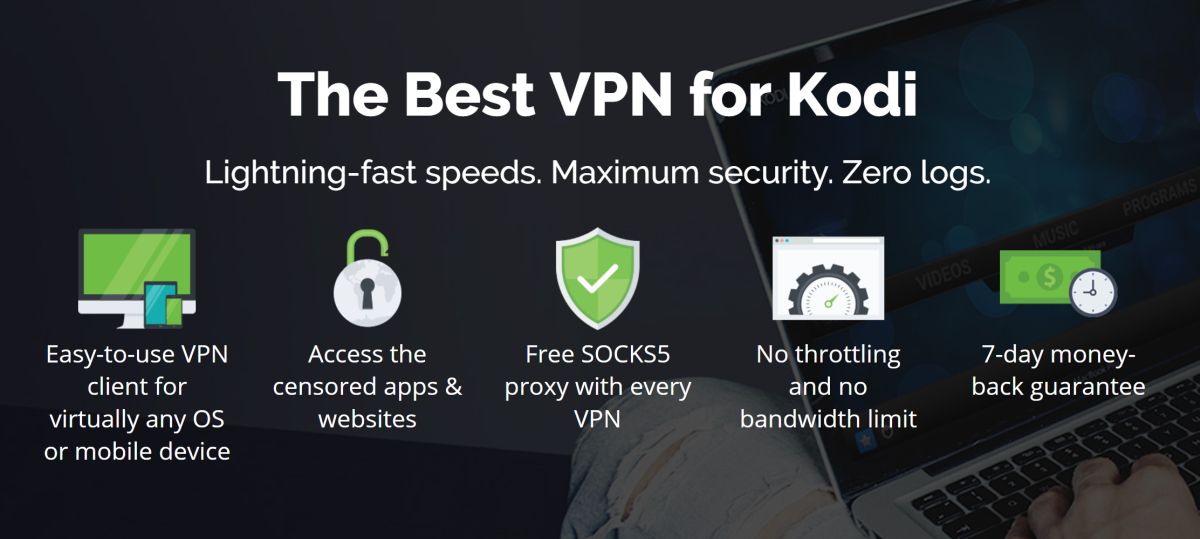 IPVanish has all the best features to make it the perfect VPN for Kodi streams. It's incredibly fast, has strong privacy policies and good encryption, offers a huge network of servers, and delivers custom software for a wide variety of platforms. IPVanish makes it so you can sign up, log in, and start streaming movies anonymously in an instant, all without having to worry about ISP throttling or spying government agencies.
IPVanish offers a 7-day money back guarantee which means you have a week to test it risk-free. Please note that Addictive Tips readers can save a massive 60% here on the IPVanish annual plan, taking the monthly price down to only $4.87/mo.
One of IPVanish's most impressive features is its network. Users can choose from over 850 servers in 60 different countries around the world, all accessible with great speed test scores and unlimited server switching. All data sent to and from this network is secured with 256-bit AES encryption, and the IPVanish zero-logging policy on traffic ensures your information never sticks around. As for software, DNS leak protection stops your real location from slipping through the cracks, and an automatic kill switch cuts off your internet if you lose connection to the VPN, further masking your identity.
On the more practical side of things, IPVanish offers unlimited bandwidth with no throttling, speed caps, or other restrictions. You also have full access to P2P networks as well as torrent files, which is perfect for HD Quasar streams.
IPVanish's best features include:
Lightweight and easy to use apps for all modern platforms, including Windows, Mac, Linux, Android, and iOS
Incredibly fast servers for high-quality video streams through Kodi, including HD and 4K content
Access geo-restricted videos and websites through a huge network of servers
Download torrents and Kodi add-ons with full privacy and anonymity
How to Install 3rd-party Kodi Add-ons
Most of Kodi's unofficial add-ons are packaged in repositories, zip files collected and hosted by external sources. This helps users keep their extensions up to date, and it also helps people discover new add-ons without having to scour the web. You can install repositories in a number of ways, but we prefer the "external sources" method, as it keeps things organized and is easier to use on touch screen devices. Before you can do this you'll need to change one of Kodi's internal settings:
Open Kodi and click on the gear icon to enter the System menu
Go to System Settings > Add-ons
Toggle the slider next to the "Unknown sources" option
Accept the warning message that pops up
With Kodi at the ready, you can start tracking down repositories, adding them as sources, and installing add-ons left and right. The Quasar add-on below is available in some repositories, but you'll note that our guide uses an alternative method for installation. This is because the most up-to-date version of the extension best accessed from its original source, listed below. If you have a repo that includes Quasar you can try installing it, but there's no guarantee it'll be the most recent release.
Note: The Quasar add-on can indirectly provide access to unknown sources of content. Addictive Tips does not condone or encourage any violation of copyright restrictions. Please consider the law, victims, and risks of piracy before accessing copyrighted material without permission.
How to Install the Quasar Add-on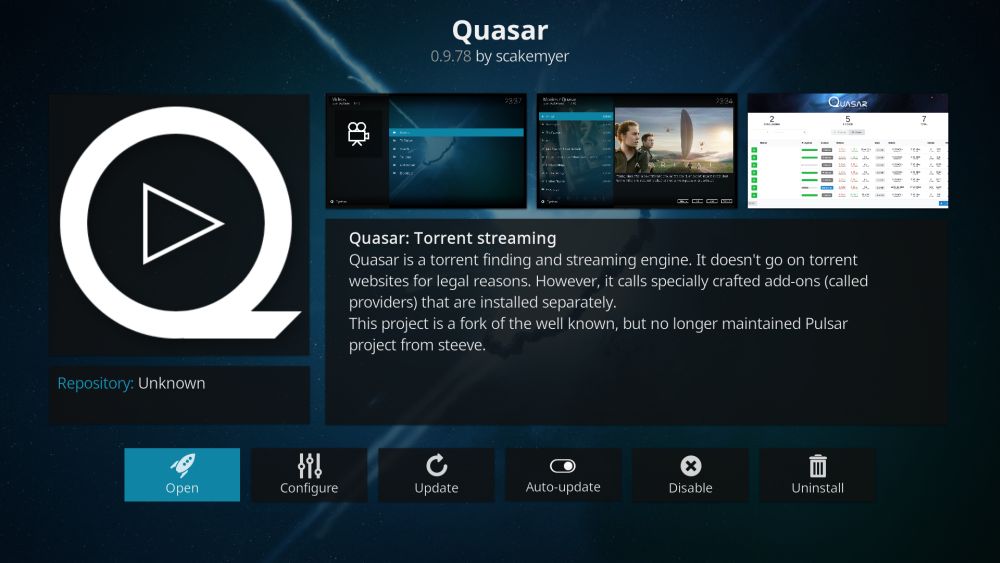 The installation method for Quasar takes place in two parts. First, you'll need to install the base Quasar add-on which handles all of the downloading and streaming. For safety reasons Quasar itself doesn't include any source links, which means it can't do much on its own. You'll need to install Quasar Burst to add provider sites that actually hold torrent content. Follow the steps below and you'll have Quasar up and running in no time.
How to install Quasar
In your web browser, download the version of Quasar for your operating system. If you're not sure which one to use, simply grab the "universal" build
Open Kodi on your local device
Select "Add-ons"
Click the open box icon at the top of the menu bar
Choose "Install from Zip File"
Locate the Quasar zip file. It should look something like this: plugin.video.quasar-#.#.#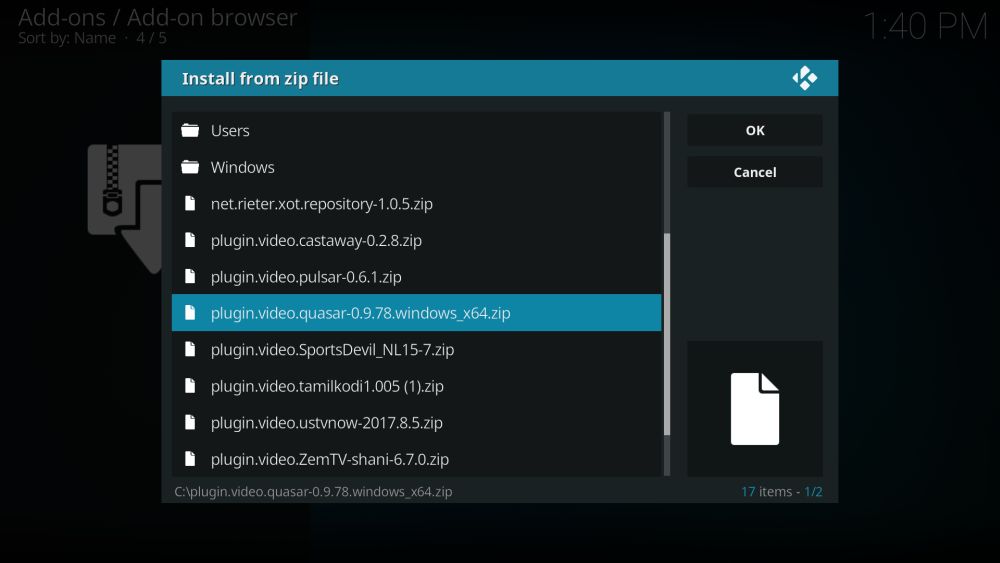 If you get a warning from your firewall, click "allow"
When the installation completes, shut down Kodi and restart it
How to install Quasar Burst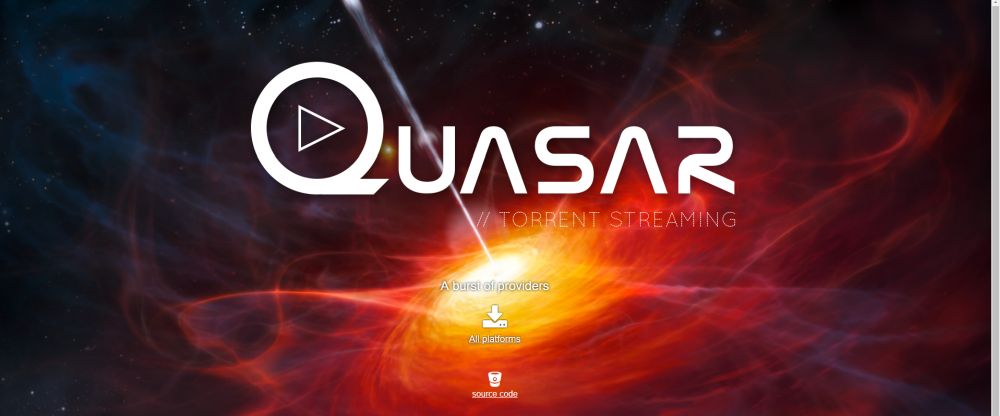 In your web browser, download Quasar Burst to a convenient location
Open Kodi on your local device
Select "Add-ons"
Click the open box icon at the top of the menu bar
Choose "Install from Zip File"
Locate the Quasar Burst zip file. It should look something like this: script.quasar.burst-#.#.#
If you get a warning from your firewall, click "allow"
When the installation completes, shut down Kodi and restart it
With both Quasar and the provider's add-on Quasar Burst installed, you can finally start using Quasar. You'll need to set the download path before the extension can do anything, however.
Set a location
Go to the Kodi main menu, then click "Add-ons"
Right click on the Quasar icon and choose "Information"
Click on the "Configure" box at the bottom
Under "General", choose "Download path (not FAT32)"
Enter a folder location where Quasar will store your downloads
Click "OK" and go back to the Add-ons menu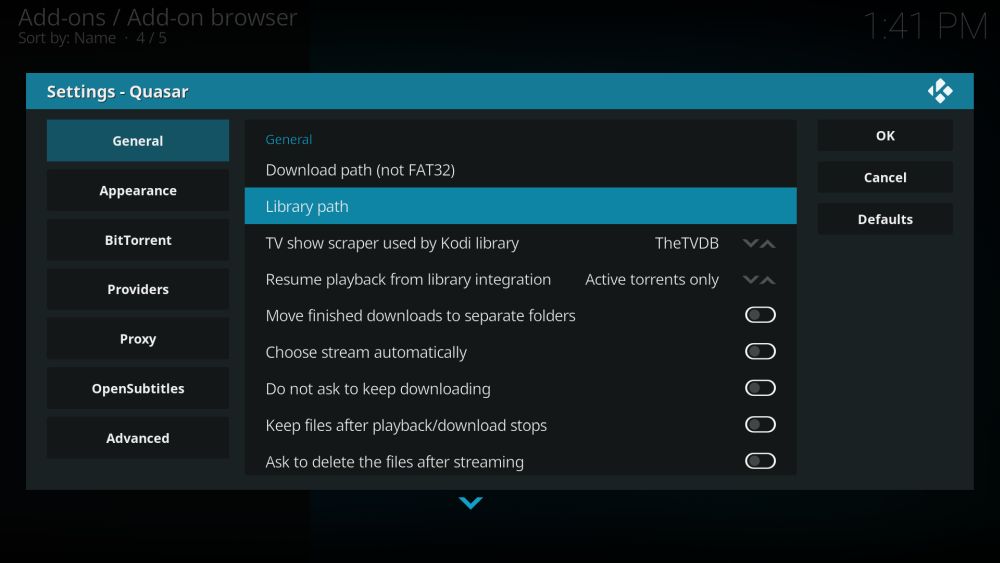 You may need to restart Kodi a third time, but usually not. With all the above steps completed you're finally ready to browse and stream torrent files through Quasar!
What is Pulsar?
Pulsar is the original torrent streaming add-on for Kodi. Its development ceased in 2015, though both the code and add-on are still available. Many users can install Pulsar and watch movies without any problem. Others aren't so lucky. Quasar was eventually established as a fork of Pulsar, building off the base code and adding new features to improve speed and reliability. Quasar is generally considered the better add-on, though if Pulsar works for your version of Kodi, don't feel pressured to make the switch.
What Can I Do with Quasar?
Unlike most Kodi add-ons, Quasar wasn't designed to be a massive media resource. Its biggest feature is the ability to grab torrents and instantly turn them into live movie streams. Normally you would have to download the entire video file first, waiting minutes or even hours before you can start watching. With this add-on you'll get access to high-quality torrent streams that play as soon as the file starts to load.
Quasar has a simple organizational structure that makes it easy to find what you're looking for. Most of what actually populates these categories depends on your provider sources, though the basic layout remains the same.
Movies – Blockbusters, classics, and everything in-between. Browse by genre, top rated, most popular, trending, recent releases, and more
TV Shows – Binge on your favorite TV series as categorized by popularity, rating, voting scores, recent releases, and trending shows
Search – If you're looking for something specific, Quasar can look through your providers for a good source
Add Torrent – Paste a URL or upload a file to have Quasar initiate a download and start a torrent stream
Providers – Take a look at the provider sources you have installed. If you followed the guide above, you should see Quasar Burst here
Benefits to Using Quasar Vs Other Add-ons
Some Kodi users swear by Quasar, claiming it can replace every other add-on in the Kodi community. With a little provider-sourcing work this actually isn't so far-fetched. Streaming torrents is more reliable than gathering random resources from around the web. Torrent sites are better established, host a lot more content, and are almost guaranteed to have what you're looking for. HD and 4K streams are easier to grab, as well.
Probably the greatest benefit of using Quasar over other add-ons is how future proof it is. Kodi add-ons disappear all the time, a few even going under thanks to legal campaigns against them. Quasar was built to avoid shutdowns of this nature. The base software is completely legitimate and open-source, just like Kodi. It contains no links to outside content, just the code to utilize torrent data for streams. You have to add torrent URLs from a separate installation, Quasar Burst, which isn't referenced by Quasar at all. Separating the foundation from the content will help Quasar stay functional long into the future. As long as there are torrents to download, you'll be able to stream them.
How to Fix Quasar's Restart Error
Some users will get a persistent "You must restart Kodi" error message after installing Quasar. Even after shutting the software down and opening it back up the error persists. This is usually due to a couple of options that are deactivated by default in most Kodi installations. Follow the steps below to fix the Quasar restart error.
Go back to the Kodi home menu
Click the gear icon
Select "Service Settings"
Go to the "Control" section
Make sure both of the following options under "Application control" are enabled:

Allow remote control from applications on this system
Allow remote control from applications on other systems

Close Kodi and re-open it and the error will be resolved.
Is it Safe to Install Quasar?
Most third-party Kodi add-ons are developed by outside coders and packaged in repositories hosted by the Kodi community. While repo managers do their best to remove malicious extensions as soon as they're spotted, the process is never perfect. Quasar avoids this pitfall by distributing code as open-source for anyone to examine or audit. It's an extremely safe add-on to use, especially since it doesn't contain content or links to content of any nature.
It's always a good idea to play it safe when streaming through Kodi, however. Stick to reputable repositories whenever possible, and always keep your firewall and anti-virus software active. You should also use a VPN to encrypt your streams and make them private, keeping prying eyes away from your online activities.