We are reader supported and may earn a commission when you buy through links on our site.
Learn more
How to Keep Streaming Friends on Netflix from the US
That Friends reunion that everyone was waiting for may have been put on the backburner by HBO, but we can still enjoy the regular show. In fact, we can still watch the show on Netflix, if we know where to look for it.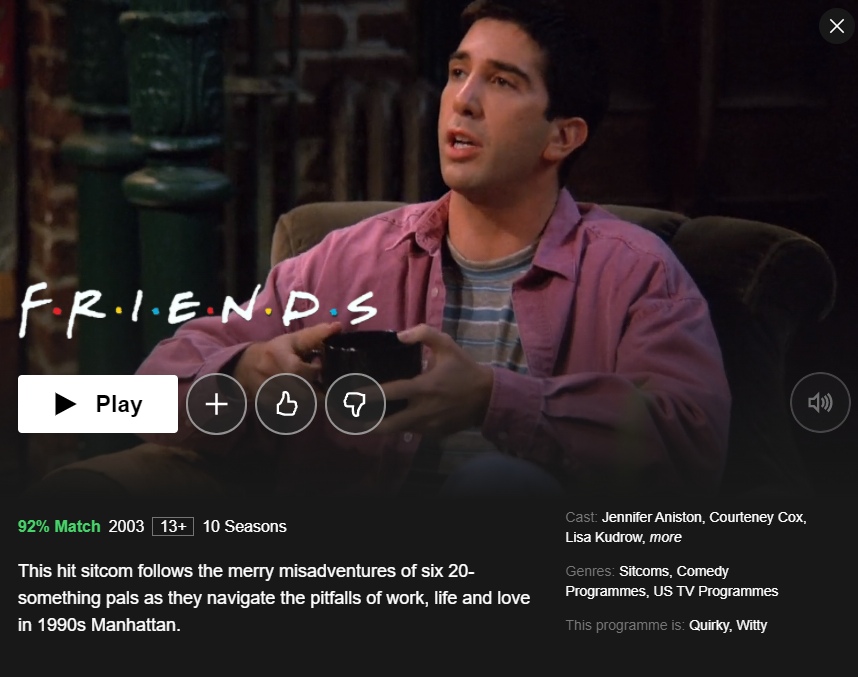 When HBO Max was announced, it was also announced that the licensing rights for Friends would move to HBO exclusively. This forced Netflix US to drop Friends from the library as soon as their rights expired. Sadly, they're unlikely to return to the US library anytime soon.
However, the United States is not the only country where Netflix is available. In fact, Netflix is present in close to 200 countries and plenty of them have Friends.
Can I watch Friends on Netflix?
Netflix continues to have the licensing rights for Friends in a few countries around the world, so you can follow the show's ten seasons there instead.
In each country where Netflix is present, it has a certain collection of shows and movies that are available. Furthermore, each library is geoblocked, so it can't be accessed by people from abroad.
Generally speaking, the United States has the biggest library available, which can be rather annoying considering that everyone pays pretty much the same subscription price.
This time around, however, it's the United States that needs to dig for Friends if they don't want to pay for another subscription.
30-days money back guarantee
How to watch Friends on Netflix from anywhere?
As mentioned, we did find Friends in several other Netflix libraries from around the world. For instance, all ten seasons can be enjoyed on Netflix in the UK.
You may be wondering what you can do about this since you live elsewhere, but the answer is pretty simple – use a VPN. VPNs are complex tools that have servers in various other countries. They will route your Internet connection through those servers and assign your device a new IP address.
The best tool of this kind we encountered is NordVPN, which fared wonderfully during our testing sessions and beyond. The service has servers in close to a hundred countries, uses top-grade encryption to protect your privacy, and works flawlessly.
Here's how you can use NordVPN:
First, you have to subscribe to NordVPN. They're offering 70% OFF the 2-year plan, taking the price down to $3.49 per month right now, so grab that deal!
You then have to sort out the account details and get the apps for your devices.
Find a server that's in the United Kingdom and connect to it.
As soon as the connection is established, you may go ahead and load Netflix in your browser, or relaunch the app. Look up Friends and go binge!
There you have it! Wasn't that hard, right?
Won't Netflix know I'm using a VPN?
It's true that years ago Netflix introduced VPN detection on its platforms so it can track those who are viewing content they aren't supposed to. Since each library is geoblocked, people from the US, for instance, can only watch content from the US. VPNs, however, can make it appear like you are in any number of countries around the world by routing your Internet connection through one of their servers and encrypting your connection to protect your privacy and make you undetectable.
That being said, we haven't really had issues when using NordVPN with Netflix. Of course, if you do get the dreaded notification that you need to shut down your VPN, you have one quick solution before you do any of that.
First up, you should clear out your cookies and contact the NordVPN customer support team and explain your situation. Once you do that, they'll be more than happy to help you figure out how which server works best with Netflix. Switch to the indicated server and you'll be through in no time.
Since Netflix can ban various IP classes overnight, if this ever happens to you again, simply repeat the process.
Why not use a free VPN?
We know that a quick search on the Internet will pop up a million results indicating that there are loads of free VPNs available online. So, the natural next question is why should you pay for a premium VPN like NordVPN and what can they possibly offer more, right?
Well, there are a few answers to that question. One of them is security. A premium VPN has a whole team behind it, offering round-the-clock support, always working to fix any possible bugs and to add layers of security to the tool. Free VPNs are often lacking in this department and they've often been discovered as fake in app stores.
More specifically, security researchers have discovered that malware was hidden in free VPNs in app stores, stealing data from the users. The data can range from your browsing history to your social media and email logins, from your social security number to your banking details, and so on. The information can then be used to hack into your employer's servers, to drain your bank account dry, or to steal your identity. As they say, this is not a drill.
Editor's note: NordVPN is our #1 choice for unblocking Netflix. Our readers get 70% OFF for the 2-year plan, paying $3.49 per month for the service. A 30-day money-back guarantee is included on all plans, so you can cancel any time and get your money back.
Then, another reason why premium VPNs are preferable is the fact that they barely impact your Internet speeds. Free VPNs have few servers at their disposal and loads of users, which means they're overcrowded. Mixing the two together results in poor Internet speeds that certainly won't be good enough to help you binge-watch Friends on Netflix UK, for instance. Furthermore, free VPNs are often the first to get blacklisted by Netflix, so you won't even be able to get through to the library you're interested in.
Final thoughts
As you can see, you can still keep up with Friends on Netflix if you live in the right countries or if you have the necessary VPNs to get through the blockade. We hope we've been helpful in getting you all the info you need to go binge Friends.