We are reader supported and may earn a commission when you buy through links on our site.
Learn more
How to Watch The Lorax on Netflix US from Abroad
The world of Dr. Seuss is special and fantastical and full of lessons to be learned. Watching The Lorax with your kids or kicking Back with your partner is something you'll want to do, and thankfully, the film is up on Netflix.
The Lorax is a 2012 animate film that mixes in comedy with fantasy, music, and more. It is, of course, based on the same-name Dr. Seuss book.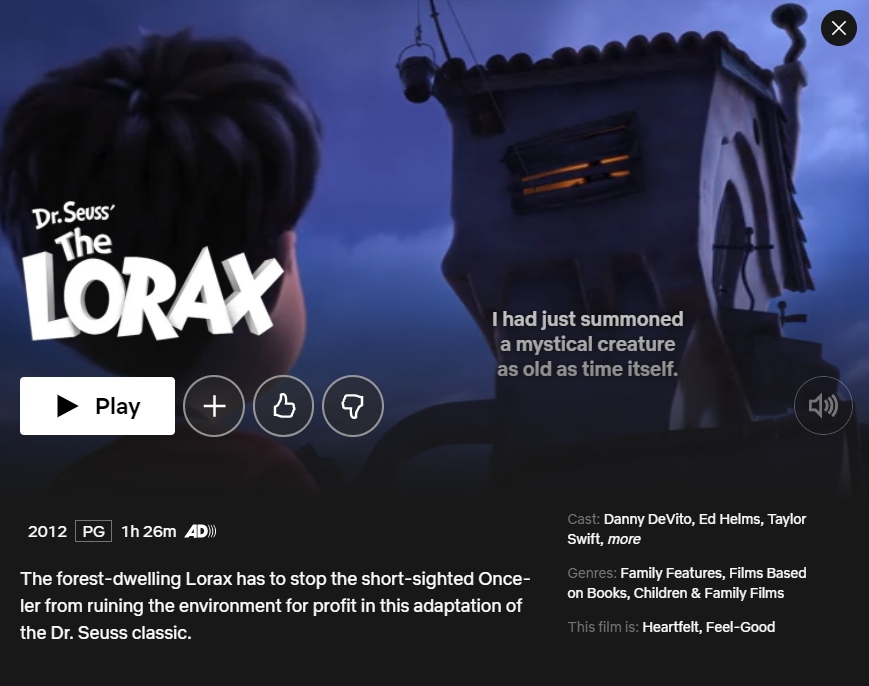 The film features an impressive voice cast that includes Fanny DeVito, Ed Helms, Zac Efron, Taylor Swift, Betty White, and more. With a $70 million budget, the film grossed over $348 million at the box office worldwide.
Is The Lorax on Netflix?
The Lorax is available on Netflix in several markets, but if there's one thing you should know about the service is that if one movie is available in the US, it does not mean it's available in other countries, and vice versa.
30-days money back guarantee
In fact, as Netflix is available in close to 200 countries, it also has different libraries for most of these. Basically, you'll only have access to the library in the country where you're in. The US library is the most impressive, and it makes the rest of the world jealous, especially since everyone pays pretty much the same subscription price.
As far as The Lorax goes, we found the movie is up in The United States and the United Kingdom, but it's missing from the likes of Canada, or Australia, to name a few.
How to watch The Lorax from any country?
Even if you don't live in the United States or the United Kingdom, you can still enjoy The Lorax. If you find that the film is missing from your local library, the solution is simple – use a VPN.
VPNs are complex tools that are dressed in pretty user interfaces that make them easy to use. The tool will route your Internet connection through a server of your choice, encrypt everything to protect your identity, and assigns a new IP address to your device. Basically, if you go through this route, you'll trick Netflix into thinking you're in a different country.
Our VPN of choice is NordVPN because it comes with thousands of servers, some great encryption protocols, and a straightforward UI. NordVPN ranked highest among the VPNs we tested, and it continues to impress every day.
Here's how you can use NordVPN:
You'll need to start by subscribing to NordVPN. Our readers can get 3 months for free and 68% OFF the 2-year plan, so get that deal!
Get the apps for your devices and find a server in the US to connect to.
Once that connection is established, simply load Netflix or relaunch the app. Look for The Lorax and enjoy it!
Even though it requires an extra step, watching The Lorax from abroad is not that difficult to do.
Will Netflix know I'm using a VPN?
A few years back, Netflix implemented VPN-detection technologies on its platform. This is supposed to figure out when people are using VPNs for various reasons and block their access. The good news is that this technique doesn't always work, especially when it comes to premium services.
While it's true that we've had pretty smooth sailing while using NordVPN, it doesn't mean that Netflix can't blacklist IP families overnight. If this happens to you, you can always contact the NordVPN support team. Once you explain everything, they'll help you find the right server for the Netflix version you're trying to access. They'll even wait up to verify if everything works well.
Can't I use a free VPN instead?
A quick Internet search will show you endless lists of VPN, including free tools. The word "free" alone is more than enough to attract anyone. However, when attached to the notion of VPNs, we cannot recommend them at all.
Free VPNs have a tendency to fall into two categories – dangerous or useless. The dangerous VPNs are often shells carrying malware and infecting your devices before you get the chance to realize something is wrong. Quite often, over the years, security researchers have discovered infected VPNs in app stores.
You risk handing over your personal information to cybercriminals – personally identifiable information, address, passwords, financial information, workplace credentials, and so on. This can lead to identity theft, financial fraud, and so on.
The VPNs that are in the "useless" pile are those that will barely get you over the blockade. In fact, more often than not, live TV services or streaming platforms like Netflix already blocked all these free VPNs.
Editor's note: NordVPN is our #1 choice for unblocking Netflix. Sign up for the 2-year plan with NordVPN at $3.49 per month, as well as 3 months for FREE. A 30-day money-back guarantee is included on all plans, so you can cancel any time and get your money back.
Then, there's the problem that even if they do work, they have few servers at their disposal, but numerous users. When you put these two together, you end up with Internet speeds that won't allow quality streaming of any type of content. Also, there are some apps out there that will use your own computer as a server of sorts, allowing other users to use your device as a way to hide in the web of servers. This will impact your device's performance.
This is one of those instances where paying for a premium tool is advisable in order to avoid so many security and technical issues.
Final thoughts
We hope that you've managed to find a good way to watch The Lorax on your own or with your kids. Netflix has loads of jewels that are worth discovering, no matter what country you're in.