We are reader supported and may earn a commission when you buy through links on our site.
Learn more
UFC 221 on Kodi – How to Find Working Live Streams for Romero vs. Rockhold
UFC 221 is just around the corner. The hotly anticipated Romero vs. Rockhold match (formerly Whittaker vs. Rockhold) is scheduled for February 11 and will decide who wears the middleweight interim belt. The fighters are almost evenly matched when it comes to height, weight, and overall record, but current title holder Rockhold has a distinct reach advantage. Who will come out on top? You'll have to tune in to find out!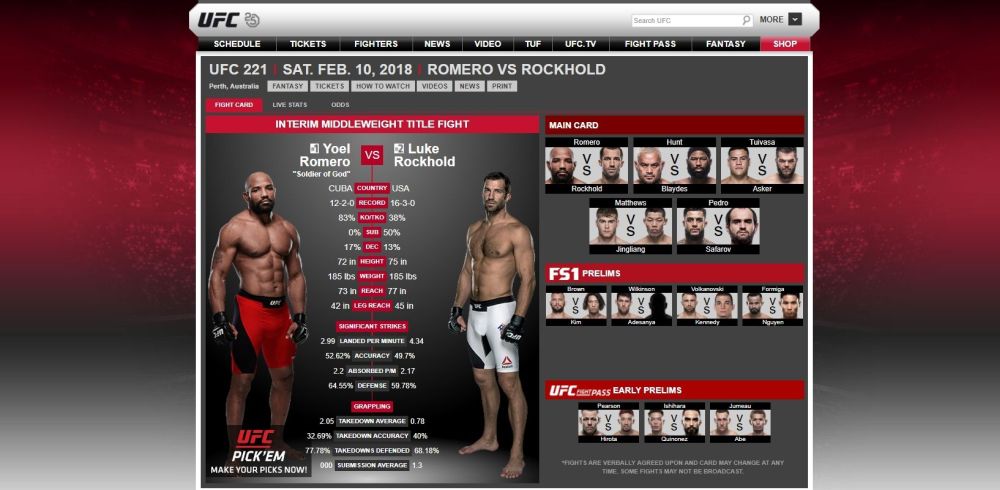 Big UFC matches like Romero vs. Rockhold are streamed on a pay per view basis, and tickets to the actual event are expensive. If you want to watch UFC 221 but don't have access to the right services, it can be tough to stumble upon the right resource. Fortunately, Kodi provides a fast and convenient solution for watching live sports all around the world. With the right add-ons you can stream UFC 221 without having to drop half your paycheck.
30-days money back guarantee
UFC 221 – What You Need to Know
The UFC (Ultimate Fighting Championship) was founded in 1993 as a mixed martial arts tournament and general competition. In the decades that followed it grew to become the largest MMA promotion in the world, drawing in top-ranked fighters and athletes to take their shot at the prize. UFC's main events are numbered sequentially and come along just about once a month. They always draw in huge crowds of fans, both in the arenas and on pay per view.
UFC 221 is scheduled for February 11, 2018 in the Perth Arena in Perth, Australia. In order to accommodate prime time hours on the east coast of North America, the main card is expected to begin at 11:00 am local time, which will be 10:00 pm New York time. The bout pits former middleweight title challenger Yoel Romero against UFC Middleweight Champion Luke Rockhold in a fight for the interim title.
UFC 221 Fight Card
Most of the biggest names in UFC are out due to injury or simply skipping over UFC 221, giving a number of underdogs a chance at the spotlight. The full fight card features a dozen pairings spanning the flyweight, bantamweight, and heavyweight classes. Outside of the title match listed above, the main card features two heavyweight battles, Mark Hunt vs. Curtis Blaydes and Tai Tuivasa vs. Cyril Asker, along with the welterweights Jake Matthews vs. Li Jingliang. These usually start an hour or two before the big event, so show up early if you want the added action.
Preliminary cards air on both Fox Sports 1 and via UFC Fight Pass. They include lightweight, middleweight, and flyweight matches between Tyson Pedro and Saparbek Safarov , Damien Brown and Dong Hyun Kim, Rob Wilkinson and Israel Adesanya, and half a dozen more. The prelims start a solid five hours before the main match.
Keep Your UFC Streams Private with a VPN
Online privacy is always a big concern for modern internet users. For Kodi fans, things are a little more serious, however. Many ISPs have started throttling Kodi streams, and there's always the threat of some government agency monitoring your online activity. The only way to stay truly safe is to use a reliable VPN. VPNs, or virtual private networks, encrypt your traffic to make it impossible to track or trace. You can stream anything you like, visit any website, download any file, all in complete and total privacy.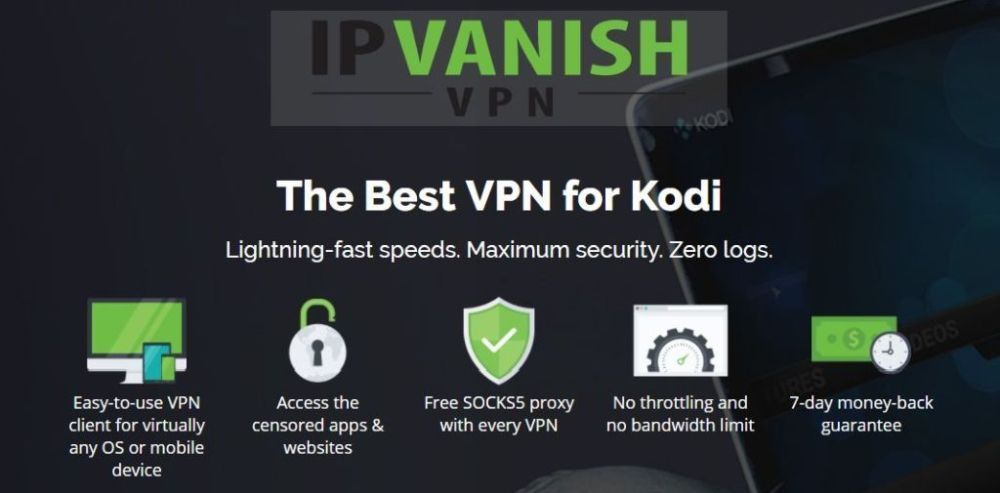 IPVanish is one of the best VPNs to use with Kodi. The company's network features over 950 servers in 60 different countries, each one lightning fast and ready to go. You'll have access to over 40,000 worldwide IP addresses, complete with automatic shuffling features for improved anonymity. IPVanish's custom software also features DNS leak protection and an automatic kill switch to ensure your identity is always locked down and safe.
For privacy, IPVanish deploys sturdy 256-bit AES encryption on all data along with a zero traffic logging privacy policy. These features help scramble information that leaves your device while ensuring no trace is left behind. Add to that unlimited bandwidth, no speed throttling, and unrestricted access to torrent downloads, and you've got the ideal VPN for Kodi streams, movie downloads, and more!
IPVanish offers a 7-day money back guarantee which means you have a week to test it risk-free. Please note that Addictive Tips readers can save a massive 60% here on the IPVanish annual plan, taking the monthly price down to only $4.87/mo.
Watch the UFC 221 on Kodi – Best Add-ons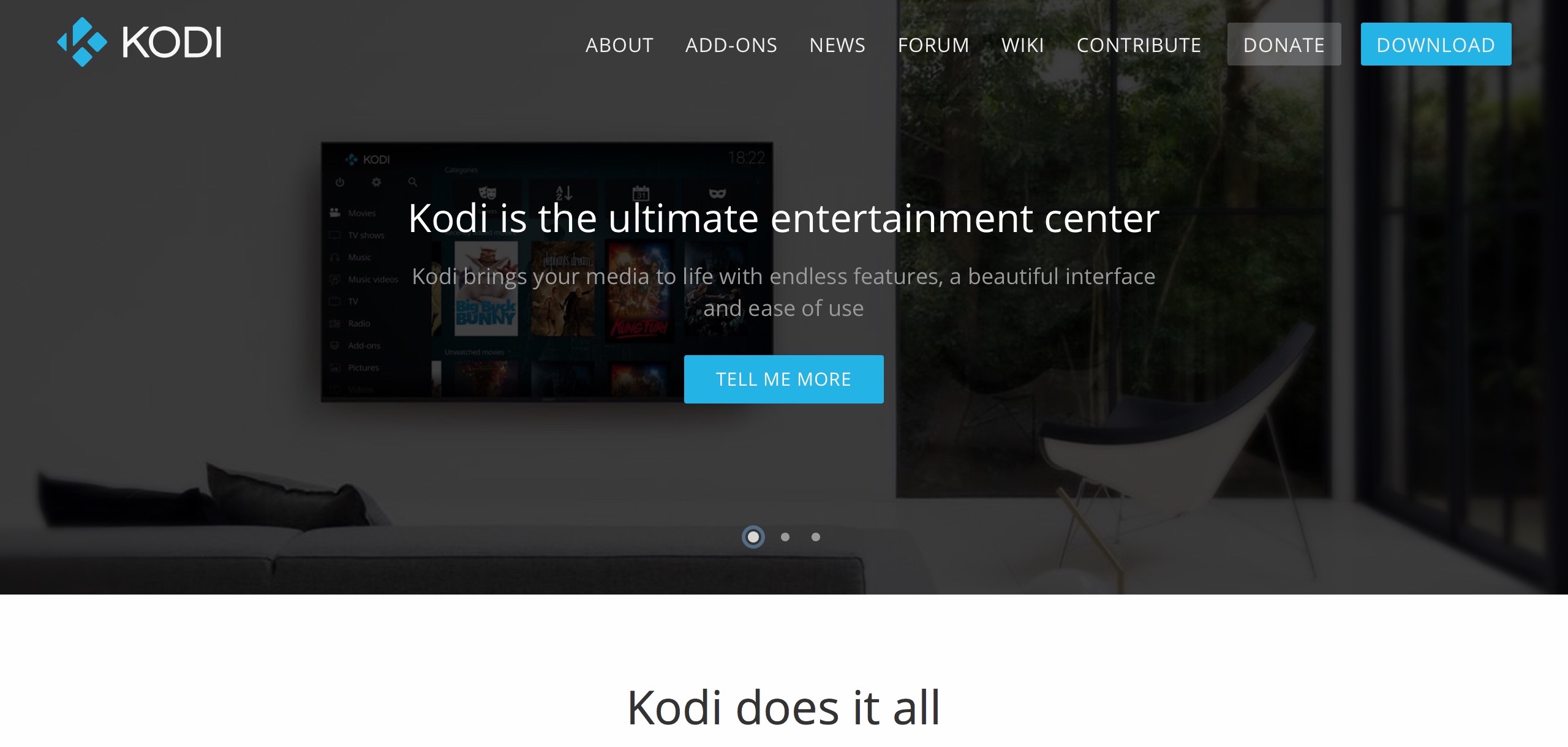 Accessing free sports and UFC streams with Kodi means installing unofficial add-ons to the base software. These programs are free to download and use, all you have to do is hunt down the right repository and install. Before you can jump into the streaming world, though, you'll need to switch one of Kodi's internal options. This allows the program to manage repo downloads and install new content from outside sources. Just follow the steps and you're ready to begin.
Open Kodi and click on the gear icon to enter the System menu.
Go to System Settings > Add-ons.
Toggle the slider next to the Unknown sources option.
Accept the warning message that pops up.
Note: Kodi's unofficial add-ons community pulls content from a wide variety of sources, including some streams that may or may not be legal in your area. Addictive Tips does not condone or encourage any violation of copyright restrictions. Please consider the law, victims, and risks of piracy before accessing copyrighted material without permission.
SportsDevil and Project Mayhem
Two of the most popular and most reliable add-ons for sports streams are Project Mayhem and SportsDevil. The two resources are perfect for catching UFC fights, live soccer, NFL games, and much, much more. To access them, you'll need to install the Maverick TV repository. This single download contains both add-ons and is the perfect starting point for finding streams for UFC 221.
Step 1 – Install the Maverick Repository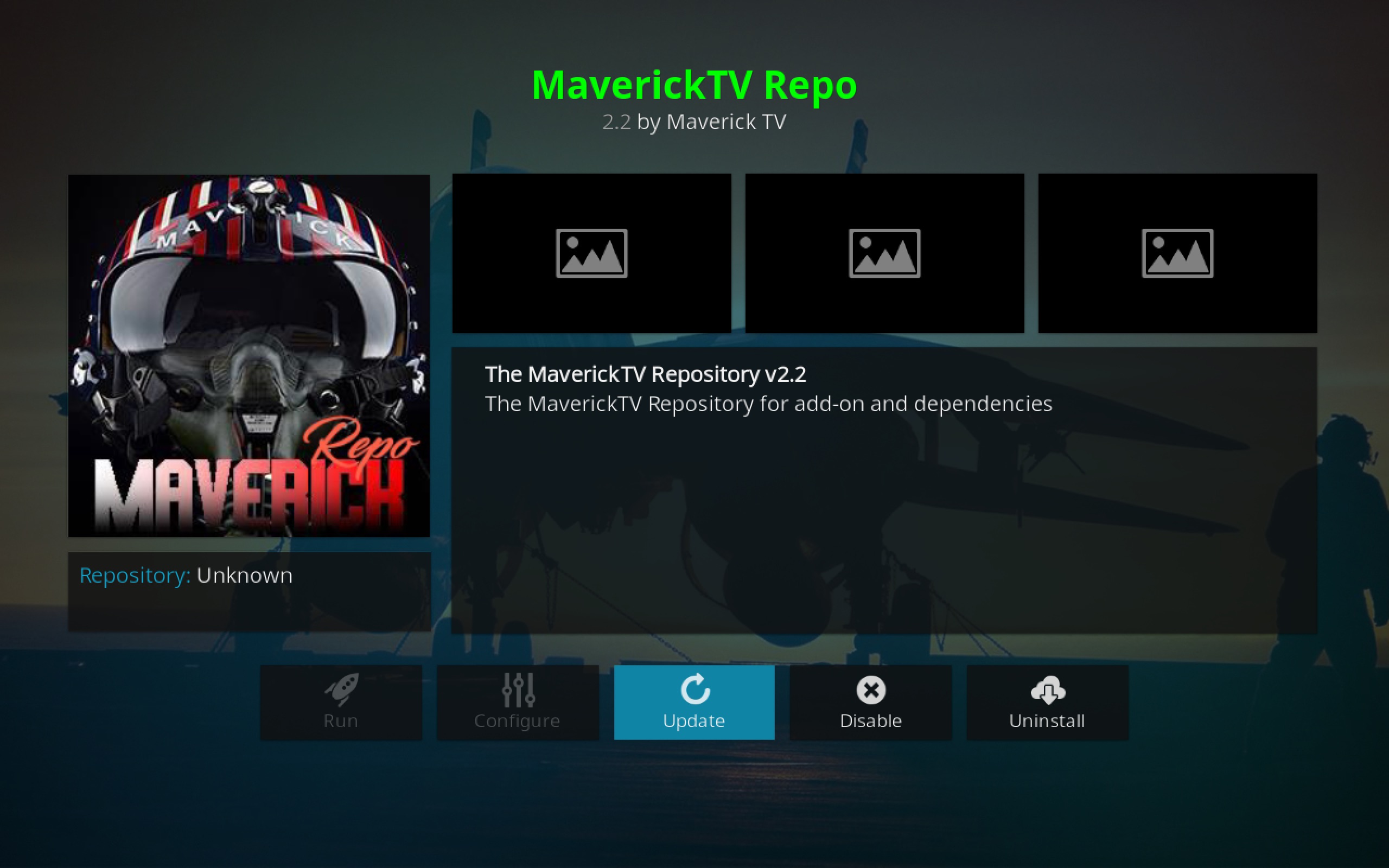 The Maverick repo is a small but dedicated repository that holds a number of add-ons designed for general content consumption. Movies, TV shows, live TV, sports, and more, all in one package. Follow the short steps below to add it to your system, then continue below to install the right add-ons for UFC.
Open your web browser and visit the official Maverick repository page.
Download the file repository.maverickrepo-#.#.zip and save it somewhere convenient.
Open Kodi, go to the main menu, then choose Add-ons.
Click the open box icon at the top and select Install from Zip File.
Navigate to repository.maverickrepo and add it to Kodi.
Step 2 – Install Project Mayhem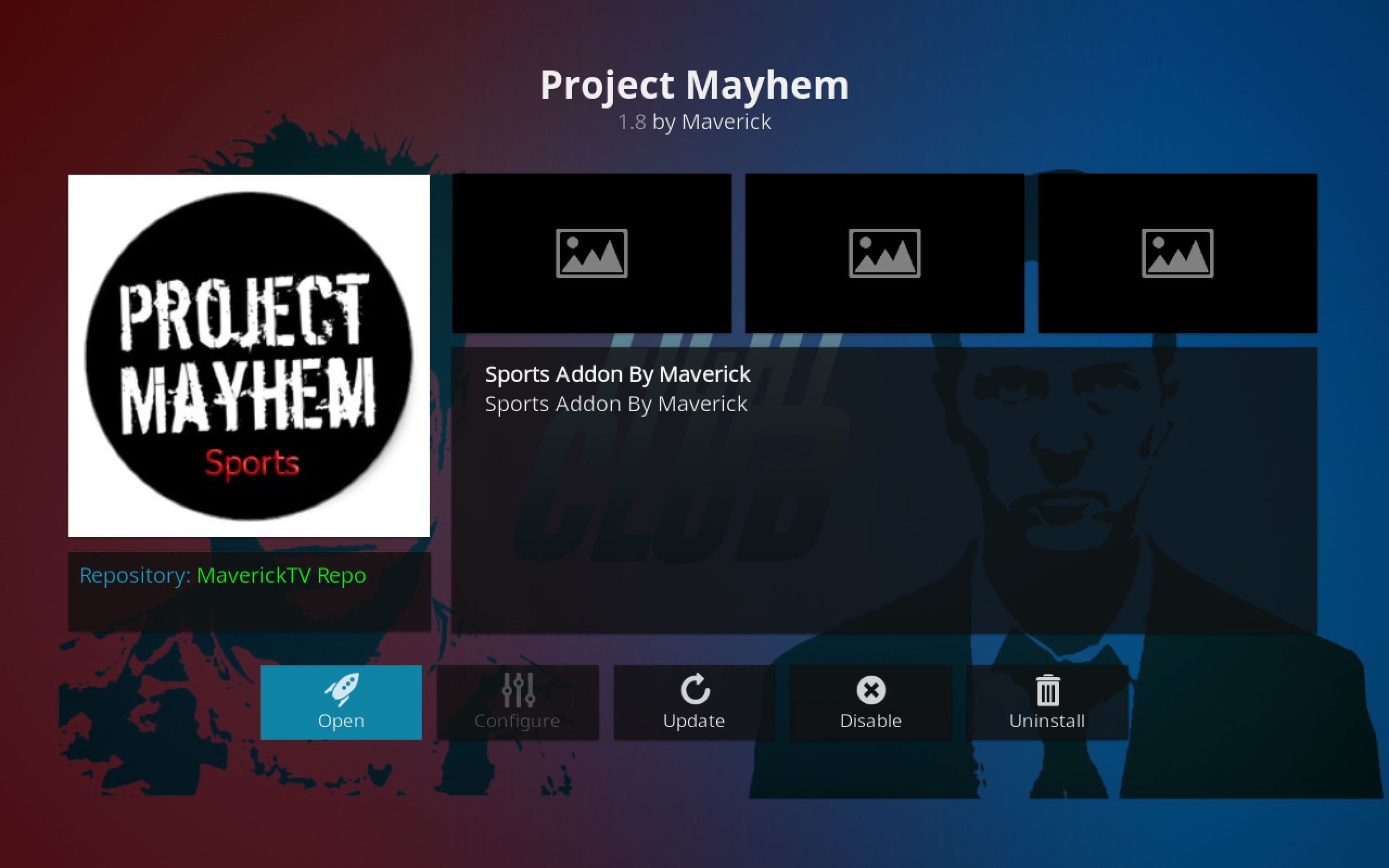 Project Mayhem is one of the key add-ons in the Mayhem TV repository. Once you've added it to your system, go through the steps below to install the Project Mayhem add-on itself.
Follow the steps above to install the Maverick repo.
From Kodi's main menu, choose Add-ons, then select the open box icon.
Choose Install from repository.
Scroll down and open the MaverickTV repository.
Enter the Video add-ons folder.
Select Project Mayhem and install.
How to Use Project Mayhem
Instead of bundling a ton of sports content with movies and TV shows, Project Mayhem focuses on what sports fans want most. The add-on allows you to stream broadcast channels and live sports with just a few clicks, featuring everything from Sky Sports to Canal+, Bein, Pac 12, and more. When UFC 221 comes around, you'll be able to look for streams from Project Mayhem's main page along with select links inside the Martial Arts category. There's never a guarantee UFC will show up, but this is a great place to start your search the day of the fight.
Step 3 – Install SportsDevil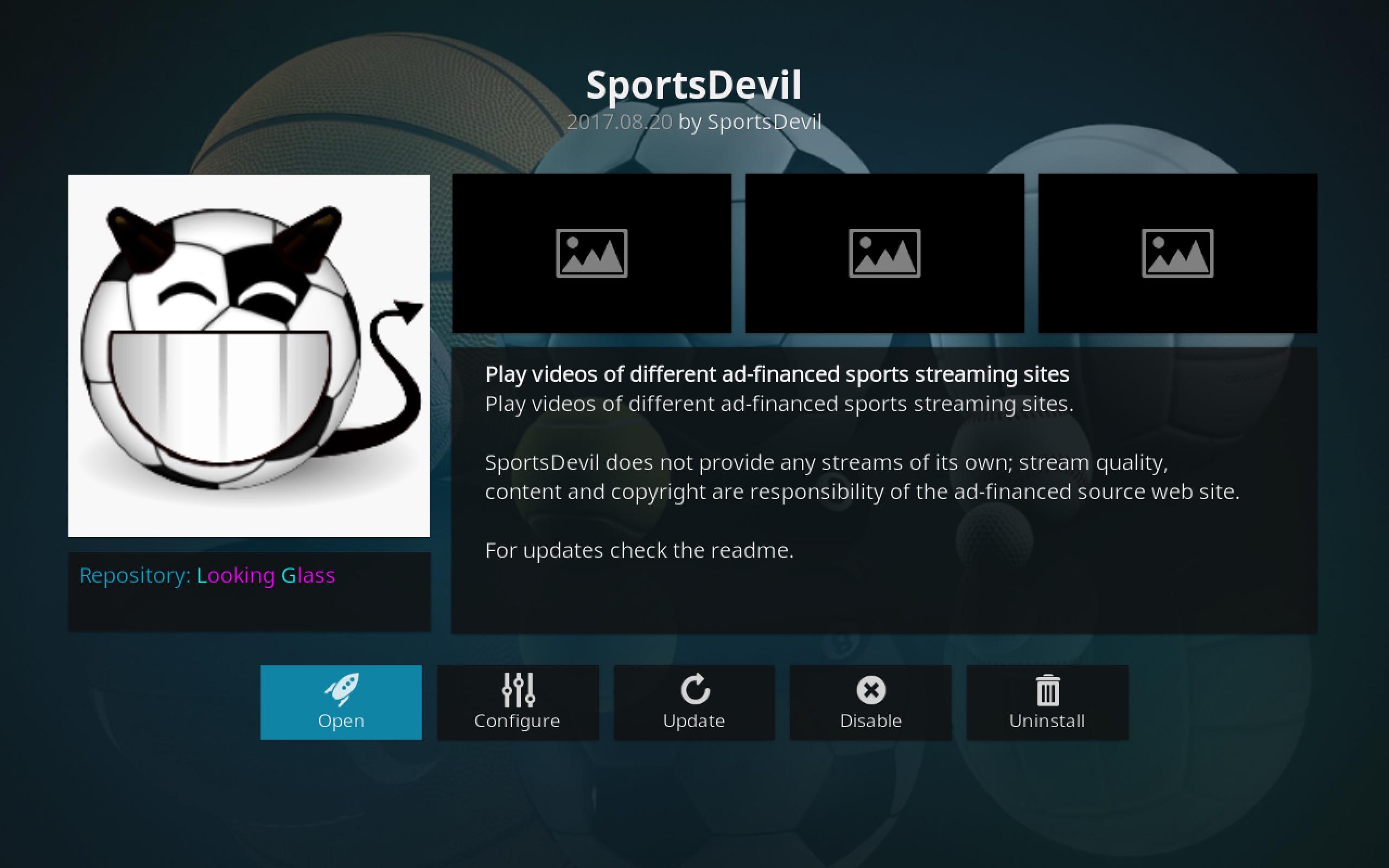 SportsDevil is one of the best sports add-ons in the Kodi universe. The extension comes with dozens of live sports streams out of the box, providing fast and convenient resources to watch soccer, NFL, NBA, hockey, golf, tennis, boxing, wrestling, MMA, and more. Once you have the Mayhem repository installed, follow the steps below to add SportsDevil to your system.
Make sure you have the Mayhem repository installed using the instructions above.
Start at Kodi's main menu, then click the Add-ons label.
Choose the open box icon and go to Install from repository.
Select MaverickTV Repo near the top, then go into the Video add-ons folder.
Scroll down to SportsDevil and install it.
Access SportsDevil from Kodi's main add-ons menu at any time.
How to Use SportsDevil
SportsDevil's sheer variety of content can be overwhelming at first. Everything is organized by source first, then by sport, making it tough to find what you want unless you know which link to click. When UFC 221 (or any UFC main event) rolls around, open SportsDevil and select the "Live Sports" folder. Here you'll see a collection of links with on-air content just inside. Pick your favorite, then navigate to the appropriate folder. Most sources put UFC in a generalized boxing or MMA category. If there's a stream available, it will show up here as soon as the fighting begins.
Below are a few of the more popular resources on SportsDevil for watching UFC. Each one has a dedicated MMA section that often shows UFC matches as they air.
Dimsports.eu
FirstRowSports.eu
LiveTV.ru
SportStream365
Live Sports and UFC with FTFA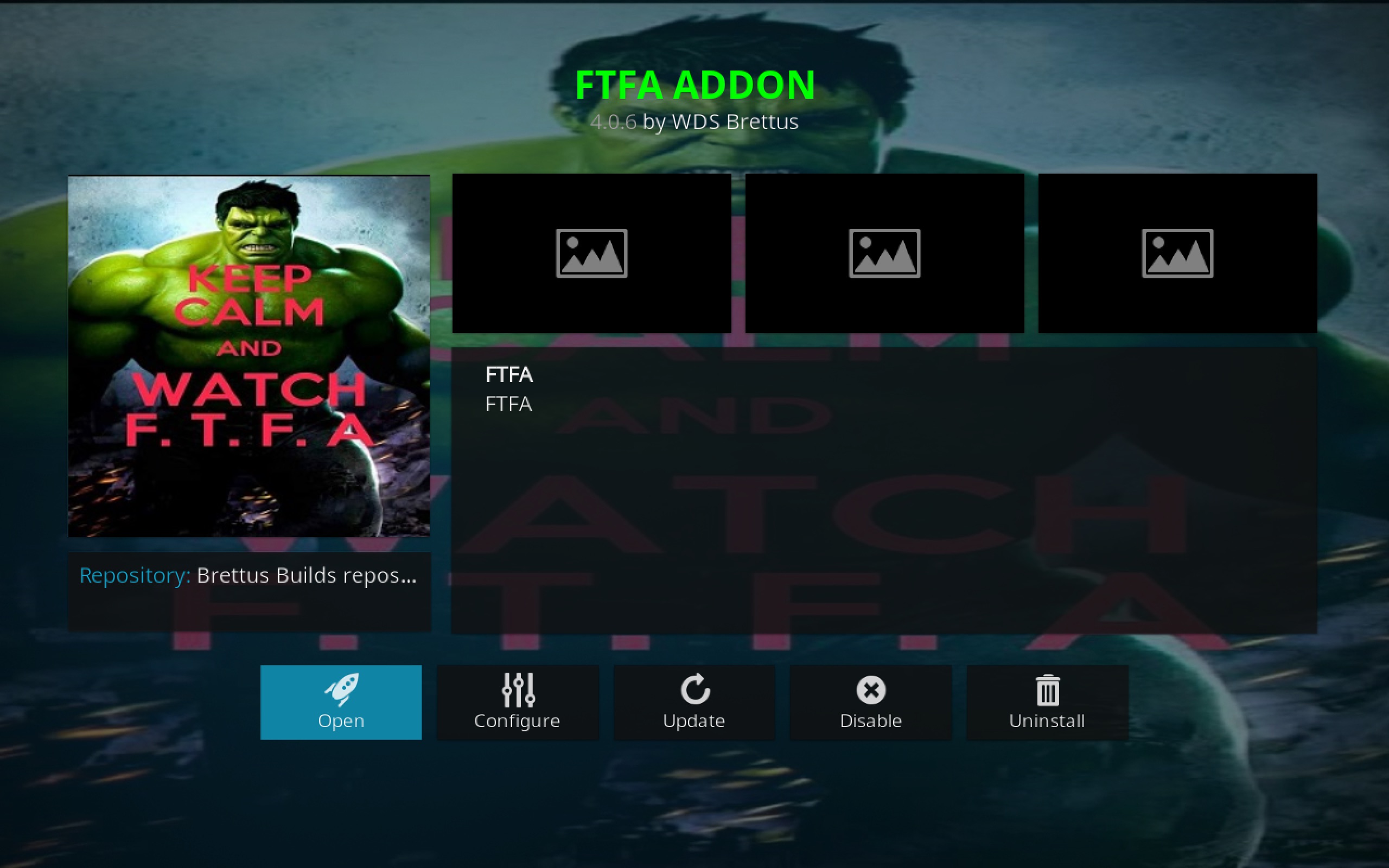 The FTFA add-on aims to be a catch-all resource for live sports, movies, TV shows, and everything in-between. It accomplishes this by focusing on IPTV channels instead of specific content resources. Want to watch live TV from the U.S., UK, or around the world? FTFA is the place to go. It's also the best resource for live sports, including pay per view UFC fights.
How to Install FTFA
FTFA is available through the Brettus Repository. The installation may require free activation through an external website, but if you follow the steps below you can have everything ready to go in a few minutes.
Open Kodi and click the gear icon to enter the settings menu.
Go to File Manager then select Add Source.
Add the following URL exactly as it appears: https://toptutorialsrepo.co.uk/kodi/Repos/
Enter an easy to remember name, such as toptuts
Click OK. Kodi will add the repo to your sources list.
Go back to the main menu and select Add-ons.
Click the box icon at the top of the menu.
Choose Install from Zip File, then select the repo.
Scroll down and find the file named repository.Brettusrepo-#.#.zip
Install the repo, then go back and choose Install from Repository.
Select the entry named Brettus Builds Repository.
Navigate to Video add-ons, look for the FTFA add-on, then install.
Note: Some users may need to verify their Kodi and FTFA installation with a third party website. The process is safe and free, but it does add a few extra steps. If FTFA prompts you to activate, just follow the steps below.
After launching FTFA, a window will open asking for a PIN.
Click OK and a website will load in your browser.
Click the blue GENERATE button to receive a PIN.
Copy the PIN, then go back to Kodi and paste it into the active window.
The PIN will validate and you're free to stream.
Watching Sports on FTFA
FTFA sorts its content by server location first, then by channel. This means it's tough to dive in and go straight to what you want, even if it's something as popular as a UFC fight. You can browse through the network channels on U.S. and UK servers, but you're far better off starting at FTFA's dedicated PPV LIVE folder. This handy resource collects pay per view sporting events and streams them the moment they go live. When UFC 221 begins, simply fire up FTFA, check the PPV LIVE folder, then see what the add-on has to offer.
Watch UFC 221 on Pay Per View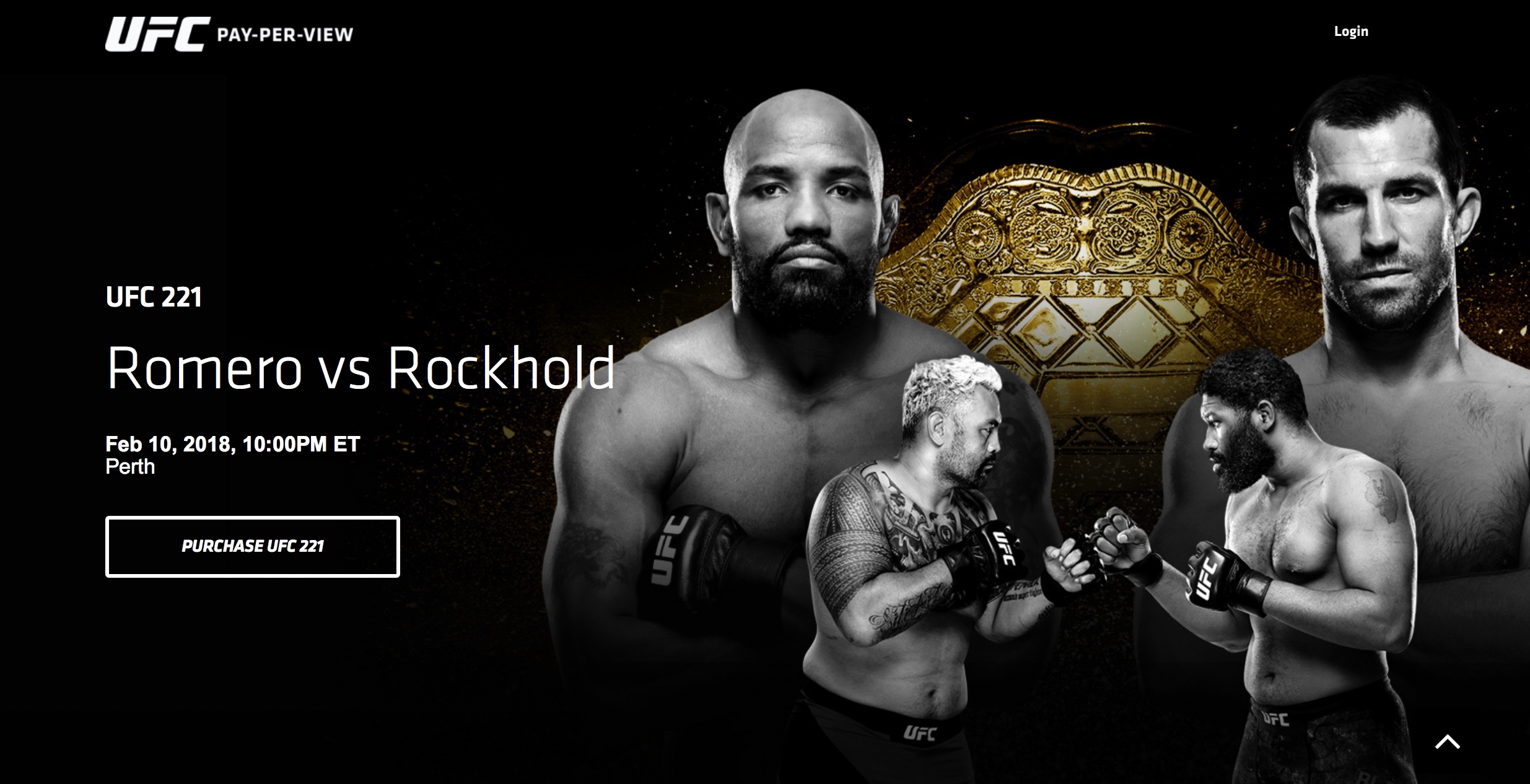 Even with the right add-ons, you're never 100% guaranteed to find a UFC stream on Kodi. Sources appear and disappear on a regular basis, streams crash, and quality drops from HD to grainy video that looks bad even on mobile devices. If you can't miss the fight and don't want to fuss with Kodi add-ons, there's always the option of pay per view.
UFC 221's official pay per view site is a handy place to start. Here you'll find event details, starting times, fight card rundowns, and easy links to purchase access to the match. Prices for the entire event usually hover around the 50 USD range and are available to stream on a huge variety of devices, including iOS, Android, smart TVs, and gaming consoles.
Conclusion
Ready for the big fight? UFC makes it easy to watch the match no matter where you live, but with Kodi and a couple of add-ons, you can have even faster, more convenient access. Got any favorite resources for streaming UFC or MMA in general? Let us know in the comments!