We are reader supported and may earn a commission when you buy through links on our site.
Learn more
How to Watch Avengers: Age of Ultron on Netflix from Anywhere?
Avengers: Age of Ultron is one of those movies that a lot of people have watched, and even more are yet to enjoy it. We were wondering if we can find the film over on Netflix so we can get more people to have fun with this amazing movie.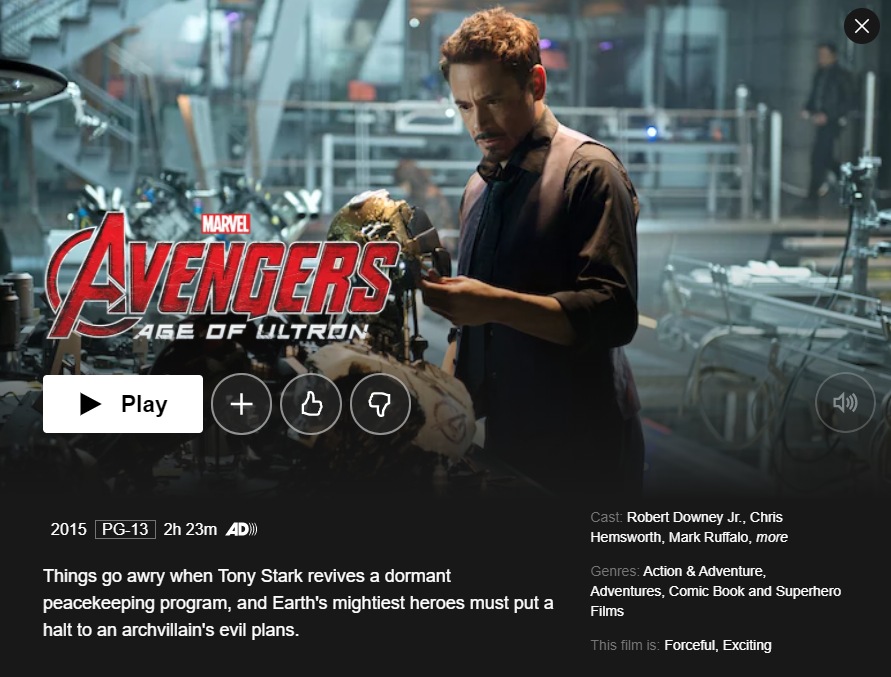 Released in 2015, Avengers: Age of Ultron had a budget of about $400 million, and it brought in over $1.4 billion at the box office. It is the second film in The Avengers series and the 11th in the Marvel Cinematic Universe.
The film features Robert Downey Jr, Chris Hemsworth, Mark Ruffalo, Chris Evans, Scarlett Johansson, Jeremy Renner, Elizabeth Olsen, Paul Bettany, Stellan Skarsgard, Idris Elba, Samuel L Jackson, Anthony Mackie, and many others that have left a lasting impression on the Marvel Universe.
In this movie, Tony and Bruce try to create a peacekeeping program dubbed Ultron, but their sentient creation believes it must eradicate humanity to save Earth. The Avengers come back together to help fight multiple foes.
Is Avengers: Age of Ultron on Netflix?
Avengers: Age of Ultron is available on Netflix, but you do have to know where to look for it. Netflix has libraries in all the countries where the platform is available, meaning in about 190 of them. Each of these libraries is geo-blocked, so you can't really access the ones from a neighboring country, for instance. We did manage to find Avengers: Age of Ultron on Netflix Canada, but it was missing on the platform in the United States, the United Kingdom, or Australia.
How can I watch Avengers: Age of Ultron on Netflix?
If you're going to watch Avengers: Age of Ultron on Netflix, you need to appear to be in Canada, regardless of your actual location. For this, you will need a VPN that can help route your internet connection through a private server so that you appear to be in this new location. The app will assign a new IP address to your device, which will trick Netflix into allowing you to watch anything you need from the local Netflix library.
If you do not know which VPN to use, we recommend NordVPN, which is a really great tool that has thousands of servers all over the world and some great privacy features.
Here's what you need to do to watch Avengers: Age of Ultron on Netflix:
The first thing you need to do is just subscribe to NordVPN. They offer three months for free, so you should make sure you grab that deal as long as it is available.
Then, you need to install the app and log in to your account. Once that's done, you have to look for a server that is located in Canada and connect to it.
As soon as the connection is established, you should load Netflix in your browser and relaunch the app on your device. Netflix will know if you are in Canada and will return Avengers: Age of Ultron when you search for it.
This is all pretty straightforward, and it doesn't require many steps to make it happen.
Won't Netflix know I'm using a VPN?
Actually, Netflix does have the technology necessary to detect when people are using VPNs, but like any technology, it's not perfect. More specifically, this particular method that Netflix is using enables it to figure out when people are using VPNs if they are of the free variety.
Most often, premium VPNs like NordVPN do not get detected, especially since the advanced technologies they use protect people's real identities and location. If you do happen to get spotted using a VPN on Netflix, you can contact the NordVPN support team. They will be more than happy to help guide you to a server that works with the desired Netflix library that you are trying to access. That's being said, you should probably try to change the servers before you contact anyone just in case that works – and it's a lot faster.
Why not use a free VPN instead?
Using free tools online is something that we have all got accustomed to doing, but in the case of VPNs, that's not exactly advisable to do. Free VPNs are the first to get detected by Netflix because they have few servers and lots of users sharing the same similar IP addresses, which makes them easy to spot. Furthermore, even if the free VPNs were going to circumvent the blockades Netflix has in place, it would still be extremely difficult to actually stream Avengers: Age of Ultron because the servers are overcrowded most of the time. Overcrowded servers translate into a low internet speed, which makes it extremely hard to properly stream quality content on Netflix.
Another issue we have with free VPNs is that they are quite often dangerous. Security researchers have discovered over time a lot of apps that were posing as VPNs but were actually malware. The malware could collect information on the victims, ranging from credentials to your email account or social media profiles and up to banking details. You could end up with an empty bank account, your account hacked, identity theft, and so on.
There is also another category of VPNs that are often offered for free, which use peer-to-peer routing. Basically, you'll be using some other person's computer as a server of sorts, as you allow others to use your own device. Naturally, this will have a heavy impact on your computer's performance. The bad news is that the app does not stop working on your device when you stop using the VPN and will continue running in the background. Also, we've noticed a lot of security problems with this type of apps, as they do not use encryption and also keep a log of people's activity online. This is a big infringement on the privacy lotion that is most often attached to VPNs.
We understand that having a VPN for free is something that you would like and that paying for another subscription every month is not ideal, but from a security standpoint, it's what you need to do.
Final thoughts
We hope we've managed to help you watch Avengers: Age of Ultron with your Netflix subscription, no matter what country you're in. Keep in mind that you can do the very same thing for pretty much any title that you know Netflix has somewhere in the world and that is not locally available for you.