We are reader supported and may earn a commission when you buy through links on our site.
Learn more
How to Watch Crazy Rich Asians on Netflix from Anywhere?
A couple of years ago, a romantic comedy hit theatres across the world, and it was incredibly successful in a world that seemed to prefer superheroes. Crazy Rich Asians was a success then, and it continues to be one, including on streaming platforms. We wanted to watch Crazy Rich Asians online, so let's go see what we can do about it.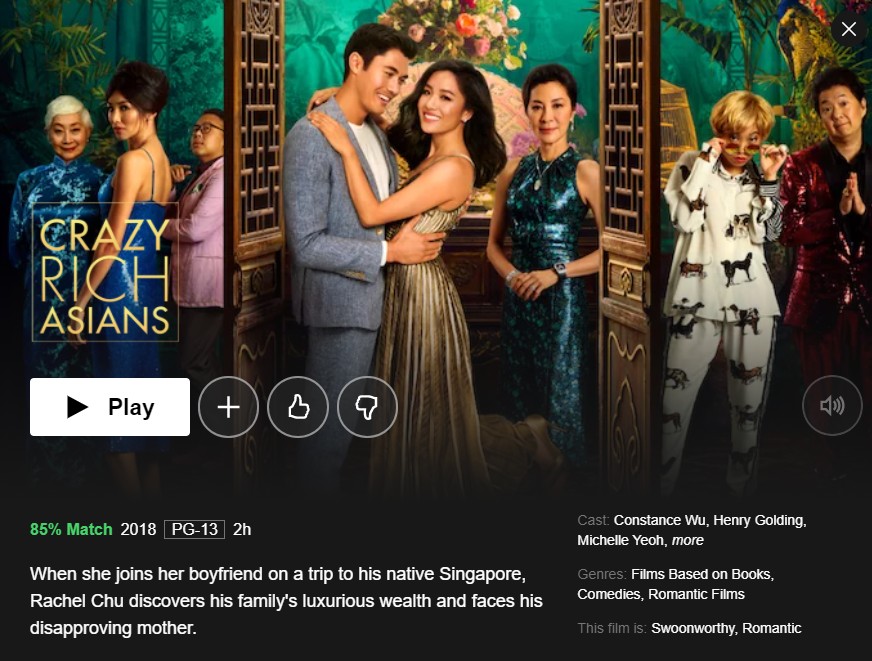 Released in 2018, the comic Crazy Rich Asians is based on a novel with the same title by Kevin Kwan from 2014. The film features Constance Wu, Henry Golding, Gemma Chan, Lis a Lu, Awkwafina, Ken Jeong, and Michelle Yeoh.
The story follows a Chinese-American professor who travels to meet her boyfriend's family and is surprised to find out they are among the wealthiest families in Singapore. The film was pretty praised for being created by a major Hollywood studio and featuring a majority cast of Asian descent in a modern setting. Although they did not get everything right, they managed to get enough right to get the world's recognition.
30-days money back guarantee
Is Crazy Rich Asians on Netflix?
Crazy Rich Asians has been making the rounds on Netflix and coming and going from its platform for quite a while, but now it is possible to watch it on Netflix Canada if you are in the country – and even if you're not.
Editor's note: NordVPN is our #1 choice for unblocking Netflix. Sign up for the 2-year plan with NordVPN at $3.49 per month, as well as 3 months for FREE. A 30-day money-back guarantee is included on all plans, so you can cancel any time and get your money back.
How can I watch Crazy Rich Asians on Netflix from anywhere?
Following Crazy Rich Asians on Netflix is not going to be extremely difficult to do, but you do need to be aware of the problems you will encounter. Netflix is available in about 190 countries from all over the world, and it has an individual library in each of these locations. Each library is also geo-blocked, which means that you cannot access any of the content without a little bit of extra help in the form of a VPN.
A VPN is a great tool that has the power to route your internet connection through a server of your choice and assign a new IP address to your device. This makes it possible for you to watch content from Canada while being in a completely different location.
Our recommendation is to use NordVPN, a great tool with thousands of servers worldwide and uses great encryption protocols, which means that all your data is safe and sound.
Here's what you need to do:
You need to start by subscribing to NordVPN, which is something that will take a few minutes to achieve. NordVPN is offering 3 months for free and 68% OFF the 2-year plan, down to $3.49 per month.
Then, you need to get the apps and install them on your device before logging into your account.
Find a server that is located in Canada and connect to it.
Once the connection is established, you can load Netflix in your browser or relaunch the app on your device.
Look for Crazy Rich Asians and start streaming the film so you can have some fun.
Won't Netflix know I'm using a VPN?
Netflix had brought in some technology some years back, which enabled it to know exactly when people were using VPNs. That technology works with free tools mostly, but it's not exclusive to that, and you can find yourself being unable to watch content even with your premium VPN. We did not have any issues when using NordVPN, but it does not mean that it cannot happen at one point or another.
That being said, if you do face any troubles, you can definitely contact the customer support team of NordVPN, and they will be more than happy to help guide you find a server that works with this specific Netflix library you want to access.
Why not use a free VPN?
Free VPNs are also something that you could find online, but they are not something we will advise you to install on your device. The reason for this is pretty simple, and it is directly tied to these tools' ineffectiveness.
First of all, free VPNs are the first to get blacklisted by Netflix, which means that you won't even be able to bypass the blockade. Even if you did manage to use a tool that hasn't yet been blocked by Netflix, you would easily find that you are unable to properly stream Crazy Rich Asians on Netflix. The reason for this is the extremely high traffic on these servers, which means that the tools are overused and overcrowded. Overcrowded servers usually mean that internet speeds are extremely limited and certainly not suitable to stream Crazy Rich Asians.
Another even more important aspect is directly tied to the fact that security researchers discovered time and time again that so-called VPNs were actually carrying malware. Cybercriminals would deliver these tools on app stores and simply wait for people to install them. Once they did this, their devices would start sending off information to the cybercriminals, which could then use them to hack into people's social media accounts or email accounts, into banking accounts, and so on. Basically, all the data on your device is open for anyone. Identity theft and banking fraud are just some of the things you could live through due to picking a free VPN tool off the internet.
There are other tools that you should be avoiding as well, namely VPNs that use peer-to-peer routing. These apps will actually use your own device and offer it to other people to connect to it as they would to a server the VPN owns. This will have an impact on the performance of your computer, as it uses its resources. Furthermore, these tools are known for keeping logs on what people are doing online and not using encryption to protect the connections.
Saving money is important, but protecting your privacy and security online is also extremely valuable, so you should definitely take this into account and simply avoid free VPNs online.
Final thoughts
Crazy Rich Asians is certainly a film that deserves to be watched, and we are happy to have found it on Netflix.