We are reader supported and may earn a commission when you buy through links on our site.
Learn more
How to Watch Czech TV Online from All Over the World
One thing that's rather annoying about streaming services and even live streams from TV networks is that they are geoblocked. This can be rather unfortunate if you travel abroad and wish to watch the shows you do when you're at home, or perhaps even the local football matches. The situation applies to Czech TV and streaming services too, so you'll need extra help to watch anything while traveling.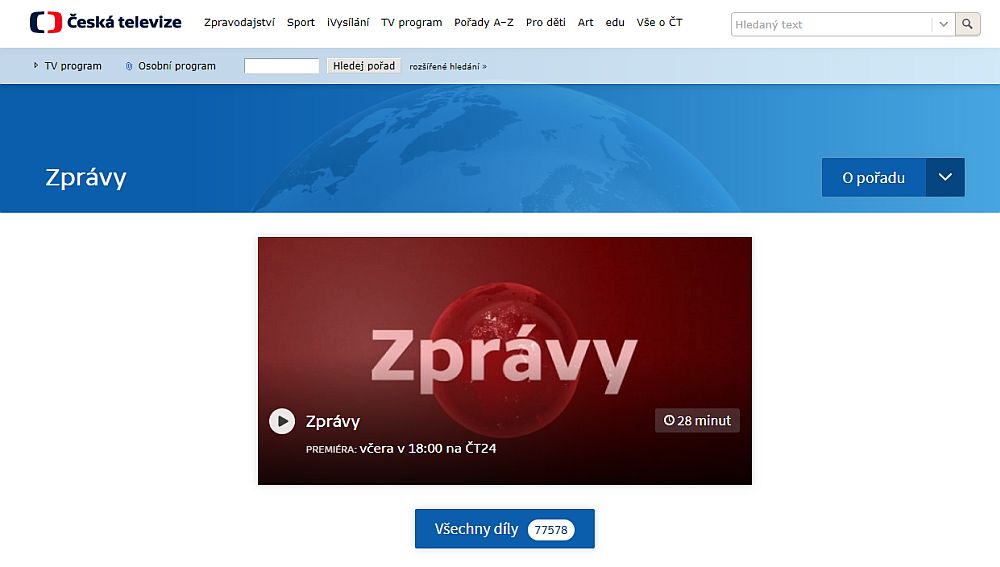 Streaming services and live streams from your favorite TV channels can be quite easy to access thanks to the mobile devices we all have and the omnipresent Internet connections. The fact that the services are geoblocked, can be quite a bummer, but you only need a VPN to fix the situation.
30-days money back guarantee
How to watch Czech TV with a VPN
When using VPNs, your Internet connection is routed through various servers and a new IP address is assigned to your device. This will, in turn, make you appear to be in a country of your choice – in our case, the Czech Republic. By doing this you'll be able to watch local TV channels over the Internet, or access your home Netflix library.
When it comes to VPNs, we usually recommend NordVPN. This is one of our favorite tools and it also fared specifically well during our testing phase. It comes with thousands of servers, including quite a few in the Czech Republic. Its UI is simplistic, which makes it easy to use by anyone, even those that are less accustomed to such tools.
Here's how you can watch Czech content from abroad:
Subscribe to NordVPN by visiting their website and setting up an account. Take advantage of the current deal – 3 months for free and 68% OFF the 2-year plan!
Then, you have to download the apps for your device, install them, and run them so you can log into your account everywhere.
Next, you'll need a server in the Czech Republic. There's a single location for the whole country on NordVPN, so there shouldn't be an issue in finding it.
Once the connection is established, you can simply load whatever Czech live stream or platform you are interested to watch. It will now detect you as being in the Czech Republic.
Is this method foolproof?
Using VPNs to access blocked content is usually pretty easy and goes without a hitch. Sometimes, however, depending on the platform you're looking to access, they may have VPN detection software so you'll get spotted. We haven't really had any issues when using NordVPN, but it doesn't mean it can't happen. If you do have any issues and the platform displays a notification telling you shut down your VPN, or you continue to get blocked, you need to contact Customer Support. The 24/7 service offered by NordVPN will be of great help here because they can help connect you to a different server that goes undetected.
Editor's note: NordVPN is our #1 choice for unblocking Netflix. Sign up for the 2-year plan with NordVPN at $3.49 per month, as well as 3 months for FREE. A 30-day money-back guarantee is included on all plans, so you can cancel any time and get your money back.
Why not use a free VPN?
We're sure you've already noticed that the Internet is full of "free VPNs." There are, however, multiple problems with these tools. One of the biggest issues is that they are quite often just shells for Trojans and other malware. Security researchers have often discovered apps posing as VPNs in the market. Instead of helping you connect to servers around the world and protecting your identity, they instead infected your device and gathered up all data on you.
There are also "clean" VPNs that are offered for free, but they're not going to be much help to watch live streams. Since they only have a limited number of servers, and thousands of people using them at the same time, you can't expect high Internet speeds. There are also free VPNs that will use your own computer as a server of sorts, and help route other people's connections. As you can expect, this weighs heavily on your processor.
Which Czech TV channels can I watch online?
Much like all countries in the world, local channels from the Czech Republic have live streams or, at the very least, an online presence so you can check recordings and other videos. Here are some of the local streaming services you can access online:
Česká televize
Nova Plus
iPrima
JOJ TV
TV Barrandov
Polar
Why should I use a VPN with a Czech server when traveling abroad?
Whenever you travel, accessing the local content with the help of a VPN is always best because you may find yourself encountering various issues if you don't. For instance, online banking services may discover you are abroad and block your access in order to protect you from fraud. It's often enough to notice you are in a different country and they'll try to block you … from yourself. The same goes for other local sensitive platforms.