We are reader supported and may earn a commission when you buy through links on our site.
Learn more
How to Watch DISH Online from Outside the U.S.
Dish is a satellite television provider based in the United States. The company provides service to over 13 million subscribers around the country, offering full access to movie channels, sports, broadcast stations, pay per view, and much more. Users can join Dish for a monthly fee and enjoy all of these channels without limitation, making it a better option than cable in some circumstances.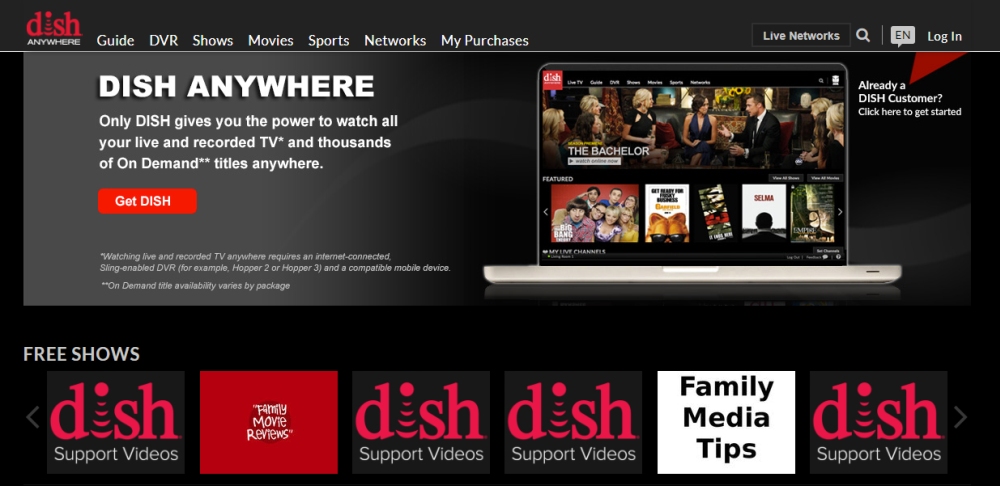 The Dish Anywhere and Dish Online services allow Dish subscribers to stream content on their PC. The catch is that Dish is only available to users located within the United States, meaning that if you have an IP address from another country, you'll be instantly blocked from the streams. There are some ways around this limitation, however, including the use of a reliable VPN.
Below we discuss the best methods for watching Dish outside of the U.S. It's faster and easier than you might think!
30-days money back guarantee
Watch Dish Outside the U.S. with a VPN
A virtual private network, or VPN, is one of the most versatile privacy tools you can buy. In addition to being the best way to get non-local IP addresses, VPNs provide a host of other benefits that keep you safe and secure online. But how are you supposed to know which VPN does what it claims? By checking out our criteria below!
Criteria for Selecting a VPN
VPNs add encryption to your connection, which is a good way to add basic online privacy to any device. They also allow for location variability through virtual IPs. Together, these create a remarkably secure online experience that protects you quietly and in the background.
Making sense of the VPN marketplace isn't easy, however. There's a lot of learn and even more to research, which is why we've provided a list of important criteria that will help you focus on what matters most. The features below are crucial to providing the best experience for watching Dish outside the U.S. We used the same criteria to select our recommended VPNs in the next section.
Streaming speeds – VPNs are often slower than a standard internet connection. To keep your movies hi-def, make sure your VPN compensates for this.
Security – Stronger encryption means a better online experience.
Server network – To watch Dish from outside the U.S., you'll need reliable access to fast servers in North America.
Zero-logging policy – Your information can only stay safe if the VPN has a strict zero-logging policy.
Steer Clear of Free VPNs
You might be tempted to save a quick buck, and hop onto a free VPN service. Unfortunately, one fundamental rule of the internet is that if a product or service claims to be free, you're the product. When you sign up for anonymity and protection with a faux-VPN, you're more likely to have your personal data and activity metadata auctioned off to the highest bidder. Less scrupulous services may even co-opt your device to function as part of a botnet, or even just implant malware.
If this sounds like scaremongering, consider this: you're on the market for anonymity, privacy and security from all third parties. Spending a few bucks a month nets you all that and more–the peace of mind of having chosen a reputable service to handle your precious data.
Best VPNs to Watch Dish Outside the U.S.
If you don't want to spend hours researching VPNs and encryption protocols, feel free to choose any of the recommended services below. Each one is fast, secure, and affordable, delivering the best online streaming experience possible.
1 – ExpressVPN – Fast and User-Friendly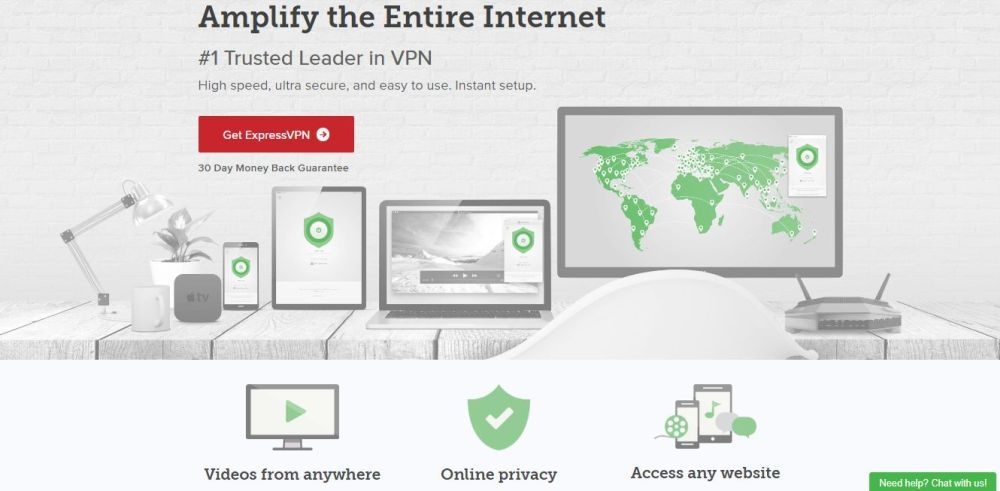 ExpressVPN is one of the fastest and most reliable VPN services on the market. It provides a wonderful online experience anyone can enjoy, thanks to smart software available on a variety of devices, including Windows, Mac, Linux, Android, and iOS. Each time you connect, you'll automatically join the fastest server available, all without any complicated configuration. If you want a smooth and effortless VPN experience without all the hassle, ExpressVPN is definitely the way to go.
ExpressVPN runs a large network of over 2,000 servers in 94 countries with excellent connection speeds. You can use these nodes to get anonymous IP addresses across the globe, as well. The company's privacy features keep you secure with 256-bit AES encryption, and a zero-logging policy on traffic, DNS requests, and IP addresses. DNS leak protection and an automatic kill switch form a reliable safety net in case of an accidental disconnect or other internet issue.
Check out our full ExpressVPN review for more info about the service's amazing features!
Pros
Unblocks American Netflix, iPlayer, Hulu
Super fast, reliable connection
Secure encryption & VPN protocols
Strict no-logs policy
24/7 Live Chat.
Cons
Slightly more expensive than some other options.
2 – NordVPN – Fast and Powerful Protection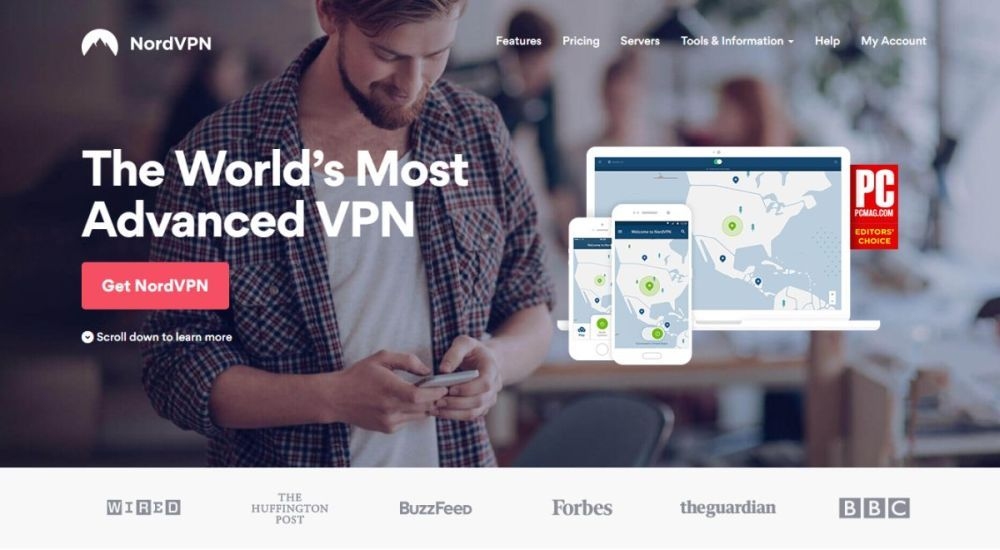 NordVPN keeps you safe with top-notch privacy practices, great server connections, and strong encryption, allowing you to stay invisible online without sacrificing speed. NordVPN's server network is one of the company's best features. It currently sits at over 4,800 servers in 62 countries, and it grows almost every day. NordVPN offers unique features thanks to this network including double encryption, location obfuscation, dedicated IP addresses, and anti-DDoS measures.
NordVPN has a zero-logging policy that covers everything from bandwidth to time stamps, traffic to IP addresses, meaning your activity is never recorded or shared with third parties. Backing this is 256-bit AES encryption on all data, an automatic kill switch, DNS leak protection, and a host of customizable encryption features to keep you safe online.
Learn more about the NordVPN experience in our complete NordVPN review.
Pros
Unblocks US Netflix, iPlayer, Amazon Prime and other streaming services
No bandwidth caps
Strong encryption is used on all connections
No logs and encrypted connections for total privacy
24/7 Customer Service.
Cons
Some servers can have average d/l speeds
Can't specify City or Province in App.
3 – CyberGhost – Fast, Secure, Safe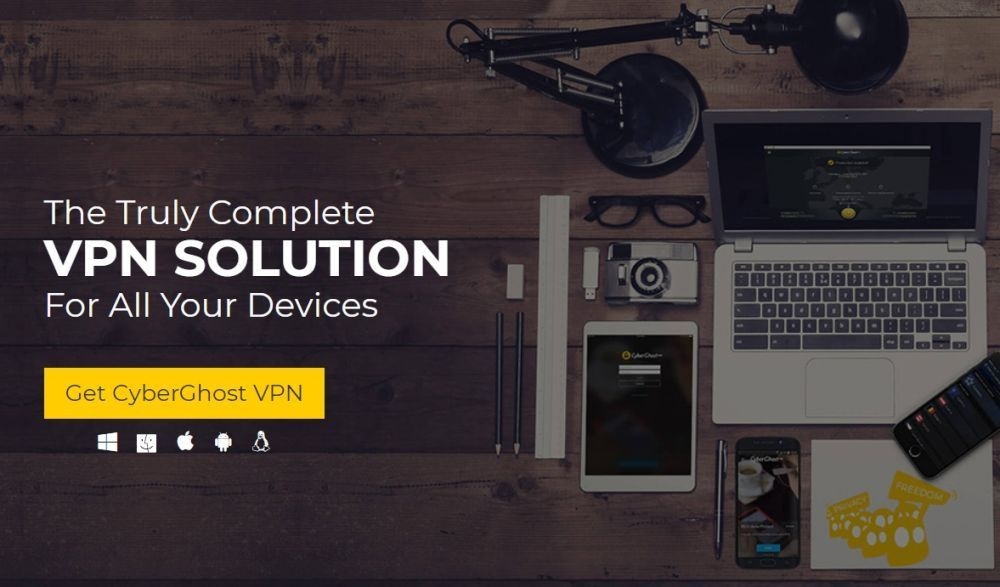 CyberGhost has speed, privacy, and security down to a science, creating a fast and reliable online experience everyone can enjoy right out of the box, no configuration required. Part of this high usability is due to the company's network of 2,400 servers in 60 different countries. Every time you connect you'll have access to a reliable and lag-free server, guaranteed. No buffering delays or internet slowdown, just sign on and enjoy the secure world wide web!
CyberGhost's privacy features keep you safe with 256-bit AES encryption on all data, a zero-logging policy on traffic, time stamps, and IP address, and both DNS leak protection and an automatic kill switch on all of its software and apps. These foundational features hide your identity each time you go online, allowing you to connect with fully encrypted data no matter where you travel or which platform you prefer.
Learn more about CyberGhost's great features in our complete CyberGhost review.
Pros
SPECIAL OFFER: 79%OFF
Fast, constant speeds
Versatile and user-friendly
Strict no logging
24h support.
Cons
Doesn't unblock all streaming services.
Get a 77% discount
 on CyberGhost's three-year plan, for payments as low as $2.75 per month.
How to Use a VPN to Watch Dish Outside the U.S.
Ready to get started? Follow the steps below to set up and start streaming Dish from outside the U.S. so you can enjoy all of your favorite shows without delay!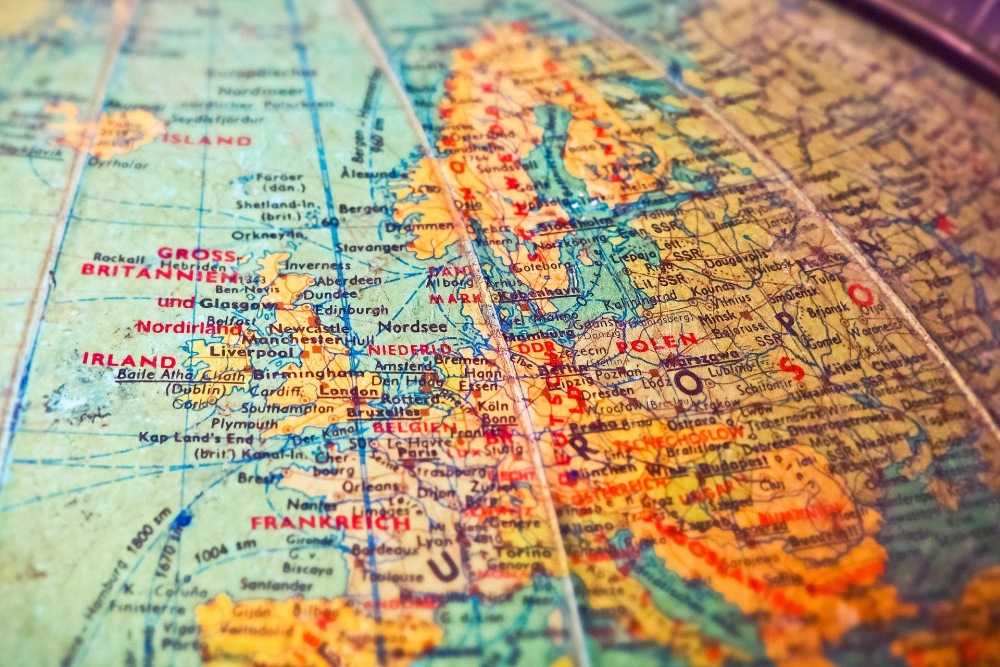 Step 1 – Requirements
Watching Dish from outside the U.S. comes with a few requirements. Once you have these set up, you won't have to worry about them again. Just make sure everything listed below is in working order and you'll be ready to proceed.
You'll need an active subscription with Dish to stream content from Dish Anywhere.
You must have a reliable VPN to get a U.S. IP address.
A PC or laptop works better than a smartphone or tablet.
Step 2 – Download a VPN and Connect
VPN apps are pretty straightforward. The specific steps for installing each one will be different depending on your service, but for the most part, they practically install themselves. The checklist below will guide you through the process in case you need help.
In a web browser, sign into your VPN account and download the software for your device.
Install the app, launch it, then enter your VPN login credentials.
Open the list of servers and choose one located inside the U.S.
Connect to the server and wait a few moments for it to go through.
Now you have a U.S. IP address and are ready to stream!
Step 3 – Verify Your IP Address
It's a good idea to verify your new virtual IP address before attempting any stream. This ensures your VPN is actually providing the service you need. If there's an IP leak or other issue, you won't be able to stream Dish from outside the U.S.
Open your VPN app and connect to a server in the U.S.
Launch a web browser and go to ipleak.net.
Wait for the page to load. It will automatically run an IP address lookup.
Look at the box at the top of the page beneath "Your IP addresses". If it shows the U.S., you're set. If it doesn't, check with your VPN to resolve any IP leak errors.
Step 4 – Launch Dish and Enjoy
With everything in place, you're now ready to start streaming from Dish! The best way to do this is to enter your Dish subscription credentials on the Dish Anywhere site. The service offers some free content for general users to enjoy, but with your VPN and a Dish subscription, you'll have full access to all of its content.
Make sure your VPN is connected to a U.S. server.
Visit DishAnywhere.com on your PC
Click the Log In link in the top right.
Enter your Dish ID credentials and sign in.
Choose a video and start streaming.
Alternatives to Dish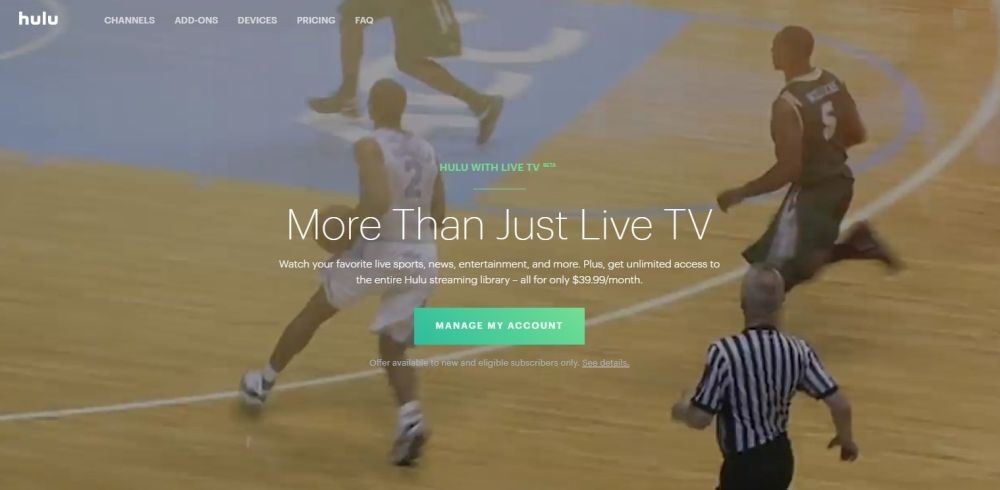 Dish is one of the largest satellite TV providers in the U.S., but it isn't the only way to stream movies and TV shows. Several competing services offer the same variety of content at great prices. Many of them are even easier to watch from outside the U.S. than Dish, making it worth your time to check them out!
Hulu with Live TV
Hulu's push to conquer the TV streaming scene continues with a newer addition to the core service, Hulu with Live TV. Instead of on-demand access to archived episodes and new content on a time delay, Live TV lets you stream broadcast and cable channels right away. You can catch your favorite shows while they air, even watch live sports and news programs from your computer. Hulu with Live TV is available on the same platforms as the standard service, including gaming consoles, Roku, Fire TV, Apple TV, Android TV, iOS, Android, and browsers.
As is the case with the standard Hulu service, Live TV comes with some pretty heavy regional restrictions, i.e. you have to live in the United States or Japan. Specific channel availability can also shift depending on your zip code, too, since Hulu with Live TV aims to provide hyper-local content. Some users have found workaround with VPNs, but it's not a guarantee if you want to watch from outside the U.S.
PlayStation Vue
PlayStation Vue is a streaming service aimed at cordcutters looking to ditch cable and move to something a little more convenient. It works by providing broadcast and cable channels concentrated into different packages, each one adding new themed sources providing access to more live sports, newer movie releases, and so on. The app is available on most popular streaming devices and platforms, including PlayStation 4 consoles, Roku, Fire TV, Android TV, Apple TV, and both iOS and Android.
It's worth noting that PlayStation Vue is only available within the United States. You have to have a U.S. address and payment method to sign up, and Sony blocks access to most VPNs, making it difficult to watch many channels overseas, even with a valid account.
Sling TV
The "a la carte" TV streaming service Sling drops pre-made packages in favor of a single subscription price with new channels available as you see fit. Want Showtime but don't need HBO? Not a problem with Sling. The app is available on all major devices, everything from Apple TV to Android TV, Roku, and Amazon Fire TV Stick. It's easy to use and highly customizable, too, making it a great alternative to Dish that you can watch from around the globe.
USTVnow – Watch American TV Shows Outside the U.S.
One of the perennial favorites for watching U.S. content abroad is USTVnow. The streaming service provides Americans traveling overseas with full access to channels from home. Use it to catch up on sports, stream prime time sitcoms, watch news and weather reports, and much more. It doesn't have the selection of Dish or some competing services, but it's priced right and is one of the best solutions for global streaming.
For full instructions on how to join USTVnow, see our featured guide: Install the USTVnow Kodi Add-on and USTVnow Plus
Conclusion
Dish is a popular satellite and streaming service with millions of active users. Although it wasn't designed to allow for worldwide access, with the right VPN you can easily stream Dish content outside the U.S. Best of all, you don't need to be a computer expert to get it done.
Are you traveling abroad for holidays or business? Using a VPN, where in the world will you be tuning into Dish from? Share your story in the comments below!