We are reader supported and may earn a commission when you buy through links on our site.
Learn more
Watch ITV in USA: How to Unblock ITV From Anywhere
In the UK, watching ITV is pretty straightforward. It was a terrestrial TV channel, so any home with a TV aerial used to be able to pick up a signal for ITV. It was a free-to-air channel, so there was no charge for tuning in with advertisements proving the finances that keep the channel going.
This remains the case now that the UK has gone all-digital. ITV is now available on pretty much every digital TV package. It is also on the Freeview service too meaning that it is not necessary to pay a subscription fee to view the service.
The same is true of all ITV's sister channels with the exception of ITV Box Office and ITV Encore, which are both subscription TV channels.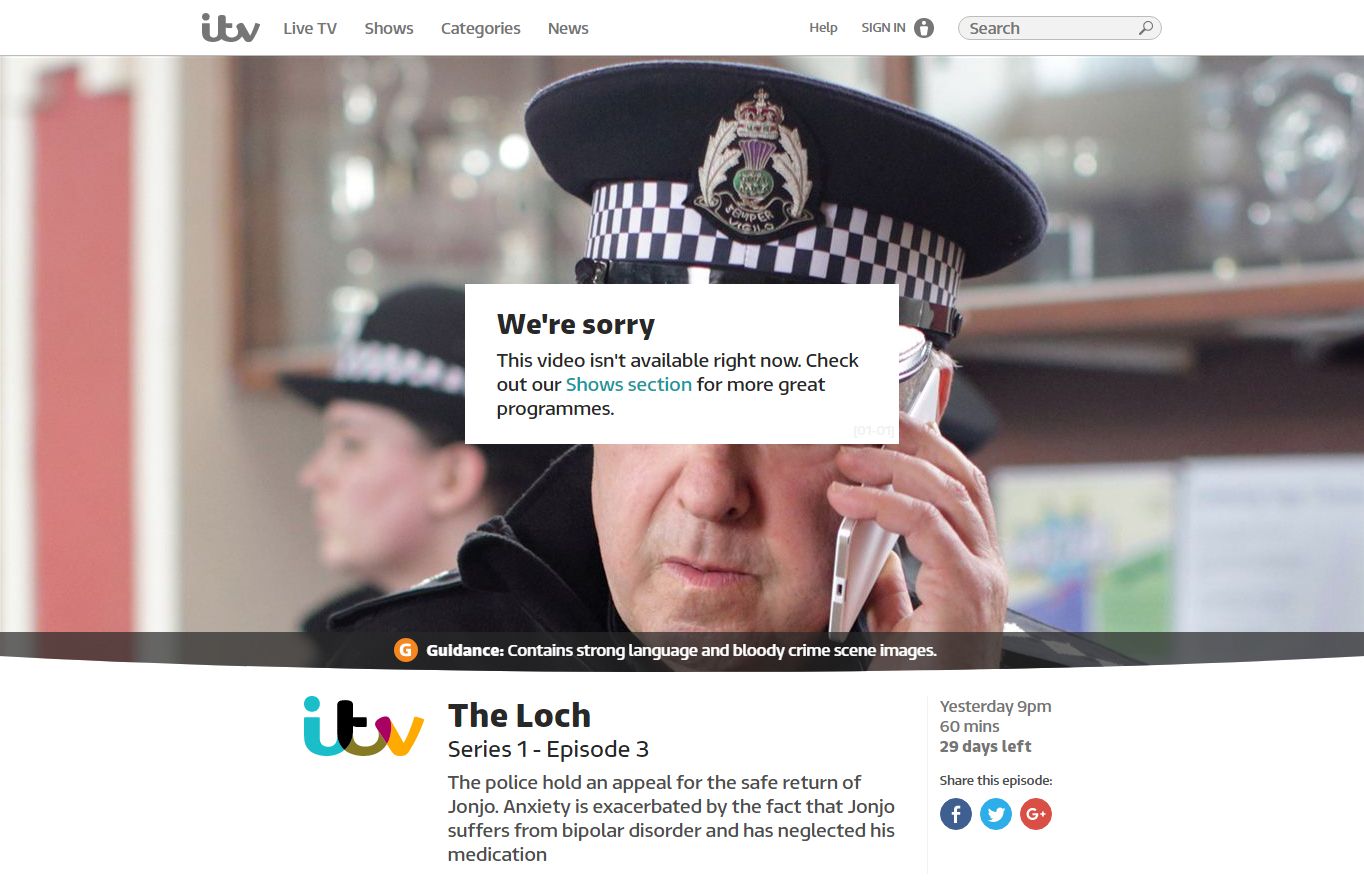 For international viewers, however, it is a little bit more complicated. They do have some ITV-branded channels which are available outside the UK. These include ITV Choice, which screens mostly ITV-broadcast drama and entertainment shows, and ITV Retro, which, as the name suggests shows mostly older, iconic show and movies.
How to Unblock ITV From Anywhere
Subscribe to one of the VPNs in this guide.
To Unblock ITV we highly recommend ExpressVPN (save 49% here), but you'll also find one more world-class VPN services that will work great.
Download and install the VPN's client software.
Connect to a VPN server located in the United States.
Now you can enjoy unrestricted access!
30-days money back guarantee
Watching ITV online
As with all TV channels these days, ITV does of course also offer an online streaming service.
This is currently called The ITV Hub, although it changes its name pretty regularly, so be prepared for it to have been rebranded yet again by the time you read this.
This service is free to use but does require users to register their details and set up an account on the ITV website — which by the way, when you do it, deny access to your browser's location and pick a postal code, from London, maybe? Once you have an account set up, the ITV Hub allows you to stream live content from all its free-to-air channels as well as watch the vast majority of their shows on demand for a period of time after they were first broadcast. The length of time shows that are available can vary from a few days to permanently, depending on what the show is and the rights that ITV has to broadcast it online.
There is no argument that the ITV Hub is a great service for viewers within the UK, but there is one big problem with it. It is not available to users outside the UK.
There is an international ITV online streaming service available. It is called ITV Essentials and offers a 30-day catch-up service on some of ITVs shows, but not all. This service requires a monthly subscription payment, which is currently set at €3.99 a month.
As that subscription fee might suggest, this service is also (currently) only available within the EU.
ITV Hub is definitely the best online tool for watching ITV channels. So it is fortunate that there is a tool which makes it available to overseas users. And that tool is called a VPN.
So how do I get ITV Player to work overseas?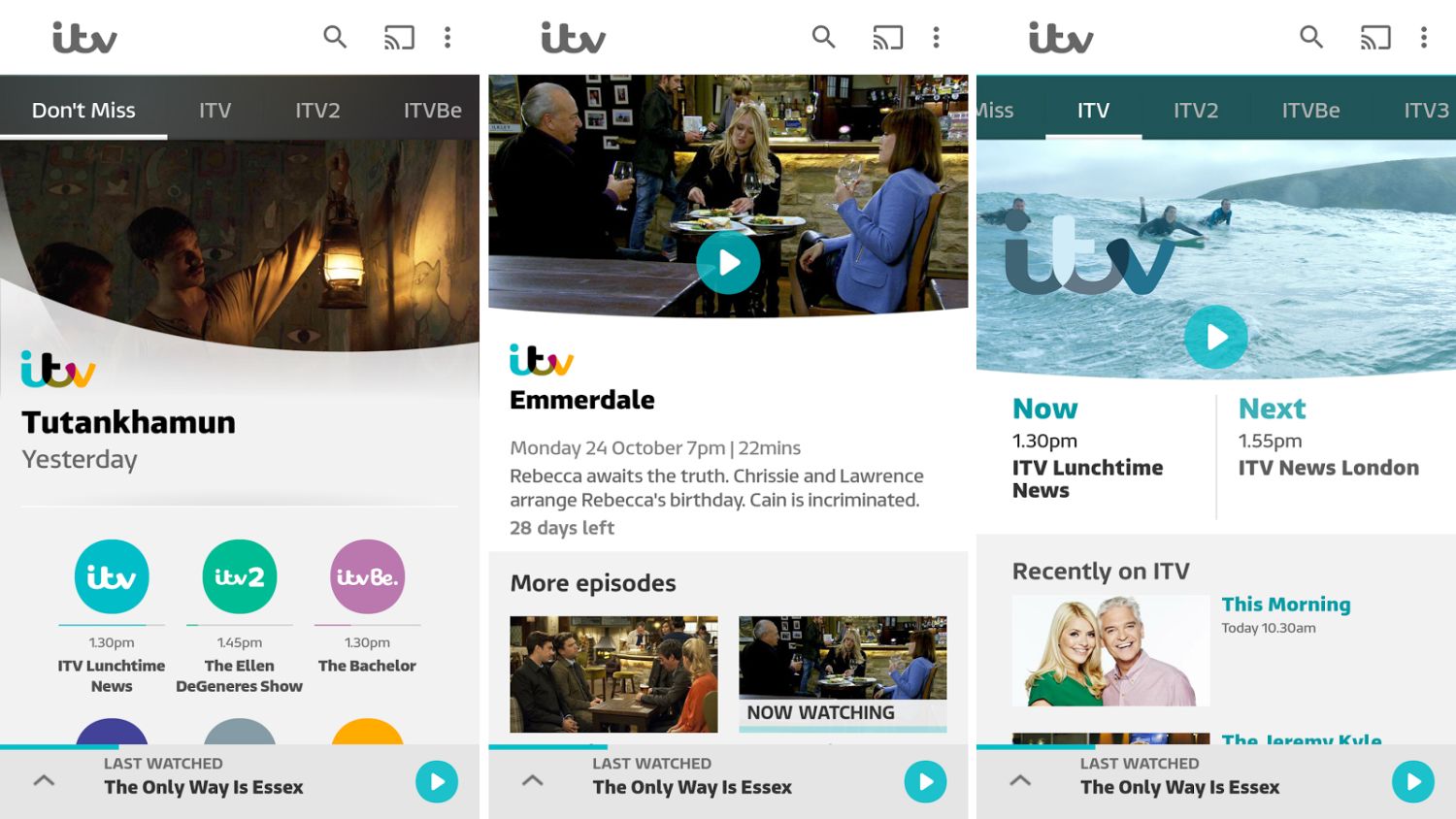 There are a number of reasons why I am uniquely placed to answer this question more authoritatively than anyone else.
Firstly, I am a big fan of a number of shows on ITV and, perhaps more importantly, so is my wife! Secondly, I currently live outside the UK and have done so for a number of years. And thirdly, I am an experienced tech writer who has been reviewing VPNs and writing related articles about them for a long time.
This means that there aren't many VPNs around that I haven't tried out at one time or another. It also means that with most of them I will, at one time or another, have watched some content through the ITV Hub (or one of its former incarnations).
Streaming content successful is a key element of a good VPN and ITV is frequently one of the services I use to try out the latest VPN I am testing.
Over the course of several years, and countless VPN tests, I can honestly say that there are just two VPNs with which I have never had an issue when streaming ITV shows online. Plenty more have been good, but these two alone have been completely faultless 100% of the time. For that reason, in this article, I am going to recommend to two VPNs for you to use to unblock ITV when overseas. And those VPNs are: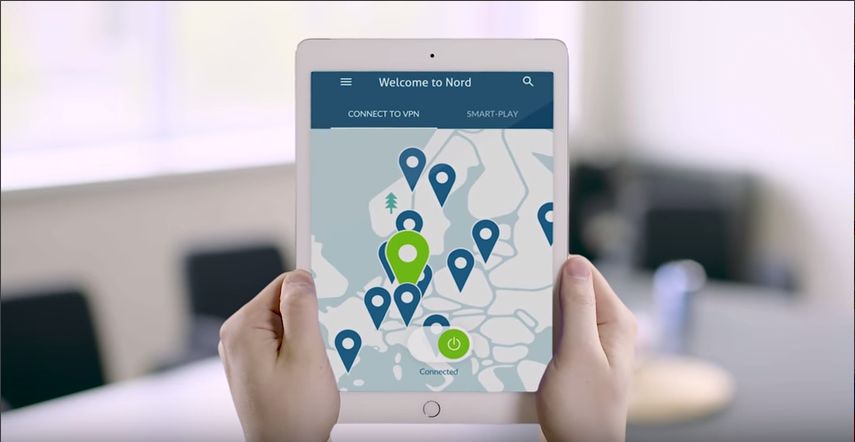 NordVPN is a well-known VPN which has been around for a considerable time. It also comes with a very good reputation and (confession time) is currently my personal VPN of choice.
One of the reasons for this is because of its ability to seamlessly stream online content from a range of broadcasters, including ITV.
Some reviewers will knock NordVPN for their connection speeds which they say can be on the slow side. Personally, I have never experienced this and find the claim to be rather unfair. Speeds are certainly more than sufficient for my online needs and those are greater than most.
To watch ITV overseas, you will need a good selection of UK-based servers to choose from, and NordVPN more than providers there. They currently offer 79 British servers and have recently announced that all of these are being upgraded to be ultra-fast.
Some broadcasters (although not to my knowledge ITV yet) have tried to block VPNs from their service, but NordVPN has a solution to that, too. It is called their SmartPlay technology and it operates like a kind of proxy service. It is built into every connection which means that they guarantee access to every online streaming service.
Security-wise, NordVPN are up there with the very best too, with 256-bit encryption on OpenVPN with 2,048-bit Diffie-Hellman keys on offer. They are also located in Panama which is good news for those concerned about their online privacy because it means NordVPN are under no requirements to keep any records about their users or their online activity.
All in all, NordVPN offers everything you need to unblock ITV from overseas and more.
Pros
SPECIAL OFFER: 2-yr plan (68% off - link below)
Over 5,400 servers in 61 countries
Allows up to 6 devices to be connected at once
"Double" data protection
24/7 Chat Support.
Cons
Some servers can be slow and unreliable
Sometimes slow in procesing refunds (but always do).
Don't forget — all plans come with a 30-day money-back guarantee in case you need to test drive the service, first.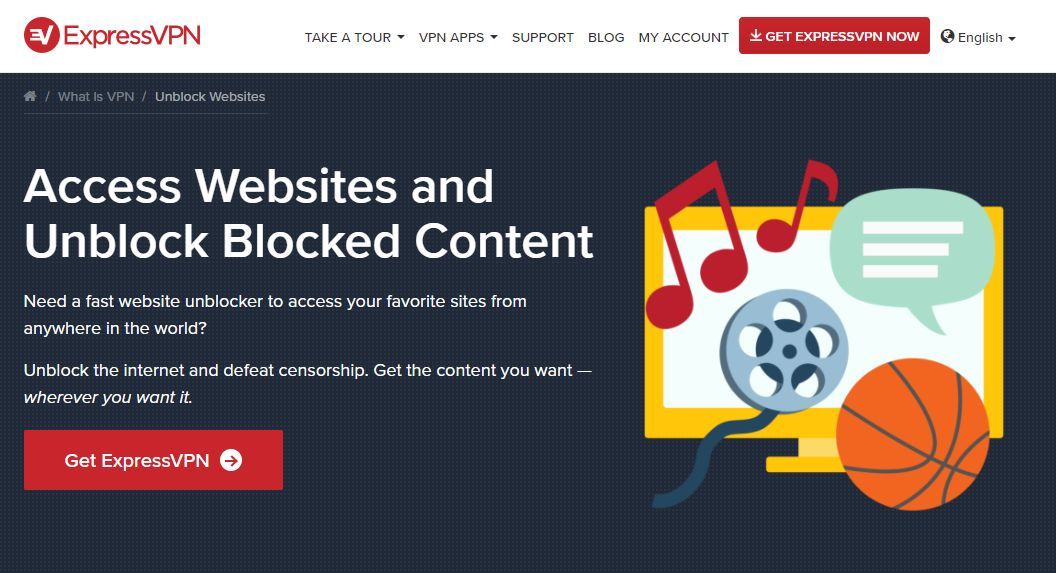 ExpressVPN is one of the best-known and most-hyped VPN providers around, but this is not without good reason. They are a little more expensive than NordVPN, at $6.67 per month but they do offer a quality of service that enables them to justify that price.
Their connections are every bit as fast and consistent as those on NordVPN and many will say faster. They also offer multiple UK servers spread across five separate locations (Berkshire, Chessington, Kent, London, and Maidenhead) which offer you more than enough choice to connect to the ITV Hub.
Security-wise, they are second to none, including NordVPN if I am honest, as their entire network is SSL secured with 256-bit encryption. Meanwhile, they are based in the British Virgin Islands which, like Panama, allows them to keep absolutely zero records about any of their users or their connections.
Pros
SPECIAL OFFER: 2-yr plan (68% off - link below)
Over 5,400 servers in 61 countries
Allows up to 6 devices to be connected at once
"Double" data protection
24/7 Chat Support.
Cons
Some servers can be slow and unreliable
Sometimes slow in procesing refunds (but always do).
Make sure you take advantage of their no hassle 30-day money back guarantee — you'll convince yourself that ExpressVPN is a reliable service that will enable to unblock the ITV Hub from wherever you are in the world.
What is ITV?
Aside from the seemingly ubiquitous BBC, ITV is the UK's premiere terrestrial broadcaster and as such home to some of Britain's most popular TV shows. And whilst these shows draw huge UK audiences, plenty more have an international following too.
Take Downton Abbey for example. A British costume drama, broadcast on ITV, which has won awards all over the world and drawn huge global audiences, especially in the USA. On the other side of the Atlantic, Downton Abbey was a rather surprising smash hit, making stars of its cast and crew.
Broadchurch is another show which has made waves around the world. It's two leading actors, David Tenant and Olivia Coleman are far more frequently to be found on the big screen these days, but they still head back to make this gripping thriller series for ITV.
ITV has also made more than a few of the UK's most popular talent shows too. Britain's Got Talent has a global audience, in no small part due to the success of one Susan Boyle. The X Factor has also created some of pop music's most famous names, including the global sensation that is One Direction.
It is also home to two of the UK's most popular soap operas with Coronation Street and Emmerdale attracting multi-million audiences in the UK as well as devotees from across the globe.
With such a broad range of popular and successful shows, it is little wonder ITV is nothing short of a national institution in the UK. But equally, it should come as no surprise that there is demand for a great deal of its content overseas.
What other channels make up ITV?
The main ITV channel is simply called ITV and was for a long time just known as the third terrestrial TV channel. But these days, there are a variety of other ITV Channels too. These include ITV2, which broadcasts mostly repeated content as well as some behind-the-scenes content related to popular shows.
There is also ITV3, which shows murder mysteries, classic dramas, and movies, ITV4 which is aimed primarily at men, ITVBe, a lifestyle station, and CITV, which is their children's channel.
They also offer a couple of paid-for channels including ITV Box Office, which is their new pay-per-view sports channel and ITV Encore, which is a newly launched drama channel. Both of these channels are only available through Sky and Virgin Media subscription TV.
In addition, there is also ITV HD, which offers HD-quality coverage of the main ITV tv channel, and a number of +1 channels, which broadcast the same as their sister channels but with a one hour delay.
Why can I not stream ITV outside of the UK?
The reason the ITV Hub online streaming service is not available outside the UK is down to rights reasons.
Whilst ITV does make some of the shows it broadcasts on its channel, the majority are made by independent production companies. It is these production companies which hold the rights to the shows and in the UK these rights are sold to ITV, which can then broadcast the shows on their TV channel and stream them through the ITV Hub.
But that same production company will also sell the rights to their shows to overseas broadcasters as well to try and maximize the return on their investment. Whilst there might be a few examples of ITV holding the rights to broadcast shows overseas too, more often than not this will be for shows which are either old or otherwise so quintessentially British that the demand from other overseas broadcasters just isn't there.
It is certainly not the case for those ITV shows which in demand abroad, both from British ex-pats and overseas audiences. Shows like Britain's Got Talent, X-Factor, and Downton Abbey, make a fortune from selling rights to different countries and unless ITV is willing to pay the price, they are not going to hold the rights.
As a British broadcaster, there is little incentive for ITV to pay for these rights and so they are required to ensure that their online streaming service is not able to broadcast these shows outside the UK.
And to do this, they use a technique known as geo-blocking
What is Geo-Blocking?
Geo-blocking is the name of the technique used by ITV, and indeed all online streaming services, to ensure that no-one outside the permitted region is able to watch content on their service. It might sound extremely technical, but it is actually a remarkably simple concept.
When you are using the internet, everything you do online is marked with your Internet Protocol or IP Address. This is a short series of numbers which contains information about your specific internet connection.
Most importantly for the purposes of geo-blocking, this includes details of where in the world you are logging on from. Your IP Address can be seen by every website and online service you use and those that employ geo-blocking can use it to decide whether or not to provide their service to you.
In the case of the ITV Hub, they will look at the IP Address of everyone who attempts to log into their online streaming service. If their IP Address says that they are not located in the UK, the ITV Hub will throw up a polite message telling you the service is not available.
This, of course, means that anyone located outside the UK is unable to watch content on the ITV Hub.
Well, almost. Because there is an online tool which is pretty good at changing your IP Address and therefore fooling the geo-restriction technology employed by ITV.
This tool is called a VPN.
What is a VPN?
A VPN or Virtual Private Network is a popular online security and privacy tool which has seen a rapidly expanding number of subscribers in recent months and years.
But as well as helping to make your internet connection secure and private, using a VPN has a number of handy knock-on effects, one of which is an ability to unblock geo-restricted sites.
A VPN works by redirecting all of your online traffic through an encrypted tunnel and through an external server before it reaches the websites and services you are using.
By encrypting all of your online data, a VPN encodes everything you do online without exception, making it safe from the prying eyes of hackers and government surveillance officers.And by sending all of your internet traffic via an external server, a VPN changes your IP Address and this is crucial for anyone looking to access a geo-restricted site.
From a privacy point of view, changing your IP Address means that it is almost impossible to track your online activity back to your connection. This means you can essentially operate completely anonymously online.
But for getting around geo-blocking, the real advantage in this process comes from the ability to reroute your traffic through servers in a variety of different countries. Different VPN providers will offer servers in different locations, but most will have at least one in the UK.
By rerouting your traffic through a server based in the UK, you are giving it a UK IP Address. As it is this IP Address that the ITV Hub will see when you try to log in, instead of getting a polite refusal message, the service will open and work as usual.
It really is as simple as that. And what is more, VPNs only cost a few dollars a month, and will also help to unblock countless other geo-restricted sites, as well as providing a myriad of online security and privacy benefits as well.
For avid fans of ITV overseas, it really is an absolute no-brainer. The only difficult decision to make it which VPN provider to use.
Conclusion
You won't go far wrong with either NordVPN or ExpressVPN if I am honest. Both will offer a fast and reliable connection and more than enough UK servers to enable you to get the ITV Hub up and running no matter what country you are in.
A VPN is the perfect solution to unblock ITV abroad. So, whether you are an ex-pat looking for your UK TV fix or an international fan desperate to be the first to see your favourite British show, sign up for a VPN today and you can enjoy live or on-demand ITV shows from anywhere.