We are reader supported and may earn a commission when you buy through links on our site.
Learn more
Watch the NBA on Kodi; Official and Third Party Add-ons
Kodi is one of the most popular apps for streaming all sorts of content, and that includes NBA games. Today, we review the best confirmed-working Kodi add-ons that offer access to live NBA streams. We also spare a few words to talk about how to secure your Kodi traffic against ISP throttling using a VPN. Read on to get your game on!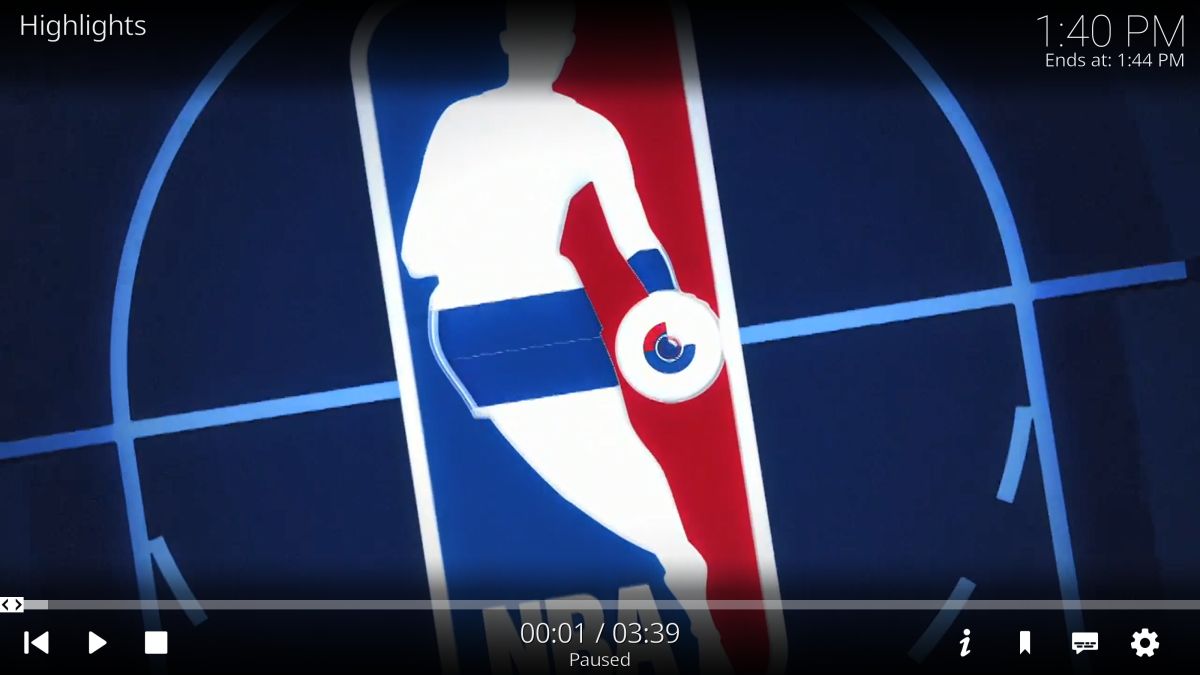 The open source media center Kodi puts a world of content at your fingertips. Not only can you load your own audio and video library into the app, but a variety of add-ons extend Kodi's functionality to include TV and movie streaming along with live events, including soccer, basketball, football, and much more.
With the right third party add-ons you can watch live NBA games on any device. Just install Kodi on your phone, tablet, or laptop, configure the unofficial add ons, then sit back and start streaming. Keep reading for a complete guide on how to watch the NBA on your Kodi enabled devices.
30-days money back guarantee
Before We Begin, Get a Good VPN
The Kodi software is open source and completely legal, but some of the apps you can install may access video streams in a suspicious way. This gray area has caused some concern among privacy advocates as well as government agencies and content creators. When you stream something through a Kodi add-on, your location, personal information, and data on which videos you're watching are all sent through a local internet service provider. ISPs are under no obligation to keep your data secure, which can put your privacy at risk.
VPNs act like a tunnel between your computer and the content you're downloading, providing encryption to mask personal details and preventing ISPs from seeing or sharing your information. An added benefit of using a VPN with Kodi is the ability to switch your virtual location with just a few clicks, letting you watch geo-restricted content through Kodi's vast library third party add-ons.
Hide Your Kodi Traffic with NordVPN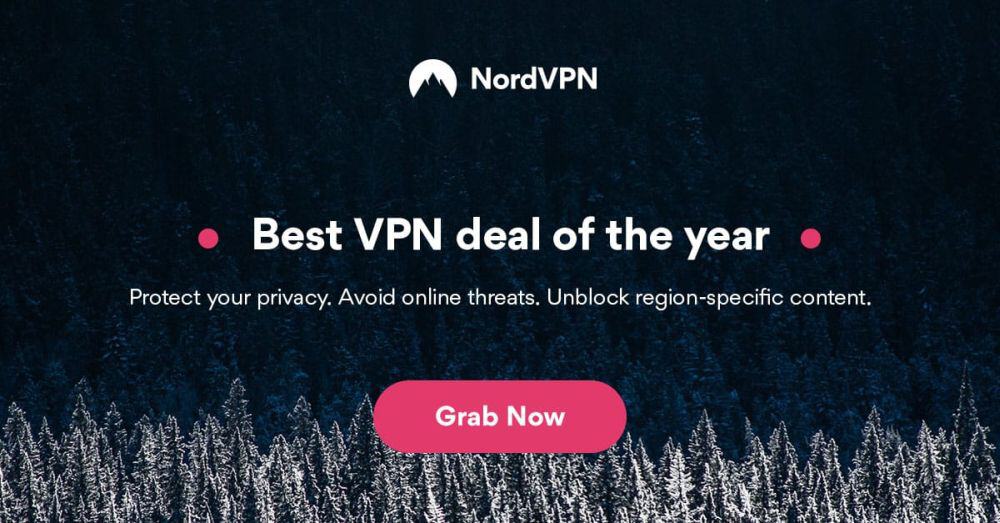 NordVPN was practically built with Kodi in mind. All of the major concerns about ISP tracking and throttling can be handily defeated courtesy on NordLynx encryption. This modern protocol is built off WireGuard; and using a hyper-efficient 256-bit AES encryption cipher, delivers the utmost security that even the world's most sophisticated supercomputer couldn't hope to crack. What's more, it's optimized for the most popular VPN use-cases, like streaming, downloading and gaming, and won't bog your connection down with latency that leads to video buffering.
Moreover, Kodi users will love being able to casually break through geoblocks to access international content. This is not only great for discovery, but for anyone who travels frequently and just wants a secure method of streaming Kodi content from back home–like NBA games! In total, NordVPN offers more than 5,800 servers in 59 countries, and this number is growing all the time.
NordVPN is available on all the most Kodi-friendly devices, including Windows, Mac OS, and Fire TV. You can connect up to 6 devices simultaneously, allowing you to share with friends and family. Whatever you do with your VPN, rest easy knowing NordVPN never logs your activity, enshrining your anonymity in company policy.
Read our full NordVPN review.
Pros
Unblocks American Netflix
Most VPN servers with different IP addresses
2,048-bit SSL keys and DNS leak protection
Based in Panama
30-day money back guarantee.
Cons
Very little
Apps can sometime be slow to connect.
How to Install Unofficial Kodi Add-ons
Once you get Kodi installed on your device, it's time to dive into the world of add-ons. Most versions of Kodi come with a set of official add-ons you can install with just a couple of clicks. You can take also things even further with unofficial extensions that include more live streams, more video sources, and a host of accessibility improvements.
Before you can install third party add-ons, you'll need to give Kodi permission to download files from external sources:
Launch Kodi and click on the gear icon to enter the System menu.
Go to System Settings > Add-ons
Toggle the slider next to the "Unknown sources" option.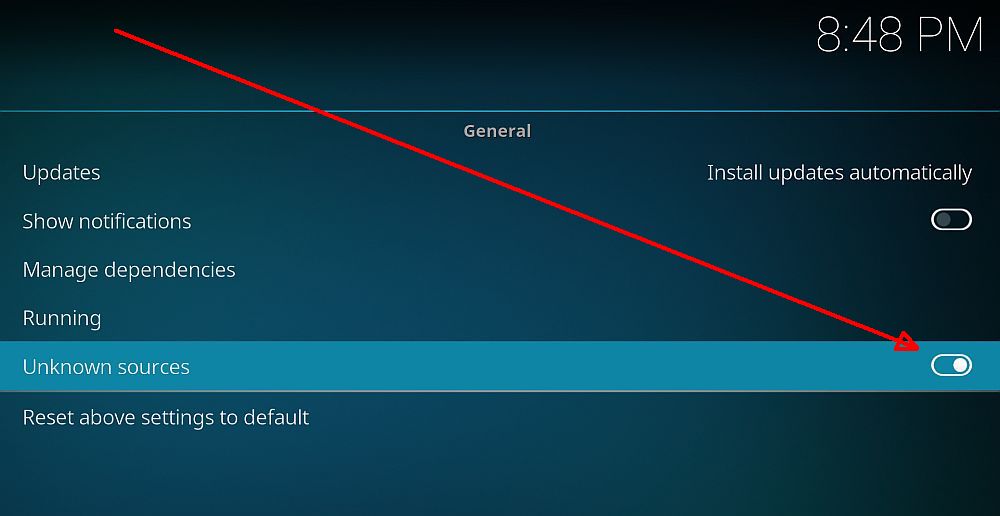 Accept the warning message that pops up.
With external file access enabled, Kodi can retrieve and install any third party add-on you like. The process is surprisingly simple. First, you'll need to tell Kodi where to locate a repository, which are bundles of add-ons put together by third party providers. With the repository downloaded, simply browse its contents and install add-ons at your leisure.
Related: How to Install Kodi on Amazon Fire TV Stick
Watching the NBA on Kodi – Official Add-ons
The bundled repository that comes with Kodi includes dozens of add-ons that help you get the most out of your installation. Everything from new skins to language packs, interface enhancements, and free music and video streams are there, along with several sports add-ons that let you stream interviews, highlights, and even live games!
The following add-ons are all included in the default Kodi repository. To install them, go to the main menu and select Add-ons > Download. Browse the list by name and click on the add-on you'd like to install.
NBA League Pass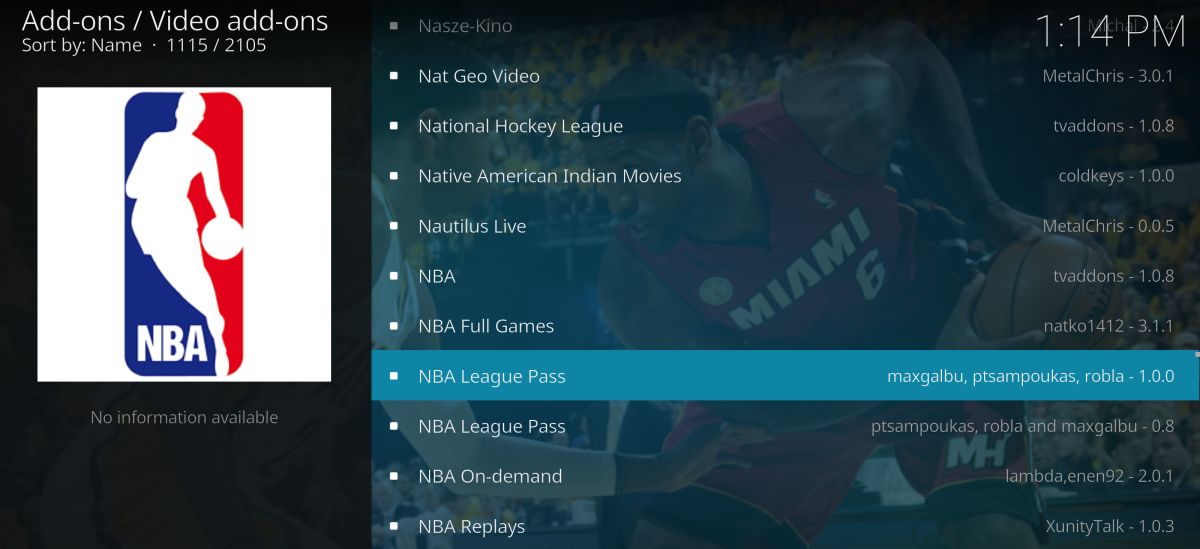 Stream both live coverage as well as archived and edited games from the current NBA season. Also includes highlights, top plays, and other basketball related videos going back to 2012. You'll need a subscription to the NBA International League Pass to use this add-on.
PopcornTV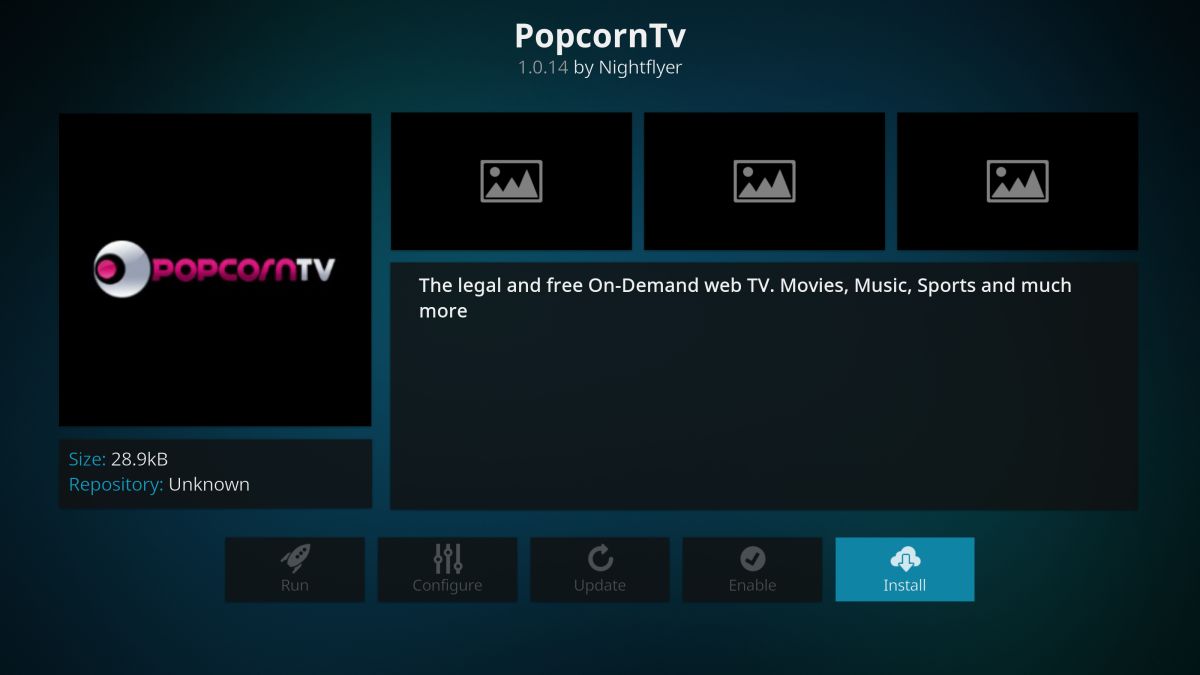 The free and legal way to stream on-demand movies, music videos, and sports content. Features a continuously updated library of content, so sporting events may not always be available for all users.
DON'T FORGET
: Use a VPN when streaming through Kodi. IPVanish gives our readers
an exclusive discount of 60%
and you'll only pay $4.87 a month to keep your browsing safe and private.
Watching the NBA on Kodi – Third Party Add-ons
Unofficial third party add-ons can turn your Kodi installation into a live sports powerhouse. NBA and basketball related content is immensely popular, so there's no shortage of options when it comes to catching live streams or highlight reels.
It's worth noting that third party add-ons aren't always reliable. Repositories can suddenly become unavailable, streams can disappear, and content may vanish for unknown reasons. A little patience is required when accessing streams through third party programs. We've selected some of the most reliable Kodi add-ons below so you can watch the NBA without hassle.
Before Installing Add-ons
Adding any third party content to Kodi requires toggling one of the app's internal settings. This simply allows Kodi to download and manage files so you don't have to. Follow the steps below to set the changes. Don't worry, it's completely safe!
Open Kodi and click the gear icon to enter the System menu.
Go to System Settings > Add-ons.
Toggle the slider next to the Unknown sourcesoption.
Accept the warning messagethat pops up.
SportsDevil – NBA, NFL, Hockey, and More
Still one of the best sports streaming add-ons around, SportsDevil includes live and archived streaming content from resources around the world. There are dedicated channels for foreign sports, categories for football, baseball, basketball, and UFC, and plenty of duplicate entries to make sure you'll always have a working stream when you need it. All you have to do is install the extension and start browsing.
SportsDevil organizes its content by source followed by category. This is somewhat unintuitive at first, but once you've used it a few times, things will start to make sense. You'll want to favor the Live Sports category for the most reliable basketball streams. Below are two of our favorite NBA resources from that section.
Bundesliga-Streams.net – Live events sorted by starting time. If there's an NBA playoff about to begin, this is a great place to look for it.
Dimsports.eu– A massive resource with over a dozen sports categories, including basketball. Click to see all the currently live streams.
LiveTV.ru– Has a strong "now playing" section with worldwide broadcasts, including college basketball and NBA games under the same category.
To install SportsDevil:
Open Kodi, and click the gear icon to get to System Settings.
Click File Manager, then Add Source.
Double click <None>, then type in repository.cy4root-master.zip exactly as it appears here. Enter a name for the source, like cy4, and click OK.
Navigate back to the main Kodi menu, click Addons, then the little box icon at the top-left.
Click Install from ZIP file, then scroll down to cy4. Click on the file named repository.cy4root-master.zip, then wait for a notification indicating installation was successful.
Return to the Addons menu, this time click Install from repository. Click cy4root Repository, then click Video Add-ons, then SportsDevil and install.
UK Turk Playlist – NBA and Much More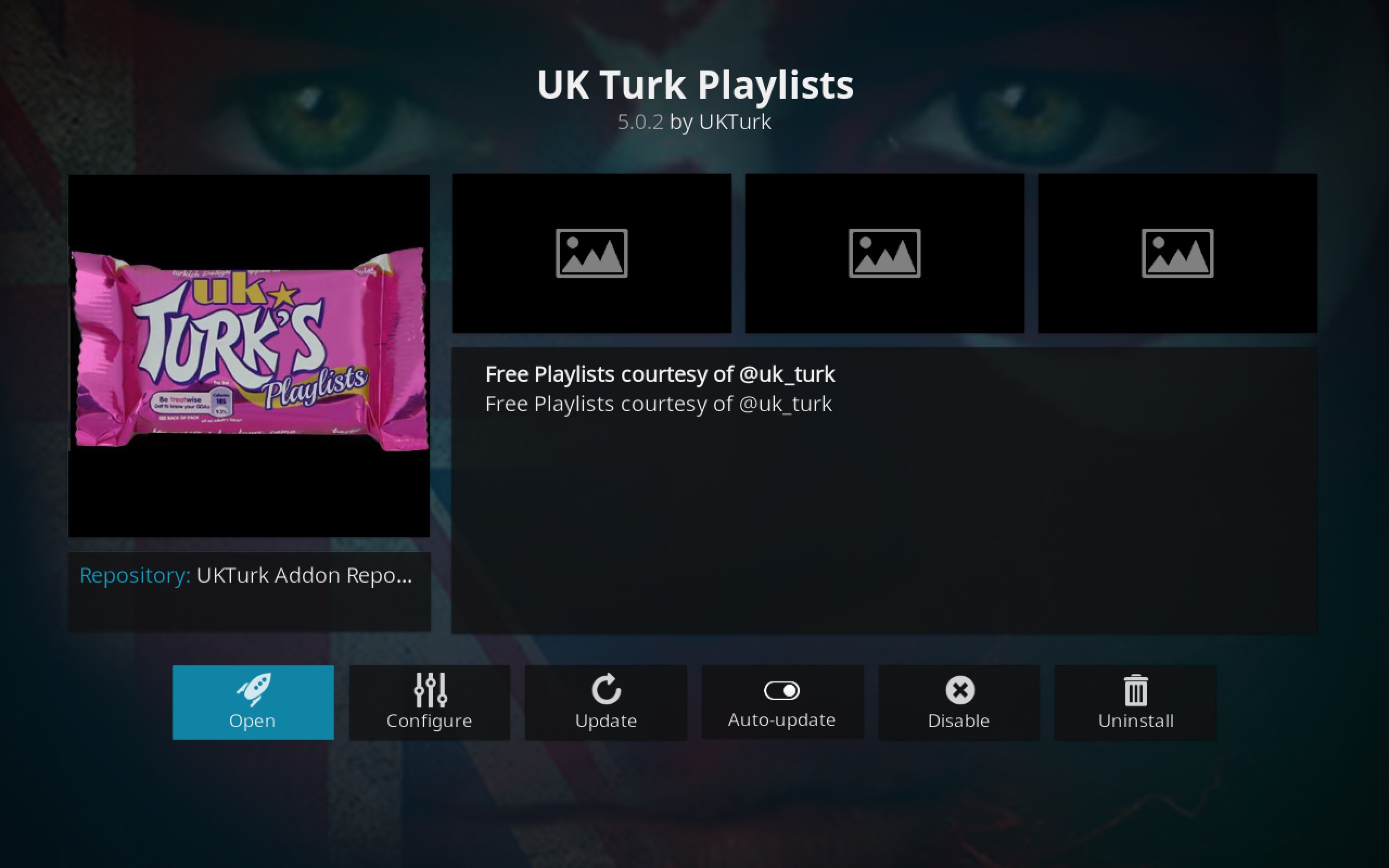 The UK Turk Playlist add-on is an incredible resource for all things Kodi. It offers blockbuster movies, full TV series, live sports, and everything in-betwee. Even though variety is the add-on's strength, you'll still find a healthy selection of sports, basketball, and NBA content on the service. Simply install the extension and navigate through the Sports section, you'll see several great streaming resources loaded and ready to go.
To grab this add-on and start watching the NBA on your device, check out our guide how to install UK Turk Playlists.
NOTE: AddictiveTips does not condone or encourage any violation of copyright restrictions. Please consider the law, victims, and risks of piracy before downloading copyrighted material without permission.
Access Region Locked Content with a VPN
While Kodi itself doesn't feature any geographical restrictions, some of the content streams you can watch might. Live sports are notorious for being locked to a single region, making it difficult for anyone outside of the host country to view.
With a VPN installed, you can bypass geo-restricted content with ease. Instead of associating a local IP address with your connection, VPN providers tie you to a server of your choosing. Want to be virtually located on the other side of the globe? Open a menu and make the change, it's that easy. Content that was blocked will suddenly become available, no matter where you live.
RELATED: Watch the NFL on Kodi, Paid and Free Options
Is it Legal to Watch the NBA on Kodi?
Kodi and its related add-ons sit in a big legal gray zone. Some governments and content creators insist the software breaks all sorts of trademark laws, but so far nothing clear cut has been established. An important distinction that keeps Kodi and its add-ons alive is that the software doesn't store any content of questionable legality. When you use an add-on to stream a movie or a live NBA game, Kodi simply plays a video located somewhere on the internet. That source file may have been illegally obtained, but neither Kodi nor the user are clearly at fault.
No matter where you live or what the local laws say about streaming videos, you should always use a VPN with Kodi. VPNs afford an extra measure of privacy by masking your identity along with the data you're streaming. Even if IP addresses and logs are seized from local internet service providers, a VPN can help keep your personal information out of their hands.