We are reader supported and may earn a commission when you buy through links on our site.
Learn more
How to Watch NFL on Apple TV from Outside U.S.
Getting reliable access to live sports streams is a top priority for a lot of people. It's tough to keep up on the latest NFL games, hockey matches, soccer tournaments, and UFC bouts, especially if you want to be cost-conscious about your media purchases. Apple TV makes a lot of these efforts easier thanks to its plethora of apps, but the catch is you generally have to be in the U.S. to stream things like the NFL.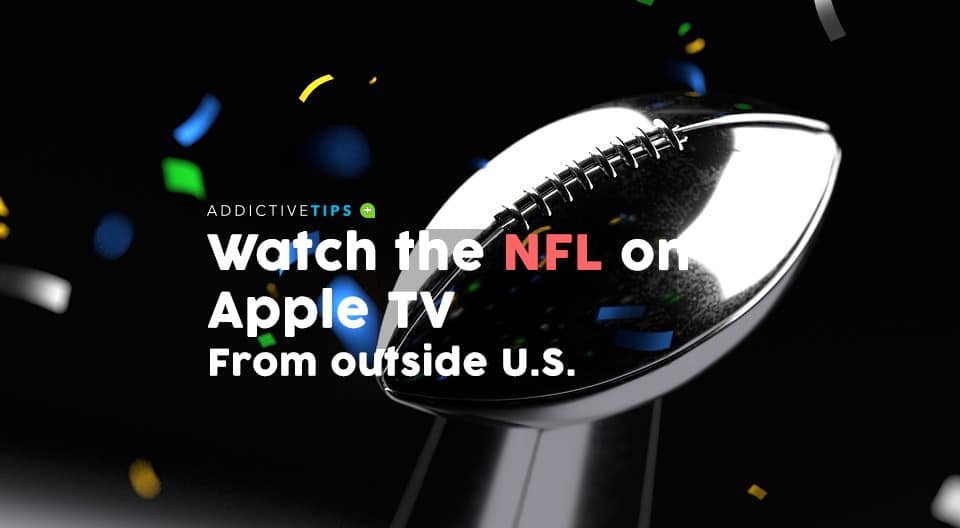 The good news is there's an effective workaround that can help you watch NFL outside of the U.S. on Apple TV, and it doesn't require any kind of complicated hacking or software modification. With the right virtual private network (VPN) service, you'll be able to unblock the NFL and watch it from your Apple TV anywhere in the world. Follow our guides and recommendations below and you'll be catching up on football in no time!
30-days money back guarantee
Finding the Best VPN for Fast and Private NFL Streams
There's no better way to access sports, movies, or TV shows from anywhere in the world than with a reliable VPN. Virtual private networks deliver encryption and location variability to allow you to appear from any country across the globe, all without sacrificing your online anonymity. With just a few clicks you can sign on start streaming in complete privacy.
There are a lot of VPN services on the market, but not all of them are created equal. Some can keep you safe and secure, but others are more dangerous than streaming on an unsecured network. We've done the research and found the best VPNs to use for watching the NFL from outside the U.S. We made our selections using the following criteria to ensure you get the very best experience possible.
Fast network speeds – The faster your connection, the better your videos will look.
Large number of servers – More servers means more options.
Compatible software for a variety of devices – Make sure your VPN runs on Apple TV and your other devices before signing up.
Strong encryption and privacy practices – Don't skimp on security. Encryption should be next to impossible to crack, otherwise it's essentially useless.
Zero-logging policies – VPNs aren't safe unless they have a zero-logging policy in place. After all, if there's a paper trail leading third parties to your history online, you have anonymity in name only.
1 – ExpressVPN – Fast, Safe, and User-Friendly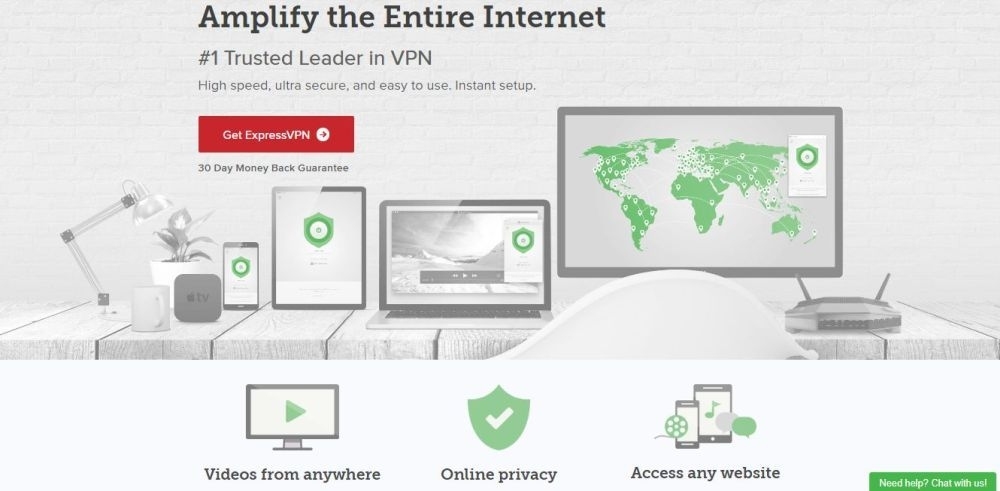 There are two big features that make ExpressVPN stand out from other providers on the market: speed and ease of use. ExpressVPN runs a huge network of over 2,000 servers in 94 different countries, large enough to provide excellent location variability and speed, no matter where you're connecting from. Utilizing that connection is as easy as opening the software and clicking the "on" button, which makes ExpressVPN the perfect VPN for accessing content privately from your Apple TV.
Privacy is ExpressVPN's other strong suit. All data sent out is wrapped in strong 256-bit AES encryption and protected from accidental leaks by an automatic kill switch and anti-DNS leak features. The company's logging policy is also incredibly comprehensive, covering everything from traffic to DNS requests and even IP addresses. ExpressVPN makes it easy to enjoy the fast and private web, even from your Apple TV.
Check out our full ExpressVPN review for more info about the VPN's stellar features!
Pros
Unblocking Netflix USA, iPlayer, Amazon Prime
Fastest servers we have tested
Very simple and easy to use
No logs for personal data
24/7 Live Chat.
Cons
Max 3 simultaneous connections
Month-to-month plan has high cost.
2 – NordVPN – Powerful Protection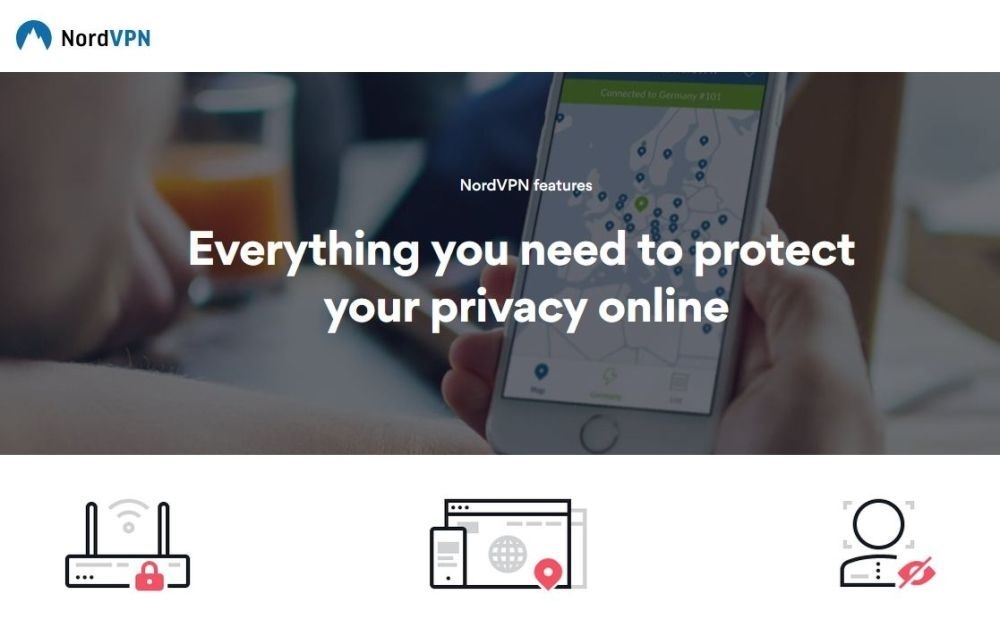 NordVPN has some impressive features, but the most unique is the size of its server network. The list is constantly growing, but at the time of writing it sits at over 4,800 servers in 62 different countries, covering every continent except Antarctica. Those are some amazing numbers! In practice this means you're guaranteed to find a lightning fast server in any region. It also gives NordVPN the ability to customize some its network to meet specific needs. Want faster P2P downloads or double encryption? There are servers for that, and a lot more, too!
Zero-logging policies are the core of any VPN's privacy guarantee, and NordVPN goes above and beyond with the most extensive policy in the business, covering everything from bandwidth to time stamps, traffic to IP addresses. None of your online activity is recorded or shared with third parties. On top of that, NordVPN locks down data with 256 bit AES encryption, an automatic kill switch, DNS leak protection, and a host of customizable encryption features for added anonymity and security.
Learn more about the NordVPN experience in our complete NordVPN review.
Pros
Highly affordable plans
GooglePlay users rating: 4.3/5.0
Allows multiple connections (6 devices)
Based in Panama
Live chat support is available.
Cons
Refund processing can take up to 30 days.
3 – CyberGhost – Fast, Secure, Safe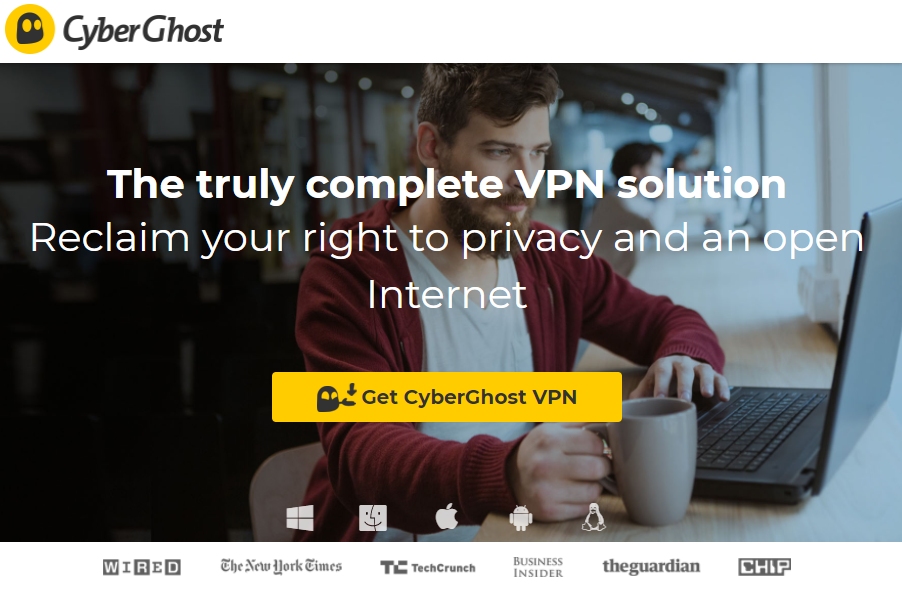 Searching for a fantastic all-around VPN to use with Apple TV? CyberGhost has speed, privacy, and security down to an art form, creating a fast and reliable online experience everyone can enjoy. Part of this is due to the company's network of 2,400 servers in 60 different countries, each providing fast connections to cities around the world. You can watch NFL on any device with no buffering delays or slowdown, just sign on and enjoy.
CyberGhost's privacy features keep you safe with 256-bit AES encryption on all data, a zero-logging policy on traffic, time stamps, and IP addresses, and both DNS leak protection and an automatic kill switch on all of its software and apps. These foundational features hide your identity each time you go online, allowing you to connect with encrypted data no matter where you go.
Learn more about CyberGhost's great features in our complete CyberGhost review.
Pros
Unblocking Netflix USA, iPlayer, Amazon Prime, YouTube
Special profile designed for torrenting privately
Not in the 14 Eyes
No log files
45-day no-quibble money back guarantee.
Cons
WebRTC leak detected
Some streaming sites cannot be unblocked.
Get a 77% discount
 on CyberGhost's three-year plan, for payments as low as $2.75 per month.
How to Use a VPN to Watch NFL Outside of the U.S. on Apple TV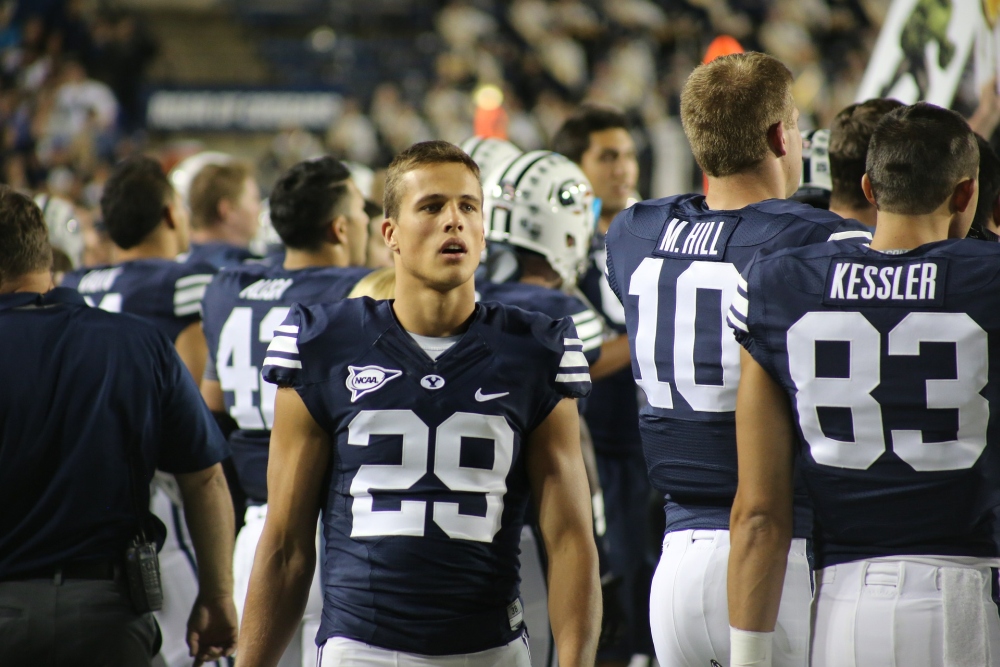 After you've found a good VPN to use with your Apple TV, it's time to get everything installed and set up, ready to stream NFL games. Depending on which VPN you use the process will be a little different, but overall, if you follow the steps below you'll be watching football in no time.
Start by opening a web browser on your PC or laptop. Sign into your VPN account and go to the downloads page. Check to see if your VPN service offers a dedicated app for Apple TV. If it does, you can go to the iTunes App Store and install it directly from there.
If your VPN doesn't support Apple TV natively, your best secondary option is to install the VPN to your router. This isn't as complicated as it might sound, and most VPNs offer detailed guides on how to do it. By creating a VPN router, you'll be able to protect your entire home network, including your Apple TV.
After installing the VPN either to your router or your Apple TV device, you can now proceed. Log in and choose a VPN server in the U.S. as soon as you connect. This is the only way you can stream most NFL games, as the organization offers exclusive broadcast rights to customers in the United States. Connecting to a VPN server gives you an IP address in that country, which makes you appear as if you were in the U.S. all along.
With the VPN installed, connected, and running, you're now safe to go online and start streaming your favorite NFL games. If you're not sure how to watch NFL on your Apple TV in the first place, use the apps and software suggested below to get started. Otherwise, grab some snacks and enjoy the game!
Watching NFL on Apple TV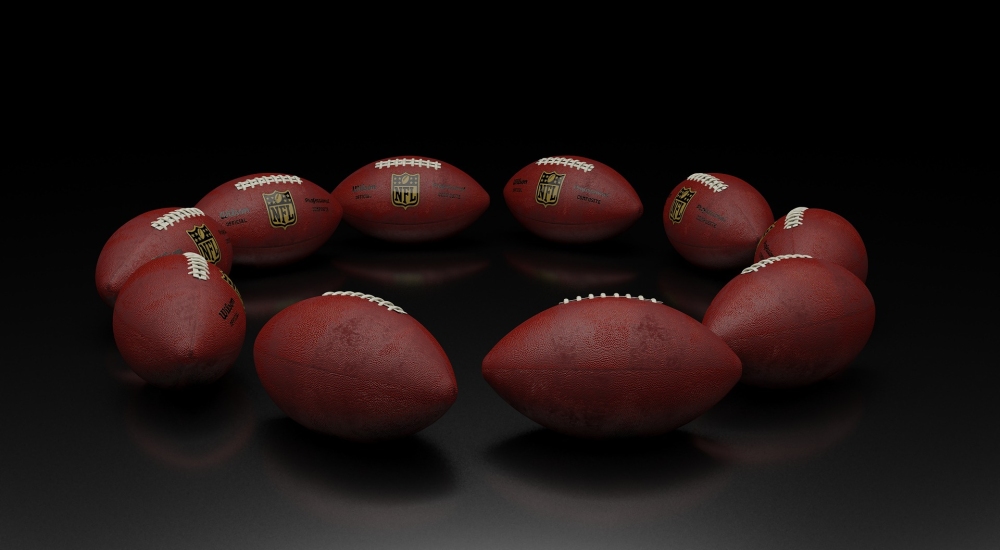 Apple has gone to great lengths to provide a wide variety of apps for Apple TV users. The default selection includes sports, movies, TV shows, news, weather, and everything in-between. All you have to do is launch the app with a quick click and let the streaming begin.
Installing Official NFL Apps
There are a variety of officially licensed NFL apps available on the iTunes App Store, many of which work perfectly well on Apple TV. These services generally cost a few dollars a month but offer highlights, live games, replays, interviews, and other football content on-demand. You can catch up on games you missed or watch everything as it happens, directly from your Apple TV.
NFL Now is the best official football app on Apple TV, but a quick search for "nfl" on your device will show a few other viable options, as well. Choose the one that best fits your needs. Keep in mind not all apps will allow a connection through your VPN. If you get a persistent error message when trying to stream with a certain app, either disable your VPN and try again, or use a different app that isn't so strict.
Using Network-Specific Apps
NFL games are broadcast on several U.S.-based networks, including NBC, CBS, ABC, and Fox. Licensing deals with these companies vary on a yearly basis, but the good news is all of them offer free access to their sports content through iOS apps.
To take advantage of a network-specific app for NFL streams, start by searching the iTunes App Store on your Apple TV for the individual channel. Install it, log in using your cable provider account information or subscription details, then see what kind of football you'll be able to access.
Network apps like NBC Sports Extra and CBS Sports are often pretty strict about allowing content through VPNs. If you bump into an error message, try temporarily disabling your VPN then reconnect to see if that fixes the problem.
Unofficial Solutions Using Kodi
Outside of official, licensed apps, you also have the option of using free and open-source software such as Kodi to access your football feeds. This method can take some more time to get set up, but once it's running, you'll have the fastest and most reliable access to NFL games around the world.
To use Kodi to watch football outside the U.S. on an Apple TV, you'll need to download a few things. First, install Kodi on Apple TV. We've provided detailed instructions on how to do that in the linked article. It doesn't take very long, and it's absolutely worth doing.
Next, install a good repository that has access to NFL streaming add-ons. We recommend Maverick, as it's one of the better Kodi resources for live sports. It includes several add-ons that deliver hundreds of live streaming sources. Follow the steps below to add it to your Kodi installation in just a few seconds.
Open Kodi on your Apple TV and select the gear icon to enter the System menu.
Go to System Settings > Add-ons.
Toggle the slider next to the Unknown sources option. Make sure it's white and to the right, allowing you to install third party repos.
Accept the warning message that pops up.
Go to File Manager > Add Source
Add the following URL: https://mavericktv.net/mavrepo/
Enter an easy to remember name, such as maverick
Click OK. Kodi will automatically add the repo to your sources list.
Go back to the main menu and select Add-ons.
Click the box icon at the top.
Choose Install from Zip File, then select the repo you named above.
From the open box menu, choose Install from repository.
Scroll down and open MaverickTV.
Enter the Video add-ons folder.
Now you can install the individual add-ons you like. See below for more information.
Now you can add the two best sports streaming add-ons for Kodi: SportsDevil and Joker Sports. Both offer a huge variety of resources for live and on-demand sports, everything from NFL football to hockey, soccer, golf, tennis, racing, and more. They can take a little experimentation if you're unfamiliar with the environment, but both are free, surprisingly reliable, and great to have around.
To install SportsDevil and Joker Sports, complete the steps listed above, then choose the add-ons by name. Install them individually, then launch from Kodi's main menu. Browse the folders and stream sources to find the channel or sport you want to watch, then lean back and enjoy.
Conclusion
Watching NFL is easy. Watching movies and videos on Apple TV is easy. Combining the two for international access takes a little effort, but in the long run, it's worth it. All you need is a good VPN and a few minutes to get everything set up. Then you'll be streaming NFL from outside the U.S. with no trouble at all.
Have any issues getting a VPN to run with your Apple TV? Or, just looking for a place to chat about the upcoming NFL season? Talk to us in the comments below!