We are reader supported and may earn a commission when you buy through links on our site.
Learn more
How to Watch Star Trek: The Next Generation on Netflix from Anywhere?
Star Trek fans know there are quite a few series already on the market and perhaps one of the best ones is the one that ran between 1987 and 1994. We were hoping to watch Star Trek: The Next Generation on Netflix.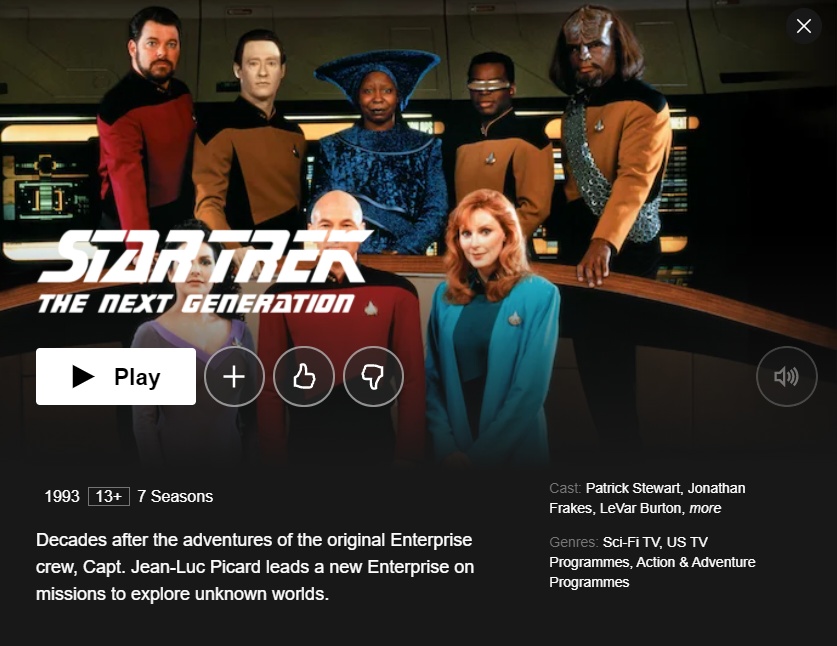 Star Trek: The Next Generation ran for seven seasons, the second sequel to Star Trek: The Original Series. The show features Patrick Stewart as the famous Captain Jean-Luc Picard, Jonathan Frakes, Brent Spiner, Michael Dorn, LeVar Burton, Marina Sirtis, Denise Crosby, and many others.
The show was extremely popular and reached 20 million viewers on its fifth season, and over 30 million viewers watched the series finale in 1994. Considering this was long before we had any of the popular and modern streaming platforms, that is a lot of viewers.
Star Trek has won numerous Emmy awards, as well as many other accolades. The series is also set in numerous novels, comic books, and video games, so it's clearly a big success.
30-days money back guarantee
Can I watch Star Trek: The Next Generation on Netflix?
Yes! Star Trek: The Next Generation is available to watch on Netflix, but it does depend on where you live. We managed to find the series over in the United States, the United Kingdom, or Canada but found it missing in numerous European countries.
Editor's Note: NordVPN is our #1 choice for unblocking Netflix. Sign up for the 2-year plan with NordVPN at $3.49 per month, as well as 3 months for FREE. A 30-day money-back guarantee is included on all plans, so you can cancel any time and get your money back.
How can I watch Star Trek: The Next Generation on Netflix?
Depending on where you live, you get to watch Star Trek: The Next Generation on Netflix in an easier or more difficult manner. If the show is not available locally, then that is quite unlucky for you, as you'll have to take some extra steps. Nonetheless, it's nothing too difficult and we'll explain every step of the way. You can definitely enjoy the show even if you live in Norway, for instance, where the series is unavailable.
Since Netflix is available in dozens of countries across the world, it has individual libraries in each of these. You should know that watching Star Trek: The Next Generation may require a VPN. Each library that Netflix has is geo-blocked, which means that you cannot access it from a different country – in theory at at least. What you will need to have, however, is a VPN that can help route your internet connection to a server of your choice, so you appear to be in that location. Obviously, you're going to have to choose a location where Star Trek: The Next Generation is available, and we think that the United States or the United Kingdom will do just fine.
We recommend using NordVPN, which is a really great tool with thousands of servers worldwide and some great privacy features thanks to all the encryption protocols they have at work.
Here is what you need to do:
You need to subscribe to NordVPN and get the apps for your device. NordVPN offers 3 months for free and 68% OFF the 2-year plan!
Make sure you look for a server that is in the United States or the United Kingdom and connect to it.
Once the connection is established, you simply have to load Netflix in your browser or to relaunch the app on your device.
There you go! Watching Star Trek: The Next Generation on Netflix is extremely easy.
Won't Netflix know I'm using a VPN?
It is true that Netflix has implemented some new rules on its platform some years back that prevented people from installing and using a VPN. However, this does not mean that you cannot use a VPN with Netflix; it's just that it's supposed to be more difficult. Netflix has made it extremely easy for itself to figure out when people are using VPNs, especially if they are using free tools that have a ton of users and are extremely easy to spot by their technologies. However, when using premium tools like NordVPN, things get a lot more difficult for Netflix, and you will be able to fly under the radar easily.
If you do have trouble with NordVPN and Netflix, you can always contact the customer support team, and they will be more than happy to help you find a server that works which the specific Netflix library wants to access. They are available 24/7, so there's certainly someone who will be able to help you out.
Why not use a free VPN instead?
There is also the option of going for free VPNs, but frankly, we do not advise you to do this for a multitude of reasons. First of all, as we already mentioned, free VPNs are unlikely to be able to bypass the geo-blockade that Netflix has installed on its platforms. Even if you manage to do anything, you would still be unable to watch content properly because free VPNs have only a handful of servers at their disposal and lots and lots of users – which means that all the servers are overcrowded. You can't watch the content at an internet speed that is required by Netflix to stream correctly.
Another problem you should be taking into account is the security aspect of using a free VPN. As you probably already know, security researchers have been spotting for many years now lots and lots of apps that are posing as VPNs and which are actually malware. Once installed, they start collecting information on the users and feeding all that information back to cybercriminals, which use it to hack into people's social media accounts, banking accounts, and even later on, to hack into companies. This could easily lead to your identity being stolen or even for your bank account being wiped out, so it's really not a joke here.
There are also free VPNs that might work better against Netflix, but which we also advise against. These tools use peer-to-peer routing, which means that you would be allowing other people to connect to your computer as they would a server while you use another person's device in exchange. This sounds great in theory, but it will have a deep impact on your computer's performance. It can also be quite dangerous from a security standpoint, as your connection is never encrypted when using these tools, which makes it very easy for you to be tracked. Furthermore, the apps use logs, so all your activity online could be tracked.
Paying another subscription for a VPN may not be something you want to do, but it's the safest thing because it gets you a lot more privacy and security.
Final thoughts
We hope that you will enjoy watching Star Trek: The Next Generation online on Netflix. Whether you do this for the first time or you've seen the show before, it's certainly going to be a wonderful experience.