We are reader supported and may earn a commission when you buy through links on our site.
Learn more
How to Watch The Avengers on Netflix from Anywhere?
Back in 2012, The Avengers brought together some of our most beloved characters and made us fall in love with another type of movie where our favorite superheroes came together to save the world. The thing is, we love watching films on Netflix, and we were wondering whether The Avengers is available to stream on the platform.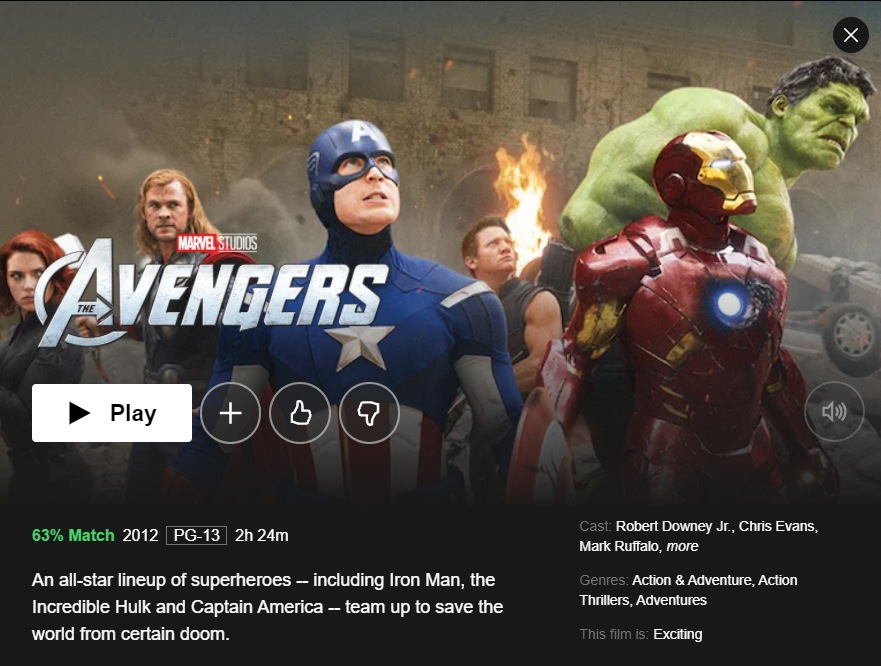 The Avengers was released in 2012 and, with a budget of just over $200 million, it managed to bring in over $1.5 billion at the box office.
The movie features Robert Downey Jr, Chris Evans, Mark Ruffalo, Chris Hemsworth, Scarlett Johansson, Jeremy Renner, Tom Hiddleston, Cobie Smulders, Stellan Skarsgard, Samuel L. Jackson, Gwyneth Paltrow, and many others.
In this movie, we get to enjoy watching the heroes learn to work as a team as they try to defeat one of the most beloved villains in the Marvel Universe – Loki. Not only are they fighting Loki, but they're also trying to keep away the alien army that's trying to enslave humanity. The fight for the powerful Tesseract is also quite exciting, as we get to watch Loki's mischievousness at play.
Can I watch The Avengers on Netflix?
The answer to this question depends on where you live because Netflix does feature the film, but it doesn't have it everywhere across the world. The problem here is strictly related to licensing deals. Still, it's something that will prevent people in the United States, for instance, from watching The Avengers on Netflix. We did manage to find The Avengers over on Netflix Canada, which is great news because it means we still have a way to watch it with our subscriptions.
How can I watch The Avengers on Netflix if I don't live in Canada?
Watching The Avengers on Netflix Canada is possible thanks to a VPN. As long as you have an internet connection and a valid Netflix subscription, you can enjoy watching The Avengers in Canada if you know how to do that.
A VPN can route your internet connection and make it seem like you are in a different location, so it will serve you with all the content available in that specific area. So, if you're going to pick a server in Canada, you're going to watch all the shows and movies that are available there.
We recommend NordVPN for the job, as it is easily one of the best tools we tried out in our very long testing phases. It features thousands of servers all over the world and comes with some excellent privacy features, which means that we still get to keep our privacy online.
Here's what you need to do:
First, you're going to have to subscribe to NordVPN. They offer a great subscription deal, so make sure you take advantage of it as soon as possible.
Once you settle out the account on your brand new app, you're going to have to look for a server located in Canada to connect to it.
As soon as the connection is established, you can go ahead and load Netflix in your browser or relaunch the app on your device.
That's it! That's all you have to do in order to enjoy watching The Avengers with your Netflix account.
Won't Netflix know I'm using a VPN?
Netflix did decide to add technology to its platform that enabled it to figure out better when people were using VPNs. Luckily for everyone, that feature does not usually work with premium tools, so you are good to go with the likes of NordVPN.
Well, if we've never had any issues when using this particular tool, it does not mean that it cannot happen overnight. However, if you do happen to have a situation such as this one, you can contact the NordVPN customer support team, and they will be more than happy to help guide you towards the server that works for you. They are available 24/7, so it doesn't really matter what country you're in, as they'll be able to help you immediately.
Why not use a free VPN instead?
VPNs are complex tools that are also often used by cybercriminals as a shell in order to attract people to download their malware. Quite often over the years, we've seen security researchers pull the plug on so-called VPNs in app stores that were actually malware in disguise. If you download one of these tools, you will end up with all the information on your device vulnerable in the face of these attackers. Sadly, this could lead to your various accounts being hacked into, your bank account being drained, and so on.
Even if the app is truly free and has no hidden malware in it, it's still useless to get because it will be for nothing. What we mean by this is that free VPNs are the first to get blacklisted by Netflix, so they won't even get past the blockade. Even if they manage to do that, you will notice that they aren't exactly the most efficient tools to stream content on Netflix.
Free VPNs have a few servers at their disposal but lots of users who are trying to make use of a free tool, so the servers are often overcrowded. Overcrowded servers sadly translate into really low internet speeds that are incompatible with proper streaming Netflix content.
There are also apps that use peer-to-peer routing, which means that you'll be allowing other people to use your computer's resources in exchange for access to their own devices, as they act as servers. Sadly, these apps don't stop working when you cease using them, so your computer's resources are used in the long term, making your device run slow. Furthermore, this type of app has been discovered to collect information on users and to go without encryption.
Final thoughts
Adding another bill to your monthly list is not ideal, but it's what needs to be done if you want your online privacy to be maintained and make the most of your Netflix subscription. With such a simple tool, you can have access to The Avengers on Netflix anywhere.