We are reader supported and may earn a commission when you buy through links on our site.
Learn more
Best VPNs For Hotels – How to Keep Safe When Travelling
No matter how much you paid for your reserveration, hotel Wi-fi is unsafe unless you use a VPN. Whether you're traveling for recreation or business, you need to ensure that your privacy online is guaranteed, and your data out of the hands of spying governments and hackers. Today, we cover the best VPNs for hotel Internet.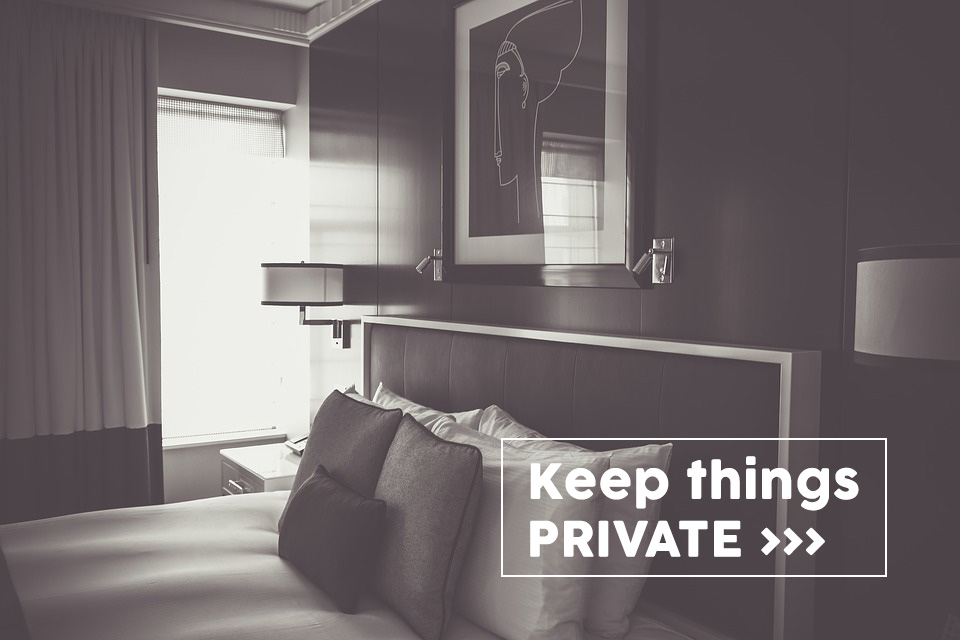 If you travel often for work or for pleasure, then you'll be well acquainted with the necessity of hotel wifi. In the last decade, it's become expected that hotels will provide free wireless connections for their guests, allowing them to access the internet from their rooms, or from common areas like the lounge or hotel bar.
Never trust hotel Wi-Fi unless you've got one of these high-security VPNs to protect you:
NordVPN – Best for Hotel Wi-Fi – NordVPN takes the risk out of connecting to public hotspots, thanks to NordLynx encryption and myriad failsafes that make you impossible to hack or track.
Surfshark – A relatively young VPN with the most advanced encryption protocols available.
ExpressVPN – This super-fast VPN doesn't sacrifice privacy for performance, offering the best of both worlds.
CyberGhost – Serious VPN functionality made easy to use through a colorful interface with simple options like "Protect Wi-Fi".
PrivateVPN – Offers a ton of flexibility in customizing your VPN connection to balance speed with security.
PureVPN – The spoofer's delight, with access to more countries' IPs than any other.
Despite the convenience and utility, it's nevertheless vital to consider security issues when using hotel wifi. In addition, there are usability concerns regarding accessing content from home. For these reasons, many people choose to use a virtual private network when they are staying in a hotel. In this article we'll explain why you might want to use a VPN when traveling, and then give you our recommendations for the best VPNs for hotels.
30-days money back guarantee
How To Choose A VPN Provider
When it comes to choosing a VPN provider, you might at first be tempted to save money by using a free VPN service. However, this is not advisable as non-paid providers have many issues with privacy and security. For example, free VPN services have been known to sell off data about their users, to impose bandwidth caps, and even to make users part of a botnet.
To avoid the problems with free VPNs, choose a reputable paid provider instead. You should base your decision on which provider to select on the following factors:
Recommended VPNs For Hotels
With these factors in mind, we are sharing the following recommendations for the best VPNs for hotels: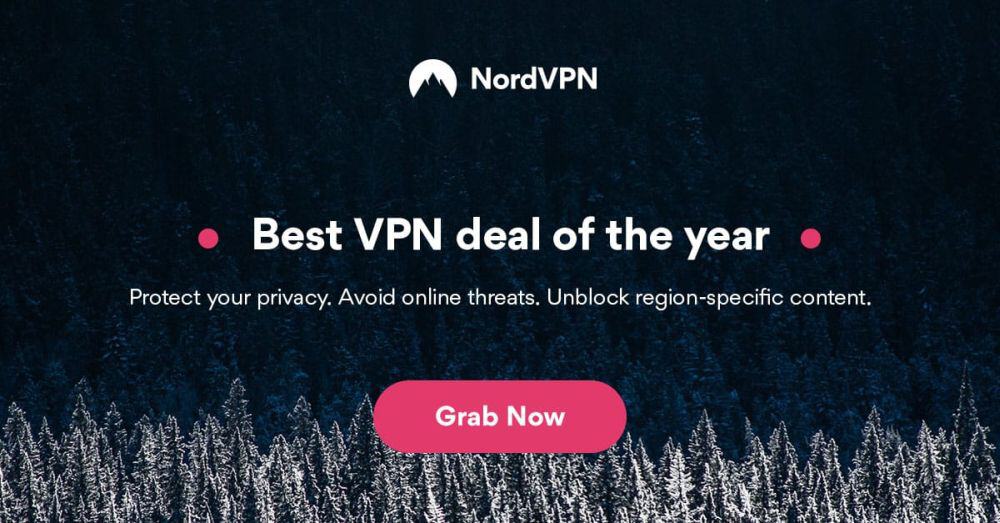 NordVPN is the perfect VPN for advanced users who want a no compromises approach to their security. The standard VPN connections come equipped with 256-bit encryption, with your privacy being backed by a thorough no-logging policy. But where NordVPN stands out is in its speciality servers for particular functions, such as the double VPN option, which wraps your data in two layers of encryption, making it virtually impossible to crack. There are other speciality servers available too, like P2P servers which are optimised for torrent use, onion over VPN for the best possible level of anonymity, or anti DDoS servers.
The total network of servers available is absolutely huge, numbering over 5,500 servers in 59 countries to date. The software has a handy map interface which makes it easy to find a server in the location you need, and is available for Windows, Mac OS, Linux, iOS, Chrome OS, Android, or Windows Phone.
Read our full NordVPN review.
Pros
Very fast speeds make this a strong choice for 4K streaming
Fast and stable connections
Strong encryption is used on all connections
Strict zero logs policy on both traffic and metadata
Great customer service via chat.
Cons
Refund processing can take up to 30 days.

Surfshark may have only been around for a short time (since 2019), but they're already one of the safest VPNs on the market. Indeed, they offer the same level of encryption the NSA uses, which is the 256-AES-GCM cipher via OpenVPN, IKEv2/IPSec, WireGuard and Shadowsocks protocols. These form an unbreakable link to their server network, which numbers 3200+ servers in 65 countries. With Surfshark, you can spoof your IP, bypass geoblocks, and confound hackers lurking on your hotel's network all in one go.
Additional provisions include IP/DNS/WebRTC leak protection, a kill switch, server obfuscation, and even the special CleanWeb module. This intercepts and blocks ads, pop-ups, tracking software, and known malware links before they even have a chance to load. And with BVI jurisdiction, Surfshark are free to offer a true no-logging guarantee for total anonymity.
Pros
Reliably unblocks Netflix US, UK, Japan, and more
Unblock Netflix on any server, no more picking and choosing
Zero restrictions on simultaneous connections, apps available on every major device
Favorable BVI jurisdiction guarantees no logs kept
Get help any time of day via email, phone, or live chat.
Cons
Connection speeds won't impress users of other high-end VPNs
Apps don't allow for much manual fiddling for power users.
Read our full Surfshark review.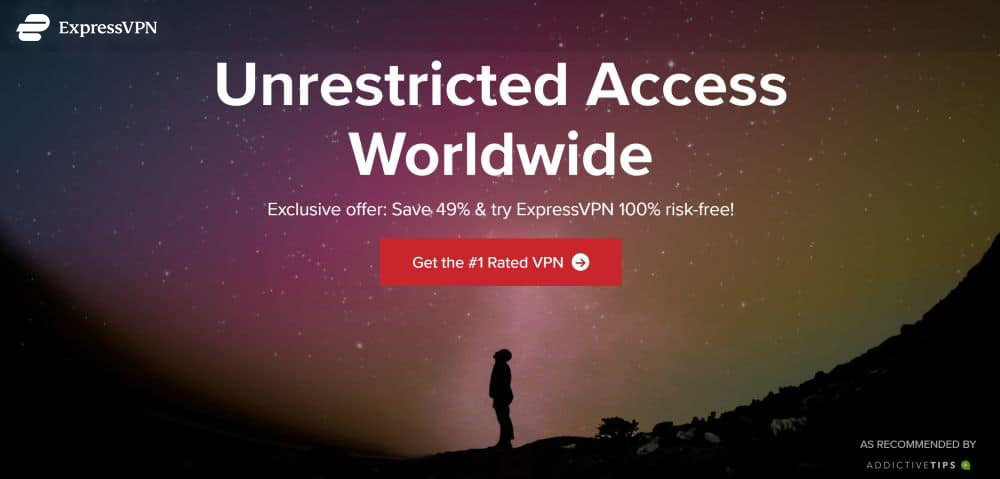 ExpressVPN offers high speeds, easy to use software, and great security. Contained in this sleek software package is everything you need to keep your data safe, like strong 256-bit encryption to prevent hacking, and a no logging policy on traffic data to protect your privacy. The connections offered are some of the fastest we've seen from any VPN provider, hence the "express" name, so you can happily use the VPN for downloading large files or streaming high definition video as well as browsing the internet.
When you want to get around region locks and access content from elsewhere in the world, you'll have no shortage of options – with a total network of more than 3,000 servers in 94 different countries. Another big advantage of ExpressVPN is how many different platforms it supports, so you can protect all of your devices at once. The software is available for Windows, Mac OS, Linux, and Android, plus some games consoles and smart TVs. There are even browser extensions available for the Google Chrome, Mozilla Firefox, and Apple Safari browsers for total internet protection.
Read our full ExpressVPN review.
Pros
Unblocks US Netflix, BBC iPlayer, Hulu and Amazon Prime
Fast serves with minimal speed loss
OpenVPN, IPSec & IKEv2 Encryption
No logging policy well enforced
Live Chat Support.
Cons
Power-users configuration options.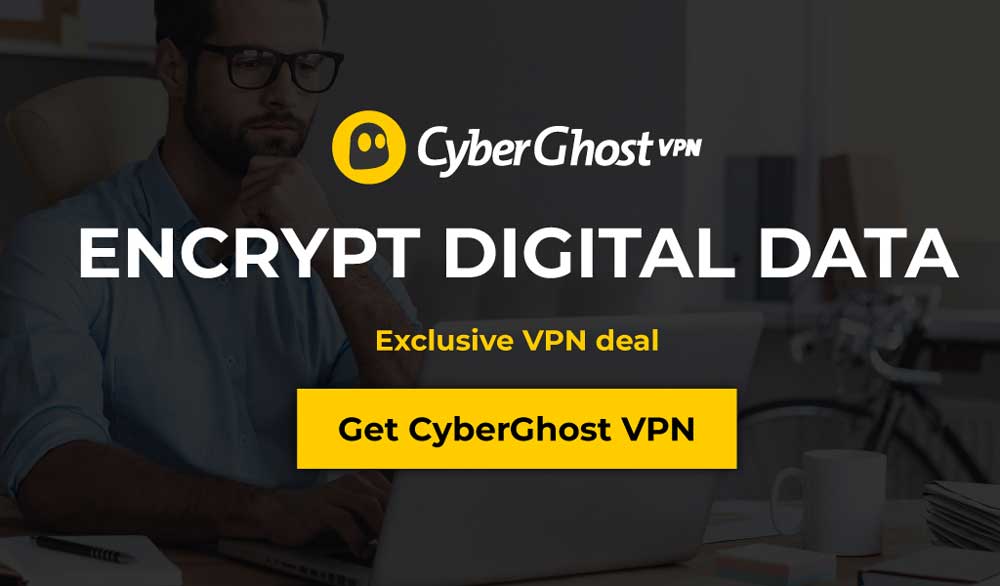 CyberGhost is ideal if you are new to the world of VPNs and you aren't yet confident with all the technical details of setting up a connection. Instead of having to play around with settings, you simply open up the CyberGhost software and then choose the type of connection you want – for example, browse the web anonymously, use torrents anonymously, or unblock streaming sites like Netflix. Once you have made your choice, the software will connect you to the right server and apply all of the settings for you automatically. You just have to click and go–it's dead easy to use.
But don't worry that this ease of use implies a compromise on security. CyberGhost makes use of the near-unbreakable 256-bit AES encryption, and guarantees your privacy with a comprehensive policy against logging any data. For advanced users who want to really dig into their connection settings, there is the option to manually connect to more than 5,900 servers located in 90 countries. That's a pretty good spread for frequent travelers looking to tap into their home networks. Dedicated software is available for Windows, Mac OS, iOS and Android.
Read our full CyberGhost review.
Pros
LOW PRICE: 6 EXTRA free months (79% off - link below)
Fast, constant speeds
No leaks detected
Strict no logging
24h support.
Cons
WebRTC IPv6 leak in macOS
Some streaming sites cannot be unblocked.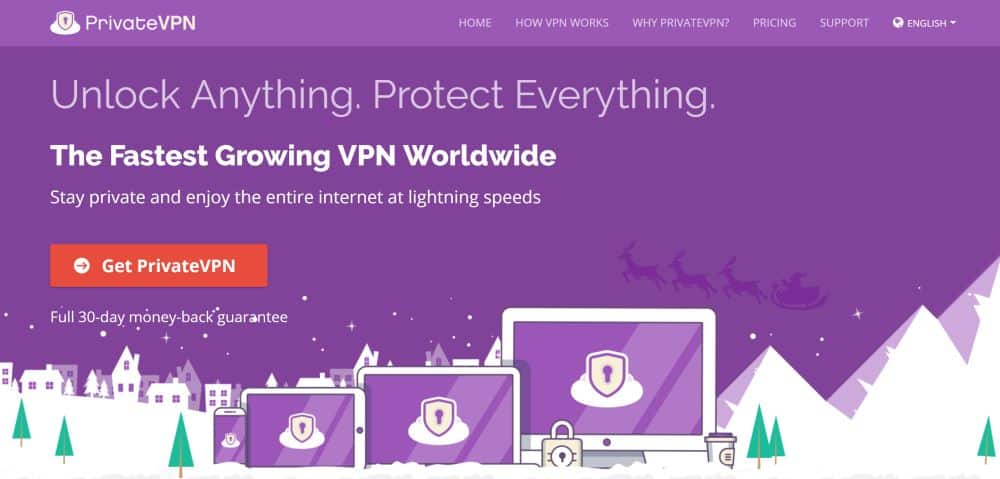 PrivateVPN is the perfect service for Netflix enthusiasts and other frequent streamers. In recent years, streaming sites have gone to great lengths to block VPN users from accessing their content libraries, and to a large extent those efforts have been successful. Most VPNs won't let you watch Netflix, Hulu, Amazon Prime and the like. PrivateVPN, on the other hand, provides reliable and smooth access where other providers fail. This makes it the ideal choice for frequent travelers looking to catch up on their favourite shows in the hotel.
Keeping with the industry standard, Private VPN offers 256-bit encryption on its connections. However, you have the option to step down this security to 128 bits in exchange for a boost in speed. We rarely made use of this feature though, since by default PrivateVPN's speeds are already perfectly suited for streaming, downloading or surfing the web without lag, buffering or slowdown. No matter what you do, you can trust that your activity won't be monitored or recorded thanks to the company's thorough no-logging policy.
When it comes to server network size, PrivateVPN is undeniably smaller than other services, with only around 150 servers available. However, these servers are spread over 60+ countries so there are still plenty of options for accessing global content. The software is simple to use and can be installed on devices running Windows, Mac OS, Linux, Android, iOS, and Amazon Fire Stick, as well as a browser extension for Chrome.
PureVPN is not only a VPN – it's a whole digital security suite. In terms of the VPN itself, you'll find super-strong 256-bit encryption and a no-nonsense no-logging policy on traffic. The servers available to you cover a wide network totalling 2,000+ servers across a whopping 140 countries, so you can easily access the content that you want to from wherever you are in the world. Rounding the package out are security features like DDoS protection, app filtering, a kill switch, a dedicated IP address, and a NAT firewall.
Your subscription to PureVPN includes even more protections for your device, like an ad blocker to keep obnoxious ads out of your sight while you're browsing, an anti spam filter to keep unwanted mail out of your email inbox, as well as anti virus and anti malware protection. Dedicated software is available for Windows, Mac OS, Android, iOS, and Android TV devices, plus there are browser extensions available for the Chrome and Firefox browsers.
Read our full PureVPN review.
You may not be aware, but there are serious security issues regarding public wifi networks like the ones that you find in hotels. When you connect to a hotel wifi network, you join the same network as many other users who are also staying in the hotel (or spending time in the hotel lobby). While most networks will have security measures in place to guard against outside attacks, far fewer have countermeasures set to protect a network's own users against each other. It is possible for other users on your network to intercept your data, which can lead to identity theft or having your credit card information stolen.
Another problem is honeypot wifi networks. This is when hackers set up a fake wifi network which does not require a password to access. When users connect to the network, they can access the internet and everything appears to be normal. But then when they send their usernames, passwords, and other information over the internet, this data can then be stolen by the scammers running the honeypot.
FULL GUIDE: How To Protect Yourself From Hotel Hackers
Further risks of using an unencrypted public wifi network include becoming a victim of a phishing or vishing attack, as your IP address reveals your location, making you easier to target. To top it all off, whenever you use an unencrypted connection, all of your internet activities are visible to the ISP running the connection. In order to keep your data private when you browse the internet, you need to ensure that you use a VPN to encrypt all of the data that you send over public wifi networks.
How To Watch Content From Your Home Country In Any Hotel
Travel is always exciting, but sometimes we miss the comforts of home, like our favourite series. The BBC iPlayer, for example, is freely available to UK residents to stream the last two weeks' worth of high-quality BBC content, making it a popular service indeed. However, if you've flown off to a posh hotel resort in Spain for vacation, then you won't have access anymore, since the service blocks users with IP addresses located outside the UK.
Fortunately, you can bypass this block by using a VPN to reroute your data through a proxy server located in the UK. This process changes the IP address associated with your present location to an IP in the UK. iPlayer gets fooled into thinking you're connecting locally, and will serve you BBC content as though you were back home.
RELATED READING: How To Beat The BBC iPlayer Proxy Error
This same method can be used to watch content from anywhere in the world, such as CBC content in Canada, Comedy Central content in the US, or Canal+ content in France. You can even use a VPN to unblock streaming sites like Netflix or Hulu and get access to a larger catalogue of streaming content from around the world. This makes a VPN an essential tool for an international traveller as it allows you to access the content you want regardless of the country you are currently travelling through.
Conclusion
If you are someone who travels a lot and often stays in hotels, then a VPN will be highly beneficial for you. Using a VPN will improve your privacy and security, and prevent anyone else from accessing your data or stealing your identity. Plus, you can use the VPN to access content from home while you're away, like content on streaming sites which would normally be blocked from foreign countries. We've recommended a number of top VPNs that you can use to keep your device and your data safe when you stay in a hotel.
Where in the wide world have you traveled with your VPN? Did you find it improved your hotel stay? Let us know about it in the comments below.