We are reader supported and may earn a commission when you buy through links on our site.
Learn more
How to Get a UK IP Address From Any Country
Getting a UK IP address outside the United Kingdom is easier than you think, but you have to have the right tool for the job. In this article, we'll talk about the amazing utility of VPNs to spoof your location anywhere in the world, allowing you to unblock tons of great British content.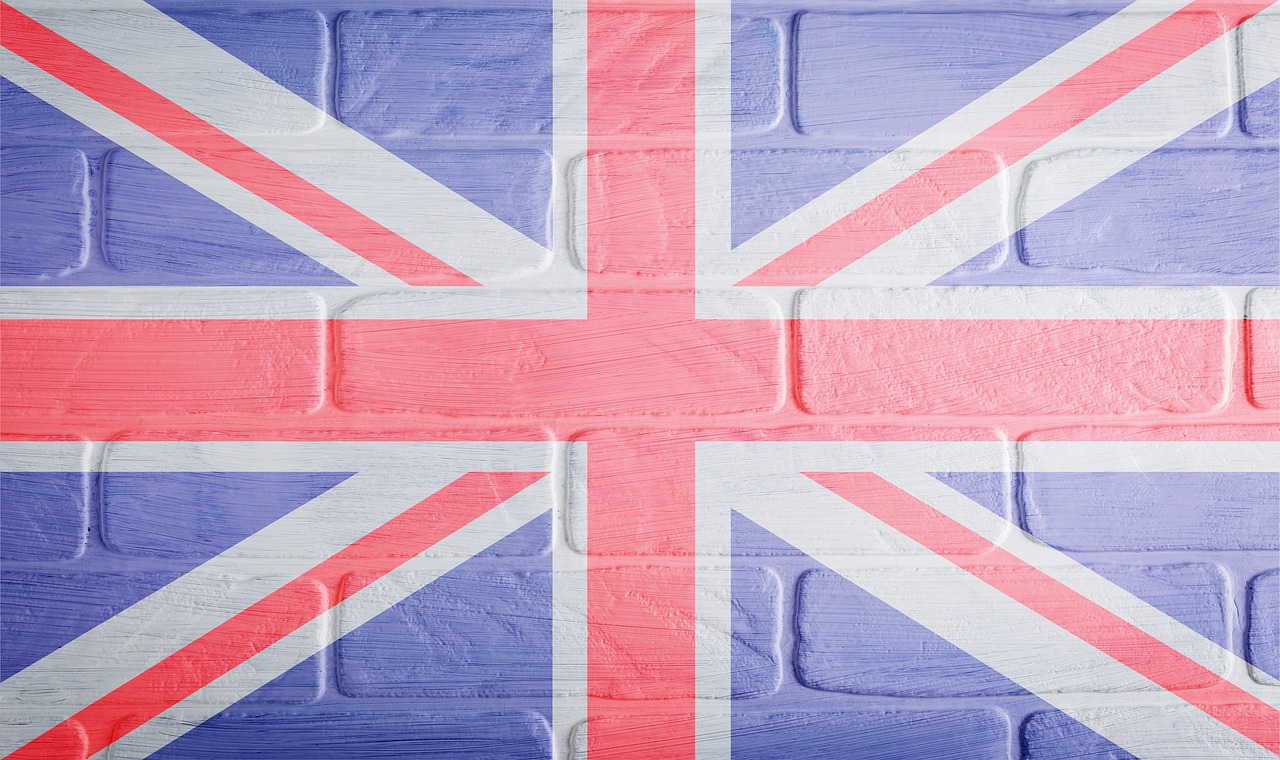 If you're a British expat, or if you like to watch British TV content and live outside the UK, then you are likely to be in need of a British IP address. An IP address is assigned to your device when you go online and contains information about your current location. This IP address is then used to determine which content you will be able to access online.
Most sites allow anyone to access them, although they may have localised versions like amazon.co.uk instead of amazon.com. But some others sites have what is called region locking. This means that you can only access the content if you are looking at the site from a particular country. The site will read your IP address and will only serve you the content if you are accessing it from an allowed location.
Change your IP address to a British one with these secure VPNs:
NordVPN – Best for UK IP – NordVPN not only has a ton of UK-based servers, each type of their coveted specialty servers has a location on British soil. That means streaming, torrenting, and dodging censorship is all possible–with a UK IP no less.
Surfshark – Surfshark offers standard connections, static IPs and multi-hop routing into the UK for maximum utility.
ExpressVPN – Looking to unblock Netflix UK or BBC iPlayer? ExpressVPN does it handily, and with incredible speeds to boot.
CyberGhost – Absolutely enormous server network, strong encryption, and a simplified UI anyone can use.
PureVPN – A provider with a huge network reach, with servers in more countries than any other.
IPVanish – The downloader's delight; offers outstanding performance and privacy whilst streaming and downloading.
This happens with sites like the BBC iPlayer or Channel 4. You can use these sites to watch British TV shows for free, but the videos only play if you access them using a British IP address. This is why users who live outside the UK might want a British IP address, so that they can still access the content they want to watch. In this article we'll explain how this process works then recommend you methods for how to get a UK IP address from anywhere.
30-days money back guarantee
How To Get A UK IP Address Using a VPN
If you want to watch British content and access the British version of websites from outside of the UK, then you need a VPN. This is a piece of software which you install onto your device and which encrypts all of the data that your device sends over the internet. This encrypted data is sent to a server which is run by your VPN provider, where it is decrypted and sent on its way. This improves your security as it stops other people from viewing or intercepting your web traffic.
This process also allows you to get an IP address from another country. Your VPN will have a list of servers available in different locations, and you can choose which server to connect to. When you connect to a server in another country, all of your data is routed via this server. This means that it appears as if you are browsing from the server location instead of your actual location.
If you have a VPN provider who offers servers in the UK, you can connect to one of these servers from anywhere in the world and you'll be assigned a UK IP address. Then you can access British versions of websites and watch content on sites like BBC iPlayer or Channel 4.
More Reasons To Use A VPN
In addition to getting you a UK IP address, there are other reasons to use a VPN too
How To Choose A VPN Provider
There are lots of different VPNs out there, so you should look carefully at their features before choosing one. You should especially stay away from free VPN services which can actually make you less safe. Instead, you should choose a reputable and trustworthy VPN service that has all of the features that you need.
Here are the key factors that we consider when recommending a VPN provider:
Our Recommended VPNs To Get A UK IP Address
We have trustworthy, reliable VPNs that we can recommend to you so that you can get a UK IP address: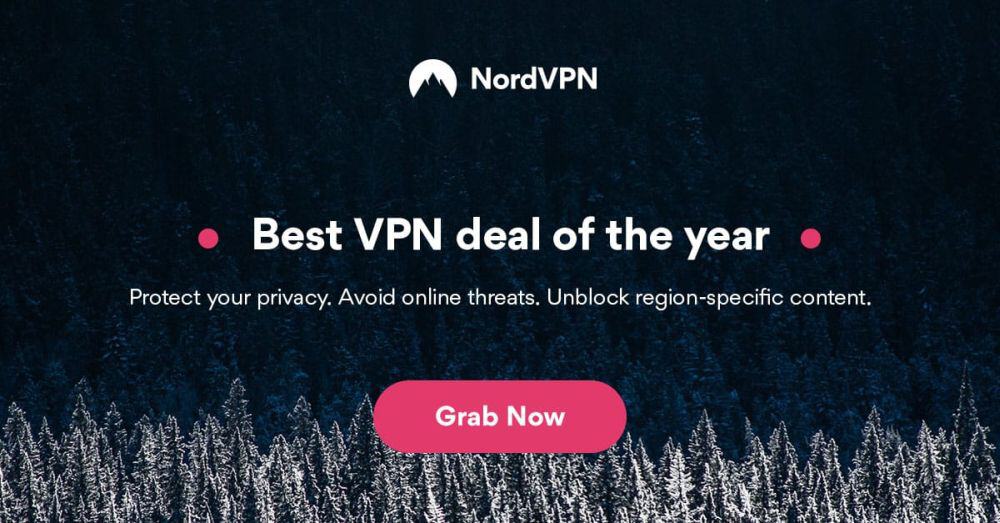 NordVPN is the idea VPN for users who want advanced features and speciality server options. This means that they don't only offer regular VPN servers, but also special servers with features like double VPN (where your data is encrypted twice for better security), P2P (for torrent users), onion over DPN, dedicated IP, and obfuscated servers to get around VPN blocks. The absolutely massive network of servers covers over 5,300 servers in more than 60 countries, including the UK. There are more than 690 servers available in the UK, including specialist servers for double VPN, dedicated IP, obfuscated servers, and P2P. You can see a full list of available server locations and types at https://nordvpn.com/servers/
The non-specialist VPN servers still deliver the high security features we want to see, like the use of 256-bit encryption and a no logging policy. The connections are fast so you can watch high definition video streaming with no problems. The software can be installed on devices running Windows, Mac OS, Linux, iOS, Chrome OS, Android, or Windows Phone.
Read our full NordVPN review.
Pros
Very fast speeds make this a strong choice for 4K streaming
No bandwidth caps
Allows multiple connections (6 devices)
"Double" data protection
Live chat support is available.
Cons
Can't specify City or Province in App.

VPN providers often tout big numbers as selling points, and for good reason. It's advantageous to have a ton of servers in the UK if you want to spoof an IP there. But Surfshark pays careful mind to network quality, and we're confident it shows when you try it out.
There are three standard Surfshark servers in the UK. That might not sound like a lot, but consider this: every server has the option for obfuscation, anti-censorship, and adblocking. Moreover, all three of those servers work to unblock Netflix UK. Add to this the option for British static IP addresses, as well as multi-hop connections which end up in the UK, and you've got multiple points of entry.
It's all held together by unbreakable 256-bit AES encryption, a strong logging policy, and a robust RAM-only server network numbering 800 nodes in 50 countries total (and counting).
Pros
Reliably unblocks Netflix US, UK, Japan, and more
All 800+ servers are P2P-friendly, with private DNS and obfuscation
Zero restrictions on simultaneous connections, apps available on every major device
VPN home jurisdiction in British Virgin Islands is ideal for privacy
Responsive customer support available 24/7.
Cons
Overall, not much to complain about
Apps may be too simplistic for power users.
Read our full Surfshark review.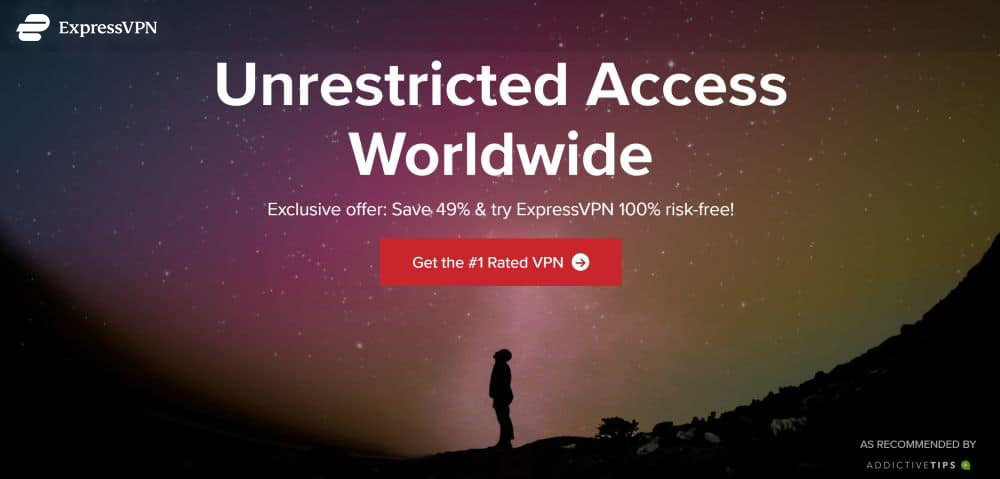 ExpressVPN is one of the most trusted names in VPNs, thanks to its combination of fast connections, good security, and easy to use software. The number of servers available for users to connect to is massive, covering more than 1500 servers in 145 locations in 94 different countries. This includes servers among 5 locations throughout the UK, so you'll have plenty of options to get a UK IP address and access all the content you want. See a full list of ExpressVPN's servers at https://www.expressvpn.com/vpn-server
As you would expect from a reputable VPN company, the security offered is excellent. The security features include the use of strong 256-bit encryption and a no logging policy so you can be sure that your data will remain safe and private. Other security features include options for a kill switch, DNS leak protection, and an IP address checker. The connections available are lightning fast, so your VPN won't slow down your browsing. The software can be installed on a range of platforms including Windows, Mac OS, Linux, and Android among others, and there are also browser extensions available for the Google Chrome, Mozilla Firefox, and Apple Safari browsers.
Read our full ExpressVPN review.
Pros
Unblocking Netflix USA, iPlayer, Amazon Prime
Superfast servers (minimal speed loss)
AES-256 encryption
Strict no-logs policy for personal information
Great customer service via chat.
Cons
Slightly pricier than competition.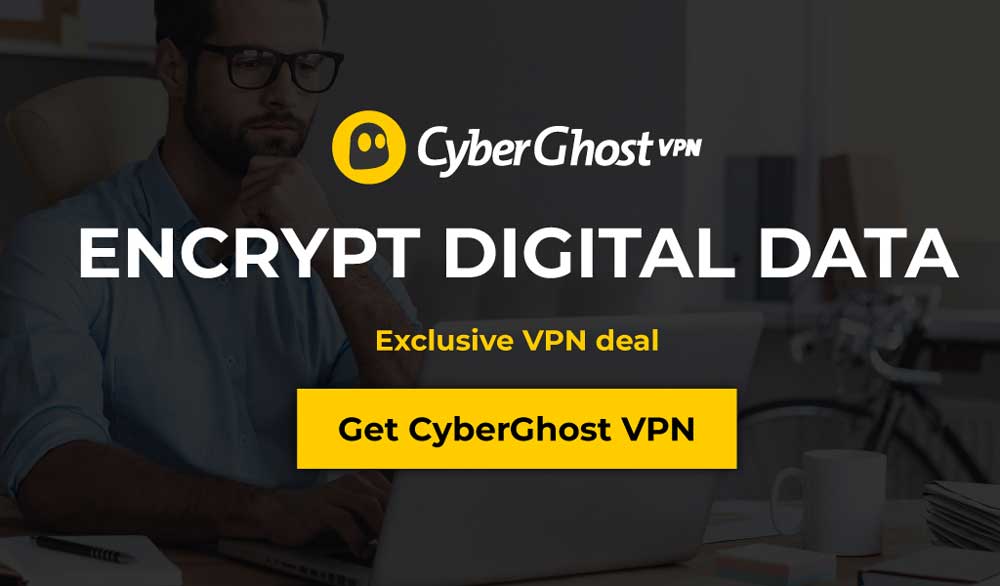 CyberGhost is a great choice for users who are new to the world of VPNs and are looking for simple, easy to use software. The clear graphical interface of the software gives you access to an impressive network of 5,700+ servers in 90 countries, including a bountiful 441 servers at 3 locations in the UK. So you'll get your UK IP address through a friendly interface with no technical knowledge required. See the full list of CyberGhost servers at https://www.cyberghostvpn.com/en_GB/vpn-server
This VPN still has the high level of security we look for, like the use of 256-bit encryption and a no logging policy. The connections are fast and the software is available for iOS, Android, Windows, and Mac OS.
Read our full CyberGhost review.
Pros
SPECIAL OFFER: 79%OFF
Affordable plans
No leaks detected
No log files
24/7 Live Chat Support.
Cons
IPv6 WebRTC leak in macOS
Doesn't work well in China.
PureVPN is a great service for users who are looking for a whole bundle of security features included in their VPN. The VPN server network is smaller than others at more than 2,000 servers in 140+ different countries, but this includes a substantial 168 servers at 4 locations with the UK, so you can access UK content with no problems. See the full list of servers at https://www.purevpn.com/server_location.php
As well as the basic VPN security features of strong 256-bit encryption and a no logging policy, other features include anti virus and anti malware protection, plus an anti spam filter to keep your email inbox clean. The app filtering function allows you to pass the data from only selected apps through the VPN for best flexibility. There are also options for DDoS protection, a kill switch, dedicated IP, and a NAT firewall. The software is available for Windows, Mac OS, Android, iOS, and Android TV devices, plus browser extensions for the Chrome and Firefox browsers.
Read our full PureVPN review.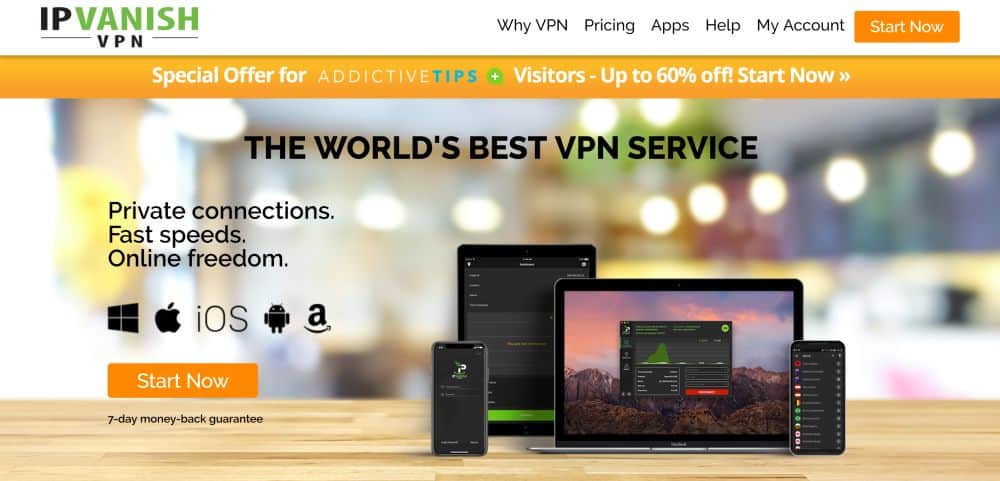 IPVanish is a super fast VPN that is perfect for users who want to browse quickly and download large files fast. The network of servers available is large, offering more than 1,300 servers in 60 different countries. This includes a massive 107 servers at 3 locations in the UK, including many servers in London. This makes it dead easy to get a UK IP address and to find a super fast server. See the full list of servers available from IPVanish at https://www.ipvanish.com/servers/
The security features are strong, including the essential 256-bit encryption and a no logging policy. Even better, within the software you'll find advanced features like a kill switch, DNS leak protection, periodic IP address so that your IP address changes regularly, and DNS configuration. The software is available for devices running Windows, Mac OS, Linux, and Android.
Read our full IPVanish review.
What Is An IP Address?
An IP address stands for Internet Protocol and refers to a unique string of numbers which is assigned to your device whenever you connect to a network. The IP address allows data from the websites you visit to be sent to your device in particular, and not any other device on the network. So when you type google.com into your phone's web browser, the Google home page data will be sent to your phone and not your tablet or your neighbour's computer. An IP address is like a mailing address for your device.
Your IP address is assigned to you by the network that you join, and the address contains information about your geographic location. This is because there are specific ranges of numbers which are assigned to particular countries. For example, any IP address in the range 2.16.0.0 to 2.16.1.255 is in the UK.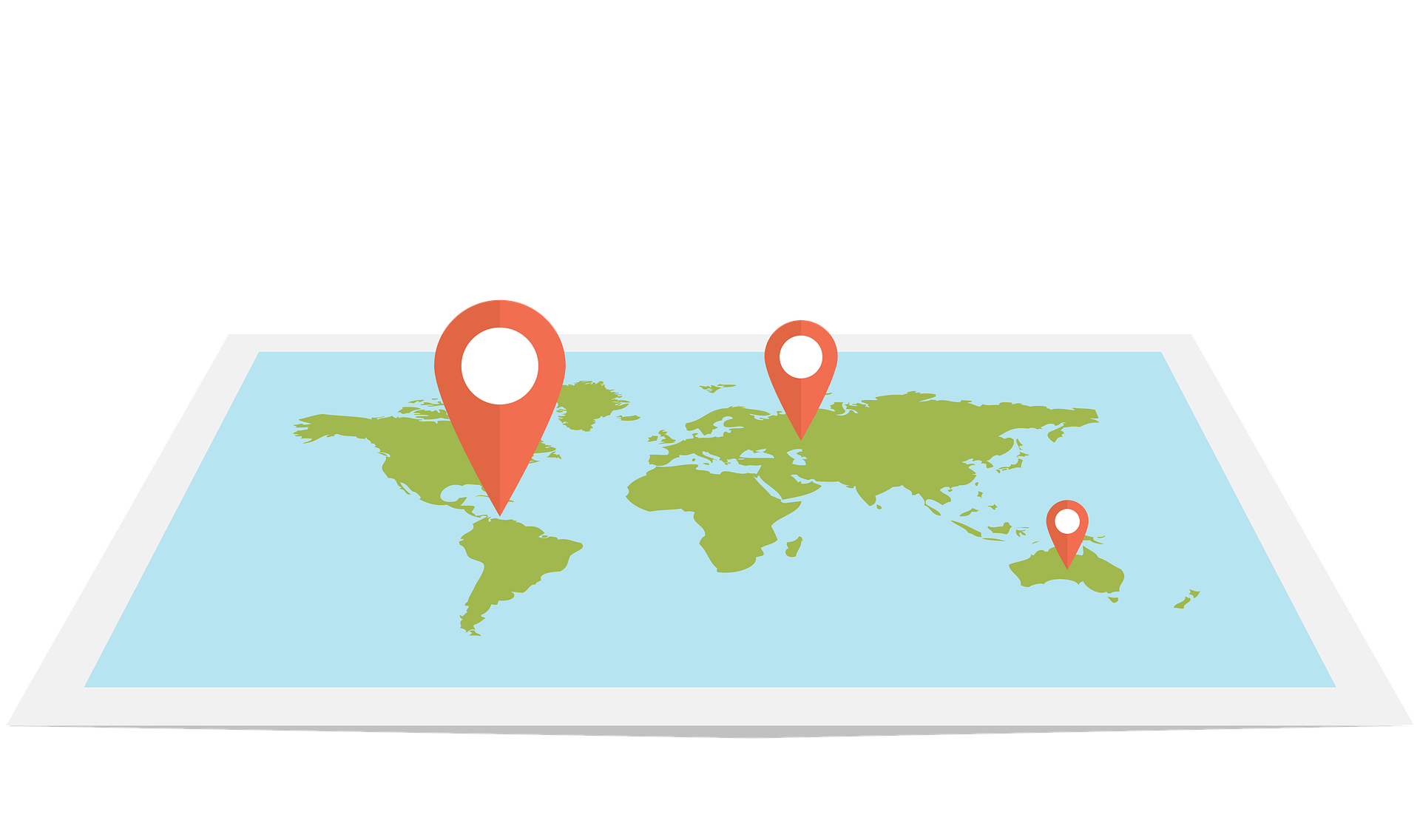 This means that when you visit a site, the site can read your IP address and work out where you are located. This is often used for helpful reasons like providing the website in your local language, or redirecting you to a local version of the site. When you are based in the UK and visit google.com, for example, you'll be redirected to google.co.uk so you can get more relevant search results. But this location data can also be used to restrict your access to some sites. If you visit the BBC iPlayer site or British Netflix from outside of the UK and try to watch a video, you'll see an error message and you won't be able to play the video.
Conclusion
With a UK IP address you can easily access UK-only content like watching videos on the great BBC iPlayer website from anywhere in the world. Using a VPN, you simply need to connect to a server in the UK then you'll be able to browse the web as if you were located in Britain, even if you are actually located elsewhere. In addition, a VPN will improve your security and protect your privacy.
We've suggested five VPN providers that you can use to get a UK IP address. Have you ever tried out one of these VPN providers? What was your experience like when accessing UK content? Let us know about it in the comments below.