We are reader supported and may earn a commission when you buy through links on our site.
Learn more
Best VPNs for Cafes: Protect Your Identity and Keep Safe
Even if you've never been to a dedicated Internet café, local coffee shops are still popular spots to pick up some free Wi-Fi. However, browsing and downloading on an unsecured public connection isn't safe, so you'll need to install a VPN onto your device first. Today, we review the best VPN providers for keeping you safe on café Wi-Fi.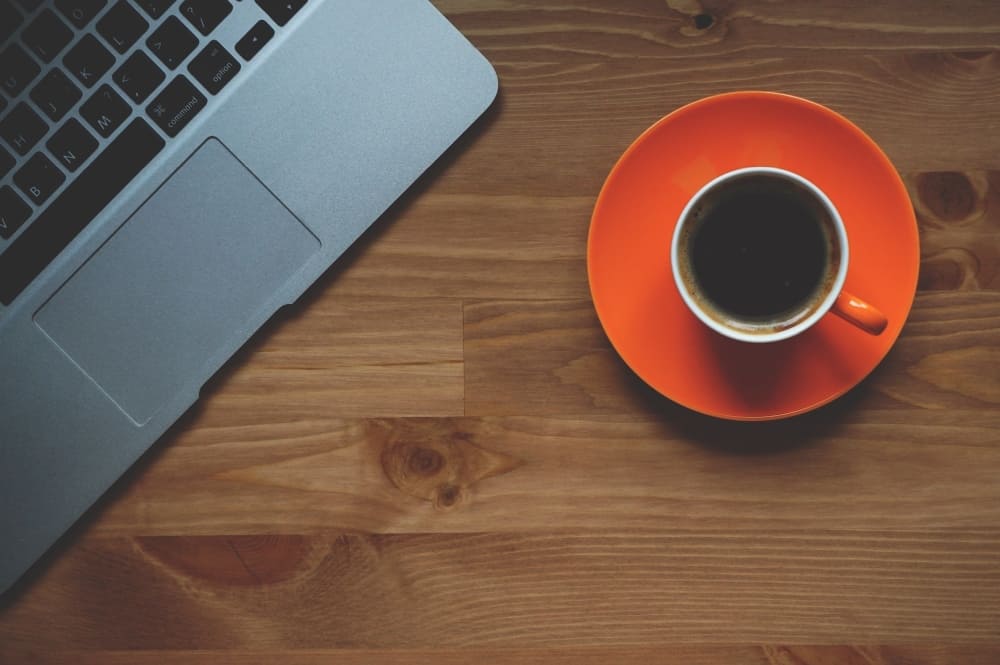 Public Wi-Fi hotspots are more popular than ever. With an increasing number of mobile smart devices and laptops in the world, countless people rely on "cyber cafes" for quick e-mail checks, daily work routines, and casual surfing over a cup of coffee.
While free Wi-Fi sounds like a good thing, there's always the little issue of data security. When you connect at a cafe, you're agreeing to share your identity and your information with an untrusted source. You don't know which ISP runs the network, or what kinds of data the cafe itself is prepared to harvest from the connection. Furthermore, it's impossible to tell if cyber criminals are utilizing the same network, eager to steal your identity without your knowledge.
Public café Wi-Fi can be perilous, but these VPNs will keep you confidently secure:
NordVPN – Best for Cafés – NordVPN was built specifically to lock down your connections on sketchy networks. Hackers, governments, and spies will stand little chance of stealing your identity when its guarded by the unbreakable NordLynx protocol.
Surfshark – Offers a ton of automatic functionality that intercepts and defeats cybersecurity threats before you even notice they're there.
ExpressVPN – One of the most powerful networks in the industry, with fast speeds courtesy of the Lightway protocol.
CyberGhost – Want a purpose-built solution for public hotspots? Click "protect Wi-Fi" and this provider does the rest.
PrivateVPN – A power-user's dream, with highly configurable VPN settings to maximize privacy and performance.
PureVPN – Hong Kong-based provider with ample experience getting past government censorship (like China's).
The best way to stay safe while using Wi-Fi at a cafe is to use a reliable virtual private network. Below, we'll discuss all the pros and cons of using a VPN, complete with recommendations for the best VPN to use at any cafe in the world.
30-days money back guarantee
Evaluating VPNs for cafe use
There's no shortage of VPNs on the market today. All of them promise the fastest speeds and the best privacy policies. You're trusting these companies with massive amounts of your data, however. You can't just choose a service at random and hope they follow through with their marketing hype.
Before signing up with a VPN, you need to do some serious research. We've provided a few selection criteria below to help you decide which features are the most important for using a VPN at a cafe. We used the same criteria to choose our recommended services in the next section.
The fastest, most secure VPNs for cafes
We researched and ranked the top VPNs on the market to find out which ones were the best to use for a fast and secure connection in a cafe. The results are listed below.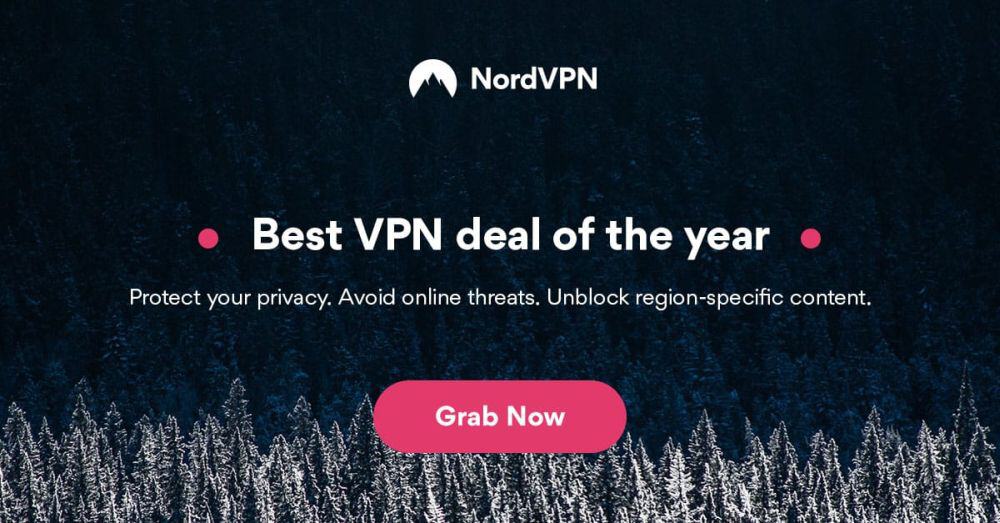 NordVPN is the world's most trusted VPN that runs a fast and impressively large network of servers. Joining gets you instant and unlimited access to over 5,500 servers in 58 countries, all available without a single limitation. This massive amount of variety delivers great speeds no matter where you connect from (even cafes), ensuring you always have a fast connection ready to go. It also allows NordVPN to offer unique features like double encryption, protection from DDoS attacks, and onion routing over VPN for added privacy on public networks.
NordVPN's software comes with everything you need to stay safe online. This includes strong 256-bit AES encryption, DNS leak protection, an automatic kill switch, and a zero-logging policy that covers time stamps, DNS requests, IP addresses, and traffic. It's extremely easy to set up and use on all of your devices, too, as the VPN supports PC, Mac, Linux, iOS, Android, and other platforms by default. When you need fast and reliable online protection along with unparalleled unblocking features, go with NordVPN.
Read our full NordVPN review.
Pros
Very affordable plans
Extensive server park of over 5,400 different servers
Strong security features
No logs and encrypted connections for total privacy
24/7 Live Chat.
Cons
Some servers can be slow and unreliable
Sometimes slow in procesing refunds (but always do).

What Surfshark lacks in years serving the privacy community (having launched in 2019), they make up for in cutting-edge VPN technology and consumer-friendly policies. On offer is the unbreakable 256-AES-GCM encryption cipher, employed via OpenVPN, IKEv2/IPSec, or WireGuard to connect to 3200+ servers in 65 countries around the world. This alone is enough to guard your identity from hackers, as well as access geoblocked content in other countries.
However, there's more. Surfshark also enables obfuscation, smart DNS, and NoBorders anti-censorship in case your café is located in a highly restrictive country like Turkey or Egypt. Additionally, there's a kill switch, IP/DNS/WebRTC leak protection, split tunneling, and even anti-malware and adblocking to round out your cybersecurity.
Unlimited simultaneous connections available for total coverage of all your devices. And never fear for your VPN taking notes on your activity; Surfshark guarantees your privacy with a strong no-logging policy.
Pros
Robust servers blast through geoblocks to access your favorite streaming sites
Unlimited server switching
Zero restrictions on simultaneous connections, apps available on every major device
Zero logging policy ensures your activity can't be used against you
Support staff manned by actual human beings 24/7.
Cons
Speeds occasionally suffer a noticeable drop
Power users may wish for more settings to fiddle with.
Read our full Surfshark review.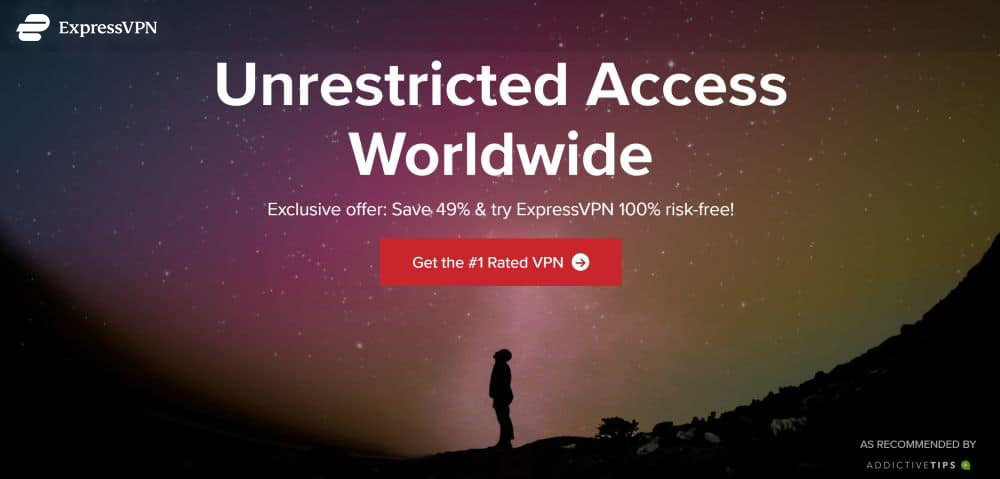 ExpressVPN is one of the fastest VPNs you can find, offering incredibly smooth connections around the world. The service is extremely easy to use, as well. Anyone can sign up and log in with just a few clicks, no matter which device they use (PC, Mac, iPhone, Android, etc.) or their level of experience with VPNs. All it takes to enjoy a fast and safe connection in a cafe or at home is to download a single app, ExpressVPN will take care of the rest.
ExpressVPN has a wide range of privacy features that keeps you safe each time you connect. Data is always secured with military-grade 256-bit AES encryption and backed by a strict zero-logging policy on all traffic, DNS requests, and IP addresses. Information stays secure thanks to an automatic kill switch and DNS leak prevention features, as well. These work alongside ExpressVPN's huge network of over 3,000 servers in 94 different countries to give you a fast and secure connection anywhere in the world, including cyber cafes, libraries, and other public locations.
Read our full ExpressVPN review.
Pros
Unblocks Netflix and other streaming sites
Super fast, reliable connection
Secure encryption & VPN protocols
Strict no-logs policy for personal information
24/7 Live Chat.
Cons
Slightly pricier than competition.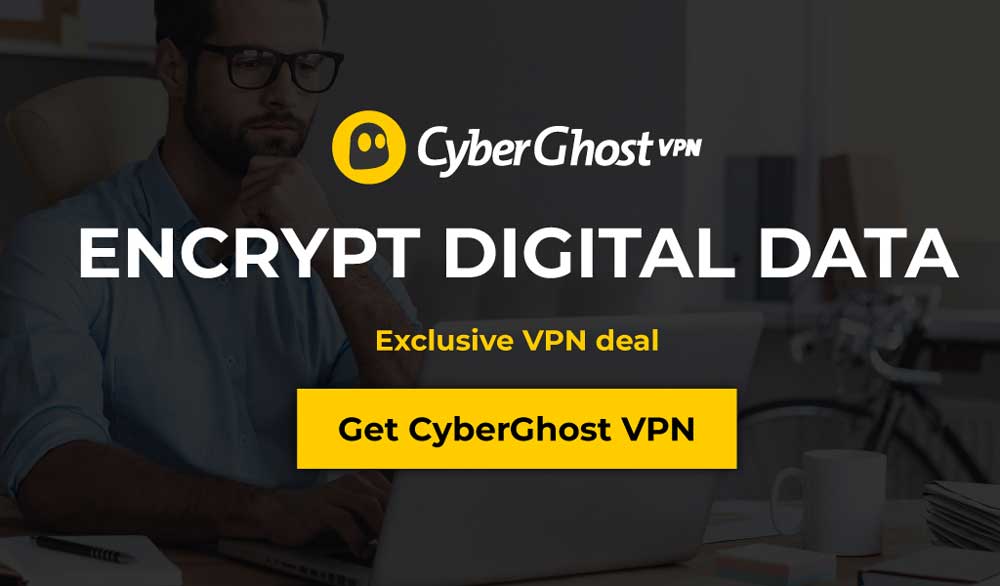 CyberGhost delivers one of the fastest and easiest VPN experiences around, and it's enjoyed by countless users around the globe, as well. CyberGhost runs on nearly every device imaginable, from iPhones and iPads to Android devices, PCs, and Macs. As soon as you sign up you'll be able to access CyberGhost's large network of over 5,500 servers in 80 countries, all with unlimited data and no restrictions on download speeds or traffic types. Whether you need to connect in a cafe or enjoy movie streaming at home, CyberGhost can keep you secure.
CyberGhost's privacy features keep you safe with strong 256-bit AES encryption on all data, a zero-logging policy on traffic, time stamps, and IP addresses, and both DNS leak protection and an automatic kill switch. These features hide your identity whenever you go online, allowing you to connect with fully encrypted data and an anonymous IP address on any network, even public cafe hotspots.
Read our full CyberGhost review.
Pros
Works with Netflix
P2P allowed on any server except in US and Russia
Versatile and user-friendly
Private: Strong no logs policy
45-day no-quibble money back guarantee.
Cons
WebRTC IPv6 leak in macOS
Can't unblock some popular streaming sites.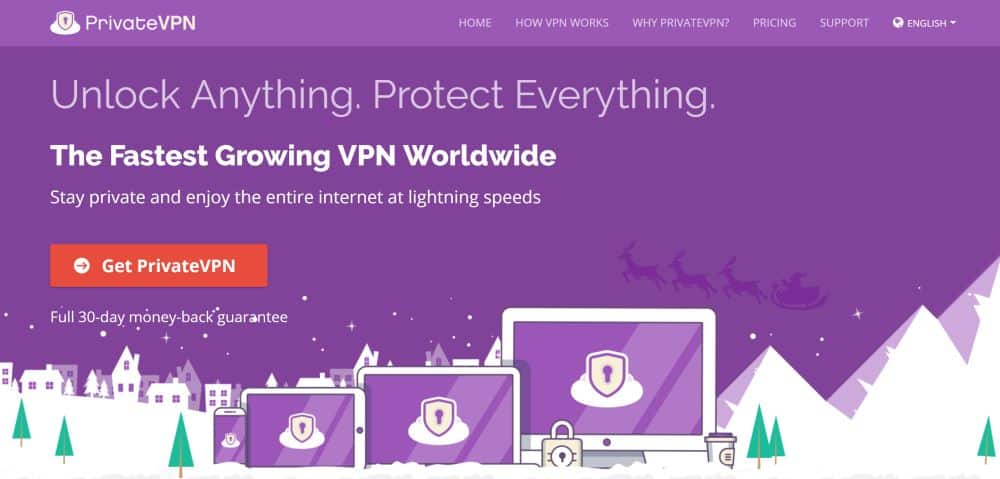 PrivateVPN is a strong and safe VPN service that helps everyone access a secure internet connection anywhere in the world. With PrivateVPN running in the background, you can surf and stream with complete anonymity and privacy on cafe Wi-Fi or your home network. Use it on PC, iOS, Android, Mac, and plenty of other platforms as well, all thanks to the company's lightweight and easy to use software. PrivateVPN lets you sign on and connect to the fastest server with just a single click. You never have to worry about your online safety again.
PrivateVPN operates a small but reliable network of around 150 servers in 60+ countries. All data is secured with strong 256-bit AES encryption to keep your connection safe, and an automatic kill switch and DNS leak protection along with a zero logging policy on all traffic ensure your privacy is never at risk. PrivateVPN is the perfect solution for keeping your data safe on cafe Wi-Fi networks.
Read our full PrivateVPN review.
PureVPN goes a step beyond standard VPN protections and provides a host of online security features few other companies can deliver, all at no additional cost or effort on your part. Once you join PureVPN, you'll have instant access to anti-virus protection, malware shields, app blocking features, and website filters in addition to VPN encryption and identity protection. To switch them on, all you have to do is toggle an option in PureVPN's lightweight software. It's never been so easy to protect all of your data or to stay safe from online dangers.
PureVPN provides excellent privacy features on top of its extras, as well. It begins with a zero-logging policy on traffic and continues with an automatic kill switch, military-grade 256-bit AES encryption on all data, and DNS leak protection. And with PureVPN's self-owned network of over 2,000+ servers in 140 different countries, you're guaranteed a fast connection and anonymous IP address at all times, no matter which cafe connection you're using.
Read our full PureVPN review.
How to set up your VPN for cafe use
Finding the best VPN for cafe privacy is the hard part. Once you're signed up, things get much easier. Follow the steps below to lock down your online data in a flash.
Step 1 – Download and connect
VPN apps are designed to be as easy to use as possible, offering easy one-click installers for most major platforms. If you use a non-standard device you may need to consult the VPN's support pages for help, but otherwise you can use the method outlined below to get started.
In a PC web browser, sign into your VPN account.
Look for a downloads section and click it.
Select the app for your device and download it. You may be redirected to a mobile marketplace to install apps for iOS or Android.
Install the app on your device and launch it.
Log into your VPN software using your login credentials.
After signing in, your VPN app will connect to the fastest server.
Minimize the VPN app or let it run in the background. It will now keep you safe and secure when you connect to cafe Wi-Fi.
Step 2 – Repeat for all mobile devices
Even if you mostly use a laptop while in a cafe, it's a good idea to set up a VPN on all of your mobile hardware, especially smartphones. Many of these devices automatically search for and connect to open Wi-Fi networks without your intervention, meaning they can transmit unencrypted data even while sitting in your pocket.
Mobile apps track your every move, here's how to stop it
To install a VPN on your iPhone or Android device, simply follow the steps above. You can also download the right app directly from the Google Play marketplace or iTunes App Store and sign in from there, no PC required. Just make sure you get the right VPN app and not a fake service.
Step 3 – Connect to cafe Wi-Fi
Now that your VPN is encrypting all of your traffic, you're safe to connect to the cafe's Wi-Fi. Look for the right wireless network and select it from your devices connection menu. Sign in using the provided password, then accept the login page terms if presented. Once this is done, you'll be able to use your connection as normal, only now your identity and your data are secured with a VPN.
Troubleshooting cafe Wi-Fi connections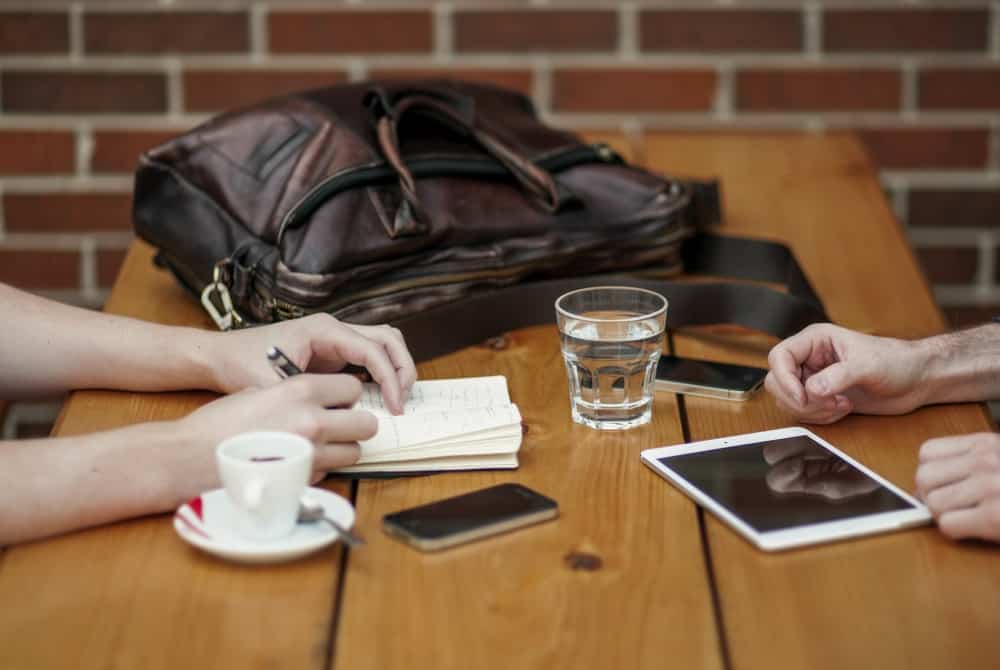 Most of the time, running a VPN to protect your connection to cafe internet is a straightforward process; just launch the app, find some Wi-Fi, and enjoy. Occasionally you may run into problems, however. The tips below should get you unstuck in a jiffy.
How to access the Wi-Fi sign-in page
A lot of hotels, restaurants, libraries, and cafes use an agreement or sign-in page you must go through before you can use the network. These pages are extremely simple and generally only require you to scroll through a little text and click a "connect" or "I Agree" button at the bottom. The catch is that these pages sometimes won't load on a secured connection such as one provided by a VPN.
If you can't get the Wi-Fi sign-in page to load on your cafe's network, all you need to do is follow the steps below. This method is safe and secure and only requires you to remember a single URL that you'll enter once per day.
Make sure your VPN is turned on and ready to connect.
Choose the cafe's Wi-Fi network from your device.
Open your default browser and see if the sign-in page loads.
When it fails, go to the URL bar and type in this link: https://neverssl.com
Instead of the website loading, you should see the sign-in page appear.
Accept the sign-in dialog and enjoy your cafe Wi-Fi.
This method works because NeverSSL is an unsecured, unencrypted page (http instead of https). The "S" attempts to use encryption, which is normally a very good thing. It interferes with the Wi-Fi connection page loading, however, so all you need to do is try loading a safe unencrypted website and the cafe Wi-Fi "wakes up" and works properly.
Wi-Fi refuses to connect
Another issue cafe Wi-Fi users tend to run into is the complete inability to connect to the network while the VPN is active. There are a variety of possible causes to this, but if you've tried everything you can think of and are still coming up short, there's one more trick you can keep hidden up your sleeve.
Wi-fi in cafes, libraries, and other public places often restricts traffic on certain ports. VPN software may utilize these ports by default, creating an instant internet log jam. You can bust through the blockage by simply changing ports on your VPN app. Doing this will rectify your connection problems right away, and it only takes a second to set up.
Every VPN software is different, so the below instructions may vary slightly depending on your service. If your VPN doesn't offer the ability to change ports, consider switching to one of the recommended VPNs above that does offer the feature.
Open the VPN app on your device and connect to a fast server.
Look for a settings page inside the app and click it.
Find a security or advanced configurations tab.
Check for an option to manually change traffic ports.
Switch to TCP 53, UDP 53, TCP 80, or UDP 80. If these aren't available, try any alternative port suggested by your VPN.
Save the changes and exit the settings screen. You may need to disconnect from your VPN server and reconnect for the changes to take effect.
Try accessing the cafe Wi-Fi again and it should work just fine.
Speed up a slow VPN connection
Public Wi-Fi isn't known for its blazing fast speeds. Sometimes you'll connect and just stare at web pages while they take forever to load. VPNs often bypass some of this congestion, but they can occasionally add to it, as well. If you notice a drop in speed when you activate the VPN, try the tips below to make things a little faster.
Change VPN servers – Lag is almost inevitable with some connections, so if your downloads start to falter, try changing to a different server location for a boost in speed. In general, the closer a server is physically located to you, the better.
Switch ports – VPNs use certain ports to connect to the internet. Some ISPs or cafes throttle these ports. To get around this, all you have to do is check your VPN software's options and look for a setting that lets you change ports, then try a different option.
Wait a while – Sadly, sometimes the only way to beat internet slowdown is to wait. Server congestion or crowded Wi-Fi channels can cause all sorts of problems, most of which are out of your hands. Try connecting again after 15-30 minutes and things may be running faster.
Conclusion
Getting a VPN for cafe use is practically a requirement for fast, safe, and secure public Wi-Fi. You can't just stampede off and choose any VPN on the market, you need to do a little research first, then sign up with the best service that fits your needs. Our recommendations above are a great starting point.
How often do you use cafe Wi-Fi? Ever encountered issues while connecting that a VPN managed to fix? Share your experiences in the comments section below.