We are reader supported and may earn a commission when you buy through links on our site.
Learn more
How to Watch The Meg on Netflix from Anywhere?
If you thought Jaws was terrifying, then you probably haven't seen The Meg, which is a film that will give an irrational fear of sharks to a whole new generation. Since we enjoyed The Meg so much, we thought that we'd check it out again – and we luckily found it over on Netflix.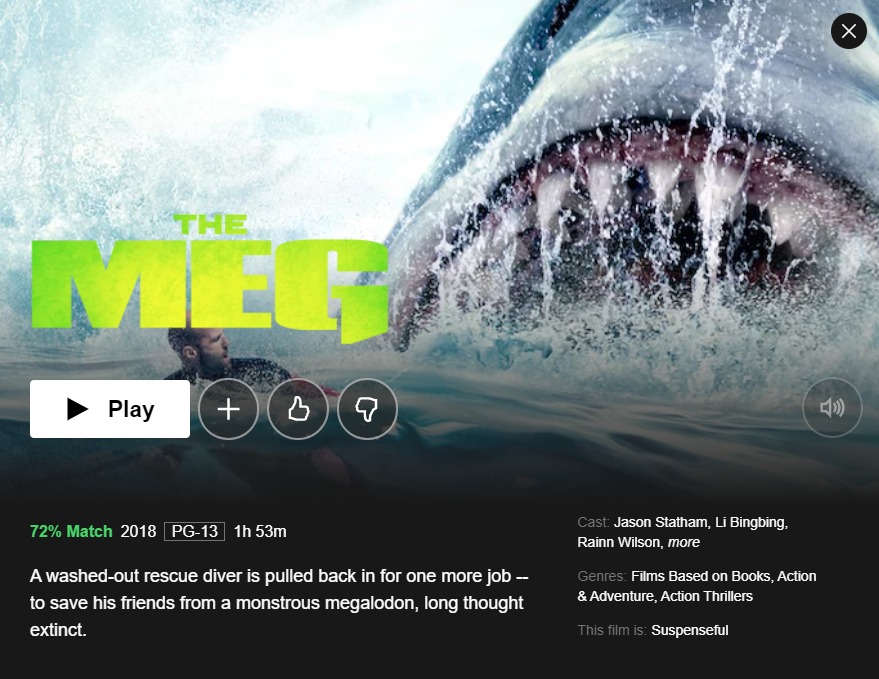 The Meg was released in 2018, and it's loosely based on a 1997 book called Meg: A Novel of Deep Terror by Steve Alten. This particular film features an impressive cast that includes Jason Statham, Li Bingbing, Rainn Wilson, Ruby Rose, and Winston Chao. With a budget of around $150 million, the movie racked up over $530 million at the box office.
The story follows a rescue diver, Jonas Taylor, who attempts to save a damaged nuclear submarine crew when he encounters a massive unidentified creature. Some years later, he finds himself conjuring the same animal after they dive into the deepest section of the Mariana Trench and find a whole area that is concealed by a thermocline of hydrogen sulfide.
Can I watch The Meg on Netflix?
The Meg is thankfully present on Netflix, but it does depend on which country you're in. We managed to find the film over in Canada, but it's missing from the United States, United Kingdom, and other countries as well.
How can I watch The Meg on Netflix?
Watching The Meg on Netflix is actually something that will be fairly easy to do, but it will require extra steps – unless you, of course, live in Canada. Although we all pay pretty much the same subscription price for Netflix regardless of the country we're in, we do not all get the very same content because there are licensing deals in place. These clearly indicate the countries where the content is available to stream. It also depends on what other streaming services are present and whether those have the licensing deals for that particular content.
However, if you're going to use a VPN and appear to be in Canada, you're going to be able to stream all the content you want from Netflix. A VPN can help route your internet connection through a foreign server and assign a new IP address to your device.
If you do not know which VPN to use, our recommendation is to go for NordVPN. It is a great tool that has thousands of servers all over the world and some great privacy features thanks to the military-grade encryption protocols they have.
Here are all the steps you need to take:
You need to subscribe to NordVPN. They are offering 70% OFF for the 2-year plan at $3,49/month.
Next, you need to sort out the apps and install them on your devices. Log in to your account, so the app is available immediately whenever you need it.
Find a server in Canada that you can connect to and wait a few moments.
Once the connection is established, you can load Netflix in your browser or relaunch the app on your device.
Look for The Meg and start streaming the film as soon as possible.
The whole process is relatively easy to go through and shouldn't take too long.
Doesn't Netflix know when you are using a VPN?
Netflix has the power to detect users who deploy VPNs on their devices, but their technology doesn't always work. In fact, with premium tools, it seldom figures it out.
If you do happen to have any problems with NordVPN while on Netflix, you can always contact the NordVPN customer support team, and they will be happy to figure out which server works with your desired Netflix location. They are available 24/7, so it doesn't really matter what country you are in.
Why not use a free VPN instead?
One thing we have to warn you against is using free VPNs. While we do understand the attraction of doing this, it is quite dangerous and could also be something useless to try.
First of all, free VPNs are the first to get blacklisted by Netflix. So even if you did manage to bypass the geo-blockade with one of these services, you might still be unable to watch everything you want because there are just a few servers at their disposal, and there are lots of uses – which means their servers are overcrowded. Overcrowded servers translate into really low internet speeds that are incompatible with streaming quality content on Netflix.
However, this is the smallest problem of them all. A more serious issue is the security aspect because free VPNs were discovered on app stores, and they were actually hiding malware in the code. Once installed, they could start collecting information on the users, which means that all the exfiltrated private information would expose you to the danger of identity theft. If you use the same device for work, you could also be at the root of your employer getting hacked and suffering a data breach, which is obviously not something you want.
There is also another type of VPNs that is best to avoid, namely peer-to-peer routing. These tools will ask for permission to use your device's resources in order to allow other people to connect to your computer as they would to a server and have their connections run through your device. In exchange for this, you would also get to do the same and use another person's computer. This can be quite damaging for your device, and your computer's performance would not improve when you stop the VPN, as it continues to run in the background. It also uses no encryption whatsoever, so all the data is out in the open. They also keep logs on what people are doing online, which goes against the notion of privacy that we've come to associate with VPNs.
Final Thoughts
We do know that going for another subscription is not something that ideal in any way, shape, or form. If you really want a VPN, it's the right thing to do because your privacy and security are far more important than the few bucks that these companies ask of you.
We hope you found this guide informative and that you are now heading to Netflix Canada so you can stream The Meg.