Clean Office 2010 With CCleaner 2.32.1165
The latest version of CCleaner supports Office 2010 along with various enhancements and additions. Diving inside, we found that it mostly removes the .LNK files which are shortcuts. Removing them from the registry cleans the clutter but won't make a huge impact on the system.
Apart from the addition of Office 2010, the new version can now clean opera search field history along with numerous improvements. Check below for complete changelog.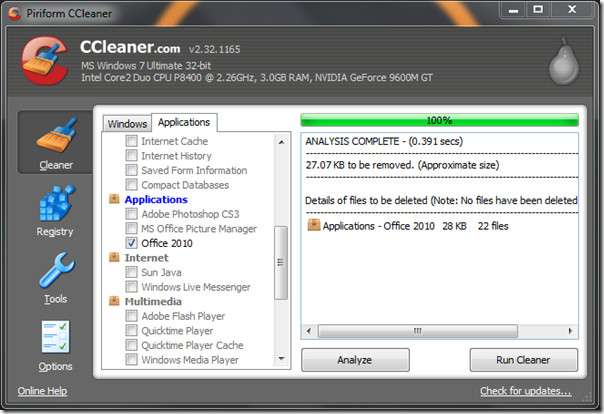 Complete list of changes include:
– Added support for Microsoft Office 2010.
– Added Opera search field history cleaning.
– Added Real Player SP cleaning.
– Added "Analyze" and "Clean" context menu options to rule tree parent nodes.
– Added "Restore default settings" button to Advanced Options.
– Improved Opera favicons cleaning.
– Improved support for Media Player Classic.
– Improved cleaning of shortcuts on 64-bit machines.
– Improve localization support.
– Fixed bug with Russian translation.
– Minor bug fixes.
Editor's Notes: CCleaner is one of the best cleaning tool out there and is one of AddictiveTips's favorite. For an interesting read, check out 10 Lessons Software Developers Should Learn From CCleaner's Success.