How To Hide The Sound Effects Icon In PowerPoint Presentation View
A good, engaging presentation is interactive and makes use of all sorts of media instead of just slide on top of slide full of text. PowerPoint is one of the most comprehensive presentation tools available today. It lets you insert just about any kind of content imaginable. There are also a slew of add-ins that can add any features left wanting  for example, you can use an add-in to run a live poll during a presentation. The effects in PowerPoint are great and it provides presenters with visual clues to help them during their presentation like icons to indicate a sound effect. If you have sound effects set to play automatically, you might want to hide the sound effects icon in PowerPoint in presentation view.
The sound effect icon in PowerPoint presentation view indicates where a sound effect has been added. In presentation view, it helps the presenter remember where the sound effect is. Additionally, it also gives you access to controls for the sound effect. With sound effects, you can set them to play automatically, or to play on click.
Add Sound Effect
To add a sound effect in PowerPoint, open your presentation and navigate to the slide you want to add the effect to. Go to Insert>Audio, and select  an audio file.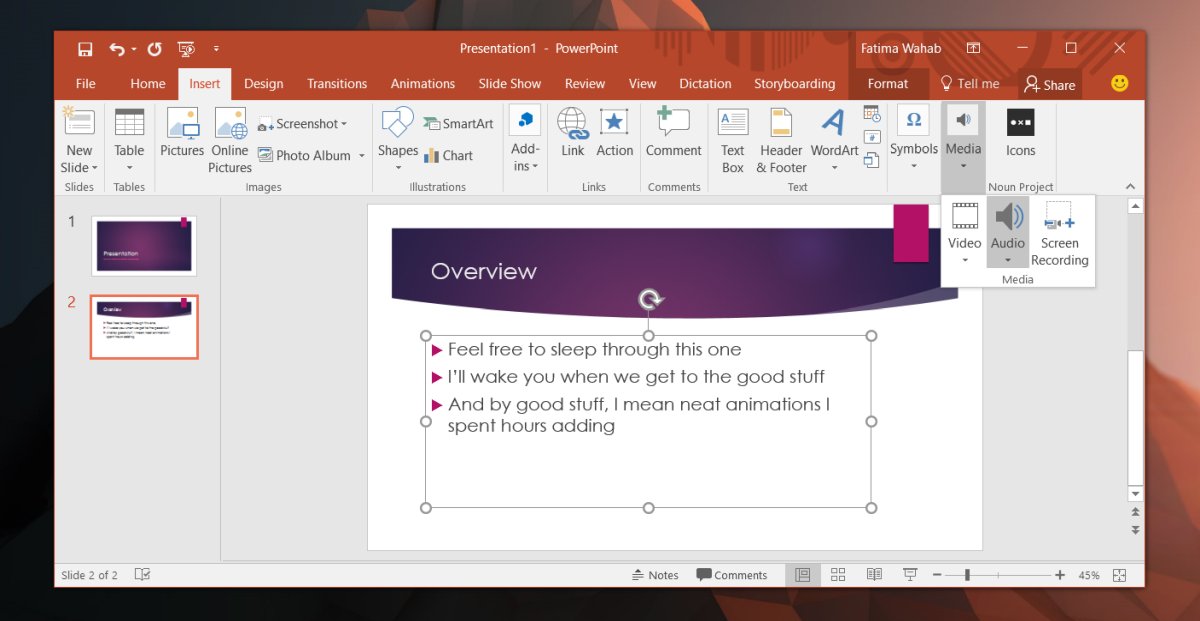 Once you add the file, a speaker icon appears in your presentations's edit view, and presentation view. When you position your cursor over the icon, it expands to reveal media controls.
Hide The Sound Effects Icon
Select the speaker icon. When a media element is selected in PowerPoint, additional tabs appear on the ribbon. When the speaker icon is selected, two new tabs called Format, and Playback are added. Go to the Playback tab. Here, check the 'Hide during show' option. The sound effect icon will no longer appear when you're in presentation mode.
This means you will have to click once when you're on the slide to play the sound effect. Alternatively, you can set the sound effect to play automatically when you reach that particular slide.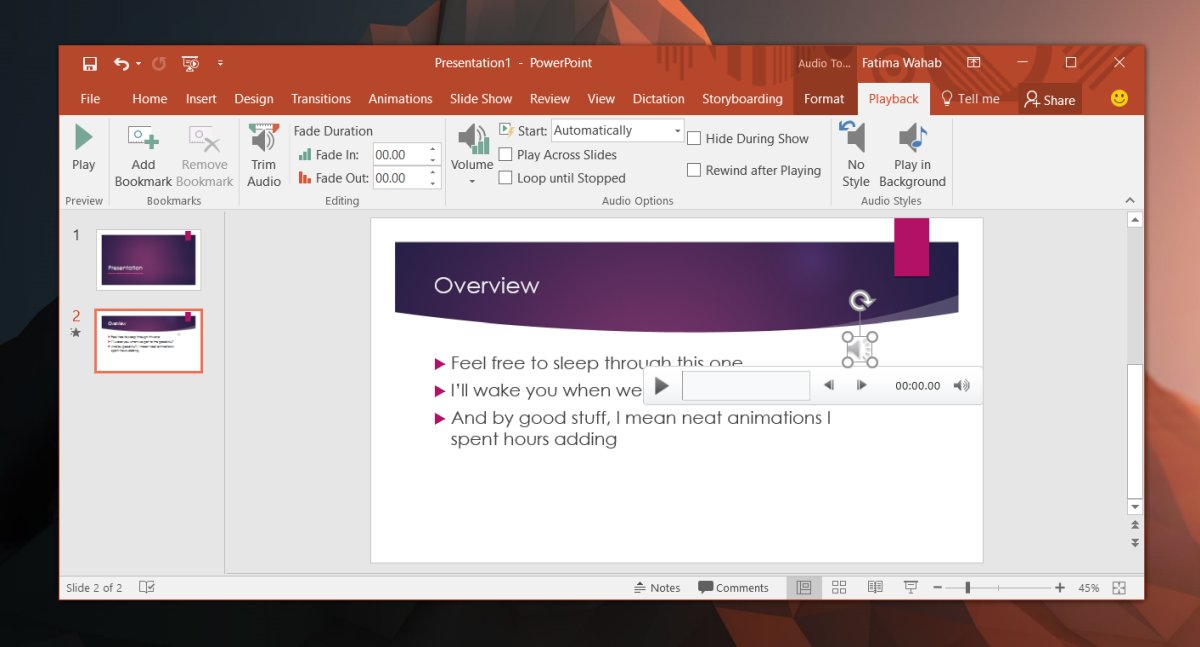 Remember that the visual cues that PowerPoint gives you is meant to help you with your presentation. If the only reason you want to hide the sound effects icon is that it obscures a part of your presentation, you can just move it to a different place where you can still see it but it doesn't obstruct text or objects.