How To Create A Custom Keyboard Shortcut In MS Word 2016
MS Office is a very powerful productivity suite and MS Word is one of the most powerful word processors in the market. It's feature rich and most of its frequently used tools can be accessed via a keyboard shortcut. It might take you a little time to learn them all but you can increase and decrease font size, activate the format painter, find and replace a word, and more all from your keyboard. Of course, not all tools can be used via a shortcut. There is in fact a whole host of tools in MS Word that have no shortcut. What MS Word gives you instead is a way to record your very own shortcut for almost any tool you like. Here's how.
MS Word has a built-in feature for creating shortcuts as well as editing the existing ones. The keyboard shortcut can be recorded in one of two ways. We've detailed both.
Method 1:
Open MS Word and type the shortcut Ctrl+Alt+Plus button on the number pad. Once activated, the cursor will change to look like Command key symbol in macOS i.e. ⌘
Click the button on the ribbon that you want to assign a shortcut to. For example, if you want to assign a keyboard shortcut to the 'Add new comment' button, click it.
A dialog box will open where you can record the shortcut.
If you clicked a button that already has a shortcut, this dialog box will allow you to change it.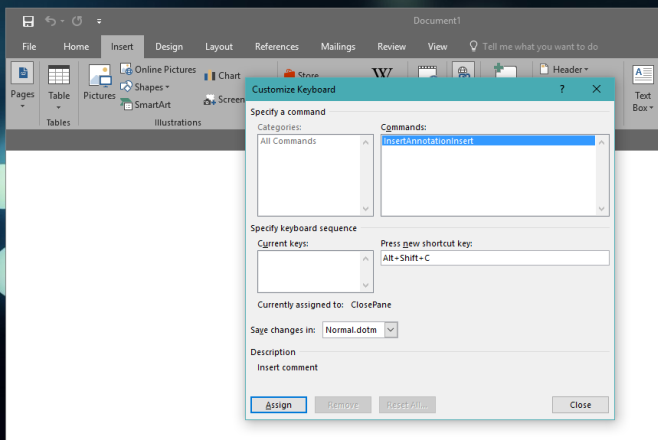 Method 2:
Open MS Word. Go to File>Options. Select 'Customize Ribbon'
In the left column, select the button you want to add a keyboard shortcut for
Click the 'Customize' button at the very bottom
This will open the same keyboard shortcut editor in Method 1. Simply record the shortcut you want to set and you're done.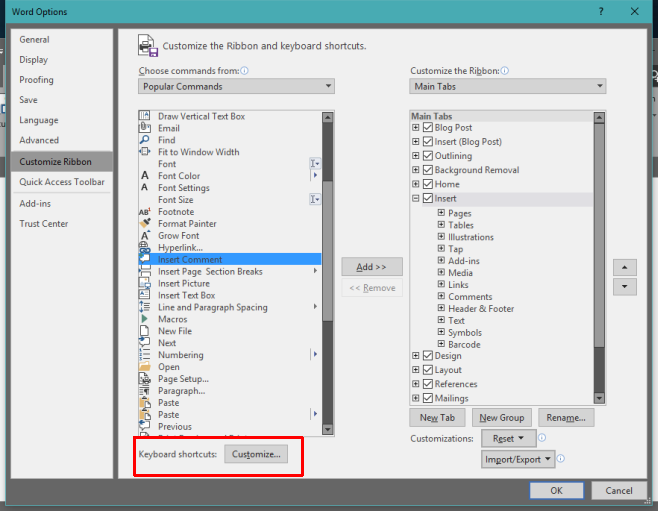 MS Excel doesn't support a similar keyboard shortcut recorder. It seems you cannot record a shortcut for tools that open a dialog box e.g. you cannot record a shortcut for the 'Insert Picture' tool.