Quick Launch Office 2010 Applications From Word 2010
Sometimes while working in Microsoft Word document we need to open other Microsoft Office suite applications, to check and analyze the data or for any other reason, for this we open the apps from start menu which becomes time consuming. Now in Word 2010, there is an option to access Microsoft Office suite applications directly without having to minimize or close the document. This post will cover how to make Microsoft apps apparent to access them with single click.
First we need to create a new Tab and Group, so we can add the apps in to the group because these buttons are hidden by default.
Launch Microsoft Word 2010, go to File menu, click Options, and in left pane click Customize Ribbon, in right pane select All Commands from Choose commands drop-down options and look for Microsoft Access, Excel, Outlook, PowerPoint commands. Now from left pane, hit New Tab, change it's name to Microsoft Apps, and then click New Group to create group in the newly created tab, give it an appropriate name. Now click Add >> button to add Microsoft apps to newly created group. Click OK to close Word Options dialog.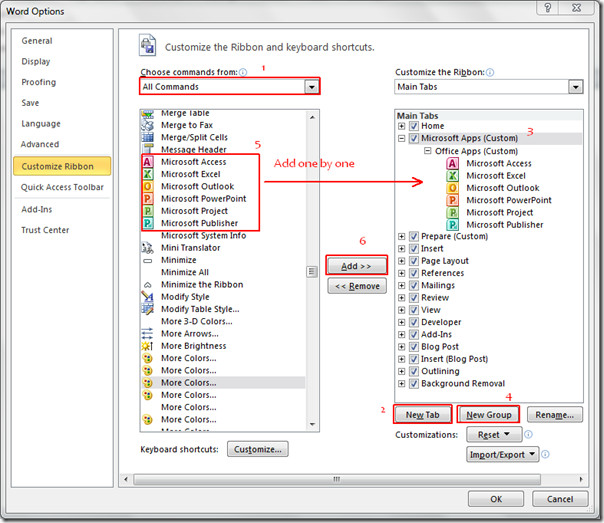 You will see new tab is created, containing all the apps buttons as shown the screenshot below. Now you can directly access the apps while working in Word 2010.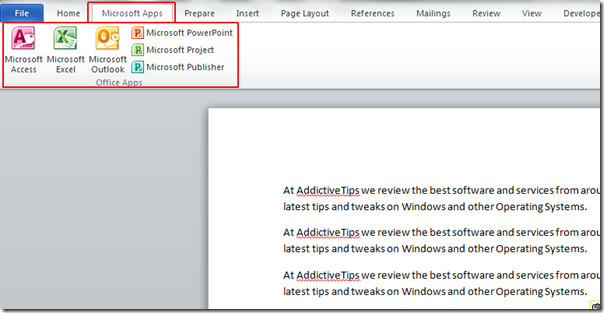 You can also check out our previously reviewed guides on Embedding YouTube videos in Word 2010 & Save Auto-recover Info Setting