View Indexing Status (For Searching) In Outlook 2010
Many Outlook 2010 users complain about Outlook 2010 search capability without knowing the fact that indexing all the items is extremely important to get the search results quickly. In this post we will let you know how to view the current indexing status of all Outlook items.
For checking indexing status, click in the search pane to enable Search Tools tab, now from Options group, under Search Tools options, click Indexing Status.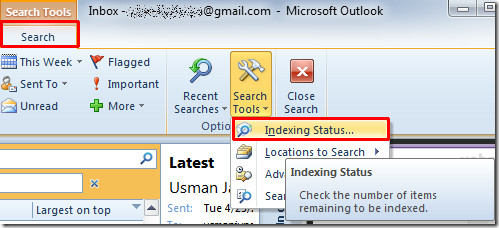 A message box will pop-up informing you about the indexing status. If there is an enormous pile of files to be indexed, you need to index them first before searching the content.