Word 2010: Enclose Characters
Word 2010 has a huge list of pre-defined symbols and notations, but sometimes it become frantic need to insert customize symbols or make another one by fusing shapes and characters. Word 2010 helps you in this regard by providing Enclose Characters, this feature allows one to make a symbol out of the shapes provided within.
Launch Word 2010 spreadsheet on which you want show Enclose Characters. To use this feature you need to make it apparent in Word window, for this navigate to Quick Access Toolbar, and from drop-down button, click More Commands.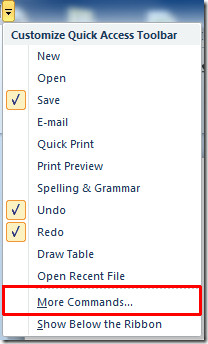 It will bring-up Word Options dialog, under Choose commands, click drop-down button to select All Commands. Now scroll-down to find Enclose Characters command and click Add >> to show it in Quick Access toolbar. Hit OK to continue.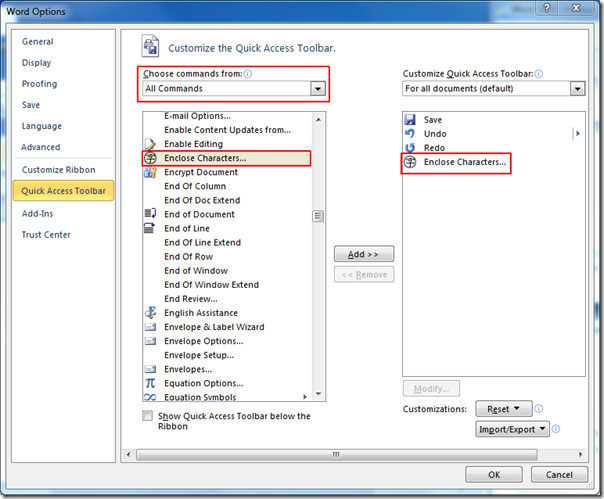 Now in document, select the text which you want to enclose in different shapes and click Enclose Characters in Quick Access Toolbar.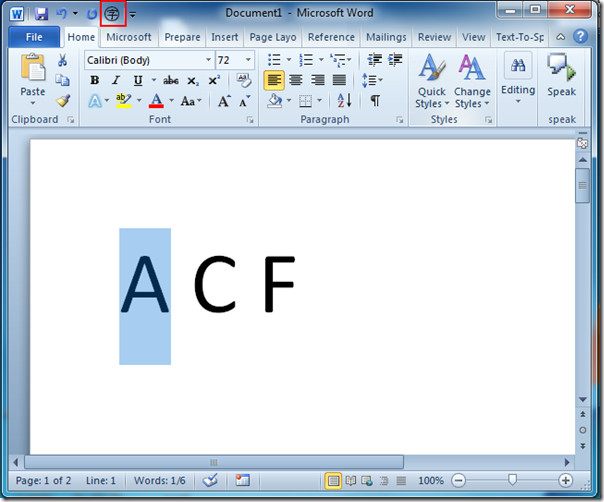 Upon click, Enclose Characters dialog will appear. From Style you can choose one from three predefined styles; None (wrap in line), Shrink text (wrap around in shape), and Enlarge Symbol. Choose an appropriate one and from Text you can enter text directly or choose a text from the list. Now from Enclosure select the symbol in which you want to wrap-in text. Click OK to continue.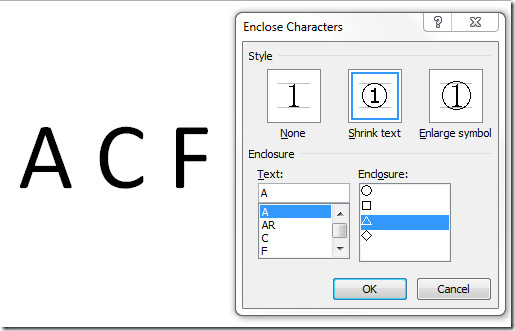 It will enclose the character in specified symbol, as shown in the screenshot below.
Now for giving different shapes to different characters repeat the procedure and select the enclosure shape in which you want to wrap-in characters.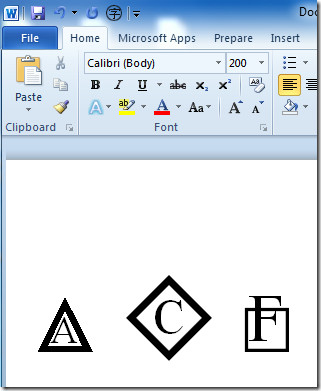 You can also check out previously reviewed guides on How to make scrolling faster by Hiding Images in Word 2010 & Temporarily Lock Word document