Add Toggles For WiFi, Bluetooth, Sound And More To Your Android Status Bar
Not everyone prefers having their homescreens cluttered with toggle widgets. From amongst those who don't, some flash custom ROMs that have built-in status bar toggles while others simply sweep said widgets under the rug. If you're ready to do neither, we've got the perfect remedy for you. Notification Toggle for Android is a free tool that adds toggles of your choice to the notification bar. The freeware lets you choose from a list of seven toggles and four shortcuts and adds the chosen to the notification bar, each in a separate notification/line or up to five grouped in a single notification. As exciting and refreshing the concept of Notification Toggle may sound, it is one of the very first solutions of its type that we have come across so far.
To group toggles in a straight line in the notification area, check the All-in-one option on the app's homescreen and in the pop-up that appears, select the desired toggles, scroll down and tap Save. The first five of the selected toggles appear in the notification area. As various screenshots included within the article reveal, the app has been designed to present Android users with almost all the sought-after system toggles and system shortcuts, inlcuding Wi-Fi, Bluetooth, Sound, Brightness, Rotation, Flight/ airplane mode, flashlight & USB tethering etc.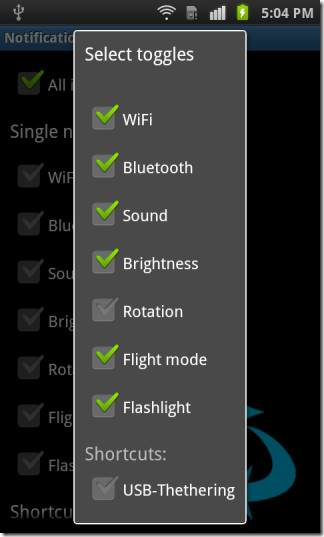 Sadly, said feature does not work the way it ideally should for all devices/firmware, that is, it does not allow you to access each toggle in the line separately. Instead, it displays a pop-up containing all chosen toggles whenever the All-in-one line of toggles is tapped. All in all, Notification Toggle is an ideal illustration of the extent of control that Android users have over customizing their firmware. Also, it goes to show the convenience of having only the required system toggles at your disposal, and the ease with which they can be accessed right from your Android's notification panel.
We tested the app on four devices, namely the Nexus S (MIUI GB), HTC Desire (MIUI GB), Samsung Galaxy S (TouchWiz GB) and HTC Desire Z (Sense GB), and found the All-in-one toggles to work properly on the Gingerbread Sense-powered Desire Z. As explained by the developer himself in the application thread over at XDA, the feature will only work properly if your firmware supports notifications with multiple click-events.
You can grab Notification Toggle from the Android Market for free via the provided link.
Download Notification Toggle For Android