Advanced Power Menu For Galaxy S II With CRT And Overscroll Glow
Let's face it, the CRT and overscroll glow animations are two of the sweetest UI elements the Android OS offers. If you've just moved onto a Galaxy S II from an Android device that offered you the overscroll glow and CRT animation, chances are that you miss the two badly. And why shouldn't you, these effects are wicked! XDA-Developers forum member bmarko82 has released just that, but offers more then just those fancy effects. An advanced power menu is in now available giving you the options to boot into the recovery or download mode, making life for the frequent modder in you a lot easier. Stock ROMs or even a handful of custom ROMs for the  Galaxy S II do not offer the ability to reboot into recovery or download mode.
Before we move further with this, please note that the mods are only meant for KE7 and KF1 based ROMs. The mod come's in four different styles for the KE7 firmware (Download the one of your choice):
The KF1 firmware receives one mod that contains an Advanced Power Menu with CRT effect, overscroll glow and vertical 100% battery mod for deodexed ROMs.
For details on how to install these mods on VillainROM 1.1 refer to this page at XDA-Developers. Other then that, the mod has been tested on Lite'ning Rom 1.1 and AngeloM 1.5. (Picture below courtesy of the developer.)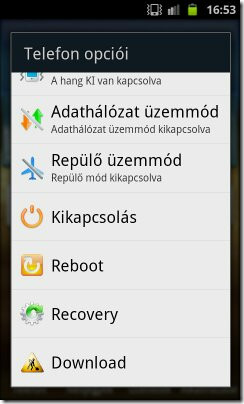 Now that you know what you're dealing with, let's get this mod running on your phone.
Disclaimer: Please follow this guide at your own risk. AddictiveTips will not be liable if your device gets damaged or bricked during the process.
Requirements:
A Galaxy S II running a rooted KE7 or KF1 ROM with a CWM compatible kernel.
The mod file. (Download from the links above.)
Instructions:
To begin, copy the mod to the root of your SD card.
Reboot into recovery mode, and make a Nandroid backup.
Select wipe cache and wipe dalvick cache.
Now navigate to install zip from sdcard > choose zip from sdcard and select the mod copied to your SD card.
Once the file is flashed, reboot the device.
That's it, you should now see the advanced power menu when you press the power button on your SGS II. For updates and queries, visit the forum thread at XDA-Developers.