ClockWorkMod Recovery For Galaxy S i9003 SL Available For Download
Galaxy S i9003 SL is a Samsung Galaxy variant that wasn't able to draw much of developer attention soon after its release. However some industrious developers are burning mid night oil to help i9003 owners which recently resulted in porting of fully functional ClockworkMod Recovery. The credit for this breakthrough goes to Skin1980 and according to him, the recovery is bug free and he is open to correct any issues that may follow. So far, this Beta ClockworkMod Recovery is available for XXKB3, KP9, DXKE1, KWKB5 and ZKXC1 Galaxy S i9003 firmware.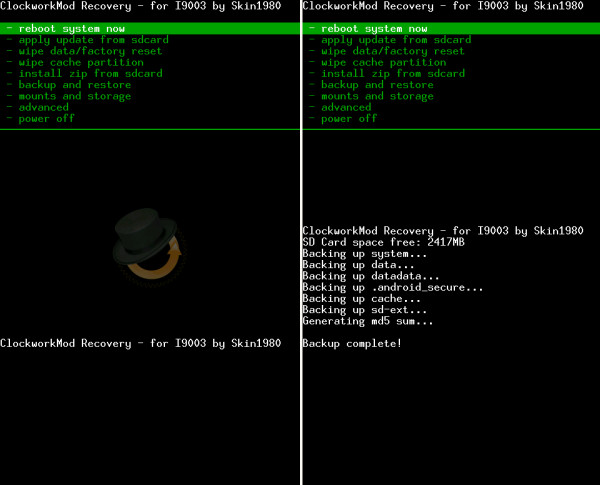 Here are some features of this modified CWM recovery for Galaxy S i9003:
ClockworkMod With Dual RFS / EXT4 Filesystems
BusyBox
Juwe11 RAM hack Script.
The initial release of this CWM for i9003 also came integrated with root, but due to some unknown reasons, the developer has removed it for now. Some users have discovered recovery issues with Android 2.3 Gingerbread KP9 Firmware, so this recovery release isn't recommended for these handsets. A word of warning from the developer:
IMPORTANT: The recovery isn't universal, all firmware is different so don't flash the recovery for a firmware different from your!!!! Since i don't have all firmware on my PC upload your normalboot.img to me with the name of your firmware so i can build the CWM.
The normalboot.img can be found in the PDA tar of your firmware (if you have it on the PC). Alternatively you can dump it from phone with this command:
dd if=/dev/block/bml7 of=/dev/block/sdcard/normalboot.img
The credit for brewing up this custom recovery image goes to a number of developers namely: Chris41g, DRockstar, Roddick and all the other devs on #epic in irc.fossnet.info. In case you want to flash this recovery image on your phone, then head to the official XDA thread posted here for complete installation instructions, download and support. And do let us know in the comments section below regarding your experience with this recovery.